Mark Bittman Wants You to Stop Eating Junk
New York Times food writer and cookbook author Mark Bittman talks about hooking up with two lovely ladies, street fighting with Mario Batali and why vegans will save the planet.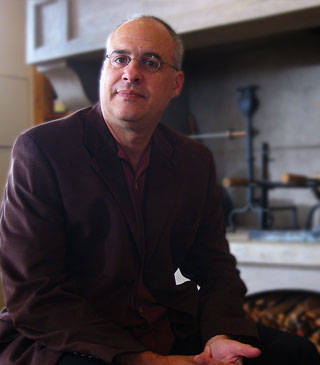 New York Times food writer and cookbook author Mark Bittman talks about hooking up with two lovely ladies, street fighting with Mario Batali and why vegans will save the planet.
Describe the moment you knew you want to write about food.
There was no [single] moment. But I can describe a little about the process of how it happened: I grew up in a place [New York City] where the food was good, then I moved to a place [Boston] where the food was bad. I started to cook and I discovered how easy, fun and rewarding it was. Then, I started to write but no one was interested in anything I was writing about - except for food. So, I wrote about food.
First, you got people cooking. Now, you are exploring how the world eats. What motivated you to write Food Matters and what are you trying to impart?
ADVERTISEMENT - CONTINUE READING BELOW
The message is actually very simple…We obviously love to eat. What we have to do is to figure out a way to eat that is not hurting us and not hurting the planet. The way to do that is change the proportions of the way we eat. We eat an overwhelming proportion of animal products, junk food and processed food and very small proportion of plants. As it happens, it's the animal products, processed food and junk food that are bad for our health and bad for the environment. And it is the plants that are either beneficial or benign. We need to flip that proportion…Eat more plants. Eat less of the other stuff. And to the extent you can do that, you will be doing yourself and the planet a favor.
CONTINUE READING BELOW
Recommended Videos
How it happened? It was my realization of everything I said. Plus, I think it the fact that I'm getting old and thinking more about my personal health.
How the heck did two food-obsessed guys [Mark Bittman and Chef Mario Batali] get to travel with a pair of beautiful women [Gwyneth Paltrow and Claudia Bassols] on a road trip [through Spain] most foodies would give their right arm for?
It happened because the producer, Charlie Pinsky who has done food television for 25 years, had a dream of doing a show in Spain. He mentioned it to me and he mentioned it to Mario. And we both wanted to do it. Mario said he could probably get Gwyneth. She wanted to do it. Low and Behold, we found Claudia and everybody was into it. Very few people are going to say no to this kind of thing. So once the idea was there and funding was there, it was pretty easy.
ADVERTISEMENT - CONTINUE READING BELOW
What was the most delightful and most dreadful memory you have of this culinary road trip?
Dreadful was the ongoing jetlag and exhaustion but there was not particularly horrible moment. But we worked 14, 16, 18-hour days. We drove 500, 600, 700 miles at a time. We really worked. It looked like fun but no one was taping the parts that were torture.
As far as exciting moments: we went fishing in Galicia with some older women, we saw how ham was made, we visited with pigs, we ate in the best possible restaurants, we hung out with great chefs and grandmothers who cook in the backwoods. There was so much that was fun and exciting about this.
Sunday evening at the Bittman home. Your daughters are coming over. What are you cooking for dinner?
Well, I have one daughter who insists on some form of Asian food when she comes over. I guess because she doesn't cook it. So, she will ask for some kind of thing approaching a Vietnamese soup, a stir-fry or something like that. I have another daughter who likes little bit more upscale, luxurious, French kind of stuff. She'll want pasta, followed by meat…A little more elaborate thing.
But often it's: I go to the store, I see what looks good and that's what I cook. I'll take request from my kids. But basically, I'll make the decision anyway.
Are there any plans to shoot an Italy…. On the Road Again, a Hong Kong… On the Road Again or even a The Philippines… On the Road Again?
ADVERTISEMENT - CONTINUE READING BELOW
Charlie [Pinsky] the producer is talking to different people and he is doing some traveling this summer. I think by fall, if we are going to do another one it will be decided. Everything is open and nothing is decided.
I would like to do one of these every year or two. My first choice in Europe would be France. And first choice is Asia? I don't know. I'd have to travel a little more in Asia to figure where I would like to go. I'm very curious about Malaysia, Korea [and] Indonesia. But I have not been to those places. Of the place that I have been, I would be happy doing Thailand, India, China [and] Japan. This concept would work in any country because you can find good food anywhere.
Jean-Georges Vongrichten, Mario Batali, Gary Danko and Mark Bittman. In a four-way street fight, who would win and why?
I would run away. My guess is Jean-Georges would run away too. In fact, my guess everyone except for Mario would run away. So I guess Mario would win. But I would think that not a single punch would be thrown.
Interview by Franco of Table for Three, Please.
Spain…On the Road Again airs every Tuesday at 9 pm on the Asian Food Channel.
Share this story with your friends!
---
Help us make Spot.ph better!
Take the short survey
Load More Stories