Travel Cafe Philippines
Is it a cafe? A travel agency? It's... Travel Cafe Philippines.

WHAT'S IN A NAME: Travel Café Philippines is a concept café. Although the TCP brand is owned by the Department of Tourism, the individual branches are owned separately by franchisees in Tokyo, New Delhi, Seoul, Shanghai, San Francisco, and Manila. The point is to pique people's interest about our country as they taste the fruit of our land, so to speak.
WHEN TO GO: I highly recommend going there in the afternoon because their merienda offerings seemed to me the most authentic and least untouched by the attempts at fusion food that's so rampant in their entrées.
WHAT TO EAT: The Filipino Triolet (Php 180.00, leche flan topped with macapuno, turon in mango sauce, and suman with coconut) is a solid sampler and something I can see native Manilenyos and people both in Tokyo and the Bay Area enjoying. The Mt. Matutum Coffee (Php 115.00, good for two and apparently handpicked by Southern Cotabato natives) smelled fantastic after soaking for three minutes in the coffee press. Don't even think about touching the press before the sandglass is done - a waiter will likely be close by to tell you to wait until the specified amount of time has passed before drinking the aromatic coffee. The Hot Tsokolate with pan de sal (Php 80.00, TCP must hold the record for serving the smallest ones in the country) was sweet and bitter at the same time, and I could still feel the grainy texture of the tablea on my tongue as I drank it. Nicely done.
ADVERTISEMENT - CONTINUE READING BELOW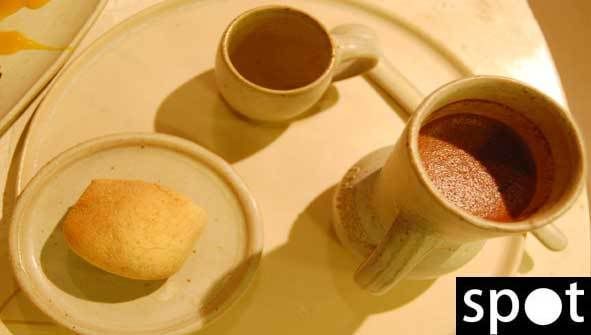 Hot Tsokolate with pan de sal
THE SCENE: Is it a travel agency? A low-key place where we can enjoy our classic Pinoy favorites? Or a high-end lifestyle café? I still don't really know. Perhaps it's supposed to be symbolic of our hybrid heritage - but I highly doubt that the DOT waxed that philosophical when conceptualizing the café. What I'm certain of is that you'll probably come out of the cafe humming the Apo Hiking Society's "Mamang Kutsero" or another classic tune from their compilation CD, which loops and plays as you dine. I wish they'd put more contemporary music in the CD, like Pinikpikan, Noel Cabangon, or Up Dharma Down.
INSIDER TIPS: Remember that the café exists more for people who aren't that familiar with our culture or food - and with this in mind, you won't get so irked when the menu translates every other word (I exaggerate, but you get the point), as if you didn't already know what it meant ("leche flan" is "Philippine custard," and "deep fried banana and jackfruit springroll" is "turon" - useful in Tokyo but is kind of annoying to read here in Manila). Don't expect to make travel bookings onsite as I was told that the representative (who was gone for the entire time I was at TCP) acts more like a concierge than a travel agent.
ADVERTISEMENT - CONTINUE READING BELOW
Filipino Triolet: leche flan, suman and turon
So basically, try to overlook the café's attempts at creating a global brand, and you may just enjoy the food, like I did.
Travel Café Philippines is located at Greenbelt 5, Legaspi Street, Ayala Center, Makati City. For more information or reservations, please call 729-2233.
Images taken by Cathy Paras-Lara.
Load More Stories