Meeting Li Li
We're more than happy that we ushered in February with a new resto find. Meet Li Li, our new go-to Canto(nese) restaurant.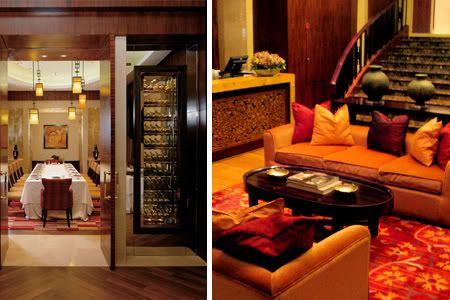 The reception area looks like an expensive penthouse apartment's foyer while Li Li's function rooms exude Euro-Asian chic with their temperature-controlled wine refrigerators. High rollers, expats and extremely wealthy Chinese nationals are Hyatt Hotel's usual clientele. They linger around the lobby after business meetings or casually walk into the casino area, hoping luck will be at their side. But discerning foodies should soon top that client list, because as we discovered, Li Li, the Hyatt's signature restaurant, is a perfect spot for power lunches and relaxed family get togethers, not to mention exquisite Cantonese food dining without the frenetic clatter of pots and pans. Stepping out into the fifth floor of the hotel, the restaurant's foyer and reception area resembles a penthouse apartment's lounge, all at once swanky, classy and complete with a working bar. The foyer leads to a cozy dining area, replete with elegant Asian furniture, artwork and tasteful antique, in shades of muted browns with splashes of Oriental red and orange. The lunch crowd varies on any given day, but don't be surprised to be sat next to politicians or an Asian celebrity with his or her entourage. At each end of the dining area are two private drawing rooms, which one may also choose for more intimate family meals or meetings. The smaller drawing room has beautiful wood-lined shelves built into the walls, and resembles an elegant dining area within a library. The smaller function room was just as impressive, with two walls built with a temperature-controlled glass cellar, that's lined with the best wines around the world.
ADVERTISEMENT - CONTINUE READING BELOW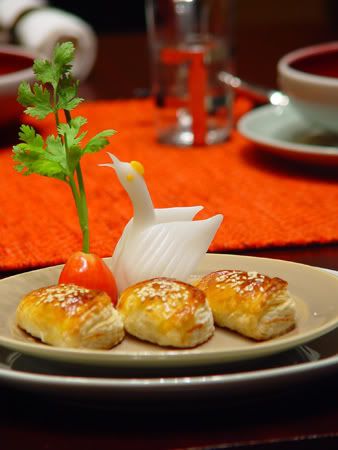 The Baked Puff Pastries are soft, tasty and surprisingly not sweet.

Resident Chinese Chef de Cuisine Tony Tang has filled the menu with modern Cantonese fare but if you must order only a few things, choose the Baked Puff Pastries Filled with Honey Barbequed Pork, tasty, seasoned pork chunks enveloped in a soft pastry crust. Most Chinese puff pastries tend to be on the sweet side, but Li Li's had nothing of the saccharine aftertaste. It readied our palates for more food.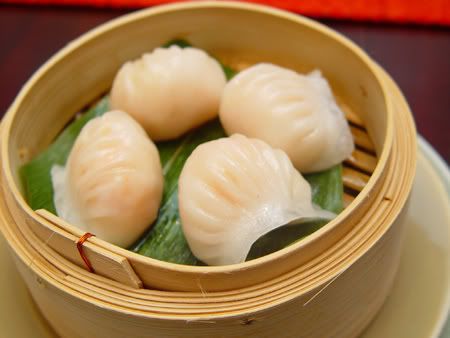 ADVERTISEMENT - CONTINUE READING BELOW

Li Li is best known for their scrumptuous dumplings such as the Steamed Shrimp Dumplings.

Li Li is also known for their dimsum so be sure to ask for the Shark's Fin Dumpling and Steamed Shrimp Dumplings. But my favorite part of the meal was their Roast Imperial Peking Duck. Lean yet succulent, Li Li's duck slices have no traces of fat unlike in most Chinese and Cantonese restaurants. Cooked and served to us two-way: Sliced Beijing-style with pinyin or steamed pancakes to wrap around the peking duck meat with optional hoi sin sauce and Wok-Fried Minced Duck with Lettuce Wrap. We were also served savory fried peking duck skin with sugar and garlic sauce, which seemed to me as being an equally sinful alternative to the Pinoy chicharon.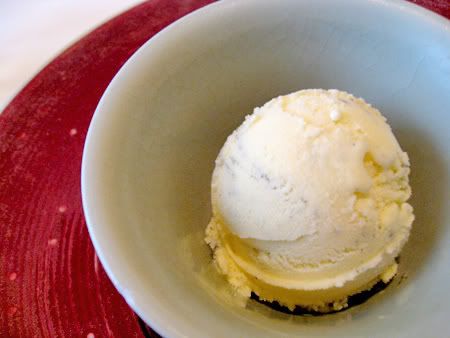 The Black Sesame Ice Cream is a dessert must-try, a sweet ending to a Cantonese feast at Li Li.

ADVERTISEMENT - CONTINUE READING BELOW

When at the restaurant, one must not overlook the beverage list. There is reason to indulge in a glass of Guava Iced Tea, Calamansi Iced Tea or their Carrot Shake, all of which come in tall glasses, and are just a few of their refreshing and delicious options for drinks to go with one's meal. We were told that both Chinese and Western desserts are available at Li Li, but opt to have the Black Sesame Ice Cream, a heavenly scoop of delectable home-made ice cream (other ice-cream flavors are also available at Market Café). It's light, sweet taste does not overpower the slight spice, roasted nuttiness and texture of the black sesame mixed in with the luscious cream. It was quite the perfect ending to an enjoyable meal, one that I wouldn't mind doing again. Text by Trixie Zabal. Images by Karl Bustamante and from Hyatt Hotel and Casino Manila.
Load More Stories