How sweet it is: 10 most popular Pinoy pasalubongs
SPOT brings you 10 of the country's best pasalubong that sweeten the general thinking-of-you sentiment of giving pasalubong.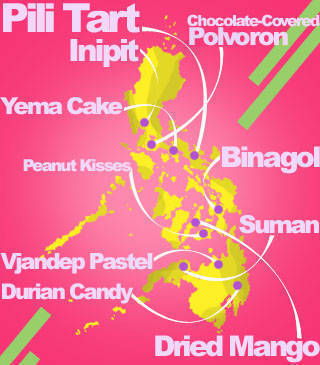 History books and museums can help you learn about a country, but there's no better way to do so than through a plate (or banana leaf). We have a rich and diverse palate with versions of this and that here and there. Pasalubong stores dot every town, sometimes street after street. Here are some of the country's best sweet pasalubongs, which satisfy sugar cravings, aside from sweetening the general thinking-of-you sentiment of giving pasalubong.
LUZON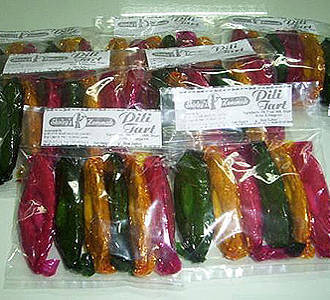 ADVERTISEMENT - CONTINUE READING BELOW
Bicol produces the most pili in the country, to the extent that it's been named the province's flagship crop. The pili tart, which is just one of the many pili derivatives, is made from pili, flour, milk and sugar. A frequent pasalubong request, it is "crisp and soft, a mixture of textures," says Bicolana Ivy Vibar. This sweet and nutty pasalubong is available for P100 per five packs; each pack has five to six tarts. It's available in some malls in Manila like Market Market!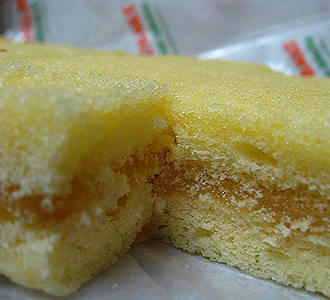 ADVERTISEMENT - CONTINUE READING BELOW
One of the famed sweet delicacies of Bulacan is the inipit. These are little rectangles of chiffon, made from eggs, milk, sugar and butter, with filling. Custard, caramel and ube are the more popular filling flavors. It's yummy and surprisingly filling despite its lightweight appearance. You can also buy inipit in Manila. Eurobake in Guiguinto, Bulacan is one of the famous inipit sellers; lucky for you, it has branches in Greenbelt 1, Greenhills Shopping Center and Glorietta 4. A box of 10 pieces is P130, 25 pieces is P220, and 50 pieces is P420.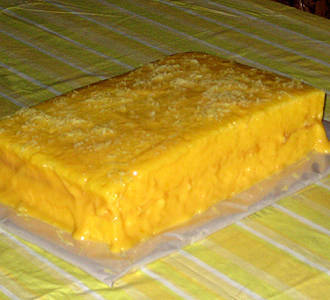 ADVERTISEMENT - CONTINUE READING BELOW
3. Yema cake from Quezon Province
Quezon Province is home to this deadly sounding yet not quite potent pasalubong. The yellow yema is not as sticky as your usual yema, but it still has that sweet kick. The yema acts as the icing and it is topped with grated cheese. The cake is actually just sponge cake which balances the overall taste. A party with this cake isn't complete without a fight over who gets to have the corner pieces which have the gooiest and cheesiest yema icing. Rodilla's Bakeshop in Tayabas, Quezon Province sells it every day for P350 to P450 per cake. In Manila, yema cake is available at Cordillera Coffee and Brewing Point.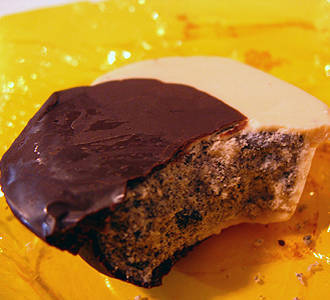 ADVERTISEMENT - CONTINUE READING BELOW
4. Chocolate-covered polvoron from Tagaytay
Though there are a lot of polvoron sellers in Manila, Rowena's in Tagaytay still packs in the customers. By themselves, polvoron and chocolate sound good but when combined, you've got a sure winner. Black and white chocolate cover the cookies-and-cream-flavored polvoron. What's good about it is that the sweetness doesn't overwhelm you. Plus, the crunchiness of the little cookies gives it a nice texture. Make sure to try the other flavors like pinipig and casuy. Rowena's polvoron costs about P150 per pack which has about a dozen pieces.
VISAYAS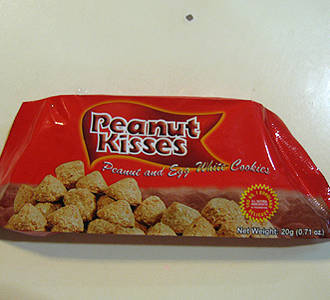 ADVERTISEMENT - CONTINUE READING BELOW
Finally, edible chocolate hills! Though they're not really made from chocolate, these peanut kisses look like miniature versions of Bohol's Chocolate Hills. They have nothing to do with Hershey's but are equally, if not more lovable. Peanut kisses are made from peanuts, egg white, cane sugar and vanilla. Perfect for those who love nuts, its nutty taste is highlighted with just the right amount of sweetness. It's low cholesterol and goes with parfait, ice cream and fruit salads, according to the official peanut kisses website. Peanut kisses are available in Tagbilaran, Bohol and in selected airports. It comes in a variety of sizes with the smallest worth P20.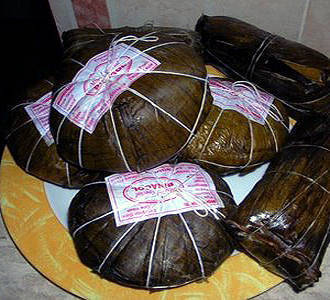 ADVERTISEMENT - CONTINUE READING BELOW
Tacloban is famous for binagol, a sweet kakanin cooked in coconut shells or bagol, hence the name. The root crop talyan is the main star, which is mixed with coconut milk, sugar and peanuts. Banana leaves and strings wrap it up. It's sweet and with its size, it's meant to be shared. So far, binagol is only available in Tacloban, e.g. Dagami, for around P30 to P40.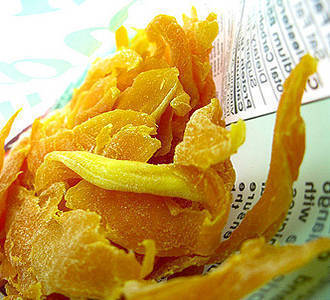 ADVERTISEMENT - CONTINUE READING BELOW
Dried mango is a staple Pinoy pasalubong that you can find in practically every store in the country. An oldie but a goodie, it will not fail to remind you of home with its chewy, sweet and sour taste. There are many brands to choose from like Cebu's Pride and 7D. You can get a small pack for about P100 or less.
MINDANAO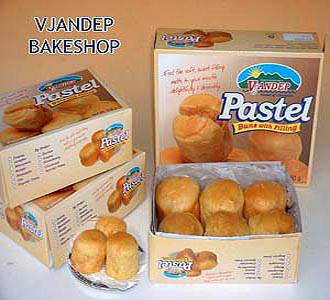 ADVERTISEMENT - CONTINUE READING BELOW
8. Vjandep pastel from Cagayan de Oro
Vjandep (pronounced Vandep) pastel is a dinner bun with yema-like filling. The name is a combination of the names of its inventors, Virgilio Jose and Elena Popera. The bun is made from the usual culprits: flour, sugar, eggs and shortening, but it's the filling that keeps people coming back for more. You can have the original one made from milk, butter and eggs, or try the other flavors like mango, cheese, langka, macapuno and more. Originally from Camiguin, it has branches in Cagayan de Oro and in Manila's SM supermarkets, Market Market! and Tiendesitas. In Cagayan de Oro, a dozen costs P115, while half costs P67. Those in Manila branches are about P100.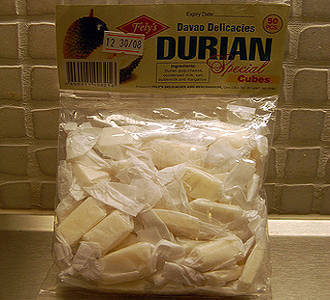 ADVERTISEMENT - CONTINUE READING BELOW
Originally from Lola Abon's in San Miguel Village, Davao, this delicacy gives you the love it or hate it flavor (and smell) of durian in a neat little package. Its smell is not as strong as the fruit but you will still be able to taste the essence of durian. It's now available in major supermarkets in Manila with a pack worth about P100.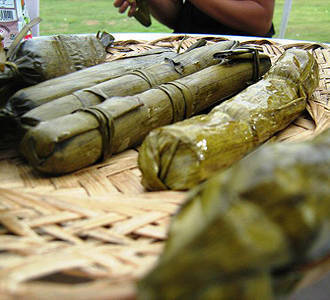 ADVERTISEMENT - CONTINUE READING BELOW
10. Suman from Misamis Occidental
Found in the one and only House of Suman in Clarin, Misamis Occidental, this suman is hard to miss. Made from malagkit, pure coconut milk and sugar, it's sweet and comes in a variety of flavors like balintawak, suman latik and ibus. Enjoy the brown suman, brown because it's mixed with chocolate, with a hot cup of native chocolate.
Photos from Joanna Manalastas, Dyan Zarzuela, Fanshen Peteros, Alex Obnamia, Allen Pili Nut Processors Cooperative, Adele S, karlacaraan, neda.gov.ph and taclobandailyphoto.blogspot.com.
Artwork by Warren Espejo.

CONTINUE READING BELOW
Recommended Videos
Share this story with your friends!
---
Help us make Spot.ph better!
Take the short survey
Load More Stories