Singaporean Food Ambassador KF Seetoh tells us where to "Makan"
KF Seetoh on the joys of eating, Singaporean hawker food and the foodie bible 'Makansutra'.
Many have called him a Makan Guru. Singapore has even proclaimed him their Ambassador of Food. Makansutra, his food guide to Singaporean hawker food (which is in its 7th edition) has been touted as a must-have foodie's bible. But if you ask KF Seetoh, he considers himself a simple storyteller and his guidebook, a mere roadmap to the joys of eating and a celebration of Asian food culture. Brash, outspoken but definitely passionate about food, KF has many, many stories to tell: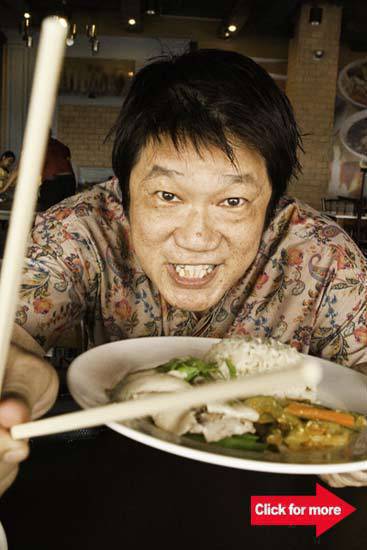 KF Seetoh's food guide, Makansutra, gives credence to the rich, street comfort food culture of Asia.
KF, tell us a little about yourself.
I took the non-academic route through this world. I was a photojournalist with papers in Singapore. I went on cold money, high profile kind of commercial photography work. After 15 years or so in that business, I wanted to move on to something else. I decided to do something with food because food, especially Asian food, has a story that has not been properly told. I used to tell stories through a camera, a pen and a laptop. But I thought, it is so much more interesting to tell a story through flavors.
ADVERTISEMENT - CONTINUE READING BELOW
What is Makansutra? Where did it all begin?
Makan is the Malay word for food and eating. Sutra is [the] Sanskrit word for guide. So if you string them together, it [Makansutra] really means food guide. No rocket science there.
I coined the word Makansutra when I was arguing with a French [acquaintance]. It was in the early '90s. He was a foodie who loved Asian food. He was talking food and he was going on and on about the French culinary heritage. I said, "Bullshit...You guys are not fit to tell us Asians what is good." We have our own palate. I thought that we need a food bible-a Makansutra. I came up with [the] name first then I started to think what hell was I going to do with this name? Let's begin with a food guide-that began in 1996. At the time, there were no food guides that gave credence to the rich, street/comfort food culture of Asia.
CONTINUE READING BELOW
Recommended Videos
Those who have made food their life's work, have obsessions and passion that go beyond the kitchen. What are your passions outside food?
Whatever I do, my passion is to take the road less traveled. I like to shock my mind. I like to go to places that nobody ever mentions. I don't look at what airlines offer; I look at what is on the map. I want to experience things that [I] would 'die' to tell. What do I mean? Should I return to the Maker and the Maker asks me how my life was on Earth, I would like to say happy and satisfied. I doubt I would say healthy.
ADVERTISEMENT - CONTINUE READING BELOW
You have friendships with some well-known food personalities like Anthony Bourdain, Jeffery Steingarten and recently, Martha Stewart. Who is the foodie that you admire? Is there anyone that you still want to meet?
Jeffery Steingarten. He has this perversion for food. I don't know if his house is a library, kitchen or bedroom. That's how a house should be-breaking all the rules. I think we share the same belief-you cannot appreciate food unless you cook. Jeffery is a motor mouth, very honest, very sharp. I like that. There are probably a lot [of food personalities I want to meet]. But I'll let the wind blow them my way. There are some that I wouldn't like to meet anymore and you know who you are.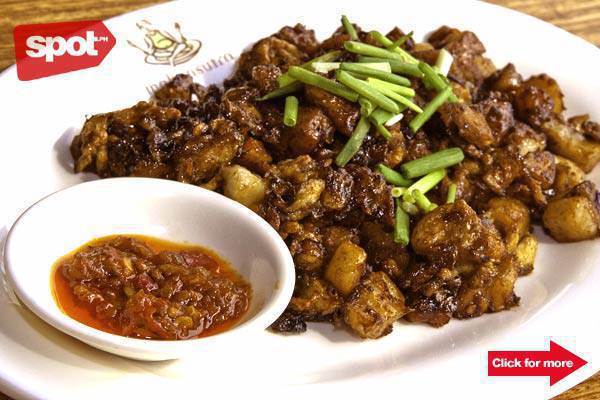 Manila Ocean Park's Makansutra Food Village serves Makan favorites, hawker-style.
During your numerous trips abroad, what have been your most memorable meals?
ADVERTISEMENT - CONTINUE READING BELOW
Babi Guling in Bali. Right alongside your lechon, it is one of best roast pigs in the world. It is how heaven would make roast pig. Danny's Crab Bihon. The rudest hawker in Singapore who charges the most. His little rundown coffee shop in the heart of Geylang red light district in Singapore has made many foodies cry, including Anthony Bourdain.
It is very subjective. It is that sinful, well-marbled, buttery Beef Steak at Peter Luger in New York. You can tell me they served a better porterhouse at so and so. But for now, it's Peter Luger.
If I had one day in Singapore where would you suggest I eat for: breakfast, mid-day snack, lunch, tea break and dinner?
For breakfast, go to Tiong Bahru Food Centre and have the Chwee Kueh, old peasant rice cake with a fried fermented rice-radish topping. Morning snack, go to Budu MRT Interchange Food Centre, find this stall that opens around 11 a.m. and have a bowl of Soto Ayam. They called it Inspirasi. Eating that bowl of spicy Indonesian chicken soup with rice cubes is truly inspirational. For lunch, maybe you want to do a seriously mind-boggling Fish Head Curry. There are a lot of fish head curry [places], but the most iconic one is still the Banana Leaf Apolo off Serangoon Road Little India. When you walk into the restaurant you will be able taste what this restaurant is about just by smelling. For a tea break, go to a little stall called Tonga Ah Coffee Shop in Chinatown. Have the Singapore Hainanese Coffee and Roti Kaya. Dinner? You have to have Singapore seafood: Chili Crab, Pepper Crab, Cereal Prawns, and Crispy Baby Squid. Try these Singaporean style seafood restaurants like No Signboard Restaurant-very popular and a fantastic story. Or you can go to Jumbo or Palm Beach.
ADVERTISEMENT - CONTINUE READING BELOW
Makansutra has expanded beyond Singapore into the food scenes of Malaysia, Indonesia, Thailand, Vietnam and even Beijing. It has become a website, television show, food/events consultancy and even a restaurant concept. What are the future plans of KF Seetoh and Makansutra?
I have no idea. I am just enjoying the ride. Business-wise, it is evolving. This semi-food court kitchen concept in Manila Ocean Park, we don't even have this in Singapore. I still like going to new places, discovering stories and putting it in a book. I am looking forward to doing the Philippines Makansutra. It is a destiny. It is a journey. I don't know where the end is.
Photos by Michael Wisniewski.

Share this story with your friends!
---
Help us make Spot.ph better!
Take the short survey
Load More Stories