Does Jalapeño hit the spot?
Is Jalapeño a hot new option for anyone who's craving some south-of-the-border fare?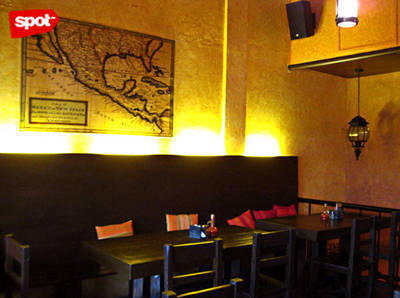 With margarita-colored walls, wooden furniture, clay plates and easy-on-the-budget menu picks, Jalapeño is one of the newer relaxed-eating places lining the Food Street at Ortigas Home Depot. The rustic fixtures and colorful hand-painted framed art give the place a comfortable, non-pretentious feel, and the seating expands to a small veranda which allows for lazy, lingering afternoons over margaritas and mojitos.
Jalapeño recently opened its doors to a lunch-time crowd this September, opening at 12 noon for folks in the area who are hungry for tacos, burritos, or Mexican rice dishes with a Filipino twist.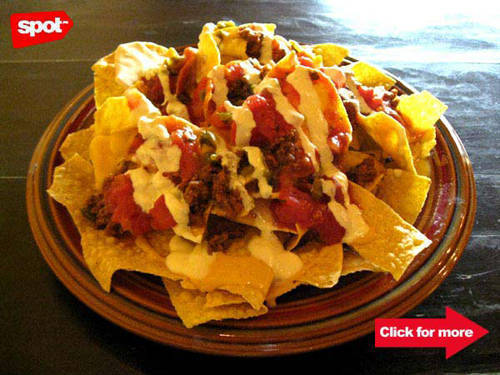 ADVERTISEMENT - CONTINUE READING BELOW
What we ordered:
Inexplicably, anything with chicken was unavailable on the day that we decided to have a Mexican feast-and none of the tacos were available. We settled on a mix of staples and other Mexican options. The Mexican Nachos (P185), a plateful of tortilla chips generously topped with Mexican salsa, chili beef, sour cream and jalapeños, was a good starter. With thick and tasty salsa, the nachos can double as bar chow if ordered with beer. The sour cream was a bit too much on the watery side for our taste, but we liked that the chips stayed crunchy and that the toppings were piled on high.
CONTINUE READING BELOW
Recommended Videos
The Jalapeño and Cheese Quesadillas (P185) should come with a warning-"May burn your taste buds!" The roasted jalapeño overpowered the cheese but the warmth of its flavor teased our taste buds. The dish might have been more enjoyable if the jalapeños were sliced and placed on top of the quesadillas instead of chopped and mixed in with the cheese, but those who like fire in their food might disagree.
The Chili Beef Burrito (P185), a hefty serving of beef tenderloin, refried beans and Mexican rice wrapped in tortilla seemed promising after the nachos. While it was filling, it turned out a bit dry and lacked the spice it promised. But the whipped sour cream was deliciously creamy, an ideal siding with which to smother the burrito.
The Seared Baja Fish Fillet (P185), two deliciously marinated fish fillets, came with Mexican rice, salsa, and corn on the side. Tender, tasty and flavorful, this is one of Jalapeño's obvious winning dishes, though we're guessing it probably can't be considered truly and authentically Mexican.
ADVERTISEMENT - CONTINUE READING BELOW
The Pepper Steak Fajitas (P285) comes with a huge serving of mexi-rice and three pieces of tortilla, making the dish almost good for two. The beef tenderloin strips are tender and smothered with black pepper, though the pepper didn't overpower the dish. The lemon, salsa and sour cream give the wraps a zesty punch while the bell peppers, onions, corn and carrots give the dish a nice crunch.
The large serving size of the Grilled Cajun Pork Chops (P185) could not compensate for the dry chops which lacked flavor. Served with Mexican rice, salsa, and corn, it would have made a satisfying lunch if the chops were a bit more spicy and tender.
Jalapeño also lists Herbed Lemonade (P65 for a glass/P155 for a pitcher) and Red Berry Iced Tea (P65 for a glass/P155 for a pitcher) on their menu-the Herbed Lemonade was supposedly a specialty-but we were disappointed to find out that both were unavailable that day. Local beers and cocktails are also on the menu, making Jalapeño more than just a taqueria and an option for after-office drinks and hanging out.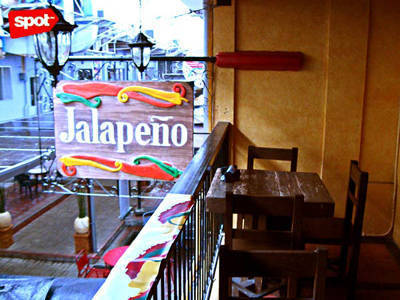 ADVERTISEMENT - CONTINUE READING BELOW
When to go:
The lunch crowd isn't as big compared to the dinner set at Jalapeño, which draws a packed crowd of young professionals even on weekends. Snagging a table may be difficult after 8 p.m. so if you want to try the place, it's best to tell your friends to andale over to Jalapeño fast.
What we think:
Reasonable Mexican-themed fare is what makes the trip to Jalapeño worth your while. Generous portions in a casual set-up may help when it comes to enduring the not-so-fast service. In a pinch, their food can satisfy a south-of-the-border craving, but you might have to keep your fingers crossed that what you want will be available.
Jalapeño Cantina Mexican is located at Food Street, Ortigas Home Depot, Julia Vargas Avenue, Pasig City. Tel. No. (0920) 608-9571.
Share this story with your friends!
---
Help us make Spot.ph better!
Take the short survey
Load More Stories