In-Yo Fusion Cuisine
A date place, if I ever saw one.

You'll have a refreshing garden backdrop when you and your date dine at the establishment.
When to Go: During daylight, In-Yo could be someone's fashionable grandmother's two-storey house, framed by a scenic garden and a pond with a hoi polloi of koi fish greeting you just a few steps from the door. The restaurant was converted from part of an ancestral house in Quezon City.
In-Yo is cozy and quiet if you visit during lunch (even on a Friday), save for conversations about work from the nearby table occupied by business partners. It gets a bit loud if a group comes in and engages in a spirited discussion. Perhaps this might be the same during weekends or dinner, when In-Yo is packed with diners.
ADVERTISEMENT - CONTINUE READING BELOW
The Sushi Style Prawn Roll Salad is good for 2 to 3 people.
In the evening, it transforms into a more romantic haven–you can see the well-lit dining area through the glass walls as you pass a veil of millionaire's vines, thoughtfully trimmed just high enough for one to walk through unencumbered. So yes, do come in for dinner.

What to Eat: Instead of grandma's Spanish or Filipino dishes, In-Yo serves a fusion of French and Japanese cuisine with a profusion of wasabi, foie gras, duck meat, and wine (in the sauce) in some of the dishes. This fusion is not in your face (or does it border on the weird), but creative in working unlikely ingredients seamlessly into the menu.
CONTINUE READING BELOW
Recommended Videos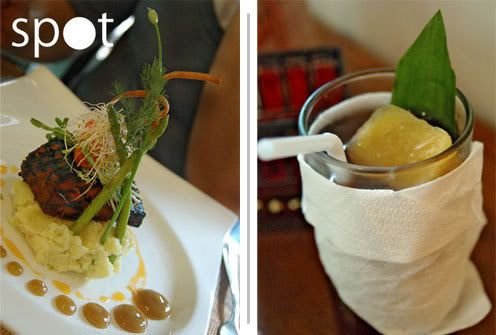 From left to right - Honey Glazed Grilled Salmon and the In-Yo Special Iced Tea (comes with a cube of frozen mango juice)
In lieu of the usual complimentary hard rolls, slices of bread flecked with red pepper came with the butter. I should say I did not leave crumbs on the plate. The Crab Cake Two Ways and the Shiitake Confit Salad sounded tempting but sushi and prawn roll mentioned in the same vein had me ordering the Oven Baked Sushi Style Prawn Roll (Php 335). It was served on a large plate with a forest of greens on the center and tiny servings of caviar, sliced cherry tomatoes, grapes and quail eggs strewn like pebbles. Three pieces of prawn rolls patrolled the borders. The rolls had an alarming blob of homemade mayonnaise on top which was so rich to the point of "umay." The greens provide a refreshing escape. I scaled it down by scraping off some of the mayo and just enjoyed the simplicity of the roll.
ADVERTISEMENT - CONTINUE READING BELOW
For the entrées, I heeded the waiter's recommendation and requested for Honey Glazed Grilled Salmon (Php 450). It was beautiful and towering with a sprig of garlic chive. The salmon had an idyllic landscape of grill marks, the juices lending a smoky flavor to the light wasabi mashed potato underneath.
I always appreciate a good mashed potato and this one was smooth with a few pleasant lumps worked into it. It was flavorful as it was but adding a whisper of wasabi into the mix transformed this simple vehicle into something creative and memorable especially when I slide it next to the tender honey-flavored salmon. I forget that there's also U.S. Hanging Tender Steak (Php 475) as one of the best-sellers that we tried. The steak was tender, accompanied by a cheesy risotto. Another specialty worth trying is the Baked Unagi with Pan Seared Foie Gras. For dessert, a Valrhona chocolate-starrer, called Chocolate! Chocolate! Cake, is available on the menu.
The Scene: Though it's an ancestral house, the structure is well-maintained and polished, even the weathered Spanish floor tiles. One will not smell the muskiness of an old house here. The food is not the only fusion of cultures and styles at In-Yo. An assortment of Asian antiques and furnishings, wood carvings, capiz windows, and contemporary art works dominate the interiors of the house. The handsome dining chairs differ from table to table but it's not mix and match. Look underneath your table and you might find the familiar foot pedal of a Singer sewing machine. Over at the counter is an ornate vintage phone with a rotary dial.
ADVERTISEMENT - CONTINUE READING BELOW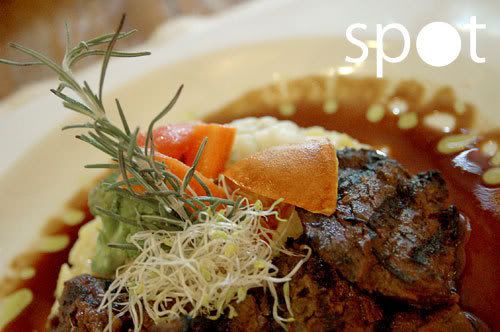 The U.S. Hanging Tender Steak comes with a cheesy risotto that's made with long grain rice.
While customers from the nearby Katipunan schools and offices may frequent the restaurant during lunch, In-Yo is ultimately a date place. Norah Jones and the bossa nova ladies warble contentedly from the speakers. Over dinner and conversation, a relaxing view of the garden and bamboo wall outside can be seen through the glass walls installed into the house. We spied a table and chairs set up outside which is an inviting little nook if one favors to dine outdoors.

Insider's Tips: In-Yo is located within a residential neighborhood parallel to Katipunan Avenue. The staff thoughtfully provided small wooden stools where we could place our bags instead of stationing them on the floor or at the back of the chair. The day's specials are written on a blackboard near the entrance, a menu you'd want to explore. A wooden staircase near the back leads to the second floor which is filled with more antiques and paintings. The paintings, like the one signed by "Inday" next to the first table to the left, are for sale.
ADVERTISEMENT - CONTINUE READING BELOW
In-Yo Fusion Cuisine is located at 66 Esteban Abada St., Loyola Heights, Quezon City. For reservations and inquiries, please call 426-0301 or 928-6459.
Images taken by Karl Bustamante.
Share this story with your friends!
---
Help us make Spot.ph better!
Take the short survey
Load More Stories