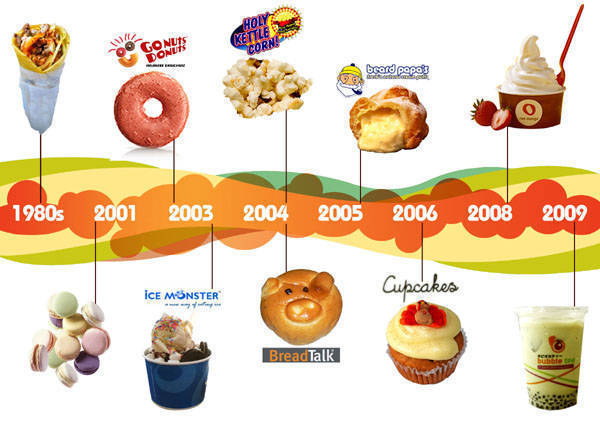 ADVERTISEMENT - CONTINUE READING BELOW
How it started: In 1988, GNC Enterprises created the first local shawarma rotisserie for a client at the beginning of the shawarma craze. They were flooded with orders afterwards, as shawarma became the next lechon manok.
At its peak: You couldn't find any street corner or mall without the familiar aroma of meat roasting on a metal contraption, somebody hacking the meat into pieces and someone else piling the veggies on pita bread. With a final squirt of the yogurt sauce, everyone knew you'd given in to the fad: garlic breath.
What's left of the craze: Some food stalls still offer them (like the ancient Harrison Plaza) as well as some LRT, MRT and bus stations. Restaurants or eateries specializing in Middle Eastern cuisine are sure to have them.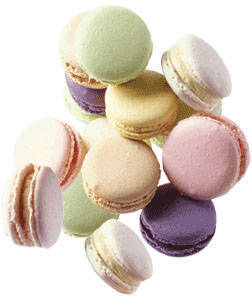 FRENCH MACARONS
When? 2001: Bizu Patisserie opens in Glorietta 4.
How it started: Among Bizu's baked products was the macaron de Paris, pastel-colored round pastry with crushed almonds and crème ganache flavors.
CONTINUE READING BELOW
Recommended Videos
At its peak: Hotel pastry shops (Manila Peninsula, Diamond Hotel) began offering them. Empire by George Rocha sells macarons at the Rockwell Baker's Fair. Park Avenue Desserts makes them by special order.
What's left of the craze: All stores still make macarons including Delifrance. And Aubergine Restaurant and Patisserie occasionally gives complimentary macarons to patrons.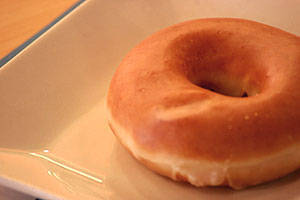 DONUTS
When? December 11, 2003, Go Nuts Donuts flagship store opens at The Fort. November 30, 2006, Krispy Kreme flagship store opens at the City Center, The Fort.
How it started: The Doughnut People Inc. created Go Nuts Donuts, with its own version of the popular Krispy Kreme glazed donuts from the U.S. The yeast-raised donuts were as light, soft and melt-in-your mouth as the original.
At its peak: Marketed only by word of mouth, people lined up for almost three hours just to buy a box of Go Nuts Donuts. The store had to initially ration donuts to meet the demand. Best-sellers: Amazing Glaze, Pastillas de Leche.
ADVERTISEMENT - CONTINUE READING BELOW
What's left of the craze: The market satiated with the arrival of the real deal, no more queues occurred in either shop. Go Nuts Donuts downgraded some of its stores to small counters. Krispy Kreme opened new stores and counters in major locations like Megamall and Greenhills.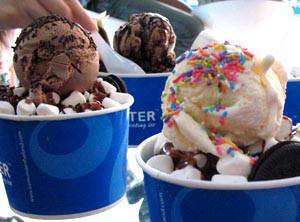 ICE MONSTER
When? 2003: Ice Monster Dessert devours Manila.
How it started: An Ice Monster dessert is like a halo-halo mutation: it has finely shaved ice and assorted toppings (fresh fruits, taro and red bean, cookies and cream, etc.). One of the owners, Chadwick Ragas is said to have been inspired by similar iced confections abroad, perhaps Taiwan's tsoping (shaved-ice confectionery) and ais kacang of Malaysia and Singapore.
At its peak: Franchises for Ice Monster doubled in the next few years. A similar product has been reported in blogs–the kakigori (Japanese ice concoction with sweetened azuki beans) at the Rockwell souk (Dream Ice Kakigoori) and Tokyo-Tokyo. Ice Monster also competes with Icebergs, Razon's and Cocktales, even Jollibee's Ice Craze.
ADVERTISEMENT - CONTINUE READING BELOW
What's left of the craze: The company has 16 branches officially listed on its website. The Ice Monster stores at SM Manila's Food Court, Robinson's Place Ermita (Padre Faura Wing), and Shangri-La Plaza, though, are long gone.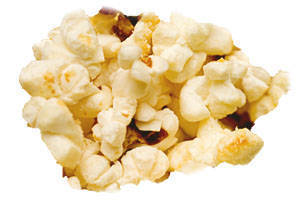 FLAVORED POPCORN
When? July 16, 2004, Holy Kettle Korn! opens at the Alabang Town Center.
How it started: Blue Kettle Corporation popped the idea of healthier sweet-salty popcorn sold in sealed paper bags. Holy Kettle Korn! opened three outlets within a year.
At its peak: A similarly named brand, Kettle Korn, also sprouted during the reign of the Holy Kettle Korn. Gourmet popcorn by Chef Tony's, packaged in plastic tubs, also got people hooked on its variety of flavors: Caramel, White Chocolate Walnut, Roasted Almond Mochachino, and White Country Cheddar.
What's left of the craze: All three brands. The latest to hit the market is Chicago Popcorn Shops, which makes "hand-crafted boutique caramel and cheese popcorn."
ADVERTISEMENT - CONTINUE READING BELOW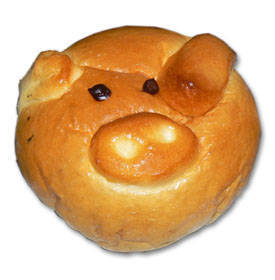 BREADTALK
When? 2004: BreadTalk opens in SM Megamall.
How it started: A Singaporean boutique bakery franchise, BreadTalk's concept allows customers to directly handle the bread of their choice (with tray and tongs). An open glass counter displaying the breads is installed in the center. Lines were long.
At its peak: BreadTalk original creations like Floss; Crouching Tiger, Hidden Bacon; Milkiway; and Pork Sisig have been imitated by cheaper competitors who practice the same self-service concept and design in their stores.
What's left of the craze: The aroma of bread baking never ceases to stop one's tracks when passing by BreadTalk, something that its competition lacks.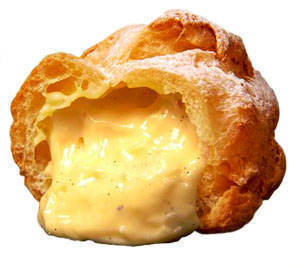 CREAM PUFFS
What? 2005: Beard Papa's opens in Greenhills. 2006: Happy Cream Puff opens in SM Southmall.
ADVERTISEMENT - CONTINUE READING BELOW
How it started: Cream puff and croquemboche are in many home-based bakers' product lists (like Pasteleria Mallorca), but only when Happy Cream Puff and Beard Papa's opened their stalls did the cream puff craze pick up.
At its peak: No queues like the donuts, but the cream puff's billowy pastry oozing with cream garnered plenty of drool-y attention from passersby.
What's left of the craze: The Cru Kitchen's Belgian cream puff was named one of the yummiest desserts in the country in 2008. Happy Cream Puff opened its new Makati store early 2009. The long-running Dulcinea and Aristocrat Bakeshop still sell classic cream puffs, craze or no craze.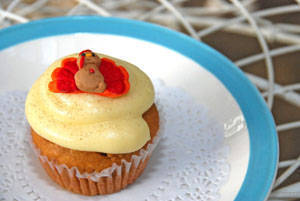 CUPCAKES
When? September 21, 2006, Cupcakes by Sonja opens at Serendra. In 2007, Frostings Cupcakes opens at The Block.
How it started: Sonja Ocampo opened her quaint little cupcake store at the heels of the cupcake craze in the U.S. Her creations were soft and moist with a mountain of thick velvety frosting. Popular flavors: Vanilla Sunshine, Red Velvet Vixen, and PB&J.
ADVERTISEMENT - CONTINUE READING BELOW
At its peak: Home-based businesses dreamed up equally fancy versions though most have been offering cupcakes long before the craze. Rockwell's Baker's Fair featured some of these bakers, such as Bohemia Cakes and Pastries, Pattycake Desserts Bar, The Sweet Life by Ange, and Cuptails & Dreams.
What's left of the craze: Sonja's still stands in spite of the competition and her high-end price range. Still in the running: Piece of Cake, Minnie Mousse, Frostings, and the Baker's Fair stalls.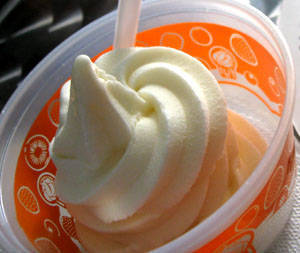 FROZEN YOGURT (SOFT-SERVE)
What? 1990s: The Country's Best Yogurt (TCBY) opens in SM Megamall as well as New Zealand Naturals. November 1990: Better Than Ice Cream (BTIC) Frozen Yogurt opens in Makati. 2006: Yoh-gurt Froz company is established, followed later on by Yogurbud. 2008: Red Mango, which started the craze in South Korea in 2002, and other brands open.
How it started: Frozen yogurt has been in the country since early '90s but its popularity picked up only in the last couple of years in soft serve form. Taste and variety of toppings contribute to the fro-yo craze's success.
ADVERTISEMENT - CONTINUE READING BELOW
At its peak: In the market today are 13 brands (in alphabetical order): California Berry Frozen Yogurt, David's Pure Frozen Yogurt, FYI: Frozen Yogurt Indulgence, Green Mango, I Love Berries, Lulu belle, Red Mango, The Ice Cream Bar: Flavors by FIC, The White Hat Italian Frozen Yogurt, Yogurbud, and Yoh-Gurt Froz. Two are based in Pampanga: Cold Spoon Frozen Yogurt and Haven Yogurt.
What's left of the craze: The craze is "still gaining critical mass" as food writer and blogger Lori Baltazar puts it. Until Red Mango's closest U.S. competitor, Pinkberry, conquers our shores, it's too early to say which brands will survive the frozen yogurt wars.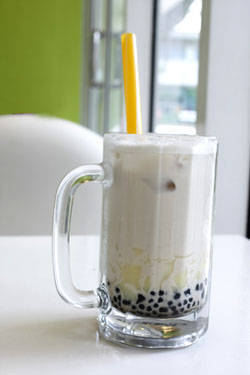 BUBBLE TEA
When? 1999: Zagu Shakes opens is first stall in Manila. 2009: Bubble Tea, Tokyo Milk Tea Place opens in SM Megamall. Serenitea opens on J. Abad Santos street in San Juan.
How it started: A blender, flavored powder and tapioca balls (aka "pearls") were all there was to it when Zagu began. Bubble Tea is touted as the healthier alternative–it was actually real tea flavored with fruit juice for schoolkids in Taiwan in the '80s. The name has since referred to flavored tea, coffee or smoothie with the tapioca (or bubbles) on the bottom, just like Zagu.
ADVERTISEMENT - CONTINUE READING BELOW
At its peak: One endured the long lines at Zagu in the early years. It spawned imitators, brisk sales for flavored powders in Divisoria, and a health scare involving sago tainted with borax.
What's left of the craze: Greenwich Pizza has its own version. Zagu can still be found in the malls and now, Bubble Tea hopes the bubble won't burst just yet.
Photos by the SPOT.ph team, Lindy (Bread Talk), Denise Chan (Ice Monster), Allan Reyes (shawarma).
SPOT.ph would like to know: What's your favorite food craze?
Share this story with your friends!
---
Help us make Spot.ph better!
Take the short survey
Load More Stories