The Ultimate in Cheap 'n Cheerful: 10 Carinderias in the City
SPOT.ph lists 10 <em>carinderias</em> and eateries offering cheap-but-good eats in the metro.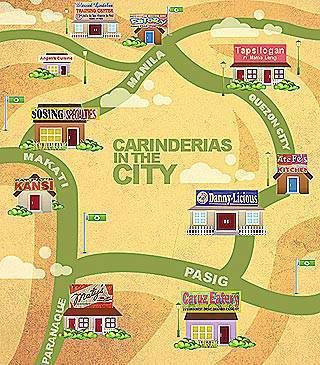 Are you a stickler for ambiance or is it your tummy that says what goes? If you're the latter, this list is for you.
Doreen G. Fernandez, in her book Palayok: Philippine Food Time, On Site, in the Pot., defines a carinderia as "a low-priced eating place, often at roadsides or markets." It's also known as a "turo-turo" because the customers can just literally point at the food they want to get. SPOT.ph points out 10 taste-worthy carinderias in the metro.
1. PAT-PAT'S KANSI HOUSE
8809 Sampaloc Street, San Antonio, Makati City
Tel. no. 890-6179
Open from 9:00 am to 11:00 pm daily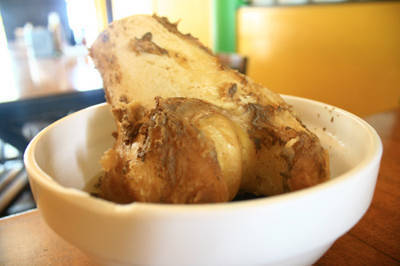 Kansi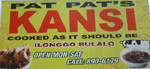 Culinary history: Known to its regulars simply as Kansi, the eatery is owned by Aurelio Servando. The restaurant began in Iloilo City in 1999 when the owner's daughter, Pat-Pat, always requested Kansi(the Ilonggo version of the bulalo) that was only available in Bacolod. After various experiments, the family came up with their own recipe, which was a success among friends. A few years later, they set up shop in Manila.
ADVERTISEMENT - CONTINUE READING BELOW
Foodie lowdown: Of two special implements provided with an order of Kansi-a barbeque stick and a thin, serrated steak knife-the latter proves more useful. The knife gets the job done faster than the stick ever will. But who's picking an argument? After all, the point always is to pry off the soft, rich, if stubborn flesh lodged inside the bone so that it could be enjoyed together with the specially formulated soup.
Tasty tip: Their offerings range from P30 for a stick of Barbeque to P135 for a serving of Kansi, which is their specialty. Go for the latter if you've got cash on you.
CONTINUE READING BELOW
Recommended Videos
Pat-Pat's Kansi House can also be found in the following locations: Allegro Mall (Pasong Tamo Extension, Makati, tel. no. 856-3635) Quezon City (13 Visayas Avenue, Quezon City, near DENR, tel. no. 923-7161), and Parañaque (Greenworld Plaza, Presidents Avenue, BF Homes, Parañaque, tel. no. 703 1855).
2. ATE FE'S KITCHEN
#87 Maginhawa St., UP Village, Quezon City
Tel. no. 433-0523
Open from 11:00 am to 10:00 pm daily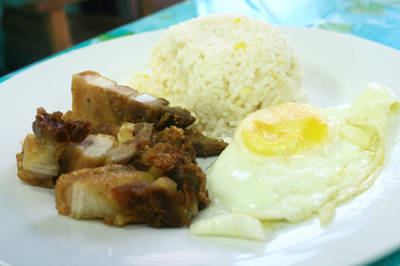 Lechsilog
ADVERTISEMENT - CONTINUE READING BELOW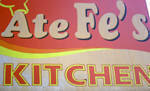 Culinary history: The place is owned by Fe F. Reyes, who is probably the most elusive, hard-to-pin-down proprietor. The people manning the store were accommodating but were not able to supply any information about when the eatery was set up and such. That being said, Ate Fe's Kitchen has more food items than its actual seating capacity. And that's not necessarily a bad thing. After all, the bulk of its customers are students from the University of the Philippines in Diliman, which are as a diverse group as any in the country.
Foodie lowdown: With minimal waiting time, anyone can have Chopsuey Rice, Tocilog, or Beef Ampalaya, all at a reasonable cost. The place really takes to heart the phrase, "short order." They never keep you waiting. However, it's best to go in the early afternoon, when you're sure to have a seat.
Tasty tip: The P90 Lechon Kawali is said to be their bestseller. But, if you're on a very tight budget, you can opt for the Lechsilog, which costs P50. In fact, there's a variety of silogs for you to choose from. Yes, they all go for P50.
ADVERTISEMENT - CONTINUE READING BELOW
3. MATY'S
0395 Quirino Avenue, Dongalo, Paranaque
Tel. no. 854-0889
Open from 6:00 am to 4:00 am daily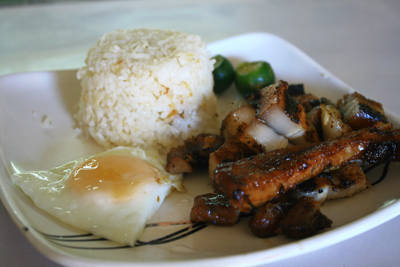 Porksilog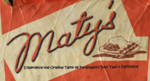 Culinary history: Established in 1970 by Epiphania Reyes-Salazar, Maty's has long been the favorite stopover of those on the nightshift and night owls. One could say it's the best after-party place or after-gimmick stop, where you can nurse a hangover and eat real food. According to the staff, the place has been featured on GMA-7 and ABS-CBN shows. (Though they can't recall exactly which shows.) Actor Dino Guevarra was spotted having a meal at Maty's.
ADVERTISEMENT - CONTINUE READING BELOW
Foodie lowdown: Maty's Tapa is moist, as opposed to the dry, crunchy kind to which most Filipinos are accustomed. However, what it lacks in familiarity, it makes up for in taste and servings. Meanwhile, Porksilog gives the best bang for the buck because serving sizes are generous. But then again, serving sizes don't really matter.
Tasty tip: With nearly all breakfast meals starting at less than P50, it's the perfect deal for all mouths in the south. Try Maty's Tapsilog, Liemsilog, Porksilog, Bar-b-qsilog, Bangsilog, and Tocilog.
Maty's has branches along Salvador Highway in Sucat, Parañaque, Molino, Cavite, as well as two other branches on Quirino Avenue, Parañaque.
4. ALING SOSING'S
5819 Zobel Roxas, Makati City
Tel. no. 0922-5871708
Open 8:00 am to 9:00 pm, Monday to Saturday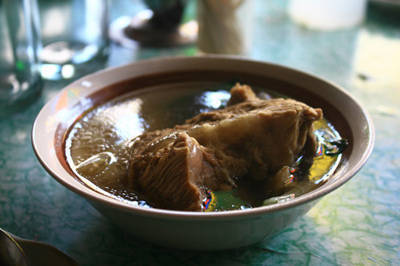 Nilagang Baka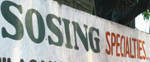 ADVERTISEMENT - CONTINUE READING BELOW
Culinary history: Established in March 1986, Aling Sosing's is a hole-in-the-wall affair, right beside a vulcanizing shop. A Singapore-based journalist wrote a story about Aling Sosing (a.k.a. Asuncion Zamora) that was published in the Asian Wall Street Journal in 2003, revealed proprietor Maritess Lim, proud daughter of Aling Sosing. The place has been featured on TV shows like F and Travel Time. Workers from nearby banks and companies such as PLDT as well as taxi drivers all converge at Aling Sosing's for the famed Nilagang Baka (P100). Evangeline Pascual and Isko Moreno have also visited Aling Sosing's.
Foodie lowdown: During lunch hour, the hiss of a compressor can be heard above the clatter of dishes and the chatter of customers. But don't let the din fool you. You can get great Pinoy soul food at Aling Sosing's such as Adobo, Higado, Liempo, and Bicol Express, which all cost P40 per order. But if you really want to feel like you've died and gone to culinary heaven, get the Nilagang Baka. It's so deliciously tender you can slice it with a spoon with only one hand. (Yes, we tried.)
Tasty tip: It's best to come after 10:30 am, because that's when the Nilagang Baka is already available.
5. REYMON EATERY
950 United Nations Avenue, Manila, right across the Western Police District
Tel. no. 384-9065
Open 6:00 am to 8:00 pm, Monday to Saturday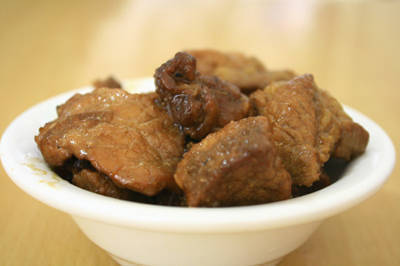 Adobo
ADVERTISEMENT - CONTINUE READING BELOW

Culinary history: Established in September 1, 2009, the eatery is owned and operated by Jane Borja. Though it's relatively new in the carinderia scene, the place has become a favorite of employees from nearby offices-police officers and ABS-CBN reporters included.
Foodie lowdown: Like many establishments of its size, Adobo-the iconic, quintessential Filipino food-is the house special at Reymon's. But unlike most preparations, its Adobo shows no grease nor oil. Unfortunately, the meat was tougher than expected. But if hardened reporters covering the police beat can take it, so can anyone else, especially since each serving-a mid-size bowl-is only P35.
Tasty tips: You also have to try the Bicol Express, Papaitan, and Pork Higado, all for P35 per order.
6. CARUZ EATERY
220 Hillcrest Drive, Oranbo, Pasig City
Tel. nos. 671-5277 or 0917-980 1690
Open 6:00 am to 11 pm, Monday to Saturday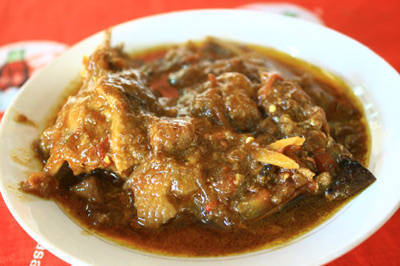 Kalderetang Itik
ADVERTISEMENT - CONTINUE READING BELOW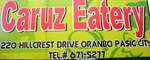 Culinary history: Owned by Nellie Caruz, who also serves as the cook, the eatery has been up and running for close to 25 years. Besides serving beer, the establishment also has a coin-operated karaoke machine, allowing customers to mimic Sinatra's "My Way" while enjoying inexpensive food. ABS-CBN reporter Alvin Elchico and basketball player Jherome Ejercito have been spotted enjoying a Caruz Eatery meal. For sheer location, you can't miss Caruz Eatery. It's right across Victoria Court in Pasig City, that famous playground of lovers, illicit and otherwise.
Foodie lowdown: Everyday, Caruz serves more than 30 kinds of meals, including its specialties such as Kalderetang Itik (P65). Unless you're predisposed to spicy food, skip the itik. Spice levels are a notch or so higher than what Filipinos generally consume. But if not, itik can be enjoyed with hot rice and/or cold beer.
Tasty tip: If itik is "too exotic" for you, get no-nonsense dishes like the Giniling or Bopis, which costs P50 per order.
ADVERTISEMENT - CONTINUE READING BELOW
7. TAPSILOGAN NI MAMA LENG
Unit 7, University of the East Building, S. H. Loyola St., Barangay 404, Zone 0141, Sampaloc, Manila
Tel. nos. 985-9533 or 361-1013
Open 8:00 am to 10:00 pm, Monday to Saturday; 8:00 am to 8:00 pm Sunday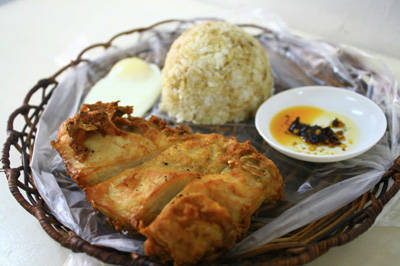 Porksilog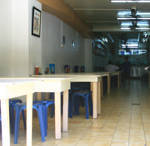 ADVERTISEMENT - CONTINUE READING BELOW
Culinary history: Established by Angelina "Mama Leng" Apelo, the tapsilogan has been around for over 20 years. The regulars call it Mama Leng's. Primetime news program TV Patrol used the establishment as a background when it covered and reported a student rally regarding President Gloria Macapagal-Arroyo's controversial expensive dinner abroad that cost P1 million, proprietor Jessie Ann Bangil said. TV Patrol wanted to show how much students were paying for their food. James Yap and other basketball players from UE have eaten at the tapsilogan.
Foodie lowdown: No real "cook" is employed by the establishment, proprietor Jessie Ann Bangsil said because food is prepared and marinated before it is delivered to branches. The arrangement allows all four branches to offer a wide variety of breakfast and non-breakfast meals at every hour of the day to its customers. But that doesn't mean taste and quality is compromised. Its bestselling Chicsilog, at P48, offers big and crunchy servings, complete with a cup of rice and egg cooked sunny side up.
Tasty tip: The Tapsilog, which costs P39, is also a cheap-but-great treat.
Tapsilogan ni Mama Leng has branches on Gastambide Street in Sampaloc, Manila, as well as in Fatima University and 10th Avenue in Caloocan.
8. ASILO COLEGIO DE SAN VICENTE DE PAUL FOOD TRAINING CENTER
1148 United Nations Ave., Paco, Manila
Tel. nos. 523-1460, 523-3829 local 122 or 106
Open from 5:00 am to 8:30 pm, Monday to Saturday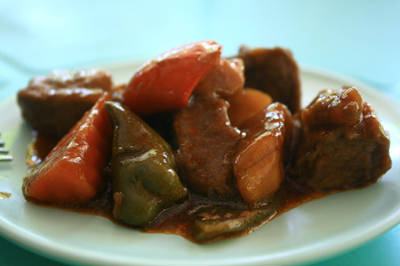 Pork Estofado
ADVERTISEMENT - CONTINUE READING BELOW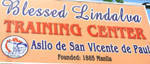 Culinary history: The eatery was established in the 1990s to serve as on-the-job training for culinary arts students. Known to regulars simply as Asilo, the eatery is a popular food stop for employees, student roomers, and transients from the nearby Pope Pius XII Catholic Center. The Asilo also hosts the Sagip Kabataan Bakery which makes, sells, and delivers bread, cakes, and other Filipino pastries, such as French bread, egg pies, dinner rolls. Proceeds are used to support programs and services for children under its care. Another program helps cooking and baking skills to its scholars from poor families in the provinces.
Foodie lowdown: Although it doesn't claim to offer any specialties, its recent fare included Pork Estofado, which included slices of bell pepper and banana. At P40 per serving, the fare could be sold at twice the price at a regular establishment.
Tasty tip: You should check out breakfast fare at the Asilo. It's when you can have your fill of Filipino breakfast treats like Tinapa, Tuyo, Chicken Longganiza, Scrambled Eggs with Sardines, and more at rock bottom prices. How rock bottom? Well, P200 would feed three people until they can hardly feel their toes.
ADVERTISEMENT - CONTINUE READING BELOW
9. DANNYLICIOUS
176-C Kalantiaw St., Project 4, Quezon City
Tel. no. 497-3982
Open from 10:00 am to 10:30 pm, Monday to Saturday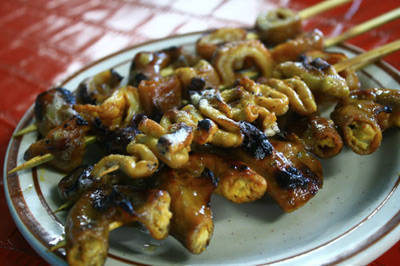 Isaw

Culinary history: Owned and operated by Crisanta Gaviola, Dannylicious has been feeding its public since the 1970s. It sells an estimated 30 kilos of pork barbeque on a regular day. You'll get an idea of how popular the place is when even employees from San Miguel Brewery Inc. and Toyota's Ortigas branch come to grab a bite. Celebrities like cager Marlou Aquino and crooner Gian Magdangal have also been spotted. GMA-7 and ABS-CBN shows have also featured it.
ADVERTISEMENT - CONTINUE READING BELOW
Foodie lowdown: Dannylicious delivers with its Pork Barbeque (P23 per stick), Mechadong Baka (P75), and Bicol Express (P60).
Tasty tip: Admittedly, Dannylicious' pork barbeque is costly. But price is no object, even among its primary downmarket clientele, who are not satisfied with just one stick. With a separate order of rice (P10), a small bowl of soup is served, compliments of the house. A vinegar dip replete with onions and chili is also offered to complete the traditional Filipino barbeque meal.
10. ANGELI'S CUISINE
#12 Tiendas del Parian, Muralla Street, Intramuros, Manila (right across Chapel of the Franciscan Venerable Third Order)
Tel. no. 0919-4074274
Open from 8:00 am to 5:00 pm, Monday to Saturday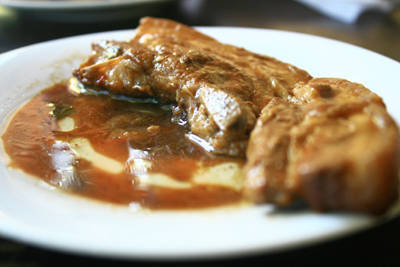 Adobo Porkchop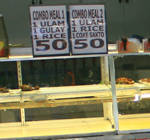 ADVERTISEMENT - CONTINUE READING BELOW
Culinary history: Angeli's Cuisine is part of a group of eateries referred to as "The Wall," since they're all situated close to the walls of Intramuros. Angeli Digneneng is the owner and cook. The eatery occasionally gets free plugs during Channel 4's Sining Gising because the Dignenengs' provide the show as well as the National Commission for Culture and the Arts (NCCA) with catered food. Students, professors, uniformed guards of the Intramuros enjoy its offerings.
Foodie lowdown: Angeli's Cuisine offers two kinds of combo meals, both priced at P50 each, a strategy useful for attracting its primary market: students. Combo No. 1 consists of two viands-one of which is a vegetable meal-and a cup of rice. Combo No. 2 is a viand, a cup of rice, and a bottle of Coke Sakto.
Tasty tip: Limited offerings has never prevented Angeli's Cuisine from serving creative dishes, even on Saturdays when business is generally slow. Its version of Tokwa't Baboy is an improvement over the original. Instead of just a vinegar and soy sauce, the tokwa is served crushed and mashed, peppered with carrots, kimchay, and tausi.
Photos by Kevin Sandiego. Artwork (homepage) by Warren Espejo.

---
Help us make Spot.ph better!
Take the short survey
Load More Stories