Where Expats Go to Get a Taste of Home
UPDATED: SPOT.ph asked expats in the city who know their cuisine best which spots measure up to their dining standards of authenticity.
Expats in Manila know a thing or two about good food -- especially when it comes to dishes from their home countries. And thankfully, foreign food choices in the metro have expanded over the past few years.   Gyro, souvlaki, kimchi, biryani, bulgogi, schnitzel, phoa, foie gras -- these once hard-to-pronounce words decades ago have now made their way into our regular dining line-up.
We asked a number of expats about "where they eat to get a taste of home," and more than a few of them expressed dismay over the lack of truly authentic dishes "like how it tastes back home." On the flip side, many are pleased with the array of international dining options that Manila has to offer.   One Turkish national we spoke to summed it up: "You can never find truly authentic dishes from your home land in a foreign land, because foreign dishes are usually tailored to suit the locals' tastes."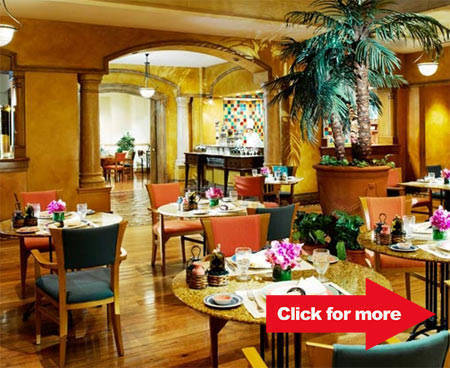 ADVERTISEMENT - CONTINUE READING BELOW
So while they have to make do with what's there, Manila luckily has enough good restaurants that measure up to expats'   high dining standards:

CUISINE: ITALIAN
EXPAT EXPERT: Frank David, banker
WHERE TO GO: Mi Piace, Cafe Caruso, Cantinetta, Pagliacci, Amici
CONTINUE READING BELOW
Recommended Videos
French-Italian and German-born banker Frank David speaks highly of Italian food in the Philippines, having lived in the country a little more than three years.   "Luckily a lot of good Italian ingredients are found or flown into Manila," he credits.   He frequents Mi Piace for truly authentic, high-end Italian cuisine as well as Café Caruso.   Cantinetta and Pagliacci also top his list of good Italian food choices.   "Amici has pretty authentic pizzas - but just the pizzas," he adds.

CUISINE: FRENCH
EXPAT EXPERT: Frank David, banker and Louis Saltao, consultant
WHERE TO GO: Je Suis Gourmand, Aubergine, La Cabane
ADVERTISEMENT - CONTINUE READING BELOW
For French food, David likes Je Suis Gourmand.   "The chef is French, and his meat and fish dishes are authentic," David vouches.   "Aubergine is good too as they use fresh ingredients."   Longtime Philippine consultant Louis Saltao enjoys La Cabane for its French chef and traditional French menu, and Café Breton for its savory food and ambience "like how it is back home."   Saltao also enjoys Florabel, and explains "It's not completely French cuisine, but the use of ingredients is similar and I like how the food is light, yet filling."

CUISINE: GERMAN
EXPAT EXPERT: Toby Hoschka, ADB executive
WHERE TO GO: Mickey's Deli and German Club
"Authentic German food is a little more difficult to find in Manila," says German ADB executive Toby Hoschka, and David agrees.   Mickey's Deli unfortunately only meets Hoschka's standards of good German fare, while David enjoys dining at the German Club, as the food is affordable, the beer is affordable, and the ambience "feels very German."
ADVERTISEMENT - CONTINUE READING BELOW

CUISINE: MEDITERRANEAN
EXPAT EXPERT: Levend Ekizogle
WHERE TO GO: Cyma, Arya
Levend Ekizogle is a Turkish-American who's been in the country for four years.     Currently a restaurant manager who used to own his own restaurant on the Mediterranean coast,   he enjoys "healthy, organic dishes," which incorporate a lot of olive oils, lamb, and other grilled meats.     Although he says there isn't one restaurant in Manila that serves absolutely authentic Turkish food, he enjoys eating at Cyma because "the food they serve is 90 percent similar to food back home." Iranian-owned restaurant Arya is also a favorite, and Ekizogle also enjoys the popular chain Italianni's for their hearty, healthy, olive oil-based fare.

CUISINE: INDIAN
EXPAT EXPERT: Kaiz Patel and Netha Nandhwani, businessmen
WHERE TO GO: Prince of Jaipur, Bollywood, Persia Grill, Kashmir, Circles at Makati Shangri-la, Legend of India
ADVERTISEMENT - CONTINUE READING BELOW
Kaiz Patel is a businessman from Mumbai who's been in the country for three years.   He prefers to cook at home, but admits "there isn't really a place in Manila that serves authentic Indian food." When the urge to eat out hits him, he dines at Prince of Jaipur and Bollywood where "some aspects of the Indian food they serve are okay." Persia Grill is decent too where "some of the dishes they serve there are similar in taste to Indian food." But when he really hankers for traditional Indian cuisine, he heads over to the Indian food station at Makati Shangri-La's Circles Event Café and asks the Indian chef to cook him traditional Indian cuisine the way he's used to.   Vegetarian Business owner Netha Nandhwani - who's been in the country the past two years-- says Kashmir is good "on-and-off" but new Indian restaurant Legend of India has been garnering solid reviews from her fellow Indian expat friends.

CUISINE: CHINESE
EXPAT EXPERT: Sze Lung Yuen, Communications research specialist
WHERE TO GO: Shang Palace, Emerald, Hai Shin Lou
ADVERTISEMENT - CONTINUE READING BELOW
Communications research specialist Sze Lung Yuen hails from Hong Kong and the Fujian province of China, and he's been in the country for close to a decade.   When he gets a hankering for dimsum, he heads over to Shang Palace at the Makati Shangri-La, or Emerald along Roxas Boulevard.   For hearty Chinese fare, he enjoys Hai Shin Lou for its "very authentic taste," and shares that among the Chinese business community, "it's known to be the best." (He shares that a certain airline taipan is frequently spotted holding meetings there too.)   Surprisingly, Yuen doesn't recommend Chinatown for his native cuisine as he finds the quality of the food "inconsistent."

CUISINE: JAPANESE
EXPAT EXPERT: Hiruisa Oi, ADB executive
WHERE TO GO: Seryna
Japanese ADB executive Hiruisa Oi has been residing in the Philippines for over three years.   He and his wife prefer to eat in, and can name only one restaurant that meets his standards: Seryna at Little Tokyo.   While he says most restaurants there are traditional and well-frequented by the Japanese expat community, he says that Seryna has the best quality food, with a pretty stellar drink list too.
ADVERTISEMENT - CONTINUE READING BELOW

CUISINE: KOREAN
EXPAT EXPERT: Sarah, Korean working mom and student
WHERE TO GO: San Sung, Ara Korean Restaurant, Kaya, Dong Won Garden
Korean working mom and student Sarah has been in the country for the past decade, and vouches for the quality of the Korean restaurants in Manila, especially San Sung, Ara, Kaya, and other Makati-based restaurants such as Dong Won Garden on Jupiter Street.   While Sarah enjoys cooking at home, she sometimes finds it hard to "get enough of the special ingredients for Korean food" and opts to eat out when her craving for home strikes.   The restaurants she names "truly satisfy her as these places remind her of home, and the taste is similar to her Korean hometown."

CUISINE: THAI
EXPAT EXPERT: Nong, customer service representative
WHERE TO GO: Oody's, Benjarong Royal Thai Restaurant
ADVERTISEMENT - CONTINUE READING BELOW
Nong, a 26-year-old customer care representative, admits that he hasn't chanced upon truly authentic Thai cuisine in Manila.   "Although some do come close," he admits.   He enjoys going to Oody's for its simple food and ambience, while Benjarong Royal Thai Restaurant at the Dusit Manila is the closest to his familiar comfort food from home.   "When I tell the chefs there that I'm Thai, they prepare the dishes more to my liking, which is great."


CUISINE: VIETNAMESE
EXPAT EXPERT: Hanh Nguyen, Xuan Bich Le, and Tray, customer care expats; Natalie Le, stylist
WHERE TO GO: Pho Hoa, Pho Ba, ZaoVietnamese Bistro
Vietnamese customer care expats Hanh Nguyen, Xuan Bich Le, and Tray prefer the simple, hearty food choices at Pho Hoa or Pho Bac compared to the more upscale Vietnamese restaurants around the metro.   "They indeed have the authentic taste from back home," Hanh says, while Xuan begs to differ.   "They're good, but not too authentic, although their sauces and vegetable dishes are good."   Tray shares Xuan's sentiment, and enjoys the rice noodle dishes at these places saying "They're good but only because we don't know other places that offer good Vietnamese cuisine."
ADVERTISEMENT - CONTINUE READING BELOW
Natalie Le prefers Zao in Serendra. "It's where I like to go when I'm missing my father's home-cooked meals. The food at Zao is comforting and flavorful and the ingredients taste fresh. My favorites are the lemon grass tofu, noodle bowl with grilled pork and their spring rolls. "


Photographs by Charley Bautista (Cantinetta, Je Suis Gourmand and Arya), Nerisa Almo (Persia Grill), Dusit Thani Manila, The Peninsula Manila, Makati Shangri-la, Mickey's Deli, Cyma, Aubergine, Frances Ellen (Amici), A (Prince of Jaipur), Kashmir, Hai Shin Lou, Karla Caraan (Kaya Korean Restaurant), Gerald Criste (Oody's), nierva.com (Emerlad Garden).


---
Help us make Spot.ph better!
Take the short survey
Load More Stories