SPOT.ph Road-tests 10 Popular Pares in Metro Manila
SPOT.ph checks out popular pares places to find out if they serve genuine gastronomic treats or just tawid-gutom fare.
Served in roadside eateries and other "no tablecloth" chow spots, pares, which literally means "pair," is a meal featuring beef stew and clear beef soup served with fried rice. Ideally, the beef chunks-cooked in a mixture of soy sauce, star anise, water, salt, pepper, and sugar-should be soft and loaded with litid (ligaments).
After going through pares freaks' online discussions, as well as consulting random foodies, we checked out the pares meals believed to be the best in Manila. SPOT.ph finds out if the chosen pares places serve genuine gastronomic treats or just passable tawid-gutom fare. We assessed and ranked them according to our taste, and we're pretty sure you'll tell us if it differs from yours.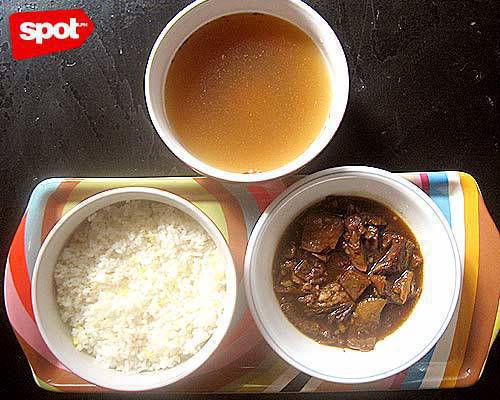 1. ORIGINAL PARES MAMI HOUSE
2024 España Boulevard corner Basilio Street
Open 24 hours daily
Don't judge this pares place by pares its generic moniker. Though it has to be said that its name is so nondescript that most people simply call it "Pares sa Maceda." (This is because it's also near Maceda Street, which has a more prominent sign along España.) With a whole lot of litid, the beef stew is makes this pares (P67) a showstopper. It goes without saying that the beef chunks are extremely tender. The fried rice-with scrambled egg and chorizo bits-goes very well with the lightly peppered soup. The meal also passes the "leftover test." You order it to go and place it in the fridge once it cools down. You can reheat the combo and serve pares at home the next day. It tastes just as good.
ADVERTISEMENT - CONTINUE READING BELOW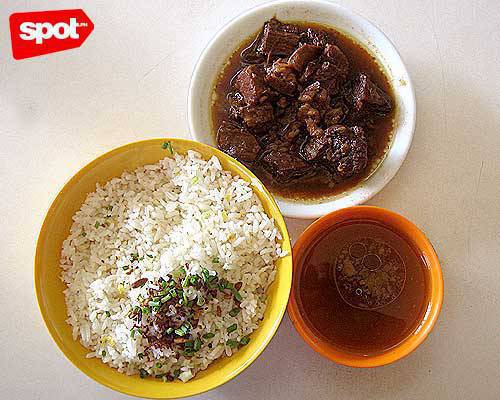 CONTINUE READING BELOW
Recommended Videos
2. COCOY MAMI HOUSE RESTAURANT
Unit 118-C, Visayas Avenue, VASRA I, Quezon City
Tel. no. 924-5019
Open 9:00 a.m. to 10 p.m. daily
If crowds have been eating your pares (P70) for the past 14 years, then you must be doing something right. Cocoy's pares has beef stew with a generous helping of litid and fat, as well as a hint of star anise. The beef chunks are tender enough to be cut with a spoon and the fried rice is served with chopped leeks, scrambled egg bits, and toasted garlic chips. The soup tends to be too greasy though. Then again, you can forget about the soup.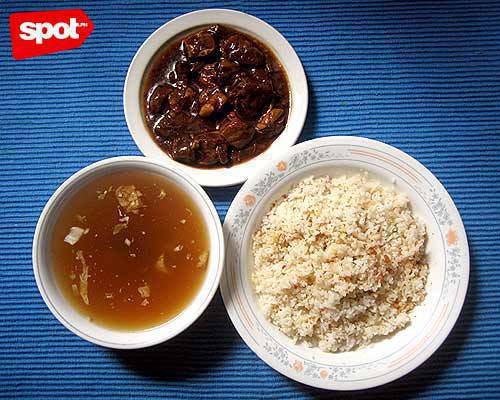 ADVERTISEMENT - CONTINUE READING BELOW
3. PARES MAMI HOUSE
445 N.S. Amoranto Avenue corner D. Tuazon Street, Barangay Maharlika, Sta. Mesa Heights, Metro Manila
Open 7:30 a.m. to 11 p.m. daily
Whoever put up this pares probably thought he or she would let the food speak for itself. The pares (P65) boasts of tender, litid-laden beef chunks in the stew, fried rice with chorizo bits, and soup with shredded Chinese cabbage. There's just a hint of star anise and enough salt to counter the sweetness of the stew. The combo likewise passes the "leftover test." What else does one have to say about this place except it more than lives up to its name.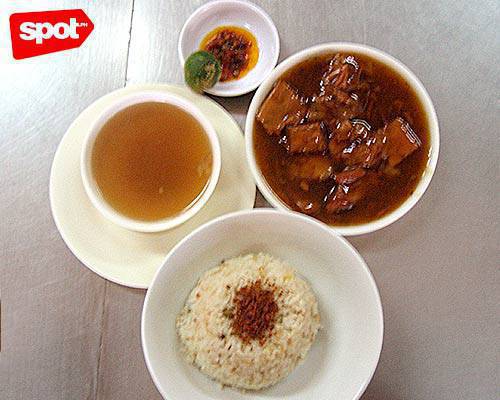 4. NOODLE KING PARES MAMI HOUSE
1533 Dimasalang Street, Sta. Cruz, Manila
Tel. no. 386-5326
Open 24 hours daily
Though the place serves a whole array of comfort food-from adobo rice to bulalo-the pares (P68) is still the bestseller. The combo boasts of lightly spicy stew with tender beef chunks. There's enough litid and fat on the meat to keep things interesting. The stew's sweet and salty taste is the perfect counterpoint for the clear soup. The rice is also fried lightly, with just a few minced bits of garlic.
ADVERTISEMENT - CONTINUE READING BELOW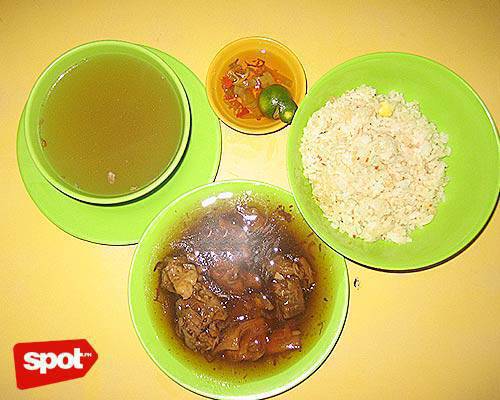 5. ORIGINAL PARTNERS PARES & MAMI HOUSE
Alvarez Street (near Rizal Avenue), Manila; Kamuning Road corner Judge Jimenez Street, Quezon City (tel. no. 410-3236), and other branches
Open 24 hours daily
Situated near the bars and restaurants in the Kamuning area-as well as right across a Petron gas station-Partners is assured of heavy foot traffic. Thankfully, its location isn't its strongest asset. Partners' pares (P62) has tender, mildly seasoned beef chunks with the barest hint of star anise. Though the soup is forgettable, the fried rice with minced carrots, garlic, and scrambled egg makes up for it. It's a good choice for an after-gimik or hangover meal. However, those who are into litid may find this pares lacking.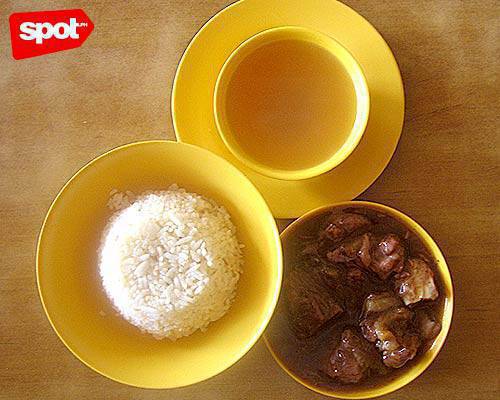 ADVERTISEMENT - CONTINUE READING BELOW
6. JECE PARES AND LECHON MANOK
Unit B, 45 Maginhawa Street, UP Village
Tel. no. 434-1059
Open 24 hours daily
While the majority of Maginhawa Street food places offer fusion dishes and boast of creative interiors, this places stands out for offering no-nonsense Pinoy comfort food served in the traditional paresan setting. Taxi and tricycle drivers frequent the area for (what else?) pares (P55). The stew's beef chunks are on the sweet side-with a strong star anise flavor. The fried rice is served plain, with just a little bit of crushed garlic. It's a surprisingly hearty meal.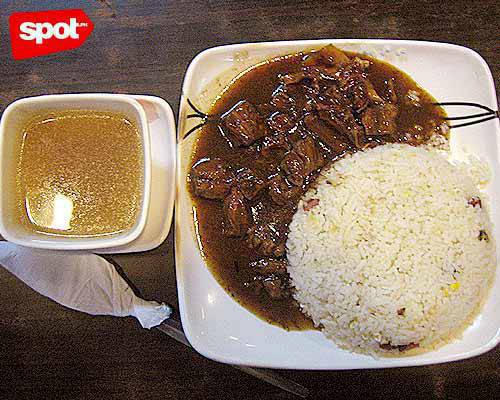 7. BEST FRIENDS
679 Boni Avenue, Barangay Barangka Drive, Mandaluyong City
Tel. no. 534-0166
Open 24 hours daily
Breaking away from tradition, Best Friends' pares (P65) serves the beef stew in the same plate as the fried rice. The sweet-salty beef chunks have a moderate star anise flavor but they decided to amp up the pepper. It's spicier than the usual pares. It's a good meal, but, at times, the stew tends to overpower the meat. Those who are big fans of strong, spicy sauces should love this one.
ADVERTISEMENT - CONTINUE READING BELOW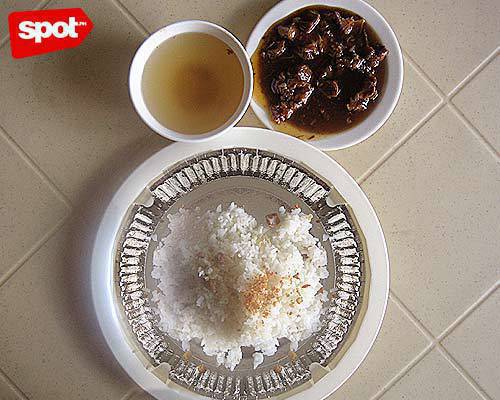 8. UNA SIKAT COMPARES
No. 2 Anonas Extension corner V. Luna Road, Diliman, Quezon City
Open 24 hours daily
In old posts in online forums, people rave about the pares here. Perhaps, these days, only nostalgia can make the pares taste as it should. The beef chunks had enough fat and litid-but you'd have to struggle to enjoy it. The meat was not only tough-it seemed as if it fought back. The saving grace of the combo was the soup, which was clear and salted just right. Maybe the glowing reviews of the past just raised our expectations.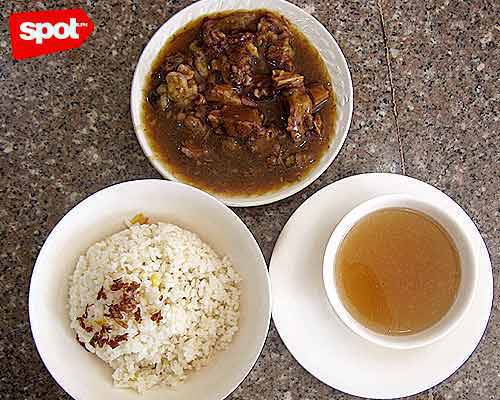 ADVERTISEMENT - CONTINUE READING BELOW
9. MARE'S PARES
866 Vito Cruz Extension, Malate, Manila
Open 24 hours daily
Located just a few meters away from De La Salle University and De la Salle-College of Saint Benilde, the place is a popular chow point for students. Among all the pares places, this one boasts of an impressive selection of beverages-from bottled teas and just about every kind of canned soda. That being said, the pares (P64.50) is a good enough meal when you're very hungry. Don't expect any fireworks. The beef chunks are flavorful enough but they're a bit tough.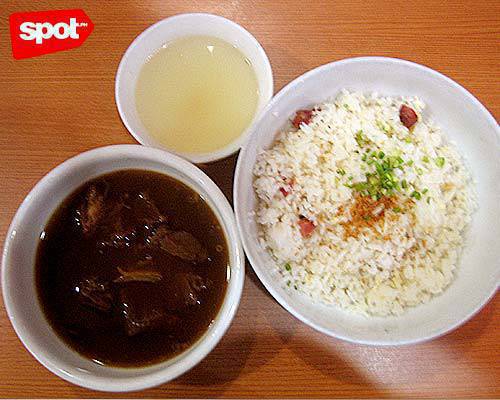 10. JONAS
2nd Floor, Robinsons Place, Pioneer Street, Mandaluyong City
Tel. no. 687-7629
Open 10 a.m. to 8 p.m. daily
Jonas began as a typical pares place in 1979. Its proprietor and cook, Lolly Tiu, was said to have been the one who coined the term pares to refer to the now-popular combo. According to the restaurant's history (which is plastered on one of the walls of the establishment's interiors), Tiu had offered the combo as a value meal. To make it easy for people to order it, she baptized it "pares." These days, Jonas is no longer a humble paresan. Unfortunately, the pares also isn't what it used to be. (Or maybe the cook was just having an off day?) Though the pares (P100) had tender beef chunks, it was bland. It was as if the flavor had not yet seeped in. There wasn't even a hint of star anise. This was rather unfortunate since the big bowl of fried rice with yummy chorizo bits and the soup were tasty enough.
ADVERTISEMENT - CONTINUE READING BELOW
Special mention: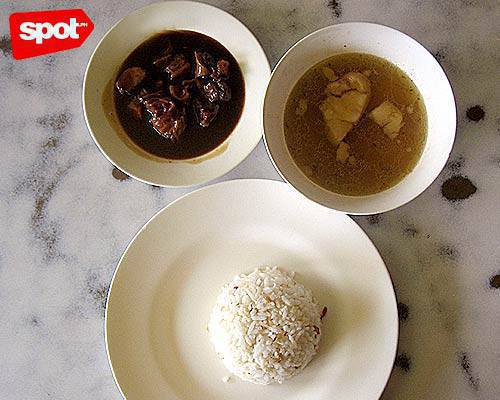 KING GINNO'S PARES
EDSA corner Park Avenue, Pasay City
Open 24 hours daily
When celebrity chef Anthony Bourdain came to the Philippines to shoot a segment for No Reservations, he ate at this pares joint and allegedly pronounced its tapsilog as delicious. But since this is a pares place and this is a pares article, we tried the pares (P45). First off, the star anise flavor was so strong that the stew tasted almost like bad medicine. The beef chunks were tender but the sauce had "killed" them. The soup had whole chunks of fat floating in it. The fried rice was fine. However, due to sanitation concerns, we can't really recommend this place as we spotted two dogs frolicking freely on the dirt floor near the food preparation area. The waitstaff also didn't know the place's exact address, they could not issue any receipt (either official or makeshift), and they didn't want to give any information about the place. Thus, we had no way of knowing if the dirt floor was just because it was being renovated.
ADVERTISEMENT - CONTINUE READING BELOW
Anthony Bourdain reportedly loves Filipino food.
Should you eat here? Yes, if you're a Bourdain fan and you like to live dangerously. For the record, the segment featuring this pares place didn't make it to the final cut of the No Reservations segment. Maybe, just maybe, a lot had changed since Bourdain visited or maybe the cook accidentally dropped a bucket of star anise into the pares pot.
SPOT.ph wants to know: Where do you get your pares fix?
Note: Styling was done for food subjected to the "leftover test."
Share this story with your friends!
---
Help us make Spot.ph better!
Take the short survey
Load More Stories