The perfect partner for Tsokolate Eh? The ensaymada. Filipinos love this coiled bread as breakfast or merienda fare. To make good ensaymada, the baker must use good quality flour, yeast, egg yolks, salt, and sugar. Butter (or lard) is worked into the dough and brushed on top then sprinkled with sugar. Nowadays, the ensaymada is crowned with grated cheddar cheese or queso de bola for the special variety.

The Filipino ensaymada traces its origins to the ensaimada, a traditional yeast bun from Majorca, Spain, made with pork lard and just a hint of sugar on top. It began to appear in local panaderias during the Spanish period when Filipino and Chinese bakers began to make bread via the government's Royal Bakeshop in Intramuros.

Old-timers remember the ensaymada as a flat concoction, not the puffed up muffin-like versions of today. The traditional ensaymada was merely dusted with powdered or granulated sugar, just like the Majorcan version, notes food historian Felice Sta. Maria. Grated queso de bola was added before World War II, though in Pampanga it could have been earlier as most heirloom recipes we sampled already had the cheese. The combination of salted duck's egg and cheese were introduced later on in the ensaymadas of Malolos, Bulacan.

Recipes for ensaymada are as varied as its bakers. Some ensaymadas have a bread-like structure, more hefty than airy. Other ensaymadas, especially the ones being sold commercially and heaving with a halo of cheese, are soft, airy and almost muffin- or cake-like in texture. And then there's the in-between, a compromise of the two styles. Although most would refer to theirs as an heirloom or old-fashioned recipe, the resulting bread would sometimes be similar to the modern, soft and airy kinds produced today but with a more stable structure.

Variations on the basic flavor include ube, dulce de leche, monggo, and ham mixed onto the filling or as topping. While a cheese-less ensaymada is a rarity these days, we can still find the butter-and-sugar versions in local panaderias. They retain the original topping except that butter has been replaced by margarine and the dough a generic bun--a cheaper, more accessible ensaymada for the masses.

But the crude ensaymada is not the subject of this list--we already know that we can get them at five bucks a pop at the local bakery.   The flavored ensaymada deserve another list altogether. We're looking for classic ensaymadas with a little something extra, done with more care and good enough to give as gifts. These are ensaymadas we'd make special trips for, as the best ones tend to be made by home bakers. Not surprisingly, most are made by Kapampangans, who are known for their rich and luxurious dishes. These are available in Metro Manila though I'm certain somewhere in Cebu or Davao a baker has his or her own mouth-watering ensaymada keeping our kababayans there deliriously happy.

So enjoy these top ten classic and special ensaymadas (listed in no particular order) with a cup of hot tsokolate eh. You may expand the list on the comments section, because one can never have too much ensaymada.
ADVERTISEMENT - CONTINUE READING BELOW
Here's a list of the best ensaymada in Manila:
1. Café Mary Grace Classic Ensaymada (P52)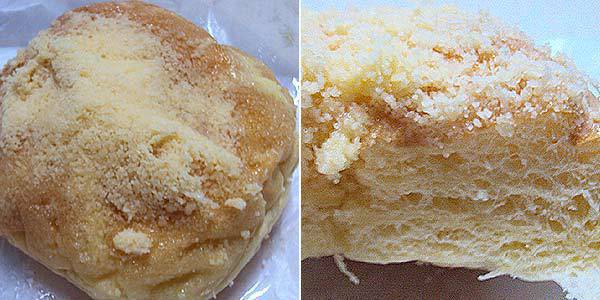 Carefully wrapped in wax paper with Mary Grace's elegant gold logo, this ensaymada has the most enticing aroma courtesy of the fine, almost powdery quezo de bola encrusting the top. When you bite into it, the sugar hidden underneath creates a crunch-y sound. Then as you chew, the butter melts along with the dough, which is light and airy. Although the familiar coil is absent and the interior just a couple of egg yolks short of being de rigueur yellow, Mary Grace has created an ensaymada that's focused on providing a soft, buttery experience than being rigidly authentic. You feel that she cares about her ensaymadas with the quality of the ingredients. To most of us mere mortals, that is heaven enough.

Where to buy: Most accessible of the lot, with various store locations and kiosks all over the metro.
ADVERTISEMENT - CONTINUE READING BELOW
Recommended Videos
2. The Peninsula Manila's Plain Ensaymada (P84.60)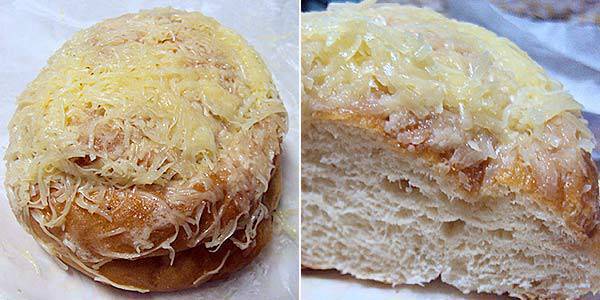 Beneath a toupee of long, thin strands of cheddar cheese, the Pen's plain ensaymada is prominently coiled and golden brown. That brown-ness contributes to the flavor of this ensaymada. The base structure is more of a well-made soft bread, buttery but a little pale in color. The sweetness is just right, muted as it is by the denseness of the bread. The Pen's version is not overwhelmingly rich or moist so get this if you prefer your ensaymada as sturdy as a roll of bread. It would go well with a nice cup of good coffee.

Where to buy: At the Pen Boutique located at the basement of the Peninsula Manila, Makati Avenue, Makati City. Tel. No. 887-2888.
3. Uno Restaurant Ensaymada (P30)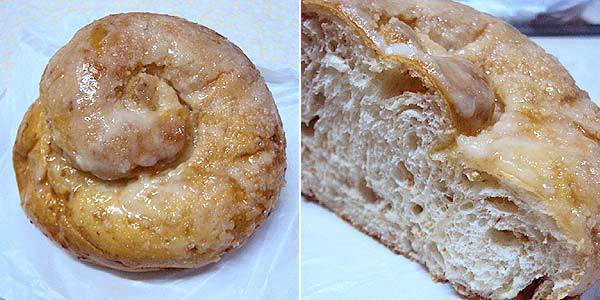 ADVERTISEMENT - CONTINUE READING BELOW
As sturdy as the Pen ensaymada is Uno Restaurant's ensaymada made with whole wheat and curling like a grainy snail. The tops are brushed with a sugar glaze and Parmesan cheese that melts into a shiny coating after you bring it home. Although the wheat flour deviates from the usual plain flour, it gives it considerable heft and density. It's like eating a two-layered soft bagel. For the health-conscious with a sweet tooth, Uno's ensaymada is a unique alternative.

Where to buy: Uno, 195-C T. Morato corner Scout Fuentebella, Quezon City. Call 374-0774 to check if they have it as part of the day's offerings.


4. Hizon's Quezo de Bola Ensaymada (P105)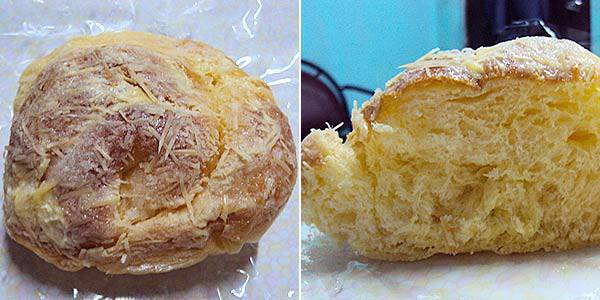 At Hizon's, a historic landmark from Ermita's bygone era, its best ensaymada has to be its quezo de bola version wrapped in clear plastic with white flower prints. Short, thin strands of the cheese cover a slightly coiled peak. It smelled of butter and cheese as expected. Its interior, yellow and springy, resembles a typical Kapampangan ensaymada that, had it not been for its flowery wrapper, I would have--for a few seconds--mistaken it as one of the two dainty ones I bought at the weekend market. It's sweeter than the Cunanan ensaymada especially when grilled and served with Hizon's hot chocolate.
ADVERTISEMENT - CONTINUE READING BELOW
Where to buy: Hizon's has satellite branches at the Promenade Greenhills, Landmark Food Court Area, and SM Mall of Asia. But if you can, try to get it straight and freshly-baked from the source at their main branch at 1197 Jorge Bocobo corner Arquiza Streets, Ermita, Manila. Tel. No. 524-8790.
5. Medina Ensaymada (P205)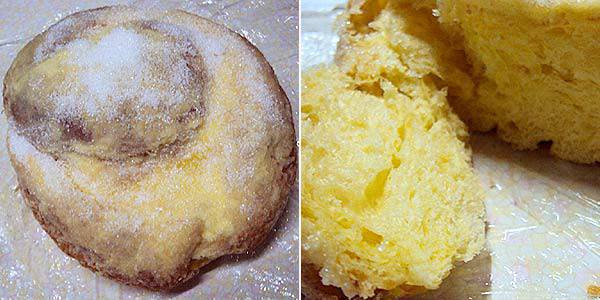 An overgrown ensaymada lounging in a palanggana-like tin, this ensaymada is unnamed and unlabeled except for a strip of paper inserted between its covering of cling wrap. I had to ask if this was indeed the Medina ensaymada, named after a family in Arayat, Pampanga whose traditional Christmas celebration was featured in an issue of Saveur, an international food magazine. At 7" in diameter, the Medina ensaymada is all puffed up and almost lopsided because of its weight. Sugar is generously sprinkled on top while a lake of butter settles on its crevices and moistens the whole surface. It's the most handsome ensaymada I have ever seen and there's not a hint of grated quezo de bola on the surface to hide this fact. Inside, the dough is sunlit yellow, soft, and chewy. It tasted of mellow butter with a hint of salt melting towards the end. Perhaps it's the quezo de bola which is worked into the dough (according to the recipe in Saveur as well as in discussions in local blogs). Compared to its more refined Kapampangan cousins, the Medina ensaymada tastes a bit heavier, almost crude, which gives it a charming character. It smells the same way too, you'll be able to pick it out immediately when mixed with other ensaymadas. Scattered crusts of grated cheese, accidentally or purposely baked into its underbelly, are this down-to-earth ensaymada's parting gift.

Where to buy: In a stall at the Salcedo Saturday Market with a banner at the back that says "Mekeni abe" (just before you reach the barbecue area). For orders, call 896-5523.
ADVERTISEMENT - CONTINUE READING BELOW
6. Imang Beatrice Rodriguez of Pampanga Ensaymada (P200)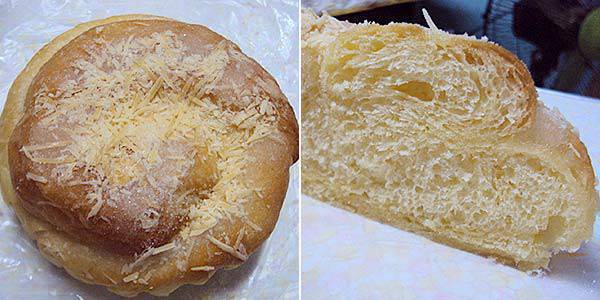 This is a pretty ensaymada shaped like a sleeping cat gracefully coiled around itself. Its tops are golden brown, sprinkled with quezo de bola and sugar. Imang Beatrice's ensaymada tastes as elegant as it looks and more delicately flavored than its cabalen, the Medina ensaymada. It tastes immediately of butter in each slightly oily, bright yellow layer. The texture is soft and melt-in-the-mouth with a pleasant sweetness at the end. While not as bread-y than the Medina version, a cross section of Imang Beatrice's ensaymada shows carefully kneaded layers--the mark of good and authentic ensaymada as I'd learn later--which breaks into paper thin flakes if you pinch it between your fingers.

Where to buy: Head to the Salcedo Saturday Market at the Pamangan stall (alongside the barbecue area at the back) which sells other specialties from the family of Des Rodriguez-Torres, one of the organizers.


ADVERTISEMENT - CONTINUE READING BELOW
7. The Kapampangan Homemade Classic Ensaymada (P170)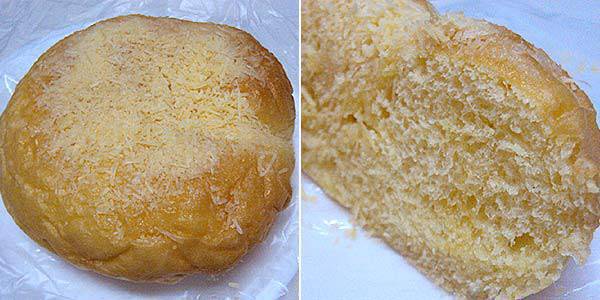 Based on an old recipe, this classic ensaymada is still being made by Imang Salud Dayrit-Santos's heirs in their native San Fernando, Pampanga. The surface is sprinkled with short strands of quezo de bola. While it's not visibly coiled, this ensaymada is egg yolk yellow with a fine texture, almost like a cake but not quite. The dough is tender and delicately crumbed. You can nibble on it and not feel any "umay" because it's less robustly flavored as the Medina ensaymada and a few notches less buttery than Imang Beatrice's. Imang Salud's granddaughter, Melissa, advises to store it at room temperature (and never in the fridge, unless you freeze it, because it will dry out disastrously). A few days later, it did still taste great. Melissa thoughtfully packs it in a Styrofoam plate--a good way to protect this fragile, beloved delicacy--and tucks a small yellow flyer with the ensaymada's name and contact numbers mimeographed on it.

Where to buy: Legazpi Sunday Market, Legazpi Car Park, V.A. Rufino (formerly Herrera St.) corner Legaspi St., Legaspi Village, Makati City. For orders, call 837-0842 or 0920-9478819.
ADVERTISEMENT - CONTINUE READING BELOW
8. Cunanan Ensaymada (P580 for a dozen ensaymadas in a box)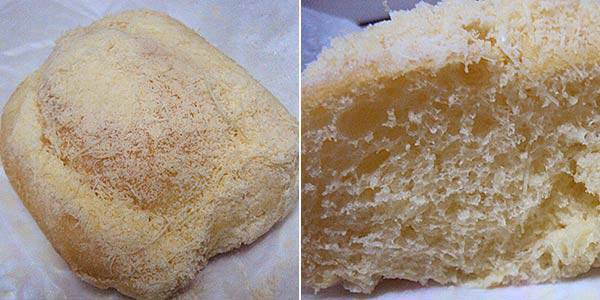 The most popular and revered of the home-baked ensaymadas, the Cunanan ensaymada is fittingly wrapped in wax paper folded like a tent to protect its delicate contents. A crest of powdery grated quezo de bola covers the top and hides the fine sugar and butter brushed underneath. These elements contribute a lot to the flavor and sweetness of the dough, which on its own is also as subtly sweet. Almost similar to its closest rival, Mary Grace ensaymada, it's also light and airy. Unlike Mary Grace's, the Cunanan ensaymada has a softer, fluffier texture. Its finely uniform crumbs make it almost like a cake but with a lot more bubble spots. Named after its creator, Maricel Cunanan, her home in Valle Verde is a pilgrimage for fans of her celebrated ensaymada.

Where to buy: To order, call 631-0798 before picking up your order at 44 Jasmin St., Valle Verde 2, Pasig City. Purchases by order and pick-up only.
ADVERTISEMENT - CONTINUE READING BELOW
9. Addie's Ensaymada (P1,100 for a dozen small, 100-gram ensaymadas)


A newcomer in the ensaymada home baking industry, Addie Wijangco's recipe is much older than her as it had been passed on by her two grandmothers. I discovered her through food writer and home baker's advocate, Lori Baltaza's dessert blog. When I came to pick up my order, I was surprised at how big (about 4" to 4.5" in diameter) the "small"-sized ensaymadas were. They were perfectly coiled like the carapace of a snail. Addie's ensaymadas are properly yellow, with tender, springy dough. It's moist, mild and subtly flavored with butter. I love its good bread structure and how the layers are visible when you slice it through. Addie says her friend's father calls these requisite ensaymada layers as hoja-hoja, from the root word "hoja," which in Spanish means "leaf, blade or sheet of paper." Addie's ensaymadas are a cross between the sturdier Medina ensaymada, the fluffy Imang Salud's and Cunanan's airy version. As with premium, home-baked ensaymadas, we pay a lot more considering how labor intensive and time-consuming it is to craft even just a dozen quality ensaymadas.

Where to buy: To order, call Addie Wijangco at 586-7615 or 0917-23343 and arrange for your preferred time for pick-up. One dozen large ensaymadas weighing 200-grams each also available. Be sure to have someone help you carry it as its box is expected to be huge.
ADVERTISEMENT - CONTINUE READING BELOW
10. Pasteleria Mallorca Ensaymada (P270 for one gigantic ensaymada)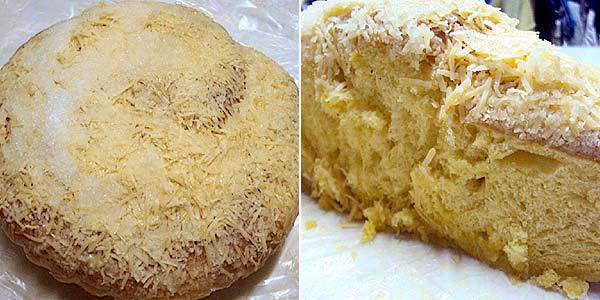 Housed in a pink box with the name "Mallorca Pasteleria Manila" printed in white and gold, like a family coat of arms, this is the First Lady of ensaymadas. From a 150-year old heirloom recipe passed on to the late Pilar Quiason Reyes-Gonzalez of Apalit, Pampanga, the Pasteleria Mallorca ensaymada is a rich concoction that reflects her heritage of fine, luxurious food. Her children, one of whom is Cafe Ysabel founder Gene Gonzalez, carries on her kitchen traditions through the 21-year old made-to-order bakery. Even the ingredients indicate the quality of this ensaymada--from the Marca Piña quezo de bola and Victoria white sugar that generously graces its summit to the manteca de cerdo (pork lard) and Anchor butter worked into the dough. For such a rich legacy, the ensaymada has to be big and bold at about 7.5" in diameter. The texture is soft and springy, a very good example of an old-style, bread-like ensaymada. It's yellow from all those eggs and tastes subtly of butter and a salty end note from the cheese. As you make your way to the bottom, the underside is bright and oily from the accumulated butter and lard. Such a treat is meant to shared, a gift from a grand old lady.

Where to buy: While technically not a home bakery, its factory is tucked along a residential area (green gate). Best time to drop by is at around 2 p.m. when the ensaymadas are freshly-baked. Located at 18 Scout Fuentebella corner Scout Santiago, Quezon City. Call 373-2789 or 90 for orders. Store is closed on Sundays.
ADVERTISEMENT - CONTINUE READING BELOW
Photographs by Jenny Orillos.
Share this story with your friends!
---
Help us make Spot.ph better!
Take the short survey
Load More Stories