Top 10 Leche Flan From Metro Manila Restaurants
Spot.ph found rich, creamy, smooth, melt-in-your-mouth goodness all over town!
Remember the last time you went to a traditional Filipino handaan? Christmas lunch? Your favorite tita's birthday? Chances are, leche flan was included in the spread. Leche flan is a rich custard dessert made of egg yolks, sugar, milk and usually with some kind of citrus flavoring. It is usually cooked in a tin mold (or llanera) and steamed. As with any Filipino dish, the varieties are endless. Some swear by carabao's milk. Some choose baking over steaming. Some flavor it with dayap rind or lemon rind or calamansi.
Whatever way it takes, a good leche flan should not be overly sweet or have a burnt sugar aftertaste. Its texture should be firm and smooth, with minimal bubbles. And lastly, it should be melt in your mouth.

Someone had to make the supreme, cholesterol-rich sacrifice to find the best leche flan served in Manila's restaurants (fans of the home-made variety will have to wait for Part 2!)   and so we did and came up with this sweet list:

10. Bacolod Chicken Inasal
Address: 140 Jupiter Street, Bel-Air 2, Makati City. Tel. No. 897-7507 (with other branches)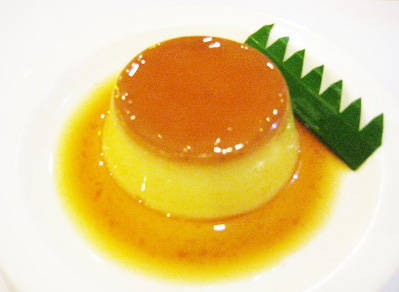 ADVERTISEMENT - CONTINUE READING BELOW
Sweet deal: Definitely looks yummy. The color alone looks "leche flan na leche flan." Firm and not too many bubbles. Perfect end to an inasal meal. Here's one affordable joint you can run to if you need to have a leche flan fix. At P49.50, definitely value for money.

Foodie fuss: A bit too sweet, not enough melt-in-your-mouth factor and kind of reminds one of egg pie.

9. Masas
Address: Greenbelt 2, Ayala Center, Makati City. Tel. No. 757-4031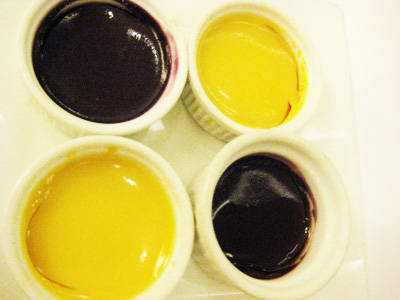 Sweet deal: Gave the usual flan a twist by adding an ube variety. Upped the ante some more by serving them in four mini trays. Plus points for effort. Firm texture, no bubbles and nice color. Good deal at P99.

Foodie fuss: Good to share, maybe too much for one person to finish. Could be sweeter and more melt-in-your-mouth. Ube flan? Let's stick to the orig.
CONTINUE READING BELOW
Recommended Videos
8. Little Quiapo
Address: 90 Malakas Street, Pinahan, Diliman, Quezon City. Tel. No. 922-4131
ADVERTISEMENT - CONTINUE READING BELOW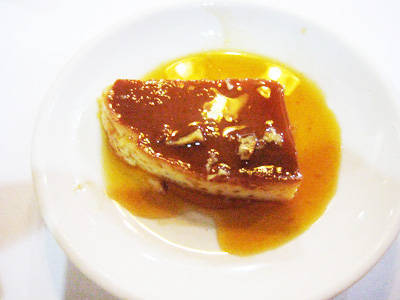 Sweet deal: The leche flan being a standard topping on their famous halo-halo, you'd expect them to get this right. The flan is firm and not overly sweet. A definite cheap treat at P40.

Foodie fuss: While more-than-decent in taste, it's still a far cry from their famous halo-halo. Wish it were creamier and more melt-in-your mouth.
7. Peninsula Lobby
Address: The Peninsula Manila, Makati Avenue, Makati City. Tel. No. 887-2888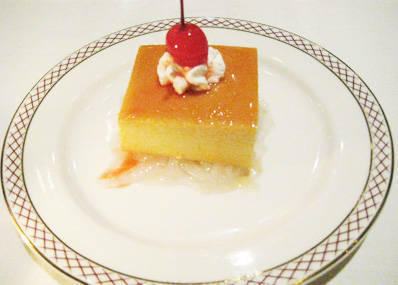 Sweet deal: The high-life leche flan. Served on a bed of macapuno preserve, topped with a dollop of whipped cream and a cherry. Looks fancy, tastes fancy. But the real thrill comes more from their fantastic-looking lobby and live music playing.
ADVERTISEMENT - CONTINUE READING BELOW
Foodie fuss: This one takes the cake in pricing--four times the average of flans served in restos, at P280 plus taxes and service charge. Taste is okay. Texture is more like a cake than a flan. Really bubbly, it almost looks like a chiffon than a flan.
6. Cafe Via Mare
Address: Landmark Department Store, Trinoma, EDSA, Quezon City. (with other branches)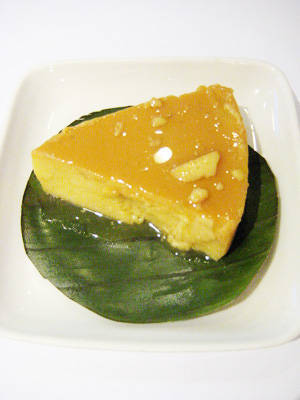 Sweet deal: We actually expected this to rank higher, but middle tier is its rightful place. Soft to the bite, good serving size. Taste is flavorful, with a tinge of dayap. Slice is bigger than usual at P75. Served on a banana leaf with a heart cutout. Awwww.

Foodie fuss: Wish it was served with syrup and made a bit more melt-in-your mouth. Color could also be improved. Looked kinda pale and shy, belying the nice flavor.
5. Ebun
Address: Greenbelt 2, Ayala Center, Makati City. Tel. No. 757-4791
ADVERTISEMENT - CONTINUE READING BELOW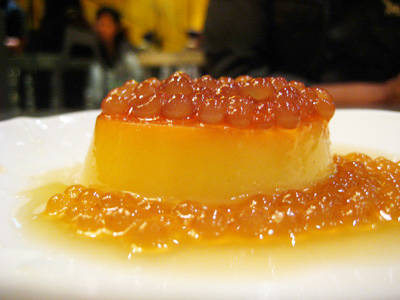 Sweet deal: The Kapampangans know their fiesta food. Their flan is a must-try. Looks so tempting and the taste doesn't disappoint. Love at first bite. Soft and creamy, not too sweet. This is one fiesta you'd keep going to. Worth going to Ebun even just to order this for dessert or merienda. Size is just right. Ditto with the price--just right at P45. Comes with sago bits on top. Sweet and cute.

Foodie fuss: The sago bits get in the way of the leche flan taste. We scooped them out of the way and concentrated on the flan and syrup.
4. Abe
Address: Level M3, Trinoma, EDSA, Quezon City, Tel. No. 901-5691;   Serendra, Ground Level Mckinley Parkway Fort Bonifacio Global City, Taguig, Tel. No. 856-0526.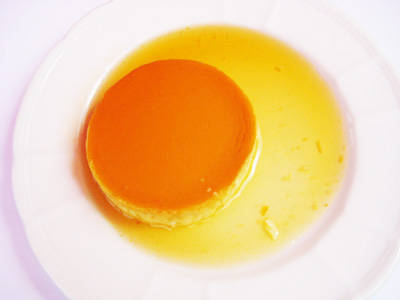 Sweet deal: Good taste with a hint of calamansi. Sugar level is not too sweet, actually just about perfect. Just right in texture, will make the list of melt-in-your-mouth-ness. But a notch lower than the next three. Has bubbles in appearance but overall will prove to be a good order. Another hats-off to Kapampangan fare!

Foodie fuss: Texture is a bit too bubbly. No complaints about the taste. Just a bit too pricey for the size at P75.
ADVERTISEMENT - CONTINUE READING BELOW

3. Conti's
Address: P1 Level, Trinoma, EDSA, Quezon City, Tel. No. 943-1665; other branches in Serendra, BF Homes and Greenhills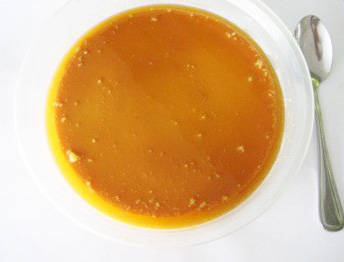 Sweet deal: Yummy, good melt-in-mouth texture. Bit on the sweet side, but definitely Top 3 material. Mapapapikit ka sa sarap. Despite the sweetness, it's definitely an "oh my" (and not an umay) at every bite. Great to-share dessert at P125. Although once you take a spoonful you might forget about sharing.

Foodie fuss: The downside is the size. This is the leche flan big enough for the barkada. You can't order a slice or a portion serving. You have to get the whole 8-inch diameter and ration the portion yourself. Can be eaten in the store--wait staff will cheerfully give you dessert plates and spoons.
2. Max's
Address: Ground Floor, Northridge Plaza, Congressional Avenue, Quezon City (with various branches in Metro Manila)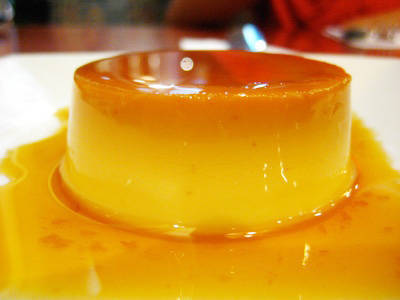 ADVERTISEMENT - CONTINUE READING BELOW

Sweet deal: This is one consistent flan. The sleeper on our list, you can imagine us being thoroughly surprised that Max's has more to offer than their famed fried chicken. This was our No.1 until the real Top Flan came along. Best in taste. No bubbles. The right sweetness, the right texture, the right color. Arguably the right size (which is always relative of course), and at P53, definitely the right price. It was bite after bite of happiness.

Foodie fuss: Gone too soon!


1. Segundo Piso
Address: Unit 2, Bldg. B, Karrivin Plaza, 2316 Pasong Tamo Extension, Magallanes, Makati City, Tel. No. 729-7906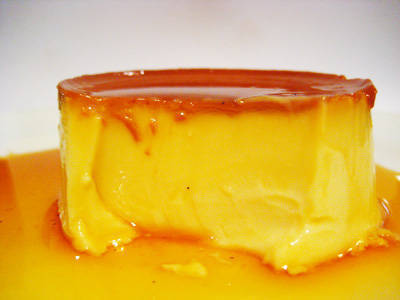 Sweet deal: Hands down, the best-melt-in-your-mouth texture. Sweetness is just right, will not overwhelm the palate. Uses free-range chicken eggs. They'd rather not make the dish if there are no free-range eggs available. Taste is perfect (cheers to free-range produce!). This restaurant--tucked almost at the end of Pasong Tamo extension--has a loyal following and with good reason. The food, the ambience (they have a piano!), the sandwiches, and now the leche flan. For us, Segundo Piso is numero uno! P120.

Foodie fuss: Too small! One of the few flans we actually finished. We even fought for the last bit.
ADVERTISEMENT - CONTINUE READING BELOW
Photographs by Carlo and Lara Leal.
Share this story with your friends!
---
Help us make Spot.ph better!
Take the short survey
Load More Stories