10 Great Food Finds at Mercato Centrale
See the goodies we unearthed at the newest weekend market in town.
Mercato Centrale
Corner of 30th Street and 9th avenue (in front of The Spa at Bonifacio High Street)
Bonifacio Global City
Saturdays and Sundays, 6 a.m. to 2 p.m.
www.mercatocentrale.ph
Nobody wants to wake up early on a weekend, but the newest weekend market to hit Manila just might make you think twice about hitting that snooze button. Every Saturday and Sunday from 6 a.m. to 2 p.m., Mercato Centrale comes to life. Inspired by popular outdoor markets around the world, the foodie haven is teeming with unique and delicious food finds, from organic fruits and vegetables and ready-to-eat meals, to healthy snacks and drinks, plus pastries and desserts galore from homebakers and popular bakeries alike. Here, SPOT.ph lists the top eats to try when visiting the foodie paradise.
1. Beer Battered Fish and Chips at Chuck's Grubberie
Inspired by the traditional English way of serving fish and chips wrapped in newspaper, Chuck's Grubberie's Beer Battered Fish and Chips is served in paper cones. But more than the clever presentation, it's the perfectly crisp, light batter, the skin-on potato wedges, and your choice of either malt vinegar, tartar sauce, or garlic mayo dips that make this dish as authentic as it is. Maybe it's the secret beer batter recipe, or the juicy, high-quality fish, or how they use real potato wedges to make the chips--no doubt this is the best fish and chips in the city.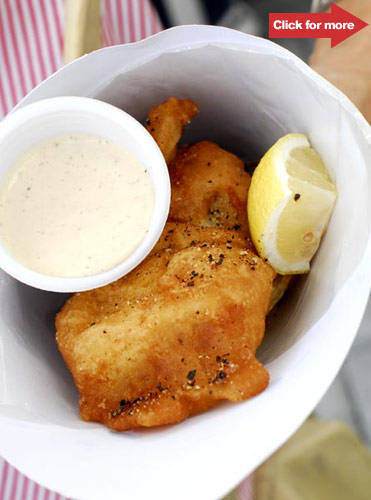 ADVERTISEMENT - CONTINUE READING BELOW
Beer Battered Dory with Tartar sauce (P150). Click for more photos.
2. Pan De Bagnet at Bale Dutung
Who isn't familiar with Bale Dutung, chef-slash-artist Claude Tayag's home and popular food destination in Pampanga? And, if it's got Claude Tayag's name on it, it must be good. Manned by Tayag's son, the Bale Dutung stall serves Pan de Bagnet (P150), a generous serving of crisp bagnet topped with mustasa leaves and red onions on toasted ciabatta bread. It's the local version of the popular Italian staple porcheta. The sandwich has become so famous by word-of-mouth that Mercato Centrale first-timers have been known to make a beeline for this stall.
CONTINUE READING BELOW
Recommended Videos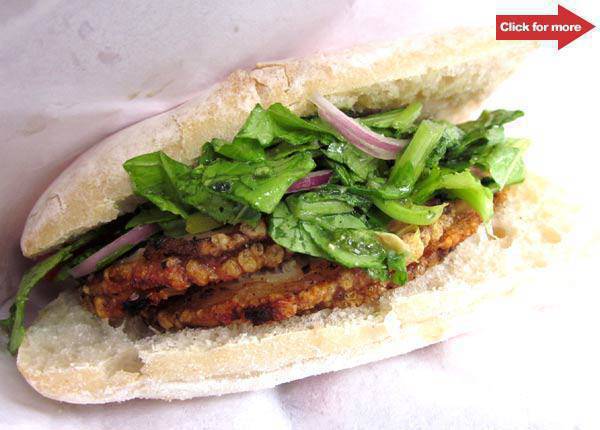 Bale Dutung's Pan de Bagnet (P150). Click for more photos.

3. Mini Cupcakes at Baked By Anita
Saffron and Black Salt, Mango Tamarind, and Black Sesame--these are some of the odd yet interesting cupcake flavors for sale at the Baked by Anita booth. Usually sold out by lunch time, Baked by Anita specializes in uniquely-flavored mini cupcakes that are big on flavor. A bite into the Bacon and Maple cupcake mimics the taste of pancakes with syrup and bacon. Favorites include: Red Velvet, topped with a luscious cream cheese frosting; Sticky Date, a chewy walnut and date cake with salted buttercream and Himalayan pink salt; and Roasted Banana, topped with banana chips and Valrhona chocolate drizzle.
ADVERTISEMENT - CONTINUE READING BELOW
For inquiries, call 0917-5259740, 0917-8441403 or e-mail bakedbyanita@yahoo.com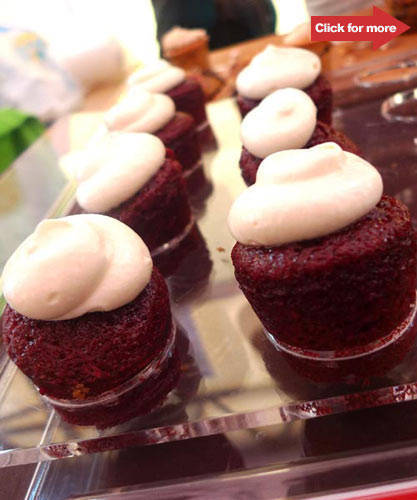 Red Velvet cupcakes (P35/each). Click for more photos.
4. Loose Leaf Teas at da.u.de
Just when you thought tea was, well, just tea, da.u.de takes it to the next level with their wide selection of organic and all-natural loose tea. With wellness in mind, proprietor Renee Sebastian set off to create artisan teas of the highest quality (she's the first Filipina tea master, mind you). Da.u.de has different tea blends and brews that appeal to both tea and non-tea drinkers. Try Kape, a coffee-infused tea; Seffarine, which has hints of peppermint; and Goji Melon, a semi-sweet fruity flavored tea suited with ice.
For inquiries, call 0922-8463269 or 854-4187 or e-mail renee@lovedaude.com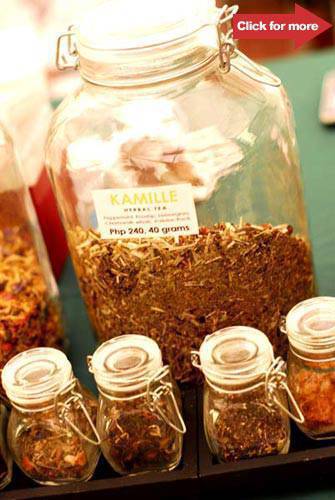 ADVERTISEMENT - CONTINUE READING BELOW
Kamille tea and other loose leaf teas at da.u.de. Click for more photos.
5. Angus Beef Tapa at JAM Foods
Shredded bits of Angus beef marinated with just the right amount of sweet-salty goodness and served with two sidekicks, garlic fried rice and egg--how's that for a perfect breakfast meal to kick off your weekend? After winning Our Awesome Planet's Ultimate Taste Test, many sought after this delicious Angus Beef Tapa. Hardcore foodies have even christened it "the best tapa ever." The best part: you can buy it frozen and cook the tapa at home.
For inquiries, call 0917-5331371 or 502-5282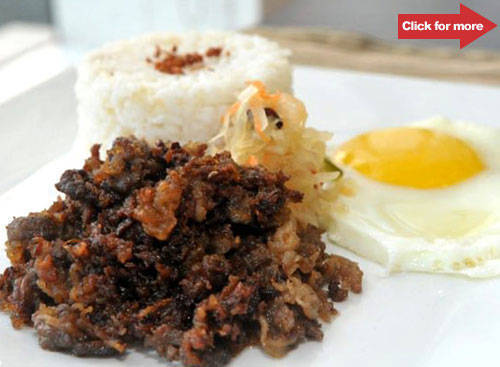 Tapa with garlic rice and egg (P120). Click for more photos.
6. Macarons at Empire
The colorful display of the popular French treat macarons at this stall is pretty hard to miss. A soft, meringue-like crunch on the outside and filled with a chewy paste sandwiched in the middle-each bite is heavenly. Original flavors include: White Chocolate, Triple Chocolate, Hazelnut, and Pistachio, which are all must tries. If you're lucky, you'll catch seasonal flavors like Kalamansi and Ube. Wondering how authentic they are? Empire boasts, "no premixes. No shortcuts. Macarons made the traditional way."
ADVERTISEMENT - CONTINUE READING BELOW
For inquiries, call 0917-8861190 or 5142546 or e-mail: georgia@empiremacaron.com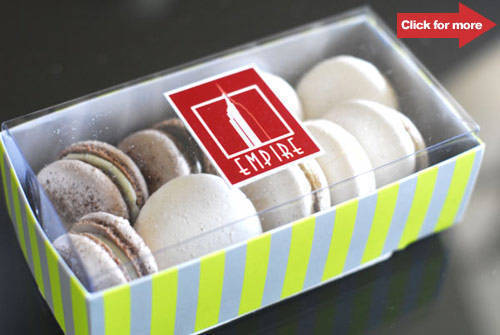 Box of nine assorted macarons (P290). Click for more photos.
7. Salad Dressings, Malunggay Pesto, and Naked Chorizo at Onalicious
Run by a husband and wife team based in Batangas, Onalicious is a one-stop stall for all things healthy and delicious. The ingredients used in their products come from their organic farm in San Juan, Batangas. The bestseller, Malunggay Pesto (P250), is a versatile spread that can be paired with almost anything: chips, bread, pasta, or over chicken. Dressings like the chili kamias vinaigrette (P175) and the basil truffle vinaigrette (P190) can liven up any salad, and you might even find use for them in other dishes. Don't leave without sampling the Naked Chorizo (P195/pack) too.
For inquiries, call 0917-8721322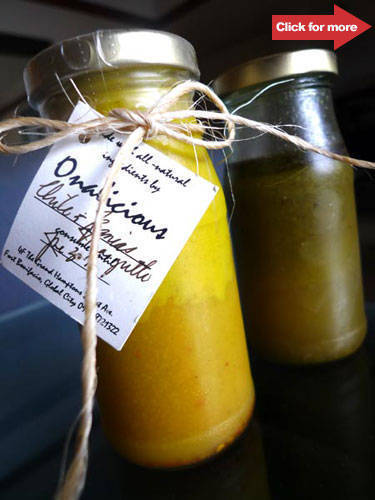 ADVERTISEMENT - CONTINUE READING BELOW
Organic and all-natural salad dressings. Click for more photos.
8. Frozen Yogurt at Yoh-Gee
A constant craving for delicious desserts and the desire to stay fit is what prompted Vincent Fideles to create Yoh-Gee, premium frozen yogurt. Unlike the usual soft-serve variants sold at yogurt chains all over the metro, Yoh-Gee's consistency is closer to that of ice cream. Sure winners are the mango, green tea, and lychee flavors available in cups, one-liter, and one-gallon tubs. Occasionally, Fideles prepares experimental flavors and hands them out for free. Watch for the black sesame flavor soon.
For inquiries, call 0917-5271396, 0922-8898405 or e-mail yohgeeyogurt@gmail.com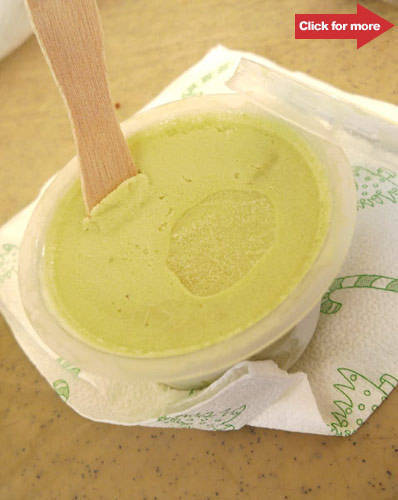 Green tea frozen yoghurt (P70). Click for more photos.
9. Ice cream-filled Mochi at Mochiko
The traditional mochi balls are usually filled with sweet red bean paste but Mochiko's yummy version are made more indulgent with ice cream. To prevent any tooth injuries, wait a few minutes before biting into them as they come fresh out of the freezer. Though they offer familiar flavors like vanilla, chocolate, and strawberry, go for the more interesting flavors like azuki, green tea, and black sesame. Tip: Mochiko is almost always sold out--reserve mochi balls when you get to the market then pick them up before heading home.
ADVERTISEMENT - CONTINUE READING BELOW
For inquiries, call 0917-8310624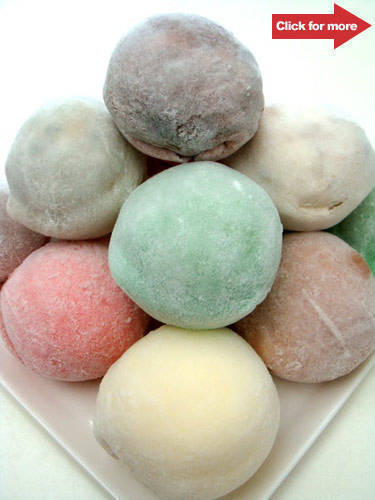 Mochi balls (P70). Click for more photos.
10. Smoked Kesong Puti and other cheeses at Mambos
Using carabao's milk and goat's milk, cheese expert Rico dela Fuente makes his own chevres and Neufchatel cheeses. A must-buy is the naturally-smoked kesong puti (P140); they do wonders in naturally smoking the cheese to add more dimension to its flavor without being too overpowering. What's more: they are even better when heated. Mambos also sells fresh unsweetened fruit juices like melon and guyabano.
For inquiries, call 0917-6135112, 7416724 or e-mail mambofood@yahoo.com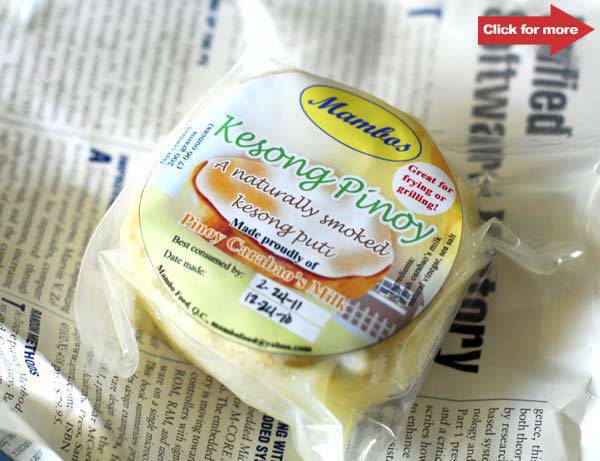 ADVERTISEMENT - CONTINUE READING BELOW
Smoked Kesong Puti (P140). Click for more photos.
Photos by Kris Alcantara,  Monica Barretto, Chuck's Grubberie, Empire, JAM Foods, Mochiko, and Facebook (Baked by Anita)
Share this story with your friends!
---
Help us make Spot.ph better!
Take the short survey
Load More Stories