CHECK IT OUT: Ganso-Shabuway at Greenbelt 5
Boil, dunk, dip, and eat-this new Japanese-style hotpot uses only Angus and Kobe beef.
Ganso-Shabuway
2/F Greenbelt 5, Ayala Center, Makati City
Tel. 903 6763; 0917 5418181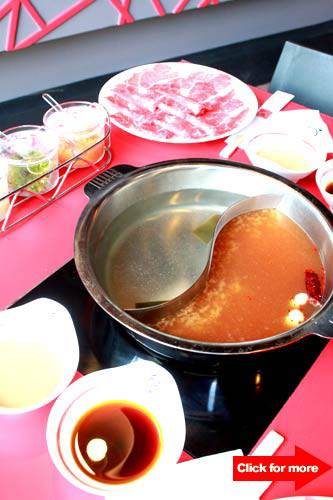 Boil, dunk, dip, and eat. Click for more.
The menu at this Japanese-style shabu-shabu spot is decidedly simple. The fact that you only get five choices in the menu (give or take a few sidings) is quite the bold move for a newbie, but the reason, so it seems, is that Ganso-Shabuway caters to a specific kind of craving-one you might have never even known you had.
ADVERTISEMENT - CONTINUE READING BELOW
CONTINUE READING BELOW
Recommended Videos
Unlike other shabu-shabus that proliferate in Manila, this San Francisco franchise is a little bit more chic than your average hotpot joint; sleek induction cookers are built into the red table tops, like electric stoves only much cooler. Clad in a mod red-black motif with sleek black chairs, red droplights to match, and an open kitchen set up, the restaurant's overall vibe is pretty posh yet non-intimidating-the kind where you won't think twice about bringing a date or rolling in with a big group. And while the restaurant's boil-dunk-dip-eat rule may be deceptively simple, the flavors that emerge are extraordinary.


Ironically, everything here seems to operate under a yin and yang concept with two options that complement each other seamlessly. You get two kinds of broth served in a half-and-half pot: a traditional seaweed broth and an equally refreshing spicy miso base that might remind you of a slightly sweeter version of tom yum. Next, two kinds of dipping sauce are placed on your table-a rich sesame sauce that's like a less nutty version of Thai peanut sauce only with a more indulgent, creamier finish; and a traditional ponzu sauce, which is like a sweeter version of soy sauce that goes well with just about anything.
ADVERTISEMENT - CONTINUE READING BELOW
The secret lies in the beef. The restaurant uses premium, grade-A Angus and Kobe beef (P525, petite Angus; P1049, regular Kobe) that goes through a careful selection process by Shabuway owner Eichi, who visits and buys beef from ranches where cattles are raised in a strict vegetarian diet. The beef, flaunting a nice pink hue and excellent marbling, is sliced paper-thin that it cooks in just eight to 10 seconds once you dunk it in the broth. For non-beef eaters, they have two kinds of veggie plates (P135 -P175) with servings of carrots, cabbage, tofu, enoki mushrooms, brocolli, bok choy, pumpkin, and other greens.
What happens next is up to you. The best part is that there's really no right or wrong of way of doing it, even if you're shabu-shabu virgin. The contrasting taste of the two kinds of dipping sauce is a riot to mix and match, and it seems no matter what combination you decide on when cooking the meat and veggies with the broth and sauce of your choice, the results yield to a happy marriage. Up the ante by adding garnishing to the dipping sauce, like minced garlic to the sesame sauce or diced green onions to the ponzu sauce. Once you get the hang of what particular flavors you want to get out of your meal, the fun begins, and new cravings are born.
ADVERTISEMENT - CONTINUE READING BELOW
Photos by Pocholo Mendoza
Load More Stories