FOOD REVIEW: 2nd's in Bonifacio High Street
"Where perennial dieters come to cheat," says SPOT.ph food reviewer Alicia Sy.
2nd's
Bonifacio High Street
2/F Wumaco Building
Quadrant 3, Bonifacio Hight Street
9th Avenue, Bonifacio Global City,Taguig City
Tel. 846 5293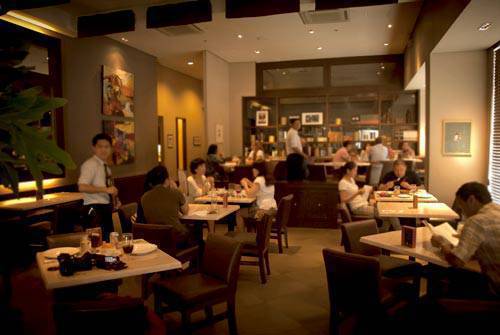 Dark wood paneling and a library wall filled with homey touches make up the restaurant's simple yet sophisticated interiors
Every foodie worth his weight has at least one mental list of places that he or she would like to try, and conversely a list of places never to return to.  Others, with obsessive compulsive behavior (and I'm not naming names) may carry a list of favorites spots with them, possibly in their Blackberry-sorted by cuisine and location, perhaps by price point, and almost always with a string of dishes that need to be ordered.  

I have been known to maintain a few lists of my own and until recently, 2nd's wasn't on any of them. In fact, I hadn't heard or read anything about 2nd's up until a few months ago, when a friend suggested we meet there for a mid-week dinner and drinks, and I did the uncharacteristic-I agreed with no review and no weight of expectation.

From the unassuming hallway of the Wumaco building off Bonifacio High Street, we pulled back the large wooden door and found ourselves in a packed room.  I could only speculate, in a place as discreet and tucked away like this, there could only be one reason why this restaurant was packed on a Wednesday evening: the folks here had to be doing something right, and I needed to update my list, Blackberry and all.
ADVERTISEMENT - CONTINUE READING BELOW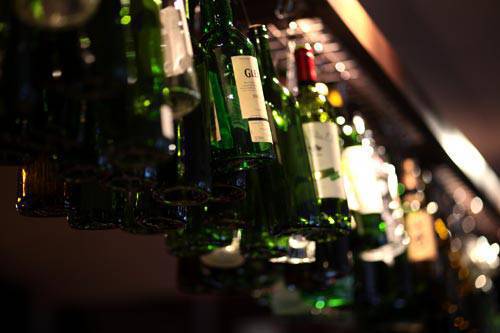 Empty wine bottles that run across the top of the bar at 2nd's


CONTINUE READING BELOW
Recommended Videos
With simple yet sophisticated interiors, dark wood paneling, and a library wall filled with homey touches, 2nds is by no means one of those warm and cozy neighborhood haunts, but that isn't a bad thing. On the contrary, I enjoyed the "old soul" feel of the mature dining room with its well-stocked bar of single malts. Don't get me wrong, 2nd's is neither rigid nor formal, but it's the kind of space where you actually feel grown up, where you still need to mind your manners and control your decible.

The menu is weighted with western comfort classics that sit comfortably on the menu next to updated dishes with Filipino taste profiles. And while this may not be the place you come to for a gastronomic epiphany, the range of choice is hardly run of the mill.  A word to the wise: meals at 2nd's tend to be of the heart-stopping kind, and I am convinced that is where perennial dieters like me come to cheat.

If you have decided to throw caution to the wind then you must start with an order of the Truffled Three Cheese Mac  (P415) to share. Although technically not an appetizer, why not begin on a high note? The nuttiness of the emmental cheese, combined with the sharp cheddar and pungent blue cheese then laced with the esseence of truffle is finished off with potato chip crust . This now holds the position of my favorite mac and cheese in the metropolis,  the kind I will dream about for weeks.
ADVERTISEMENT - CONTINUE READING BELOW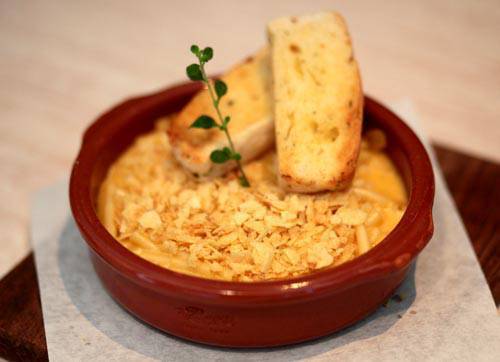 Truffled Three Cheese Mac  (P415)
One of 2nd's most well known dishes is their Bacon Chicharon (P315) and although tasty, is actually my least favorite of all the starters. Thickly cut bacon, battered and  deep fried is served with a dipping sauce of muscavado mustard and spiced vinegar. If you must have a taste of this house specialty without committing to an entire plate, I suggest you order the somewhat healthier Brutus (P375), a play on the ubiquitous Caesar salad, flaunting crisp romaine lettuce bathed in a tangy anchovy dressing is topped with a single crunchy piece of the famed bacon. Personally, I would prefer to give in to an order my favorite Chicken Adobo Croquetas (P345) with their crisp breaded exterior filled with creamy adobo goodness. Or indulge in the wickedly delicious Angus Salpicao with Foie Gras (P595) sauteed in garlic and served with pan de sal. US Angus Beef and French duck liver, need I say more?
ADVERTISEMENT - CONTINUE READING BELOW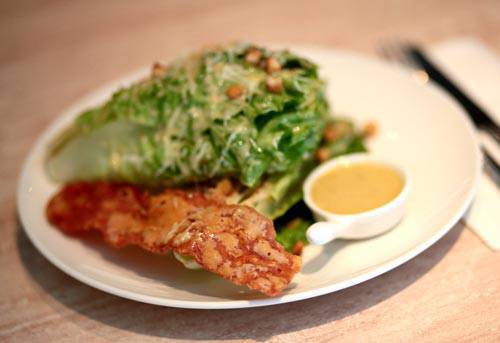 Brutus (P375), the restaurant's take on the traditional Caesar salad with a slice of their famed Bacon Chicharon
The main entrees and pastas maintain a calculated sense of the familiar. The Good Morning Spaghetti (P395), made with bacon and cream and served with an egg on top is simple but hearty and is an interesting alternative to the overplayed renditions of  spaghetti alla Carbonara. The stand out and my favorite is the Lamb Shepherd's Pie (P485).  Warm and satisfying, the slow cooked lamb and vegetable stew baked under a layer of mashed potatoes and cheddar cheese is full- flavored and comforting but I suspect the Beef Rib Adobo (P535) will become the cult classic on their menu. Tender braised beef short ribs are rich and succulent and doesn't taste like any adobo I've ever known. The Summer Grilled Pork Chop (P495) is also a pleasant new discovery. Served dramatically on a long bone in a pool of sauce similar to its marinade of pineapple and soy , it is accompanied with a freshly tossed arugula salad that cuts through the sweetness of the pineapple perfectly. Everything you want in a pork chop, tasty, tender and marbled just right.
ADVERTISEMENT - CONTINUE READING BELOW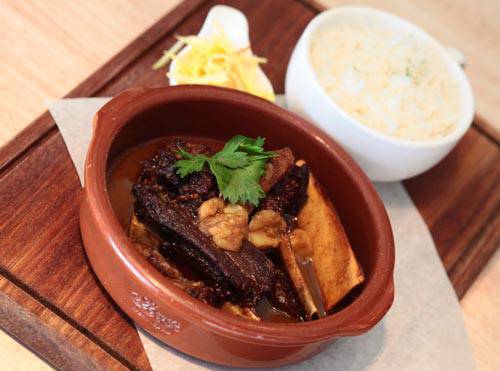 Beef Rib Adobo (P535)
Of course there are a few dishes that I am not sold on. The Sherry Lewis Cheesesteak (P565) just does not work. I have never been preoccupied with authenticity but sliced lamb with melted cheese, topped with pine nuts and micro greens does not a cheesesteak make. The Seabass Sinigang (P575) was also less than wonderful. On the day I ordered it, the miso based broth was too salty.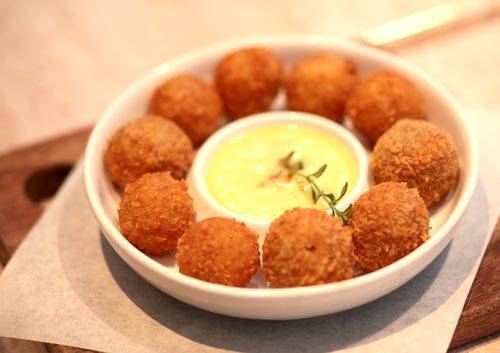 ADVERTISEMENT - CONTINUE READING BELOW
Chicken Adobo Croquetas (P345)

The dessert selection is simple, safe and for the most part well executed but unfortunately does not display the same level of playfulness and imagination as the rest of the menu. A requisite Chocolate Lava (P295) cake topped with vanilla ice cream and drizzled with amaretto is as delectable as it sounds but the Apple Crumble (P245) was  unremarkable and left me wishing I had ordered something else. Apples stewed in cinnamon, baked under a golden crumble and served with a vanilla mocha sauce sounded promising but unfortunately didn't deliver.  The apples were  finely chopped, making their flavor and texture no longer distinctive. Next time I will try the Banana Rum French Toast or have a scoop of the Pinkerton Ice Cream (P195) that I have been hearing so much about.


I have to say that the service at 2nds is good natured, knowledgeable and attentive-something I never take for granted these days and one of the reasons I keep coming back. The other is the promise of inventive new dishes being created weekly. Already, I am eager to sample the weekend brunch. How can one not be tempted by the sounds of  Apple Buttermilk Pancakes with Smoked Duck Breast (P495),  Muscavado Cured Salmon with Sweet Potato Rosti (P495) or Yakiniku Tapa Rice (P415)?

After all, I am only human and I can diet some other time.


3.5 Spots •••.
Photos by Alvi Siongco
Share this story with your friends!
---
Help us make Spot.ph better!
Take the short survey
Load More Stories