Nomama Artisanal Ramen
G/F FSS Bldg., Scout Tuazon corner Scout Castor
Quezon City
Tel. No. (0917)522-8272, 542-2558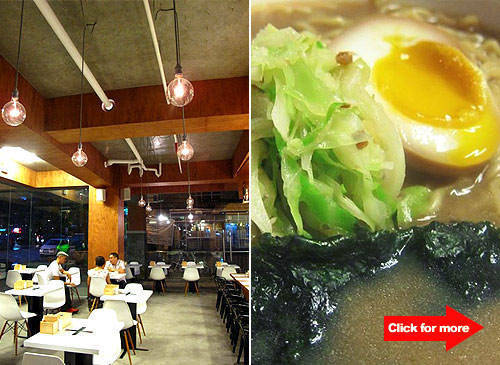 No ordinary ramen-ya. Click for more.
(SPOT.ph) It's been raining a lot lately, one wet and miserable day after another.  However,  in my own little world, escaping the damp and the dreary is easily done.  I'll let you in on a secret I have known to be true: salvation can be found in a bowl of ramen.


Ok, so maybe it's not a secret. Maybe it's just common sense. And lucky for us, in the past few years, Manila has finally caught on to the rise of ramen.  It seems wherever I am in the metropolis, a piping hot bowl is close at hand. And while I will probably never tire from a bowl of tonkotsu broth, I am ready to experience something new. Enter Chef Him Uy de Baron, with Nomama Artisanal Ramen.


I'd heard about Nomama before it even opened and now, barely a month old, the buzz that it has generated amongst foodies is quite impressive. Game-changing is always a tricky proposition and Chef Him is poised for the ride.


If you are a ramen aficionado seeking out bowls of  classic shoyu, shio or miso ramen, and are eager to deliberate on the subject of authenticity or the tao of tare, Nomama is not the place for you. Nomama is no ordinary ramen-ya. And while the long counter with stools that run along the open kitchen would suggest otherwise, the menu speaks less of ramen and more of Japanese-inflected food served in non-traditional ways.


The room is a creative space with a contemporary Japanese aesthetic. The industrial interior is softened by light wood paneling and makes use of abundant natural light during the day from a wall of windows, and drop lights in the evening for added subtle drama. Definitely not fine dining but nowhere near fast food, Nomama sits somewhere comfortably in the middle and is most definitely a cool place to be with its casual vibe and upbeat music featuring an eclectic playlist that ranges from Amy Winehouse and Erykah Badu, all the way to the Arctic Monkeys. Add to that the availablility of my newfound favorite Hitachino Nest beers from Japan and da.u.de teas to enjoy after my meal and Nomama may have just become my go-to place for a relaxed evening with friends and family.


Keeping the quality high and the experience enjoyable, Chef Him resides quietly hunched behind the counter intensely going about his business of creating magic in the kitchen. A simple clipboard holds a deceptively sophisticated menu with offerings ranging from the traditional and clever to the downright revelatory. Each dish, carefully layered with complementing and contrasting flavors and textures, seems somehow extraordinarily simple upon arrival at the table. Restraint is a sure sign of a chef's talents.


I find that Nomama's breakthrough dishes are on the first page of their menu. The gyoza, a classic pairing for a bowl of ramen, are offered in three varieties, and if you are feeling a bit brazen, do what I do and order a plate of each kind. My favorite potsticker is filled with morsels of braised short ribs in Japanese curry (P170), followed by the mixed mushroom-filled gyoza with the dipping sauce already conveniently placed inside the dumpling. The gyoza are perfectly wrapped and lightly-crisped to perfection. Not eating them all at once requires an extraordinary amount of self-discipline.


The raw compositions feature small plates of un-cooked or lightly seared items like the delectably fresh seafood kilawin ala Japonaise (P320) made with fresh tanigue, prawns, cherry tomatoes ginger and finger chilis bathed in a coconut citrus dressing.  Light, clean and refreshing, I have ordered this each time I have been to Nomama and it has never disappointed.  The Beef Tataki with Chips (P280) has also become a favored staple whenever I am here.  Seared kitayama Wagyu sirloin is hand-chopped, seasoned and served with sweet potato crisps.


Upending old notions about what belongs in our ramen, the selection at Nomama is varied yet limited and I can't wait to try their new creations, scheduled for this October. The Ox tongue and Chili Tofu (P290) piques my interest and tantalizes my tastebuds the most.  The braised tongue and spicy tofu sauce in a pork stock (P290) is hands down the clear winner in my book. However, my obsession with all things curry cannot ignore the Thai green curry (P310)  made with a fresh and fragrant green curry paste. The noodles swim in coconut broth and are topped with seared chicken fillet, bok choy and peas. Opinions on this ramen are mixed at my table, but to me it is creamy and sublime, another star found. The Nomama Ramen ( P290) pork stock with a miso-sesame blend chashu and tamago is probably the closest one will find at Nomama to a traditional bowl of  tonkotsu ramen.  The perfectly cooked ni-tamago, whose white has set but whose yolk is deliciously creamy and jelly-like is the center of attention in this bowl.


If you are not yet filled, a range of interesting dishes aptly titled something else should not be missed:


Being in the land of pork, it would seem a likely choice to order the twice cooked pork belly teriyaki (P420). A free-range pork belly stewed with apples and apple wood in a teriyaki sauce, and  while the meat was succulent and tasty, there was no longer any crisp or crunch left to the skin. More successful are the curry short ribs with roasted kobocha (P540), mouthwatering tender shortribs braised in a homemade Japanese curry and red wine and served with Japanese pumpkin and edamame.


Desserts at Nomama tend  to play along the lines of sweet and salty notes. The flourless chocolate cake with miso salted caramel is enjoyable and the addition of miso is inventive. The Kitkat bar (P175)  is served cold and although I can't be certain of the chef's ingredients, I  think I recognize  the familiar flavors of  everyone's favorite Chocnut.


Nomama, however,  is not without its growth pains. The mood swings in the kitchen are most recognizable on the rare occasion that Chef Him is not around. On my last visit his absence was all too apparent. The Beef Tataki arrived over- seasoned and over-sauced and as it turned out, it was the wrong day for me to try something new. The squash blossoms (P230) stuffed with prawn mousse, pork and  lime salt were not as enjoyable as they sounded. Ditto for the Yasai (P310) tempura of vegetables. The batter seemed heavy and the oil, while not rancid, left an unpleasant aftertaste that neither myself nor my dining companions could place.  The same can be said of the soft shell crab salad (P260). While the flavor and textures of the crispy deep-fried soft shell crab served on top a bed of greens paired nicely with the house buttermilk dressing, there was no escaping the taste of the oil.


ADVERTISEMENT - CONTINUE READING BELOW
Still, every time I leave Nomama, I find myself thinking about when I will return next. There is something about this place that keeps me coming back. I am reminded of another artisanal ramen house that opened in New York City a while back built by "radical" chef David Chang. Initially, his work was met with reluctance, then came praise for everything, but the ramen and the noodles had to play catch up-and they did. Now there is the empire that is Momofuku, and Chang is regarded as one of the most celebrated chefs in New York. I wonder, could Nomama follow suit?
3.25 SPOTS •••.
Photos by Cyrene dela Rosa and from Nomama's Facebook page

ADVERTISEMENT - CONTINUE READING BELOW
Recommended Videos
ADVERTISEMENT - CONTINUE READING BELOW
Share this story with your friends!
---
Help us make Spot.ph better!
Take the short survey
Load More Stories