5 Restaurants Perfect For Your Next Wine Pairing Date
Sound like an expert after reading this!
(SPOT.ph) Wine pairing, simple as it may sound, can actually get pretty complicated. It's not just about trying to impress with the most expensive vintage and serving it with a pricey slab of meat; or having a rare vino with an equally atypical entree. Effective wine pairing is a beautiful symphony of flavors, resulting in an enhanced dining experience. Between the uber-expensive meal and the one that leaves a memorable impression, your date will most likely appreciate the latter. And if you opt for a wine pairing affair, your date's definitely going to like that you know your stuff. And if it's a memorable moment you're trying to create, you want to explore these restaurants at the Venice Grand Canal in Mckinley Hill.


TGIFriday's
G/F, Venice Grand Canal
TGIFriday's is generally regarded as a more family-type restaurant, but it's also great option when you want to keep things casual. The relaxed and whimsical setting can be a great place to kick things off. Also: whoever wrote off TGIFriday's as not appropriate for a wine pairing date is just ridiculous. Try their Cajun Shrimp and Chicken Pasta paired with a Barefoot Sauvignon Blanc—the dryness give a refreshing cut across the shrimp, while summer fruit flavors like honeydew melon, nectarine, and peach add flavor to the chicken.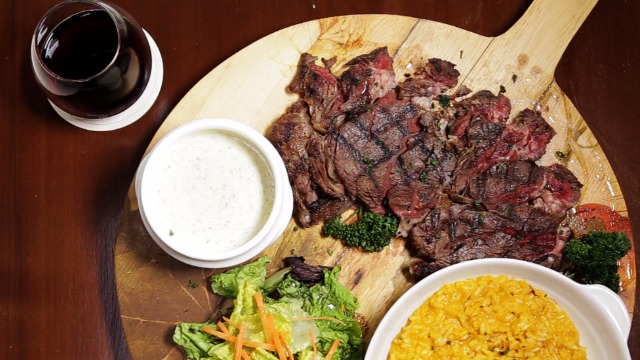 Toni & Sergio
G/F, Venice Grand Canal 
Italy meets spain at Toni & Sergio's, which means two of the world's greatest wine cultures also come together here under the same roof. For a hearty entree, try the Bistecca alla Toni & Sergio—a grilled porterhouse or rib eye with golden risotto and creamed greens. Pair this with a glass of deep red Montepulciano D'Abruzzo and allow the bold, inviting aromas of black cherries, strawberries, and herbs bring out the flavor of the meat. Also, make sure to order your steak rare to medium rare so that the wine's notes of cinnamon and clover can better infuse it. The restaurant also has a hard-to-beat promo: buy any featured dish and get 50% off on its perfect partner wine!


Comfort Tuesdays
2F, Venice Grand Canal
Unlike its name suggests, you can get comfort food here every day of the week. And more than that, you can get food that goes great with their available vintages. Take for example the Renmano Chairman's Cabernet Sauvignon—this bottle's freshness and balanced fruity notes (with aromas of blackberry, nutmeat, and spic oak) are the perfect compliment to the Parmesan Chicken Cutlet. And check this out: save 10% on unli-wine deals with any food purchase—that's potentially a lot of wine to practice your pairing skills on!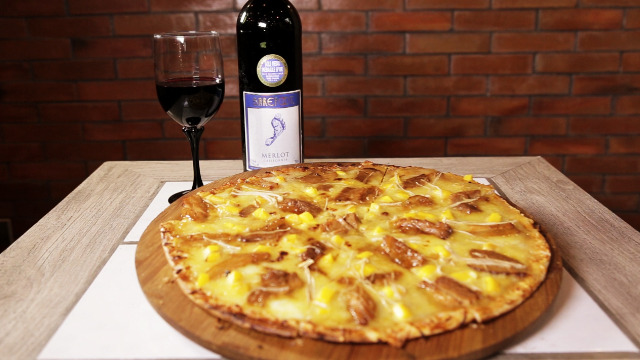 Sauceria
Tuscany at McKinley Hill 
Perhaps the best thing about Sauceria is that, despite the swanky sounding name, it's actually very affordable—which means you can have a quality wine pairing date that doesn't break the bank. For meat lovers, try the Roast Pork Pizza, loaded with mango, enoki mushrooms, pulled pork, and baked in a brick oven. Wash it down with a swig of Barefoot Merlot's dark berries. The hints of vailla oak and chocolate will surely bring the flavor of the pork out. For lighter fare, try the Artichoke Formaggio Pasta with Balsamic Reduction. Get a burst of freshness after every bite with sips of fruity, lemon-y Canyon Road Chardonnay. And don't sleep on Sauceria's great promo, too: get a free cheese platter for every purchase of any bottle of wine. Or 30% off on a second bottle of wine ordered on the same day. You also get 1 free glass of red/white wine for every order of Char Siu, Pepperoni and Spanish round pizza.


Trattoria
Tuscany at McKinley Hill
If you and your date are really just into the drinking bit, then check our Trattoria and its fine selection of wines. Go for the classic Piatto di Formaggi—a plate of assorted cheeses (including pecorino, parmigiano, and provolone), nuts, grapes and crackers. These are small bites that will bring out the flavors ofyour drink, so make it a good one like dry Ripasso della Valpolicella. The hints of cherry and heat will surely make every bite of cheese or fruit pop. While you're at it, get a free bottle of Allzo Verdo white wine for every P1,000 minimum order. 

Here's your chance to showcase your knowledge and know-how when it comes to eating and drinking well. Set the date and take that special someone to The Venice Grand Canal or Tuscany at McKinley Hill, where all these restuarants can be found. It'll surely be a night to remember. 

Check out this video to learn more: 

For great wine and great eats, check out Festa del Vino at McKinley Hill from September 30 to October 9.

For more on Megaworld's lifestyle malls, click here.