The Anticipation of Ramen
SPOT.ph blogger Alicia Colby Sy digs into a brand-new ramen joint that's opening today.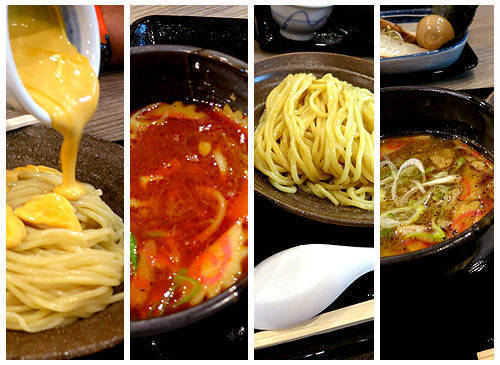 (SPOT.ph) As a food writer, I am often asked what I love most about my job. Many expect the likely response would be all the wonderful meals I get to enjoy. After all, I do get paid to eat, drink, write, and eat again. While my reflexive answer would certainly be all the great food experiences to which I am privy, one of my favorite perks is the "insider information": knowing ahead of time what restaurants are on the horizon or scheduled to open in the not-so-distant future. The anticipation of something new, something different, and something good is what really excites me.
ADVERTISEMENT - CONTINUE READING BELOW

I have long been waiting for the opening of Mitsuyado Sei-Men. Ramen enthusiasts like myself have been counting down the days for this Japanese franchise to open their doors ever since word got out that they were entering the Philippine market early this year. The day has finally come and not a moment too soon. Today, the first international branch of Mitsuyado Sei-men opens on Jupiter Street in Makati.

Sometime last week, I was fortunate enough to try Mitsuyado Sei-men, a restaurant specializing in tsukemen or dipping ramen. As it was my first tsukemen experience, I was concerned that a bowl of noodles served with its sauce on the side would fall short on delivering the comfort usually found in a bowl of hot noodle soup. Fortunately, all my apprehensions were dismissed once I tasted the multiple variations on offer. There certainly was no shortcoming either in terms of taste or flavor in the tsukemen.
ADVERTISEMENT - CONTINUE READING BELOW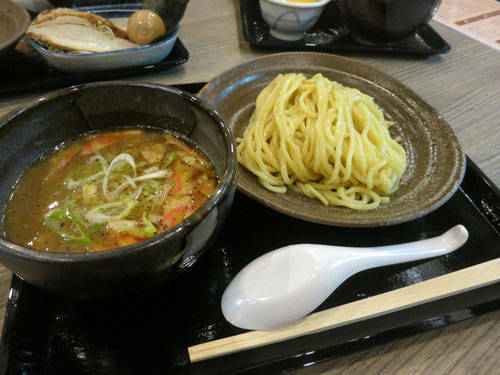 Regular tsukemen with pork tonkotsu sauce


All noodles are made on the premises from imported Japanese flour, and then served hot or cold (cold is my recommendation) with a sauce of your preference. Regular tsukemen is served with a hearty pork tonkotsu sauce that is highlighted with the fresh and citric tang of yuzu , a Japanese citrus that cuts through the otherwise heaviness of this type of broth.
ADVERTISEMENT - CONTINUE READING BELOW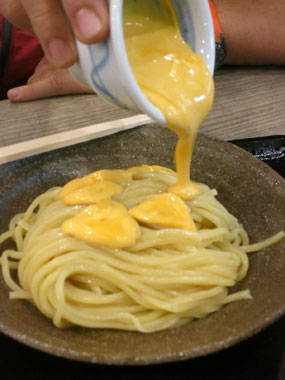 Mitsuyado Sei-Men's cheesy house specialty



One of the specialties of the house is a cheese sauce that can be ordered as a side offering. This sauce is meant to be poured over your noodles before dunking into the dipping sauce. Also available are extra toppings such as aji-tama (Japanese egg), and char-siu (Chinese roast pork) to complement your tsukemen.
ADVERTISEMENT - CONTINUE READING BELOW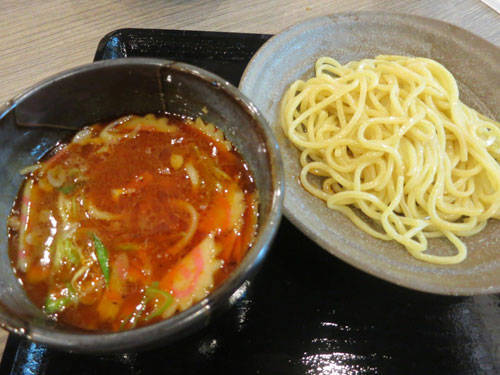 Karashi tsukemen


The specialty karashi tsukemen and Sichuan tan tan tsukemen are my definite favorites. Again, broths for these are pork-based, but this time without the addition of the citrus. Both sauces offer a bit of heat, and while the karashi is made from familiar Chinese spices, the tan tan men reveals a distinct nutty characteristic from the sesame.
ADVERTISEMENT - CONTINUE READING BELOW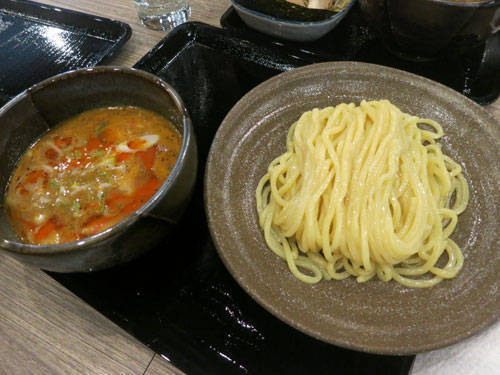 Sichuan tan tan tsukumen


For those in search of more familiar bowls of Japanese noodle soup, do not fret-shoyu, shio, miso, and tan tan ramen are also on the menu. Also available are short orders of Japanese specialties like ebi tempura, katsudon, tonkatsu curry, unagi don, Japanese fried noodles, and fried rice.
ADVERTISEMENT - CONTINUE READING BELOW
I was also impressed with the gyoza served that day. A special machine cooks the dumplings with exact precision, leaving the skin perfectly crisp and the pork flavorful without being overly greasy. As gyoza is an essential accompaniment to my ramen meal, I was quite happy to find that the ones found here were equally as delicious as the noodles.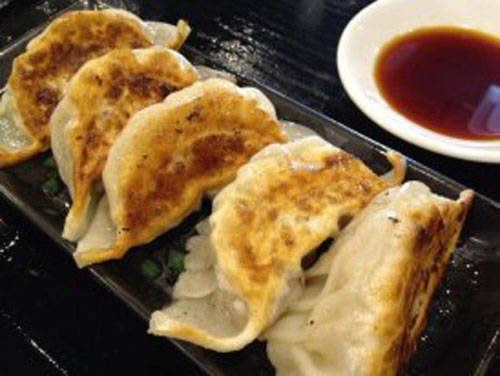 A sample of the restaurant's gyoza, as featured on their Philippine Facebook page
ADVERTISEMENT - CONTINUE READING BELOW
The interiors of the restaurant are particularly pleasant. At the front of the restaurant there is a small glass paneled room where the noodles are continuously made fresh throughout the day and then aged before serving. The large room was charmingly styled to resemble an old Japanese sidewalk, lined with small shops and stalls, and accented with lanterns and vintage posters.
I hesitate to review a restaurant this new. All of my impressions were based on a single experience prior to the restaurant's formal opening, but after tasting what I have tasted, I think it's safe to say that I will definitely be back for more, and then some.
Mitsuyado Sei-Men
22 Jupiter Street, Makati City
Tel. No. 511-1390
Recommended Videos
Load More Stories