CHECK IT OUT: Manila Bake at Katipunan Extension
Transforming breakfast staples, one well-baked bun at a time.
Manila Bake
206-A Katipunan Avenue, Blue Ridge A, Quezon City
Tel. No. 509-1972
Open daily from 6 a.m. to 9 p.m.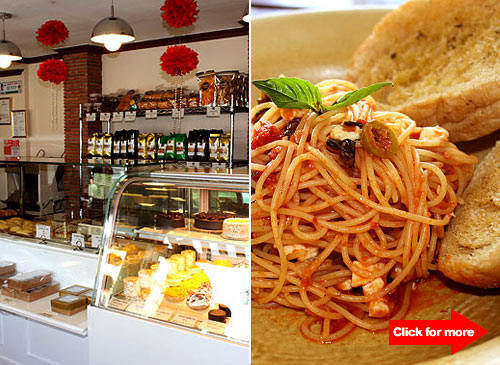 Your neighborhood bakery made good. Click for more.
(SPOT.ph) Waking up at the rooster's crow and a bleary-eyed walk to the neighborhood bakery for some piping-hot pan de sal...that's the stuff memories are made of. But with roosters being replaced with high-rises and the neighborhood pan de sal getting suspiciously smaller and smaller, Manila Bake-the name is a play on "Manila Bay"-is out to reclaim the lost art of baking that breakfast staple.
ADVERTISEMENT - CONTINUE READING BELOW
"Many breads you buy now are a product of too much yeast, too much sugar, and too much water," says owner and chef Gretchen Consunji-Lim. In addition, they're mixed too fast and baked too quickly, resulting in fast-baked, mass-production buns that roll out of the oven in under two hours. In contrast, Manila Bake's Pan De Sal (P8/piece) is prepared for a total of thirteen hours, with unbleached flour, Pangasinan sea salt, and maskabado from Sultan Kudarat. Most of the prep time comes from long fermentation, after which, they're baked in a charcoal-fired ceramic oven.
The proof is in the tasting. Rather than the light, chewy breakfast bread we're used to, Manilabake's more upscale, artisan version is crusty and textured. It's still airy, but there's a bite and substance there, especially when you go for the Whole Wheat (P10/piece) and, our personal favorite, Sesame Roll (P12/piece) variants.
ADVERTISEMENT - CONTINUE READING BELOW
Manila Bake doesn't ignore that all-important sweet tooth demographic, either. The Calamansi Cupcake (P70) reminds us of that Boracay staple, the Real Coffee Calamansi Muffin, but crusted with a tangy sugar coating and sprinkled with calamansi zest. The Macapuno Pandan Cake (P145/single, P495/6", P885/9") flies off the shelves, too, thanks to the subtle, intoxicating taste of pandan, plus the pretty coconut shavings that decorate the creamy icing. When we pointed out the shavings to her, Consunji-Lim only laughed. "Oh, that dessert was so hard to make. You know, I don't do pretty."
With limited seating in their present location, Manila Bake is more of a drive-and-go place. You can, however, have a sit-down and order some of their savory dishes-we heartily recommend the hale and hearty, kamote-powered Shepherd's Pie a la Cubana (P195). But if you just want a good cuppa, pair it with the chunky and crunchy Honey Cake (P110/slice), made with Palawan Honey. Or, go for broke with their one-of-a-kind Champorado (P145). Instead of traditional white rice, they use a glutinous, yam-like purple rice. If anything, Manila Bake seems to have a knack for transforming bog-standard breakfast staples into something special.
ADVERTISEMENT - CONTINUE READING BELOW
Recommended Videos
Load More Stories