CHECK IT OUT: Imperial Ice Bar at the Fort Strip
Sub-zero clubbing, coming right up.
The Fort Strip, 1633 Fort Bonifacio, Taguig
Tel. No. 0917-5428831
Open 9:00 p.m. to 4 a.m., Monday to Saturday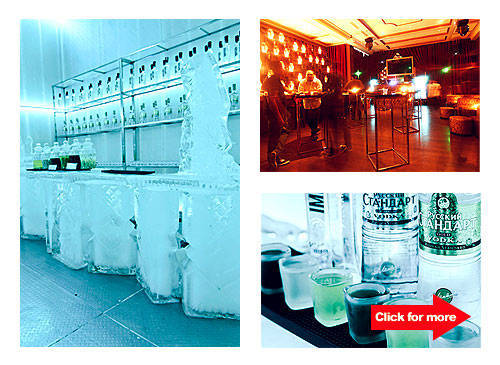 Clubbing in the winter wonderland. Click for more.
(SPOT.ph) Before stepping inside the Imperial Ice Bar, we made a promise to ourselves that we would not use the words "cool" or "chill," or we would revoke our would-be writer's cards there and then.
ADVERTISEMENT - CONTINUE READING BELOW
CONTINUE READING BELOW
Recommended Videos
It turned out to be very difficult. Those two words are the perfect adjectives to describe this place.
But first, a word of warning. As our photoshoot crew found out, you should definitely wear socks when stepping into the Ice Bar. In fact, go for broke and pull out your winter wear-you know, the ones that will make you look like a douche when you wear them in real life in tropical Manila. Winter wear would definitely look right for Imperials' frosty party vibe. Scarf, fur-lined coat, boots...the works!
If not, be prepared for your photos to go blurry or your drink to spill to the floor as you won't be able to stop your uncontrollable shaking. Temperatures here can hit -7 degrees, which is around 30 degrees below the sweaty heat we're all used to. (The bartender tells us that some expats hang out at the Ice Bar in nothing more than tube tops and party dresses.) Safety was one of the considerations the owners of Imperial Ice Bar-who also manage Draft Gastropub next door, plus a whole host of other night spots-had in mind when they designed this new tipplers' haven.
ADVERTISEMENT - CONTINUE READING BELOW
For example, before stepping into the iced area, guests have to go through a 5-degree changing room. Coats, gloves, and fur hats are provided for extra polar reinforcement. Waivers are also signed. You're only allowed into the Ice Bar area for 20 minutes at a time-and yes, that includes the bartending and bouncer staff.
"People dance inside to cope with the temperature," says Jave Maceda, marketing officer for Imperial Ice Bar. "You come inside the Ice Bar, you really have to heat up any way you can. So you see people cuddling and hugging." And drinking. Here, you could down a variety of Russian Imperial Vodka shots, and we can now see why the Russians are so fond of the drink. In a below-zero atmosphere, a vodka shot can really warm you up. You barely feel the hit as it goes down, only that you're shaking less and ready to party more.
ADVERTISEMENT - CONTINUE READING BELOW
We were partial to Red Squared (P250), an amaretto-and-Southern Comfort (plus pomegranate) mix, and the Imperial Black Russian (P250), a coffee-powered, down-the-hatches concoction. Fantastic stuff. To get in, you have to fork over P550, which gets you two shots and a chance to experience the Ice Bar for yourself. Everything-from the tables to the benches to the glasses you drink from-is carved, naturally, from ice.
Once you're done, and you want to warm up, you can go out to the velvet-and-amber lounge area, or relax-whew, we almost said "chill out"-inside the 15-person VIP room. Ready to go back inside? Maceda has one piece of ice bar survival advice: "Just keep drinking."
Load More Stories