Sinigang Conquers Top Chef Restaurant Wars
JJ Yulo puts in his two cents' worth on Sheldon Simeon's <em>Top Chef</em> win
(SPOT.ph) In this social media obsessed nation of ours, news comes at you faster than Flash Elorde's fist. (Do you even remember this pugilist? You should!)
You can double the speed of that punch if the news is about a Pinoy, and triple if it's about a Pinoy and about food - another national obsession that's reached fever pitch.
The chatter on the social networks these past few days was all about the lastest KO - a good ol' Pinoy won a major segment called Restaurant Wars on Top Chef Seattle. Sheldon Simeon, who looks like a really likable guy whom you'd just want to hang out with over a few beers and some chicharon, may have grown up and lived his life in Hawaii, but his roots are pure adobo.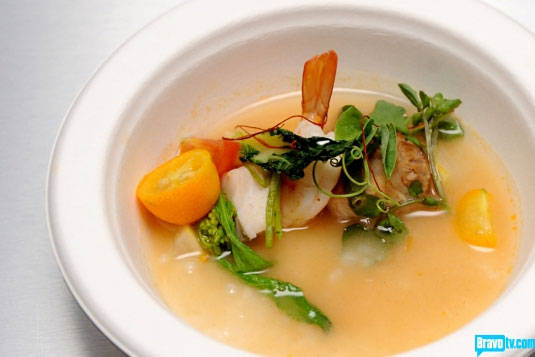 Chef Simeon's Sour Tamarind Soup with Pork Belly, Shrimp, and Snapper
The end goal of this portion was to put up a restaurant - from scratch, mind you, meaning everything from the menu down to the décor and furniture - and our man Sheldon did a Filipino concept to warm the cockles called Urbano, gathering inspiration from his roots and heritage. This gent, who learned his craft in Disneyworld (and found his wife there too!), and who went up the culinary ladder through his work and sheer perseverance and is now an executive chef of a cool Hawaiian joint - now who doesn't want to root for a guy with a story like that? - wowed the judges with his (and his co-chef's) renditions of kilawin, balut, adobo, and halo halo, albeit a little different from the way lola makes it.
ADVERTISEMENT - CONTINUE READING BELOW
If anything, this victory just adds more weight to every Filipino patriot cook's dream of bringing our beloved cuisine to the world stage.
It's happening - perhaps in little baby steps - but steps whose pace has obviously quickened. As a food geek, I've observed that it is the logical progression for our grub to appear on TV after all the action coming out of the US East Coast, specifically New York and its environs who seem to be making the most noise (sorry, Bay Area). The standard bearers there - names like Romy Dorotan of Purple Yam, King Phojanakong of Kuma Inn, the cool new kids on the block of Maharlika/Jeepney - they're going about drumming the same beat but in different signatures. The common denominator is their food has taken off from the same blue print.
CONTINUE READING BELOW
Recommended Videos
At this point, I'd like to wave a sign of peace to those who wave the banner of authenticity.  Let's put that down for now - because let's face it - no one is ever going to make kare kare like Nana Concha from the barrio who was taught by your great grandmother's cousin the award-winning town cook. Not YET anyway.That's not the point this time.
The point is, these victories, especially pareng Sheldon's, has brought our beloved fare into the consciousness of mainstream America, and while we are still a bit far from opening something as ubiquitous as, say, Chipotle, Panda Express or Benihana, the point is Aunt Betty and Uncle Andy from Milwaukee may now actually be interested in spooning some good ol' adobo on hot steaming rice. That's a victory, in my book.
ADVERTISEMENT - CONTINUE READING BELOW
Resistance is futile. Prepare to be assimilated. Kain tayo, America!
Photos from Bravo TV's official Top Chef website
Share this story with your friends!
---
Help us make Spot.ph better!
Take the short survey
Load More Stories