Top 10 Salted-Caramel Treats
This recently invented flavor combination is already a favorite. Which incarnation tops our list?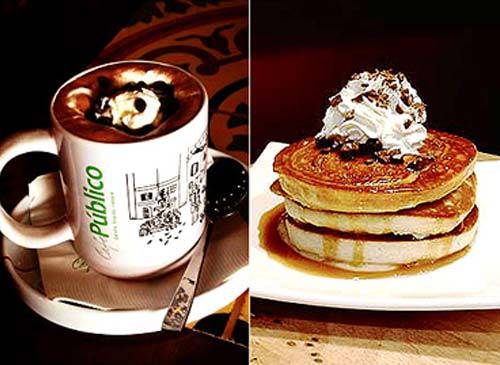 (SPOT.ph) There are the quintessential love teams like Guy-Pip, Sheryl-Romnick, and John Lloyd-Bea. And then there are those colorful tandems like yellow and Noynoy, blue and Ateneo, and red and velvet. Plus, of course, food pairings such as burgers and fries, sisig and beer, mangga at bagoong.

The year that was saw how even a flavor is not an island unto itself. Good ol' trusty salt finally found its match: shining, shimmering, golden caramel.

All of a sudden, there's salted caramel everything. The flavor combo, whether as a sauce, a syrup, or a swirl, got foodies hankering for a scoop, a slice, or a sip. So if you're looking for some guidance in sorting through all these offerings, we've got you covered. Considering variety, accessibility, originality, texture, and balance, we scoured the metro and came up with a list of the 10 salted caramel variations that are worth their, well, salt.
All SPOT.ph Top 10 lists are researched, paid for, tested, and selected by the writers and editors. They are discreetly conducted without any notice made to the restaurants or their owners.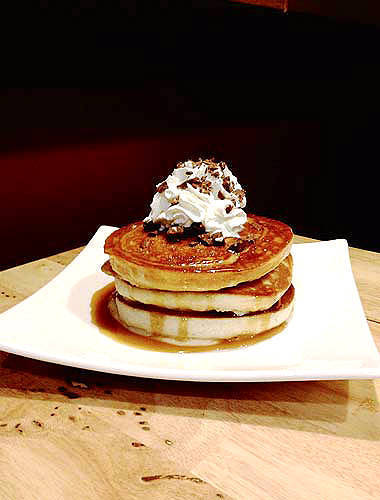 ADVERTISEMENT - CONTINUE READING BELOW

10. Toblerone with Salted Caramel Pancakes by 26th St. Bistro, CBTL (P235)
"They have that in Coffee Bean?" Everyone thinks this favored coffee shop only serves mugs of coffee and cups of tea. But in their new concept restaurant, aptly called 26th St. Bistro because of its location, food is put in the spotlight. The Toblerone with Salted Caramel Pancakes is a stack of thick, fluffy, buttermilk pancakes topped with whipped cream, sprinkled with chopped Toblerone bits, and drizzled with salted caramel sauce. "Drizzled" may be an understatement; the whole tower is almost swimming in this sweet-salty glory. Let the Toblerone melt a bit and mix it in with the sauce to give the salted caramel a most welcome crunch. Cleaning your plate, and maybe licking it even, won't be difficult with this one.
CONTINUE READING BELOW
Recommended Videos

G/F Net Lima Bldg., 5th Ave corner 26th St, Fort Bonifacio, Taguig.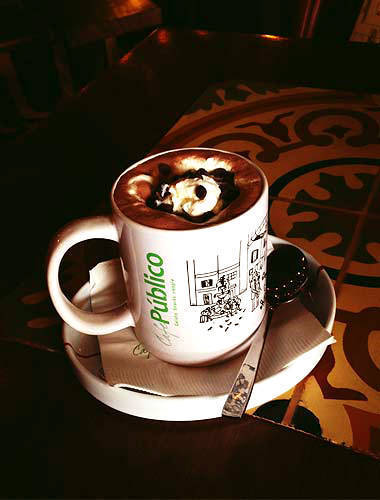 9. Handcrafted Salted Caramel Hot Cocoa by Café Publico (P145)
There's a gelato stand, machuka-tiled tables, and huge chessboards transporting you to one of Italy's town squares-it's the perfect setting for romance. Then you realize you're in Manila, in one of its busiest commercial centers. But even that fact won't wreck the love affair you'll come to develop with the cup of Handcrafted Salted Caramel Hot Cocoa in your hand. Let the whipped cream dissolve, giving the drink a distinct creaminess, and wait for the chocolate chips to settle to the bottom. Find all the flavors melding into one, linger in the dark chocolate goodness in each sip, and bask in the comforting hint of bitterness from the salted caramel syrup's aftertaste. When you've downed it all, you'll be wishing all your future relationships could be this perfect.
ADVERTISEMENT - CONTINUE READING BELOW

2/F Promenade, Greenhills, San Juan (Tel. No.: 0919-0519); email: senorpedro@cafepublico.com.ph.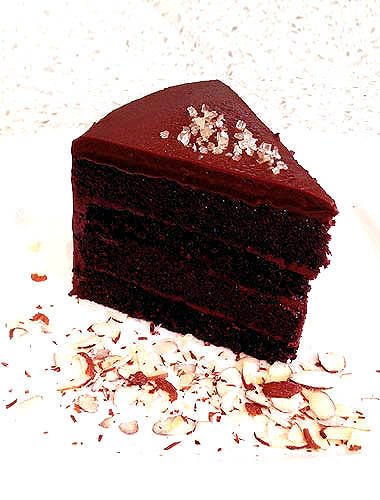 8. Salted Caramel Chocolate Cake by Rocket Room (P295)
You can't compete with mothers when it comes to home-baked chocolate cake-they always know what's best, after all. But while you might not find your mother lounging around Rocket Room, she'd approve of the Salted Caramel Chocolate Cake. The whole spectacle is made up of four layers of moist chocolate cake, with salted caramel ganache between each of them. The slivered almonds lend the cake some extra crunch, contrasting with its smooth, velvety over-all texture. Those white crystals sprinkled on top? They're not diamonds, but with the kind of experience your taste buds will get from those sea salt rocks, they're practically just as precious. Have your cake, and maybe bring a slice home to Mom, too.

7th Avenue corner 30th Street, Ground Floor, Bonifacio High Street Central, Fort Bonifacio, Taguig (Tel. No.: 621-3222).
ADVERTISEMENT - CONTINUE READING BELOW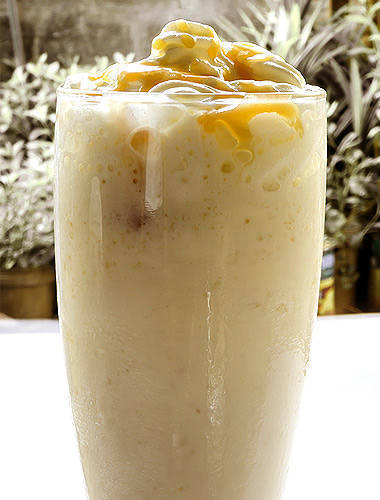 7. Salted Caramel Milkshake by Burger Bar (P175)
As far as classic combinations go, you can't go wrong with burgers and milkshakes. Zeroing in on this awesome twosome and setting the bar for creativity in the local scene is 'Cue's hipper younger brother, Burger Bar. Browsing through their arsenal of burgers and taking a pick might take a minute or two, but when it comes to ordering a beverage, there's really only one must-try. The Salted Caramel Milkshake is old-school thick and creamy. It's simple and effortless as is, or you can "go tipsy" and have it spiked. Its true prowess, however, is revealed when matched with saltier items from the menu, like onion rings, chicken fingers, or The Piggy burger. Poured onto tall, lean glasses, an order is good enough for sharing, but really, who would want to do that?

Level 1 Greenbelt 2, Makati City (Tel. No.: 625-2792; Mobile no.: (0917) 539-9661).
ADVERTISEMENT - CONTINUE READING BELOW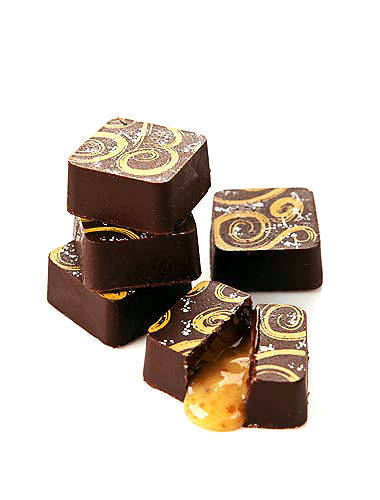 6. Salted Caramel Pralines by Risa Chocolates (P230, box of 6; P450, box of 12)
Using the cliché "big things come in small packages" is worth a shot, especially if it's Risa Chocolates we're talking about. Each tiny morsel is delicately designed with golden swirls to imitate the salted caramel filling it's hiding within. Also printed on its box is a set of directions for how to enjoy each praline. You are invited to smell it, bite into it, and allow it to sit on your tongue as you wait for it to melt. It's a true sensual experience that will make you appreciate the passion poured into making each one.

CRM Avenue, BF Almanza, Las Pinas City (Tel. No.: 622-3436; mobile no.: (0917) 565-7185; email: chocolates@risa.ph.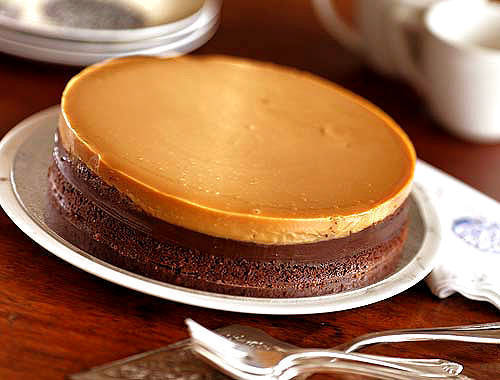 ADVERTISEMENT - CONTINUE READING BELOW

5. Salted Caramel Chocolate Torte by Dessert du Jour (P1,200 for a 9-inch, round cake)
Already ubiquitous in desserts lists such as this, Mara dela Rama has once again given everyone a reason to indulge and forget about counting calories. But it's all worth it-we're throwing away our skinny jeans, including her in this list, and ordering Dessert du Jour's Salted Caramel Chocolate Torte. Three layers make up this cake: a base of crushed shortbread with chocolate pain de genes, a filling of chocolate ganache, and a salted caramel mirror serving as its crowning glory. Deconstructed, each layer varies in texture, sweetness, and density, but have all of them in one bite, and it's nothing short of heavenly.

To order, contact (0917) 811-6272, (0917) 803-6272, or 806-9511.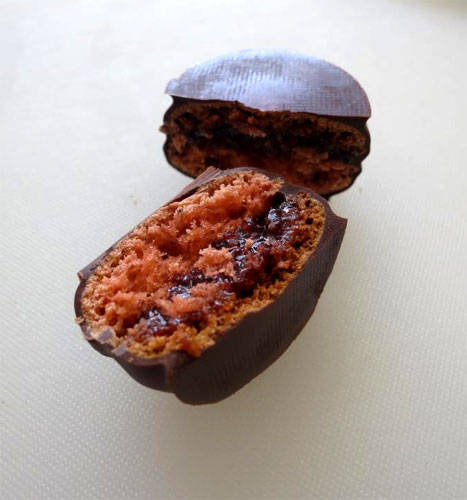 4. Salted Caramel Macaron by Gourmandise Patisserie (P65)
The rules of fashion suggest that layering is one of the easiest yet trickiest ways of dressing up any outfit. The same goes for this French confection. Just when you thought macarons were decked out enough already, Gourmandise ups the ante by coating a salted caramel macaron with an extra indulgent layer of chocolate. Their éclair, parfait, or sable sandwiches could have easily made it to this list, but their macaron puts outstanding emphasis on a balance between salt and caramel, crunchy shell and chewy base, fine coating and thick filling, firm exterior and melt-in-your-mouth interior. Every bite reveals how good quality salt can alter the dimension of sweetness in a seemingly simple dessert. This is how a macaron, coated in pure chocolate, should be presented. Yup, we've all just been schooled.
ADVERTISEMENT - CONTINUE READING BELOW

Ground Floor, Serendra, McKinley Parkway, Fort Bonifacio, Taguig (Tel. No.: 280-42568; mobile no.: (0917) 704-7119); also available at Rustans Rockwell, Power Plant Mall, Makati City; email: gmdpatisserie@gmail.com.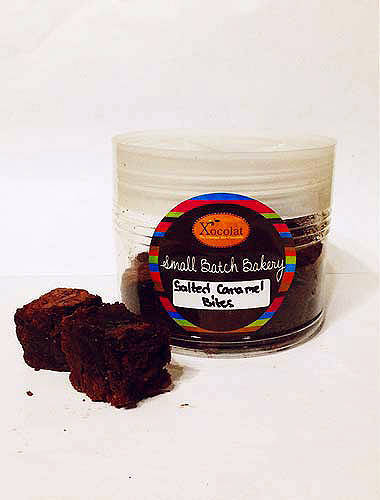 3. Salted Caramel Bites by Xocolat
The word "bites" in this brownie's name is a complete misnomer. The term is an allusion to smallness-which is, in all honesty, the opposite of what this salted caramel treat is. It's a gift that keeps on giving, until you come to realize that there is none left in the container. One bite into this "bite" reveals a crunchy exterior, much like the edges of a freshly baked chocolate cookie, and an incredibly moist, chewy interior that elicits warm fuzzy feelings. Nibble, you will not, as you'd want to literally bite off more than you could chew. And you can't miss the salted caramel-the thick sauce is generously infused in each piece. They have a bigger brownie version too, but then again, even that might never be enough.
ADVERTISEMENT - CONTINUE READING BELOW

172 B. Gonzales St., Loyola Heights, Quezon City (Tel. No.: 929-4186); also available at the Lobby, Promenade Greenhills Shopping Center, San Juan.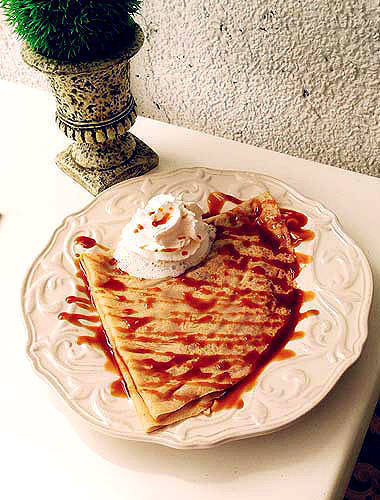 2. Salidou by La Creperie (P145)
Everyone's longing for a sweet escape, and topping most lists is a trip to Paris. But flying off to the city of lights costs a fortune, so as they say, the closest thing to experiencing the Parisian life is to eat as they do. Thankfully, La Creperie's Salidou will not disappoint. A huge serving of tender, moist crepe is lavished with a generous drizzling of golden salted caramel sauce, then topped with a dollop of whipped cream. It's not too sticky, not too sweet; it's just perfect. Some might protest the lack of fruits and ice cream, but that's the point-to revel in the elegance of simplicity.

403-G F. Calderon St., Little Baguio, San Juan (Tel. No.: 478-5143); 2/L Eastwood Mall Veranda, E. Rodriguez Jr. Ave. Bagumbayan, Libis, Quezon City (Tel. No.: 709-2446); with branches at Robinson's Galleria and Shangri-la Plaza; email: lacreperieph@gmail.com.


ADVERTISEMENT - CONTINUE READING BELOW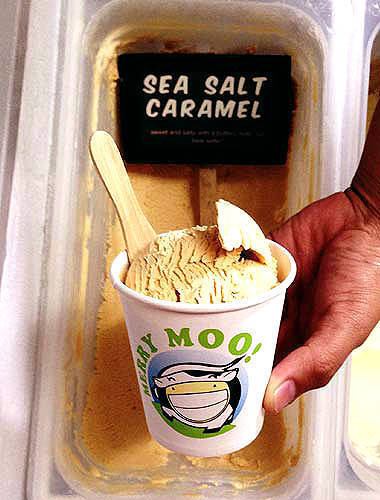 1. Sea Salt Caramel Ice Cream by Merry Moo (P70)
Queue-that's what you should expect when you go to any of Merry Moo's stalls. Well, it provides a good amount of lead time to think about which flavor to get, or you can make things easy on yourself and go with the Sea Salt Caramel. In retrospect, Merry Moo played a big part in this flavor's claim to fame. The association became so evident that people would almost automatically think of Merry Moo with every mention of the sweet-savory pairing. When that scoop is finally handed to you, you'll realize that it was worth the wait.

Available at Salcedo Market, Legazpi Market, Mercato Centrale, Mezza Norte, and Cucina Andare; to order, call tel. no. 634-4487 or email merrymoo@ymail.com.


Share this story with your friends!
---
Help us make Spot.ph better!
Take the short survey
Load More Stories