(SPOT.ph) The carrot cake is a spice cake made with grated carrots and covered in a cream cheese frosting. Sounds simple... but the definition of the perfect carrot cake should be more than just that.
First, the cake should be slightly dense, packed with roughly (not finely!) chopped walnuts and finely grated carrots, and topped with enough icing to make your taste buds ask for more. The said icing should be a silky smooth confection with just the right amount of sweetness so one can still taste the slightly tangy flavor from the cream cheese. Finally, the cake should be lightly spiced with hints of ground cinnamon and maybe even a pinch or two of clove and nutmeg as an added bonus. If you happen to taste all this and more, you have just described the perfect carrot cake.
While not all conform to this formula, we tried out several of the metro's carrot cakes, and those that were deliciously memorable made this top 10 list of carrot cakes.
All SPOT.ph Top 10 lists are researched, paid for, tested, and selected by the writers and editors. They are discreetly conducted without any notice made to the restaurants or their owners.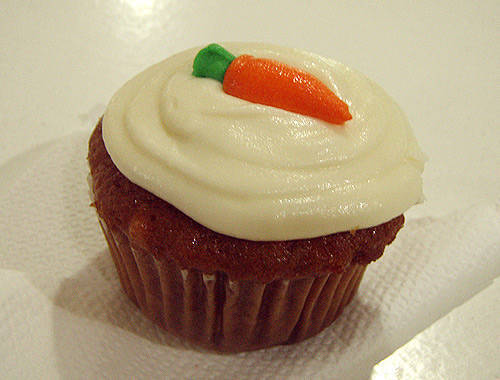 ADVERTISEMENT - CONTINUE READING BELOW
10. House of Silvanas Bakeshop
This stall famed for its rich, melt-in-your-mouth silvanas has at least one more dessert that can entice your taste buds: its carrot cupcake. Underneath the sweet vanilla frosting topped with a candy carrot is a carrot cupcake (P46) that's worth trying. The cake has enough of the requisite chopped walnuts and the visible carrot strands that indicate this is indeed a vegetable-based dessert. The cake is moist without being too oily and just sweet enough that the icing actually makes up for the sweetness the cake may lack for those with a sweet tooth.
House of Silvanas is located in Glorietta 4 (729 - 7941) and Shangrila Mall.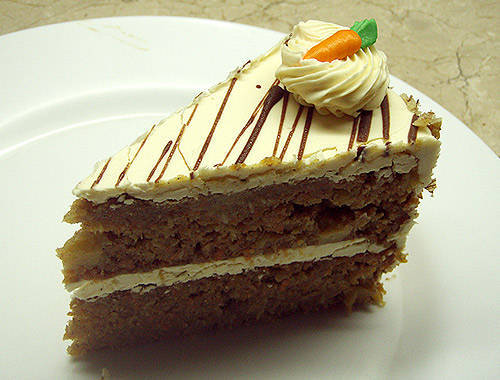 9. Joey Prats Signature Desserts
This home-baker from the south may be the more known for his delectable French macarons, but his repertoire of baked goods extends to a decadently moist carrot cake that deserves some attention, too. This Carrot Cake with White Chocolate Ivory Frosting (P1,800) is so pretty, it looks like a giant confection: the incredibly moist carrot cake is covered in a white chocolate ganache crust drizzled with chocolate and then decorated with candy carrots. Definitely not your ordinary, run-of-the-mill carrot cake.
CONTINUE READING BELOW
Recommended Videos
To order, call 0918-9015238. Pickup is in Marcelo Green Village in Sucat, Paranaque.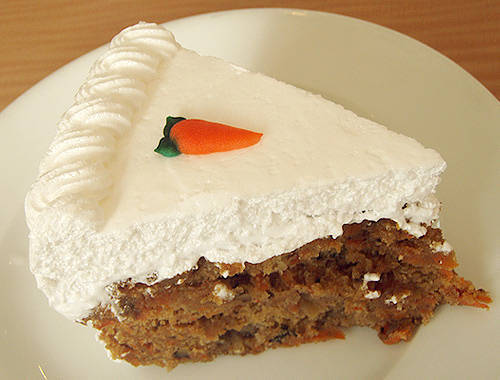 8. Mom and Tina's
It's no wonder that this popular place known for its desserts and pastries would also offer a scrumptious carrot cake (P110)-but with a twist. Slathered over a carrot cake that is moist with healthy amounts of raisins, walnuts, carrots, and cinnamon to stand on its own is, surprisingly, a white meringue icing. This frosting's intense sweetness may have a tendency to overwhelm the other flavors of the cake, but it's a nice change for those who love their icing.
Also available as cupcakes. Mom and Tina's Bakery Café is located on the ground floor of FDRC Building, 106 E. Rodriguez Jr. Avenue, Pasig City (914-0833 or 571-1541) and G/F Unit 104, Tropical Palms Condominium, Dela Rosa St., Legaspi Village, Makati (840-4299 or 894-3598).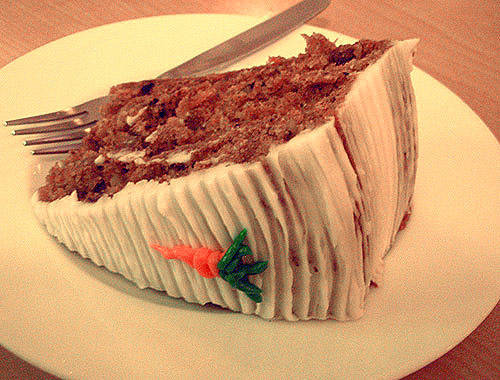 ADVERTISEMENT - CONTINUE READING BELOW
7. Greens Vegetarian Café and Restaurant
If there was a cake that could be labeled as "healthy," the carrot cake would be the first that comes to mind, and this vegetarian restaurant made it even more appealing and vegan friendly-on top of being decidedly the chewiest of all the cakes we tried, in a good way. Greens's carrot cake (P85) is extraordinary in that it is eggless, using tofu as the binding ingredient instead, and it is this substitution that makes this cake definitely unique. Your first impression may be that it looks dry, but dig in and discover that this vegan-friendly cake is in fact, a moist, sticky, almost chewy-to-the-bite cake that surprised us. Its not-too-sweet cake, while in line with the healthy vibe of the café, could be its main argument for having a thicker layer of its sweet frosting.
Greens is located on 92 Scout Castor Street, Tomas Morato Avenue, Quezon City, or call 415-4796.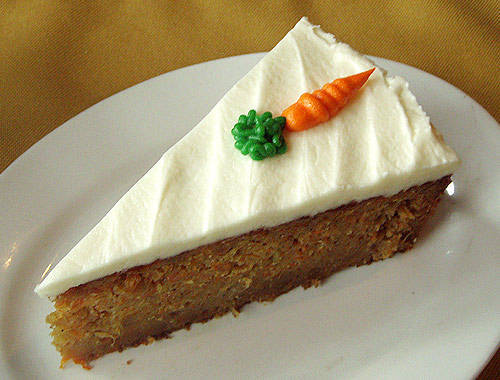 ADVERTISEMENT - CONTINUE READING BELOW
6. Chocolate Kiss
While the Devil's Food Cake is this famous café's bestseller, their carrot cake is devilishly good too. A slice (P80) of this moist cake is so loaded with grated carrots, its strands are visible and may put up a fight against your fork when you finally cave in to temptation and dig in. A fork-full reveals a moist carrot cake with bits of pineapple also evident in the mix, a classic addition to the traditional carrot cake, which goes to show that despite the years of operation, this café's offerings are still worth coming back to.
Chocolate Kiss is located at the Ang Bahay ng Alumni, UP Diliman Campus, and on Roces Avenue, Quezon City, or visit www.thechocolatekiss.com.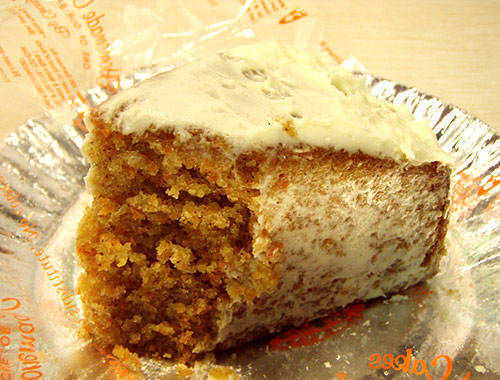 5. Homemade Carrot Cake
It's a wonderful marriage of vanilla and cinnamon encased in a very tender, moist crumb. The delicious difference between this homemade creation (P440) and other carrot cakes? Its texture reminded us of a pound cake with its requisite top crust that's melt-in-your-mouth sticky-one of our favorite parts when eating a pound cake. Despite this (or because of it!), it's a delicious blend of moist carrot cake topped with a layer of a cream cheese frosting that's sweet enough not to be cloyingly so. Yum!
ADVERTISEMENT - CONTINUE READING BELOW
Also available with walnuts, with a chocolate layer, and by the slices. Homemade Carrot Cake is located on 290 Santolan Road, West Crame, San Juan with branches in Granada St., Gilmore, and White Plains, or call 700-0355, 722-4621, 7256246, or (0922) 898-4336.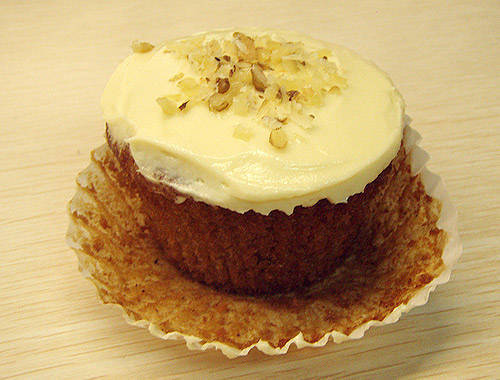 4. Christina's Kitchen
This homemade batch of carrot cupcakes (P270/order; minimum 6 cupcakes) were moist, had a tender crumb, and had a moderate amount of a creamy, light cream cheese frosting on top. One bite and you'll experience the cinnamon overtones that rule the flavors of this tiny cake. So for those that like the spice, this is the cupcake that might have you wanting to eat the other five in the box, too.
Also available in 8", 9", loaf and lite versions. Order through 0920-979-1959, 373-4562 or 384-2243. Pickup is at 51-A Dr. Lazcano St. Quezon City, near Tomas Morato).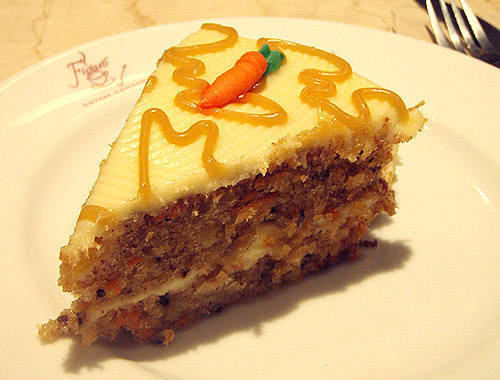 ADVERTISEMENT - CONTINUE READING BELOW
3. Figaro
This Filipino coffee company boasts great coffee and when it comes to good food pairings, the carrot cake (P105) is one of those desserts that really is a perfect match with your afternoon cup. It's wonderfully spiced with cinnamon, interspersed with walnut pieces, and has just enough cream cheese frosting to complement its cake with its tang and sweetness. As an added bonus, those with an extra-sweet tooth will love the sweet hit from the drizzled caramel sauce. A fully rounded flavor in a slightly dense cake and topped with a buttery, creamy frosting that tastes homemade, hunting for this carrot cake is worth the extra time and effort to find it.
Available in selected Figaro branches. Visit www.figarocoffee.com/locations.php for a list of branches.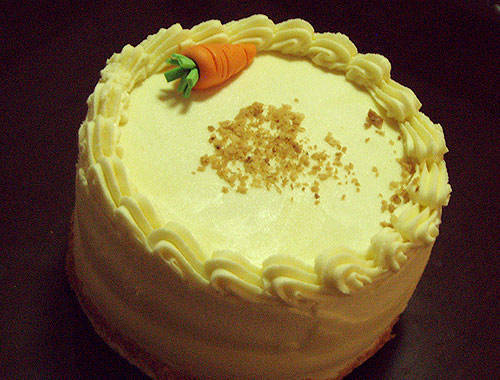 2. Flour Girl Bakery
Had this cake (P800/6" round) been spread with a lusciously smooth cream cheese frosting, as a traditional carrot cake should have been, this deliciously walnut-chunky, perfectly spiced, tenderly crumbed, and incredibly moist cake would have topped this Top 10 list, hands down. Its downfall? The plain vanilla-flavored icing that left this writer tingling from the sugar rush it caused, prompting the scraping of much of the icing to get at the definitely perfect cake underneath. With that said, this may well be the perfect cake for those who love their icing more than the cake.
ADVERTISEMENT - CONTINUE READING BELOW
Also available in a 9" round cake and cupcakes. To order, call 0917-5436350 or visit theflourgirlbakery on Facebook. Pick up areas are Rockwell and Valle Verde 2, Pasig.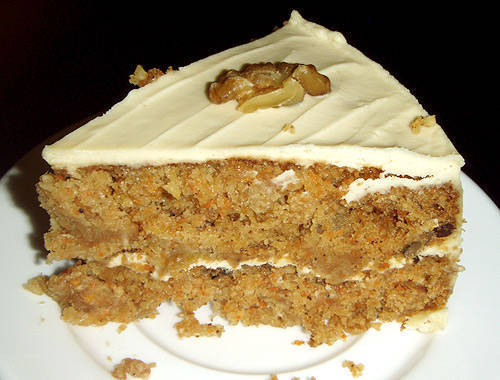 1. Parvati
A dessert café that celebrates the best homemade goodies at a conveniently located shop in one of Manila's bigger malls, this carrot cake (P110) surprisingly had a near-perfect balance of a super moist, nearly melt-in-your mouth cake and a sweet, tangy, smooth cream cheese frosting that's not too thin yet not too thick, a reminder that this is a "guilt-free" carrot cake. Moderately thin icing aside, the cake has a wonderful lightly spiced and tender crumb that, if savored, gives telltale hints of the grated carrot and the texture of the crushed pineapple. All that and a free cup of coffee to go with it when you dine in makes this the perfect place to have your cake and eat it, too.
ADVERTISEMENT - CONTINUE READING BELOW
Also available as cupcakes. Parvati is located on the ground floor of the Mindanao Wing, Trinoma.
Share this story with your friends!
---
Help us make Spot.ph better!
Take the short survey
Load More Stories