Fake It Like You Know It: The SPOT.ph Guide to Appreciating Wine
Consider this: Wine Appreciation 101
(SPOT.ph) One persistent assumption in our culture is that wine is reserved only for high society, and that the rest of us who earn a modest keep can content ourselves with the cheap thrills of local beer and spirits. Sure, wine is pricier compared to other alcoholic beverages but wine is ordered for the experience as much as for the drink itself.
So, before that happens, one must be convinced not only of the drink's merits, but also the rewards of foraying into wine, and the discovery that it's intimidating only in the sense that it actually packs a bigger wallop than your average beer. That's why you sip it, not chug it.
1. Wine enhances food.
If you ask people in a room why they drink, there is a colossal chance that the reasons you will hear relate to either high or low points of a person's life. It is only when you ask someone who appreciates wine that you will hear about "tannins complimenting fat in food," or how the fruitiness of certain wines serve as a great final wash after solid meal. Consider this an upgrade of your typical drinks and pulutan combo, where the liquid doesn't simply serve as a panulak/pantulak, even if you don't fully understand what a tannin is.
ADVERTISEMENT - CONTINUE READING BELOW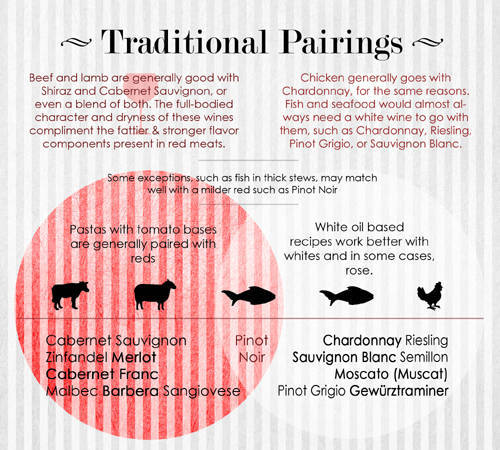 CONTINUE READING BELOW
Recommended Videos
At this point, you may wince and say I want to drink, not think. With that mentality, this drink might not be for you because even the preparation of a dish plays a part in choosing which wine to pair with what. But if you need a handy guide of which-goes-with-what, it is generally accepted that red wines go with red meats, and white wine with white meat and fish. This principle still holds in most cases, but knowing the rules equips you with the confidence to break them.
ADVERTISEMENT - CONTINUE READING BELOW
For first-timers, Pierre Addison, sommelier at the Straits Wine Company, recommends going for the sweet ones regardless of color. "Off-dry Rieslings for whites and Pinot Noir or Merlot for reds is a good start.  Typically, the fruity style of these wines makes the wine seem sweeter, friendlier on the palate."
2. Wine offers a fuller sensory experience.
A lot of people give up on wine pretty quickly because they focus only on how it tastes, but consuming wine for its color, its consistency, its smell, its taste, and its aftertaste is how one can get the most out of wine. Keep in mind the 4 S's (seeing, swirling, smelling, sipping) to get the complete sensory experience that wine offers.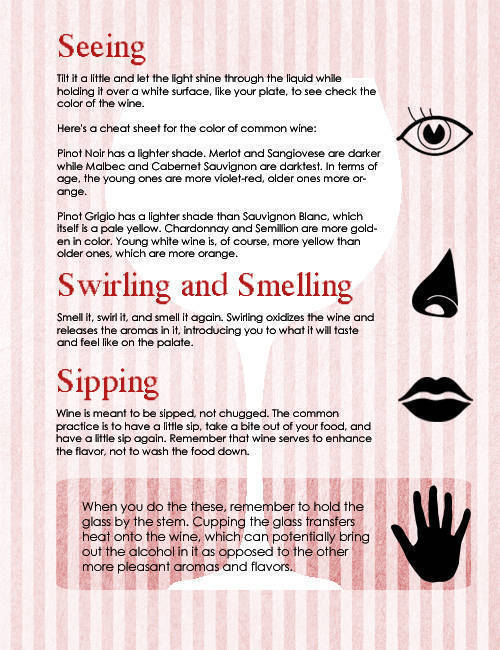 ADVERTISEMENT - CONTINUE READING BELOW
A wine's color is a big determinant of its taste, texture, and pairing quality. The amount of tannin in your drink is proportional to the body of the wine. It is also what leaves that chewy, dry feeling in your mouth: more tannin, more dryness. As a quick guide to wine color and tannin, keep in mind that red has the most, white has the least, while rosé has it somewhere in the middle.
Just as some beers are best served ice cold, wine should be stored and served at the correct temperature. It's often said that wine should be served at room temperature, but we're in the tropics so chilling wine is recommended for our climate.
3. Wine does carry a modicum of culture with it.
And we don't just mean yeast culture. Sampling sherry, for example, might lead one to a more fulfilling reading of Edgar Allan Poe's The Cask of Amontillado and a glass of Chilean wine can serve as a reminder of how Chile's economic history parallels the country's transformation from a source of cheap table wine to that of a competitive region in the practice of winemaking. See how much class you can get by simply reading? You're welcome, now let's carry on sipping.
ADVERTISEMENT - CONTINUE READING BELOW
On the point of being cheap: low-priced doesn't necessarily mean cheap. There is absolutely no need to splurge on the most expensive bottle you see on the racks for your first sampling. Start by setting a price range for yourself, and feel free to ask the cellar for their best recommendations for a bottle of red or white given your price range.
Addison adds, "The trick here is really knowing somebody at a retail store you frequent who can help with your selection. If you are at a place that does not have somebody you can consult with, go for the midpriced one, a wine that's not below P500 and not above P1000.  That's always a safe bet."
Graphic by Grace Ng
Share this story with your friends!
---
Help us make Spot.ph better!
Take the short survey
Load More Stories