SPOT.ph Roadtests 7-Eleven's Microwaveable Chicharon
It was gone in fifteen minutes, and it's not because of the serving size.
(SPOT.ph) Historical inaccuracies have led us to believe that the Spaniards came to the Philippines with the three Gs in mind: God, Glory, and Gold. We know that's not true but whatever. After more than three centuries of colonial rule, they left behind two Cs we all continue to treasure: Church and Chicharon.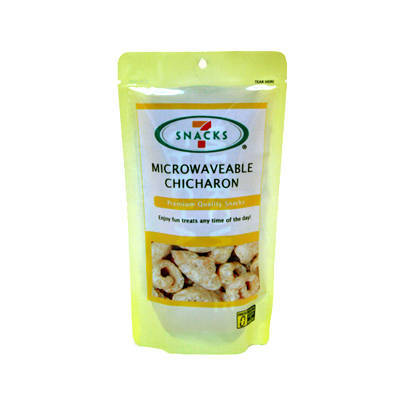 ADVERTISEMENT - CONTINUE READING BELOW
Ah, pork cracklings. Dry, wrinkly, cratered, and fatty. There's no pretty way to look at you and you are terrible for our hearts but we keep coming back to you. But then again, you're too darn ubiquitous to escape. You come to us in so many forms and now, you are in this deceptively plain package (exclusively packaged for 7-Eleven, so says the label).
This looked dubious to us in the beginning and even as we opened the package to slide out the red microwaveable bag inside, we weren't impressed. How silly we were. How can you go wrong with 150 calories from fat in a bag?
CONTINUE READING BELOW
Recommended Videos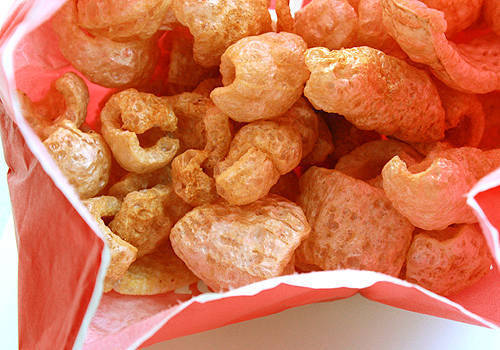 ADVERTISEMENT - CONTINUE READING BELOW
Price and availability: P 65 for 75 grams, at 7-Eleven.
Best for: The young and the fearless. But, if we go for moments when you should eat this, is there really a bad time for chicharon? It's great as pulutan, so have this whenever you and your friends have impromptu late-night inuman. Enjoy warm chicharon with cold malted drinks. With the way that it's packaged, it's a pretty good replacement for popcorn on a movie night too (that is, if you're not conscious of your weight or health).
Best with: Vinegar, which they've conveniently placed inside. It comes with a 20-ml sachet of Datu Puti vinegar. Plain old water would do for refreshments but beer comes to mind as well. So do juices and shake. What doesn't chicharon go with? Heck, you can have it with your tears. Pop one in the microwave and eat it as you cry over your life's latest tragedy. Chicharon can be comforting. It could form a fatty cushion around your organs.
ADVERTISEMENT - CONTINUE READING BELOW
Tastes like: Heaven Chicharon, and not the stale kind, either. It's crunchy-but-not-completely-dehydrated-to-the-point-of-crispy chicharon.
Manage your expectations: Contain yourself, and have just one. It's good enough to be addicting and you must resist the sodium temptation. It's a bit tricky getting the pellets evened out on the bag before you stick it in the microwave but for the taste, it's worth the effort and the bag fills out once the pellets get popped.We suggest "cooking" it for two minutes and 30 seconds; it'll come out quite nicely.
Yay or nay: Yay. It smells like chicharon and it tastes like death by pork skin, which is one of the more pleasant ways to go.
Share this story with your friends!
---
Help us make Spot.ph better!
Take the short survey
Load More Stories