Open daily from 11 a.m. to 2 p.m.; 6 p.m. to 10 p.m. (Sunday to Thursday), 6 p.m. to 2 a.m. (Friday to Saturday)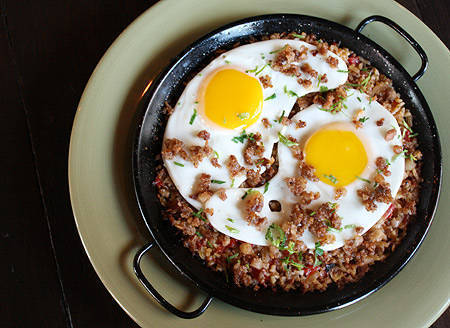 Things are sunny-side- up in the Cabanatuan Longganisa Paella (P480)

(SPOT.ph) It is not bright inside Sunshine Kitchen. The side where the sun blazingly shines is, in this summer heat, conveniently concealed by an adjacent building. But the name comes with certain expectations: quaintness, spring, yellow, breakfast. The interiors are dark, woodwork included, illuminated only by a few yellow chairs; stone bricks paper the walls and panels. "We wanted it to look like a bistro," explains owner Tanya Chua. There you go. The name, as it turns out, is inspired by Chua's nickname for her daughter rather than a derivation from the theme. "She's two years old and I call her 'My Little Miss Sunshine' so I wanted something to that extent."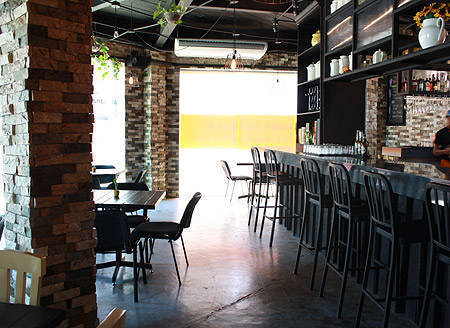 Bistro-style interiors with sunshiny chairs
ADVERTISEMENT - CONTINUE READING BELOW

Owning a restaurant had always been Chua's dream. Prior to Sunshine Kitchen, she'd cook for her friends at home, and the recipes of such affairs were the first items on the menu. "Instead of doing that (serving at home), I just put up a restaurant," she says. The entire research and development process roughly took a month.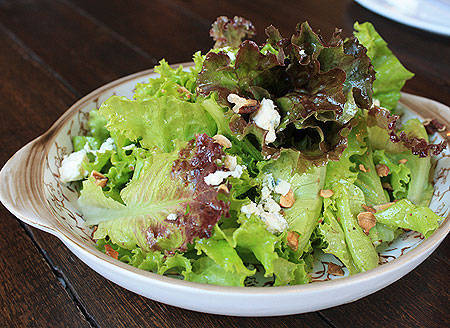 It looks unassuming but the Green Salad (P290) packs a pow with it's zesty vinaigrette.
ADVERTISEMENT - CONTINUE READING BELOW
Recommended Videos
Of the variety of comfort foods listed on the menu, much promise is given to the
Sunshine Pizza
(P550), the signature item, and the dish which gave Chua and Chef Sansan Clemente the most grief in creating. "It was really difficult to get that dough right," she says with a little laugh.  Bell pepper and porchetta over Cabanatuan
longganisa
and arugula over mozzarella and ricotta over marinara. Oh, and there's a poached quail egg on top of all that. The first bite is somewhat of a letdown: the crust was fine
-
chewy in a way only homebaked dough can be
-
but the meaty savor, albeit yummy, was nothing out of the ordinary.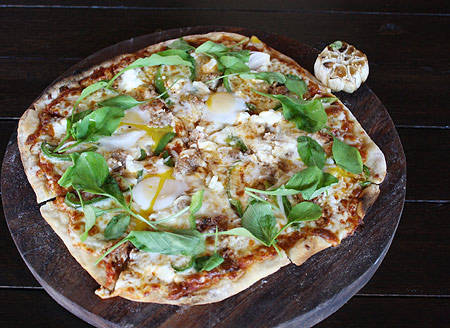 Chef and owner Tanya Chua's personal favorite, the Sunshine Pizza (P550)
ADVERTISEMENT - CONTINUE READING BELOW
A second bite and the yolk breaks, releasing a gush of gooey rich goodness tying everything together and summoning warm fuzzy feelings inside. Like sunshine. Like a sign that things are just getting started
-
and getting better. It's a little too poetic, something Chua probably never intended. But that was what it was.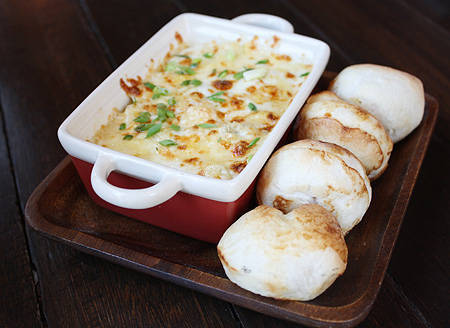 Homebaked buns work well with the the uber cheesy dip brimming with giant artichoke and crab chunks.
ADVERTISEMENT - CONTINUE READING BELOW

While the rest of the menu doesn't have as much of a perky effect, they are nonetheless up to standard. The Creamy Crab and Shrimp Dip (P320), salty, thick, and loaded with fat chunks of artichokes, will have you fighting tooth and nail. It's not too clear though whether it's over the four plush, homemade buns that go so beautifully with it or over who gets to lick the bowl.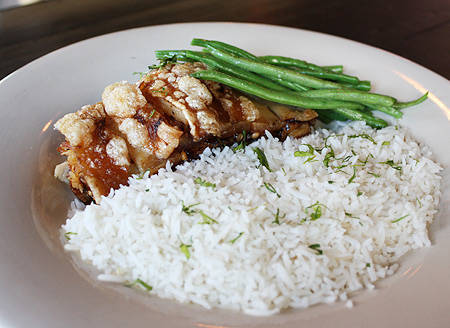 Six hours slow roast porchetta (P480) with rice pilaf, herb salsa, green beans
ADVERTISEMENT - CONTINUE READING BELOW
The Porchetta (P480), meanwhile, is a meticulous six-hour roast:  thin lines of fat meld into soft layers of pork, creating what could have been melt-in-your-mouth had it not been for the super crisp pig skin that resounds like fireworks inside the mouth.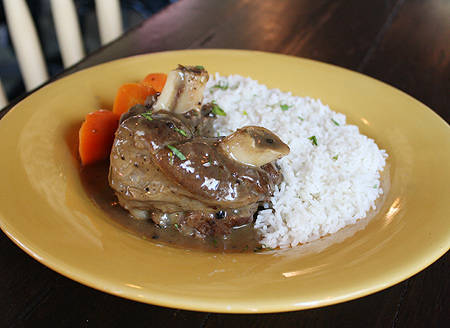 Lamb Stew with Rice Pilaf (P490)
As far as comfort food goes, lamb is a tad fancier than the rest, but this Lamb Stew (P490) comforts rather than intimidates. The flavors are simple and rustic and cooked perfectly to the bone with  meat that pulls apart easily and a rice pilaf that does a good job complementing the sauciness of the dish.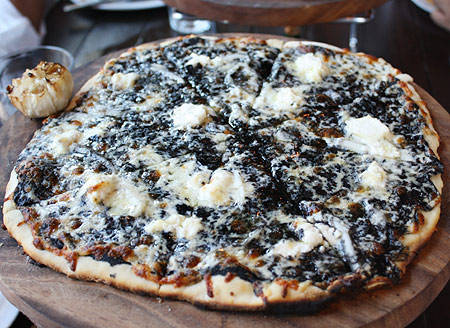 An Orc died here. It might not look it, but the Pizza Al Nero (P520) is a flavorful medley of squid ink, cream, ricotta, mozzarella, and grana padana.
ADVERTISEMENT - CONTINUE READING BELOW

The zing makes a roundabout in the Key Lime Pie Ice Cream (P240); it's a homemade confection with only a hint of tart and that rough flavor of pastry courtesy of the hefty sprinkle of crushed grahams. It's 40-degrees outside and each cool mouthful of this zesty icy treat feels nothing short of heaven sent. As you finish, you look around the dim surroundings and the peek of sunlight through the glass walls. Suddenly it's great that the Sunshine Kitchen isn't too bright, not literally anyway.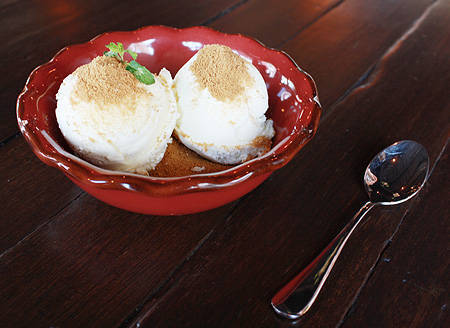 Crushed grahams really give this ice cream (P240) a Key Lime Pie feel.
ADVERTISEMENT - CONTINUE READING BELOW
Share this story with your friends!
---
Help us make Spot.ph better!
Take the short survey
Load More Stories