(SPOT.ph) Filipinos react to food the way they do to fashion: over the top and with an almost obsessive zeal that likely stems from a cultural passion. We did it with shutter shades (or rather, the majority of the Jeje sect did), we did it with green tea. We did it with jeggings, we did it with cookies and cream. We did it with ombre, we did it with "organic."
But how does it happen? How does a population of, say one million people, suddenly come together and obsess over a single thing? Allow us to indulge in a little discourse. Food trends, like every other fad, begin with a forecast: a bunch of important-looking people in expensive-looking outfits get together in Conference Room B to discuss what the unsuspecting public should eat and how they should eat it. Once they've decided, the idea is expertly planted a la Christopher Nolan-into cooking shows, cookbooks and, consequently, into the hearts of housewives who can't help but share it with their fellow homemakers. With the buzz created, the effect trickles down first from culinary connoisseurs to high-brow restaurants, chains then finally grocery stores. The story is akin to Miranda Priestly's "Cerulean" speech in The Devil Wears Prada. They give it, we gobble it up. And the culinary industry is only too eager to provide the hungry public with every incarnation they can cook up.
It's pretty much the same except with food.
The emergence of social media has all but contributed to this snowballing. In March 2011, Thespec.com published an article, "The great food trends mystery: How bacon got its sizzle and people got sweet on cupcakes," in an attempt to explain the phenomenon. "Favored foods items can go viral in the time it takes to upload a picture of salted caramel ice cream"-a flavor which has only reached the Filipino palate quite recently-"The arbiters of trendy tastes include big-name chefs, bloggers, urban hipsters, eater tweeters and journalists." In the local context, we add culinary artisans as the primary purveyors of the latest must-try incarnations with their intriguing ingredients and bold combinations. The digital age has only made sharing yummy "discoveries" much simpler with Instagram, Foodspotting, or blogging.
ADVERTISEMENT - CONTINUE READING BELOW
But these developments are conversely accompanied by a throwaway culture. Restaurants only have so much space in their menus, most of which are dedicated to the current "It" flavor. Two years ago it was Nutella everything. In a matter of months it was Choc-nut. Then the teas came in-green tea, Earl Grey, chai-an offshoot of the milk-tea insanity that's somehow relentlessly keeping ground until today. For a while, salted caramel became the Anne Curtis of pastry shops, but even that was quickly kicked to the curb by the almighty cookie butter which has integrated itself into ice cream, pies, cakes, macarons. Now, a little over a month since it peaked, the formerly ubiquitous Speculoos is slowly but surely being squeezed out of social networking. Only flavors like Chocolate and Vanilla, the blue jeans and white tees of gastronomy, retain permanent places in the hearts and tongues of the public. Everything else is a delicious but fleeting moment of experimentation and overproduction.
Perhaps it's the way they rise up so fast. Perhaps it's the way they were inexorably pushed into our gastronomic repertoire-almost like force-feeding. But we say: screw the system! While these trends are fighting for their places in the sun, it's a shame that other delicious flavors get lost in the scuffle. Flavors that have yet to be prescribed as the Next Big Thing. So while we're waiting for what that is-and because our palates are just really hipster here at SPOT.ph-here are some "non-mainstream" (yet!) flavors that you might want to mull over.
CONTINUE READING BELOW
Recommended Videos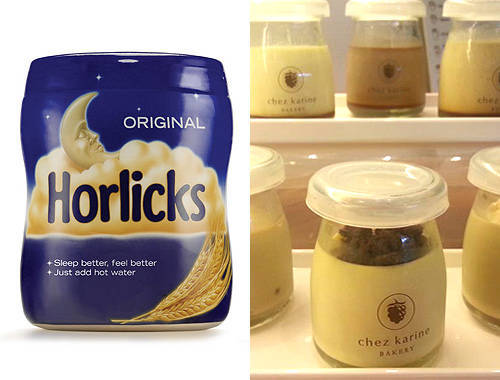 Horlicks pudding photo from Chez Karine

1. HORLICKS
Horlicks is by no means new (and neither is Speculoos-both their origins date as far back as the 1800s). Horlicks is, in fact, a company that specializes in malted milk sold as powder. Add water and the mixture results in something akin to milk. To the unsuspecting drinker, the lack of sweetness and hint of barley might come off as bland, but Horlicks takes some getting used to-or maybe you just shouldn't assume that it tastes like milk. If you're not satisfied with the natural flavor, a dash of honey gives it the lift it needs to be a mellow, malty comfort, a perfect pre-bedtime ritual. In Asia, the formula was also sold as chocolate-flavored tablets.
The product is not as readily available in grocery stores as, say, Ovaltine (and Ovalteenies). The candy was especially popular in the mid-90s, but at a time when Manila's culinary culture wasn't as complex as it is now, the flavor went only as far as the candy. Perhaps the only way we can revive that barley goodness in our palates is through Chez Karine's Horlicks Pudding. It's a quivering, pale yellow mass that recalls a long-lost childhood that, through the lost years, matured to becoming creamier, nuttier, and sweeter. On top, crushed chocolate sables provide the much-needed sweet lift as well as an added rich chocolatey edge over the smooth boldness of barley.
ADVERTISEMENT - CONTINUE READING BELOW
Why people should use it more often: Horlicks is familiar and nostalgic, potent enough to be distinct but mild enough to leave room for interpretation.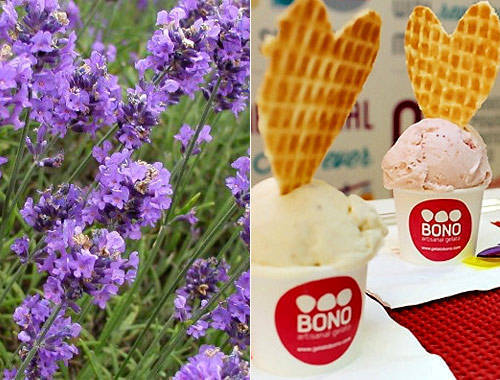 Lavender photo from Whatscookingamerica; Bono photo from Yedylicious
2. LAVENDER
There's more to lavender than massage oil, soap, and tea. It's a coup, really, to use this flower-turned-herb-turned spice: with its bold color and aroma, lavender paints a pretty picture in sight, scent, and savor. It's more fragrant than flavorful with an almost heady, exotic blend that's in parts bright, menthol, spicy, and sweet-depending on the variation. Despite the complex flavor profile, lavender doesn't assault the palate, instead, the flavors ease in and linger. This demure approach makes lavender a popular foil in both savory and sweet dishes, especially desserts that require more floral notes.
Bono Gelato demonstrates how such a delicate yet intricate flavor so often bumped off to the sidelines could rise up to the greater challenge. Setting the stage, the bright Lavande from God (brought to earth by the gelatai of Bono). Fresh lavender blooms are infused in the mixture and, together with the rest of the all-natural ingredients, creates a refreshing floral burst. Flowers, of course, are normally associated with spring, but Bono piques up the brightness, giving it a refreshing makeover perfect for summer. It's a shame that they rarely have it on the menu.
ADVERTISEMENT - CONTINUE READING BELOW
Why people should use it more often: The owners of Bono themselves confessed that the flowery flavors of Lavande are hit or miss, but we say it's time to open up the Filipino palate with more "exotic" creations. Lavender really uplifts a dish with its multisensory potential.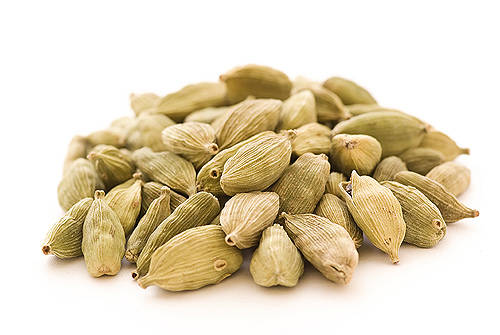 Photo from ToddsBBI
3. CARDAMOM
If variety is the spice of life then what do we make of the ever-changing cardamom? With a history that dates as far back as the Bible, cardamom is a spice native to India and Sri Lanka. Its peppery fragrance and sweet-spicy savor are best kept fresh in almond-sized pods ground only when they're about to be used. Cardamom is unique in its flavor profile: somewhat a cross between ginger and cinnamon, the green has more kick (though not fiery) while the black is mintier with a smokey flair. With its flexibility and multidimensionality, cardamom has been adapted into both savory and sweet recipes.
ADVERTISEMENT - CONTINUE READING BELOW
It's not the unique flavor that puts people off cardamom. It is, in fact, the third most expensive spice in the world after saffron and vanilla. Restaurants that flaunt Asian cuisine such as My Singapore Food Street (Kopi Tarik) and People's Palace (Panna Cotta Cardamom) or Mediterranean fare use it liberally, but it was Merry Moo's unique approach that had our mouths watering. Their ice cream is decadent and silky with the coolness perfectly highlighting the subtle mint from the cardamom. It's sweet enough to be classical, but with enough variety to appeal to the more mature palate.
Why people should use it more often: If people can use vanilla, the second most expensive spice in the world, quite constantly, then it shouldn't be too crazy to ask for more cardamom.
Share this story with your friends!
---
Help us make Spot.ph better!
Take the short survey
Load More Stories