El Chupacabra
5782 Felipe St. cor. Polaris St., Makati City
Tel. No. 895-1919
Open from 2 p.m. to 12 m.n., Mondays to Wednesdays, 2 p.m. to 2 a.m., Thursdays to Fridays, 2 p.m. to 3 a.m. Sundays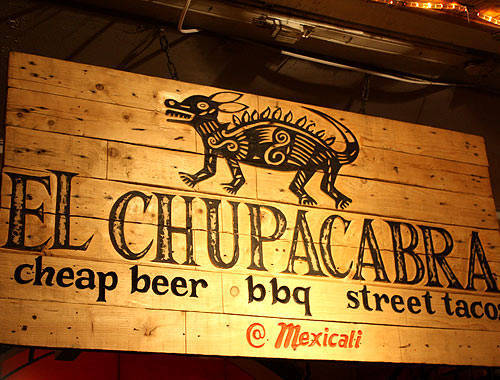 Come for the cheap beer, stay for everything else.
(SPOT.ph) Hanging above the entrance to one of the tastiest holes-in-the-wall in Manila  is an engraving of a strange creature. "In English, chupacabra means 'goat sucker'," explains Carlos Villarreal, the affable Mexican general manager of Mexicali Philippines and one of the hands-on guys behind El Chupacabra. "It is like Bigfoot, and it is well-known in America. A farmer found a goat one morning, dead, without any blood. The body was still there, but without any blood. So it was something like a vampire."
ADVERTISEMENT - CONTINUE READING BELOW
There were no actual chupacabras hanging around the premises of the taqueria, but we did spot subdued red lighting, scrawled messages on the wall from the likes of Bianca King and the Mexican Embassy, a painting of a unibrowed Frida Kahlo, and an overall abundance of good vibes. Clutching beers, expats and Pinoys mill about in equal number, spilling out of the main premises and into the Monobloc chairs and tables set up on the street. Behind them, directly fronting the street, is the grill where all the goodness happens.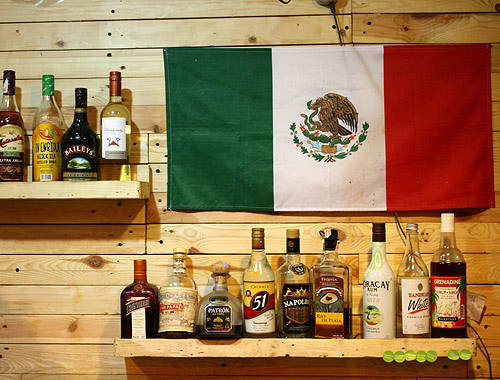 ADVERTISEMENT - CONTINUE READING BELOW
Recommended Videos
Mexican pride decorating the bar

El Chupacabra prides itself in its authenticity. Villarreal, who has been in the restaurant business all his life, carries himself with a swagger matched only by the excellent dishes they've cooked up for the resto. When we asked him what was missing in every other Mexican restaurant out there in Manila, he confidently answered, "A Mexican like me." And to demonstrate, he served us up a plateful of El Chupacabra's signature Street Tacos (from P80 to P120).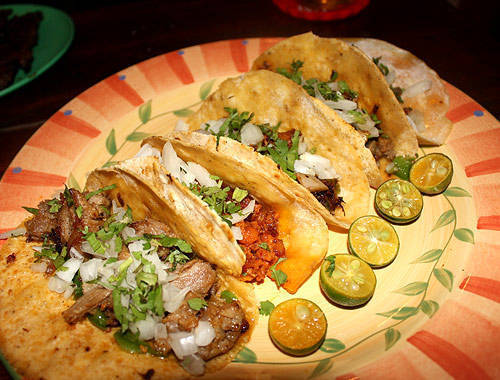 ADVERTISEMENT - CONTINUE READING BELOW
From left to right: Carnitas (P80), Chorizo (P80), Barbacoa (P120), Lengua (P120), and Steak (P80) tacos
One bite, and we immediately understood why ordering one taco is just not enough. After years of cheesy, processed abominations, biting into these soft street tacos-made in the authentic Mexican style, Villarreal assures us-was a revelation in freshness. With only light dashes of diced cilantro and onions, the flavorful grilled meat takes centerstage, sandwiched in between a suitably chewy homemade tortilla. We heartily recommend the aromatic lengua; the strong flavor of beef tongue goes down perfectly with a cool one...and yes, it should be a Makati ordinance that these tacos must always be paired with beer.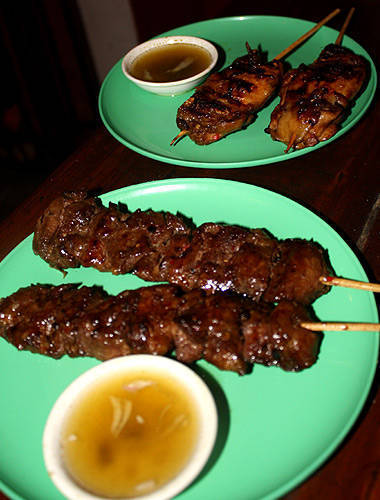 ADVERTISEMENT - CONTINUE READING BELOW
Pork Barbecue (foreground) and Chicken Barbecue (background)
The "authentic Mexican" shtick of El Chupacabra, however, does not preclude them for serving some Pinoy-style faves. The Chicken Barbecue (P50), served with suka on the side, is poultry breast done right: mouth-meltingly tender, with a nicely grilled shell of crispy skin-and at just P50 a pop, it slots easily into even the stingiest el gimikero budget.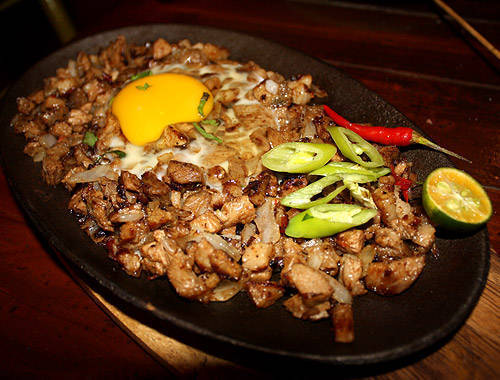 ADVERTISEMENT - CONTINUE READING BELOW
San Francisco All-Lean Sisig
If you're in El Chupacabra for the long beer-swilling haul, then go the whole hog and order the San Francisco All-Lean Sisig (P150). The Mexican take on a Pinoy pulutan classic throws out the classic pig cheeks and frothy oceans of lard for a lean and mean sizzling plate of choice pork cuts. That means less grease, less fat, less smoke, and more of all the good stuff: flavor, protein, that gloriously full feeling that can only be washed down by, yes, more beer. By turns buzzed and stuffed: this is the stuff that weekend nights are made for.
Share this story with your friends!
---
Help us make Spot.ph better!
Take the short survey
Load More Stories