Spectrum
Fairmont Makati, 1 Raffles Drive, Makati Avenue, Makati City
Tel. 555-9745
Open daily for breakfast, lunch, and dinner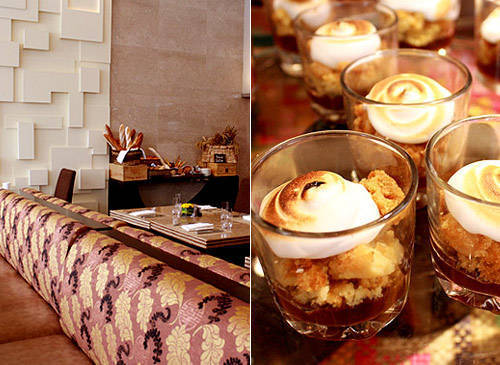 (SPOT.ph) One look at Spectrum, light through the wall-to-wall glass windows guiding your vision, and you know that this is one buffet to be enjoyed. The kind of enjoyment that, after you've eaten, makes you feel good and satisfied and not at all like you have to roll yourself to the door with the weight of the food you tried to smuggle inside your stomach.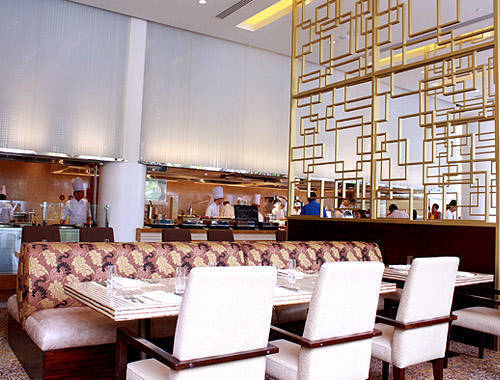 ADVERTISEMENT - CONTINUE READING BELOW
Details make the small place grand. We're digging that geometric lattice.
As far as buffets go, Spectrum is small: the buffet is L-shaped with food systematically laid out in one single motion. The space, admits Fairmont Food & Beverage Director Joern Schwaiger, is one of their primary limitations."We don't have the size that other restaurants have...and if we can't do the quantity, we have to focus on quality," he says. With their options edited, Fairmont then strips down to the bare essentials of a standard hotel buffet: Middle Eastern, Indian, Mediterranean, Chinese, Filipino, Japanese-each cuisine represented by as few as one to two dishes. Bread, Carving, and Dessert stations are also available.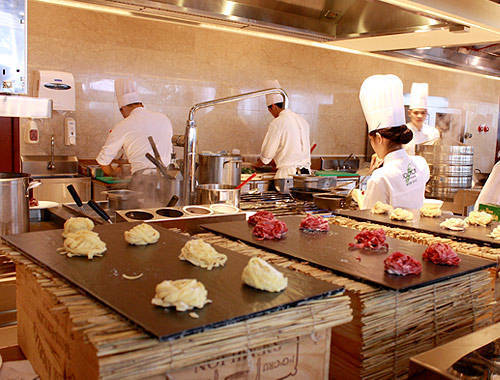 Fresh pasta every day
"Taking only fresh ingredients-ideally organic and local-and then using some classic cooking methods, [the dishes] are really simple in style so we don't falsify their taste but let the true flavors of the food come out," says Schwaiger, describing Fairmont's "Simple Life" approach. "It's really like what your mom would do minus all the fancy techniques and the fancy cooking tools in a hotel kitchen. It's back-to-basics, home-style cooking, fresh food, fresh ingredients, but the best quality possible."
CONTINUE READING BELOW
Recommended Videos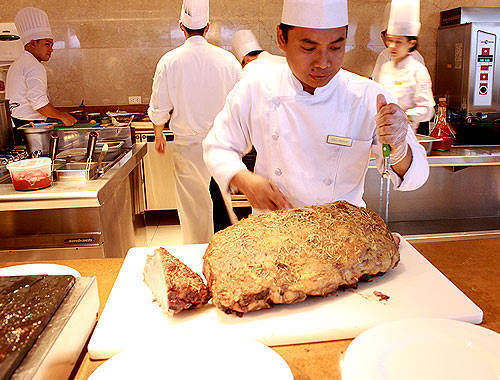 The magical roast beef
Indeed, underneath those square chafing dishes, there's nothing so foreign, nothing out of the ordinary. Except perhaps the Roast Beef which is nothing short of exceptional. A beautiful hunk of beef belly is roasted to a moist, rare perfection oozing with its own juices.  The beef, seeped with teasing lines of fat, pulls apart quite easily and dissolves into salty savory goodness inside your mouth. The chef behind the counter slices it to thin, plate-sized pieces where you can have it cooked any way you like with a bevy of salts (Black Lava, Chili Pepper, Smoked Viking) and sauces at your disposal.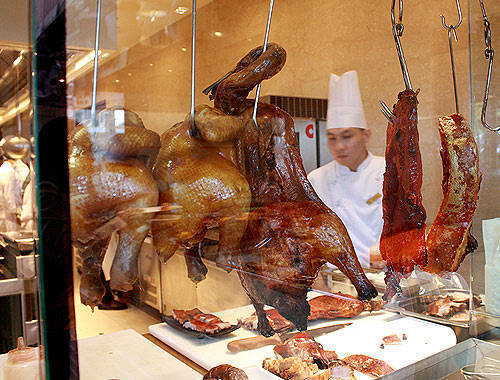 ADVERTISEMENT - CONTINUE READING BELOW
Duck, duck, goose
At Spectrum, everything is offered in moderation. Even their pizza may be ordered in manageable sizes to let you enjoy the rest of the buffet without overstuffing yourself. The Suckling Pig, on the other hand, is lean and coated with only a thin layer of fat beneath the skin creating a moist sponge for the pork and a cushion for the light crackling crisp of perfectly roasted skin. Ask the chef to go easier on the plum sauce when you order the Peking Duck to let the natural gaminess of duck shine through.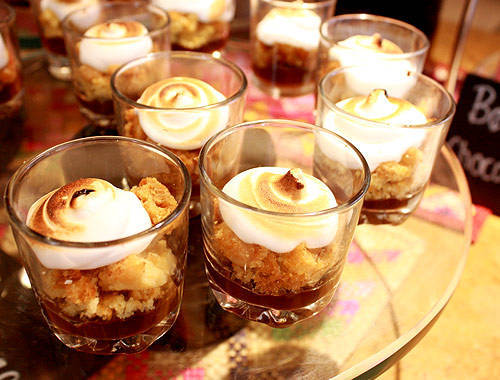 A sophisticated take on S'mores
Mangoes, being a premiere Philippine product, feature prominently in the dessert menu: roasted mangoes, mango bundt cake, mango with sago, mango panna cotta, mango creme brulee. "Our brand promise is to be 'authentically local,'" says Schwaiger, adding that hotel guests like to experience the uniqueness of the country that they're staying in." Other dessert must-trys include the S'mores, Lava Cakes, and Flavored Ice (ask them to put it over the mango with sago).
ADVERTISEMENT - CONTINUE READING BELOW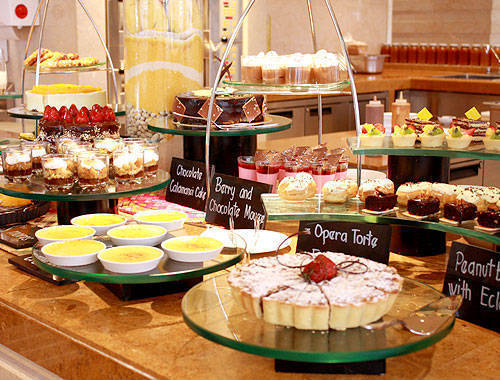 Choose your own dessert.
On a table across the desserts is perhaps what sets Spectrum apart from other hotel restaurants: a one-of-a-kind bee frame where guests can see thousands of buzzing insects working their way to producing honey. Beside it, appropriately enough, are literally honeyed products like jars of fresh honey, madeleines with honey spread, mascarpone with a honey sauce, and chocolate cups with even more honey. "It's not just a showcase," says Schwaiger of his proudest feature. "We make our own honey at the hotel," he says, adding that they have three beehives installed on the second floor. The frame is, in fact, a symbol of their own entrepreneurial philosophy. "It's always quality, it's always fresh, it's always about trying to keep your carbon footprint as minimal as possible."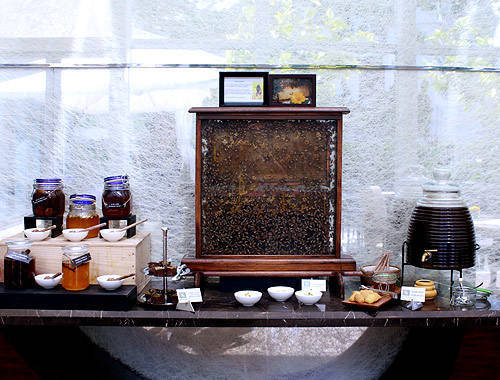 ADVERTISEMENT - CONTINUE READING BELOW
This is just a sampling of their in-house bee farm.


Breakfast (P1,450) is from 6 a.m. to 10 a.m. (weekdays) and 6 a.m. to 11 a.m. (weekends and holidays); lunch (P1,675) is from 11:30 a.m. to 2:30 p.m daily; dinner (P1,995) is from 6 p.m. to 10 p.m. daily.
Share this story with your friends!
---
Help us make Spot.ph better!
Take the short survey
Load More Stories