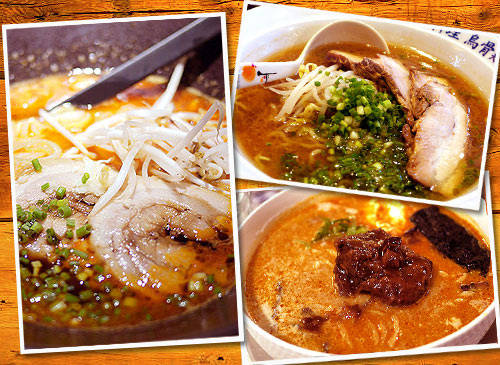 (SPOT.ph) Nowadays, you can't look over your shoulder without seeing a new ramen house setting up shop on a nearby street. The more established joints have taken a backseat to the trendier set of artisanal ramen restos alongside popular franchise finds. With so many variations on soup and style, such as tonkotsu and tsukemen, which ones are worth the trip? Get ready to loosen your belts for our Top 10 Ramen picks (2013).
Read here for a list of our Top 10 Ramen Spots (2011).
All SPOT.ph Top 10 lists are researched, paid for, tested, and selected by the writers and editors. They are discreetly conducted without any notice made to the restaurants or their owners.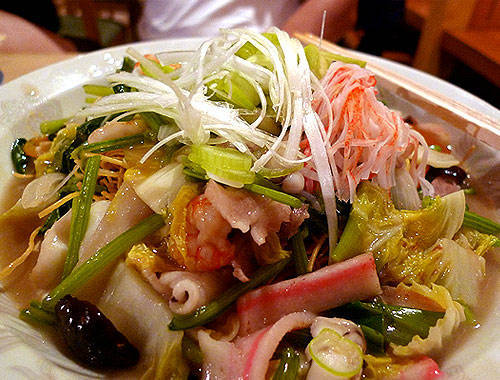 ADVERTISEMENT - CONTINUE READING BELOW
10. Tsukiji
Since 1989, Tsukiji has been the purveyor of high-quality Japanese cuisine in the same building that houses Milky Way, El Cirkulo and Azuthai. Chef Nobu Onishi has honed his craft for sushi for over 30 years in several restaurants in the Ginza and Tokyo area and brings to Manila the discipline and the ideologies that turn Japanese establishments into landmarks.
Of their 11 options for ramen,  the Karubi Ramen is a simple bowl of noodles with US Beef toppings and is, in one word, sublime. No frills, no bells and whistles, just delicate broth with tender pieces of meat and springy ramen noodles.
3/F Milky Way Building, 900 Arnaiz Avenue, Makati City; tel. no. 843-4285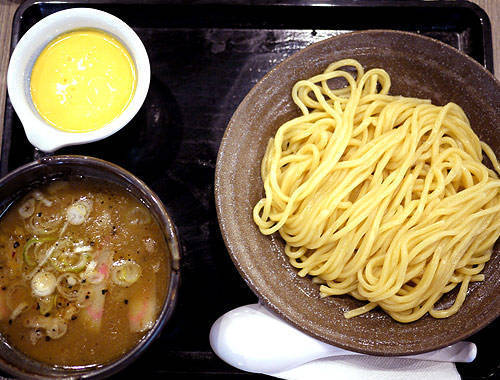 9. Mitsuyado Sei-Men, The House of Tsukemen
Entering the doors of Mitsuyado Sei-Men feels like being transported to a side street in Japan. Vintage Japanese posters, street food carts, and paper lanterns adorn the spacious restaurant, which resembles something of a hawker center. The place is a welcome respite from the modern and edgy ramen houses that have infiltrated Manila.
The ambience is bustling, like eating off the side of a street, with plenty of tables and benches for a casual dining affair. Everyone is abuzz about the first international franchise of this Japanese favorite, and more excited about the Cheese Tsuke-men. The idea is to first pour the cheese sauce atop the ramen, then dip the springy, chewy noodles into the thick, yuzu-enhanced tonkotsu sauce. It's definitely nothing like all the other ramen houses in the Metro, and is deserving of a visit if you are adventurous and want to experience a different, albeit quirkier, side of ramen.
ADVERTISEMENT - CONTINUE READING BELOW
22 Jupiter Street, Barangay Bel-Air, Makati City; tel. no. 511-1390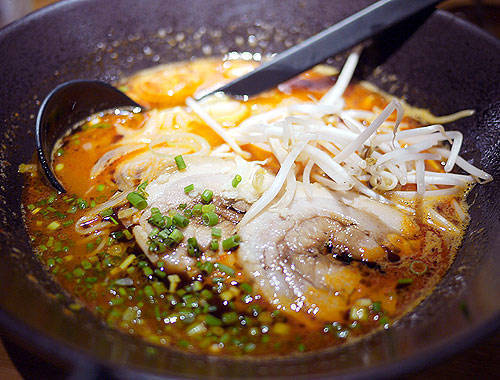 8. Wrong Ramen
What's "wrong" about Wrong Ramen? Not so much literally as in the culinary sense, but they definitely push the boundaries with non-traditional toppings like Spam and bacon strips to create. Their F.U. Ramen is 'breakfast in liquid form" with Spam, bacon, cheese and a fried egg in a garlic pepper broth. Now, your mornings will never be the same. As weird as it sounds, it actually tastes amazing.
ADVERTISEMENT - CONTINUE READING BELOW
If you're in the mood for something spicy, The Communist is the best bet. Inspired by Chinese hotpots, the bowl features a red broth, which already means hot, but it is manageable and intensifies the seven Asian spices found with chashu slices and burnt garlic oil.
Forbes Town Center, Forbestown Road, Fort Bonifacio, Taguig City; tel. no. 823 8249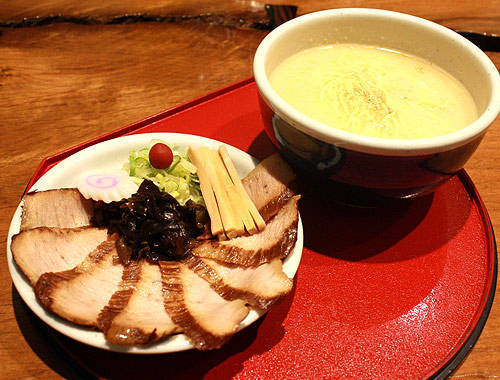 ADVERTISEMENT - CONTINUE READING BELOW
7. Ramen Santuoka
Originating from the northern part of Japan in Hokkaido, Ramen Santuoka uses the same family recipe as when they started. The secret to cooking their tonkotsu is that they never let it boil; they just let it simmer. That allows the layers of pork, vegetable, kelp and other ingredients to converge in the wonderful broth.
The best of all their offerings is the Shio Ramen, tonkotsu broth flavored with salt. The simplicity of this bowl lies in its components, with a pickled plum on top as a delightful umeboshi kick. The noodles are imported from Japan and pairs perfectly with theirtonkotsu. The broth is light, milky and not so salty as the name might connote. The chashu pork slices and fish cakes combined with the kelp give this bowl a delicious sauciness.
For a zestier bowl, the Kara-Miso Ramen is bursting with flavor and heat. The miso has just the right touch of brininess without overpowering the base.
ADVERTISEMENT - CONTINUE READING BELOW
G/F Glorietta Mall, Ayala Center, Makati City; tel. no. 728-1381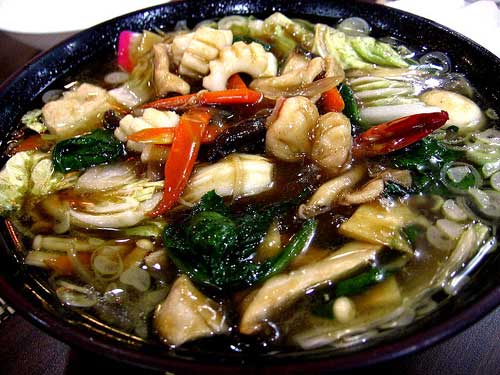 6. Nihonbashi Tei
Nihonbashi-tei is well-known for their cheap beer and 2 a.m. closing time as well as their affordable and authentic Japanese fare. With generous portions of sea-urchin sashimi and Toro Spicy Maki, it's safe to say that this place has earned a place in every foodie's heart.
ADVERTISEMENT - CONTINUE READING BELOW
Lost in the magazine-like menu with no English translations, is the Ankake Ramen. What makes it stand out is the thick seafood-based soup with a plethora of toppings: shrimp, cuttlefish, fishcakes, squid and mushroom, quail eggs, pork and other vegetables. The clarity of the soup makes this dish reminiscent of Chinese chow mein, but it is hearty, filling and best of all, very affordable. For those who are not fond of a lot of broth, this is for you.
800-A Arnaiz Avenue, Makati City; tel. no. 818-8893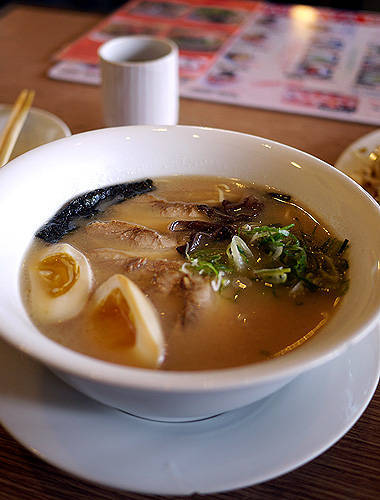 ADVERTISEMENT - CONTINUE READING BELOW
5. Genya Tonkotsu Ramen
With all the nouveau and artisanal ramen shops sprouting up in the metro, it seems that the key to ramen notoriety is a signature dish paired with well-designed spaces. But at Genya, it's as old-school and traditional as you can get. The restaurant, like most establishments, opened before the design craze and is forgettable, but their Tonkotsu ramen is as memorable as a recurring dream.
Tonkotsu Ramen is made by boiling pork ribs and bones for an extended period of time and, at Genya, they do so for 18 hours. The result is a robust flavor with a hearty balance. Their Shoyu Tonkotsu Special Ramen is a nostalgic spoonful that guarantees you that this, exactly, is what tonkotsu ramen would be like if you were having it in Japan, transporting you with nothing but layered flavors. With generous portions of Chashu pork and the essence highlighted by soy sauce.
ADVERTISEMENT - CONTINUE READING BELOW
Hobbies Mall of Asia, No. 8 Macapagal Boulevard, Pasay City; tel. no. 552-2698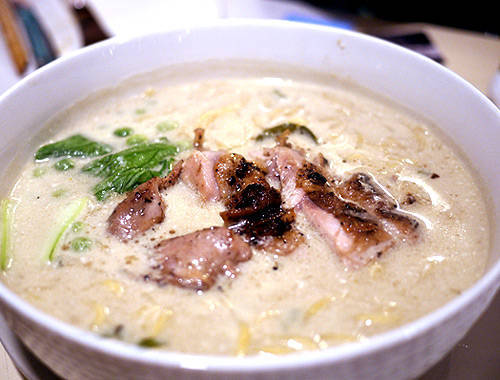 4. Nomama Artisanal Ramen
Tucked somewhere around Tomas Morato is an artisanal ramen shop that's definitely "not your momma's ramen." From the cool industrial wood interiors designed by Juan Carlo Calma to the exposed open kitchen, it transports you to a place where Eastern cuisine meets Scandinavian design.
ADVERTISEMENT - CONTINUE READING BELOW
As such, don't expect to find traditional takes on the Japanese comfort food, as Chef Him Uy de Baron integrates years of culinary experience from working all over the world to create bold Asian flavors using the freshest ingredients. With that, Nomama's food becomes a vehicle for the palate to experience interesting flavor combinations in traditional Japanese dishes. The result is a fusion of Japanese aesthetic with French and Asian influences.
For those who want to stay within a modicum of tradition, highly recommended is the Wagyu Beef Cheek Ramen in Milk Broth. The Wagyu beef is tender and distinct in flavor, and the milk broth is a light, comforting spoonful of simmered flavors.
For those who want a fresh take on the soup and noodle bowl, Nomama's Thai Green Curry Ramen with Seared Chicken is quite an unexpected, but interesting take on the usual rice topping. A creamy-curry laden broth made fragrant by lemongrass enhances the beautiful piece of chicken on top of chubby ramen noodles. It's not your normal ramen, but normal can be boring anyway.
ADVERTISEMENT - CONTINUE READING BELOW
G/F FSS Building, Scout Tuazon corner Scout Castor, Quezon City; tel. nos. 0917-522-8272, 542-2558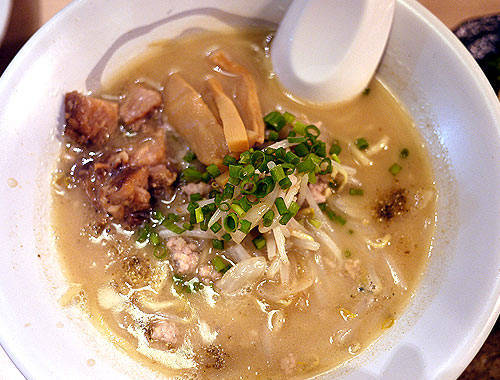 3. Ramen Yushoken
Lauded as the closest thing to the second-coming of octogenarian Yamagishi Kazuo a.k.a. the Ramen God, Yushoken's Chef Takane hails and continues to report to Chef Yamagishi's hierarchy of ramen artists, and ensures that the recipes adhere to the aesthetic of the Yamagishi.
ADVERTISEMENT - CONTINUE READING BELOW
The menu is curated to a single page, with a special preference for tonkotsu, or pork bone broth, boiled for 12 hours. If you are a true aficionado, you can't get any more pork-essence than their Tonkotsu Tsukemen, a modern-day ramen dish with ramen noodles and a dipping sauce of concentrated tonkotsu on the side. This is not for the faint of heart, or for those who want to walk on the bland side. Their tonkotsu is intense, deep with robust flavor, and just shy of being gamey. But the highlight of their bowl has got to be the beautiful texture and bounce of their chubby ramen noodles made fresh daily using flour and kansui imported from Japan.
If you want a perfect balance of pork broth and miso, their Miso Tonkotsu Ramen is a harmonious marriage that is neither overpowering nor overly salty.
Molito Lifestyle Mall, Madrigal Ave corner Commerce Street, Alabang, Muntinlupa; tel. no. 808-7424
ADVERTISEMENT - CONTINUE READING BELOW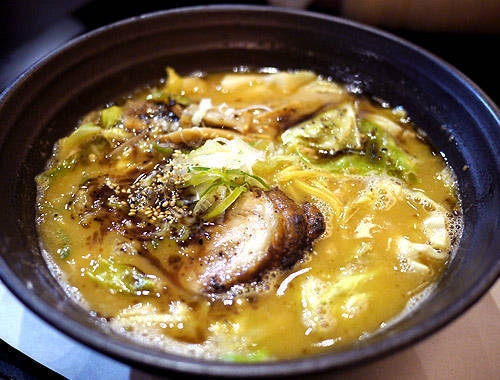 2. Kichitora of Tokyo
Among the myriad of ramen places offering tonkotsu, or pork bone broth, ramen, Kichitora is a welcome change from the current trend of ramen houses in the metro, using chicken as a base. Their broth is made from hours or simmering chicken bones and flesh to create a milky, almost creamy, broth reminiscent of the Filipino sopas. Adding to the dish is the springiness of the ramen noodles itself, which is made from high quality flour formulated by Kichitora.
ADVERTISEMENT - CONTINUE READING BELOW
The Paitan Chicken Ramen is the perfect blend of nostalgia, warmth and lightness in a bowl of white soup. The richness of the broth lies not in overpowering elements, but an amalgamation of light, lingering flavor profiles.
Their Special Miso Chashu Ramen with Ma Oil is another favorite, with slices of chashu pork grilled before serving atop ramen noodles. The best thing about Kichitora is you can customize your ramen to your liking, with additions of dried seaweed, mixed vegetables, bamboo shoots, chashu and Ajitama boiled egg.
2nd Level, Mega Atrium, SM Megamall, Mandaluyong City; tel. no. 451-2218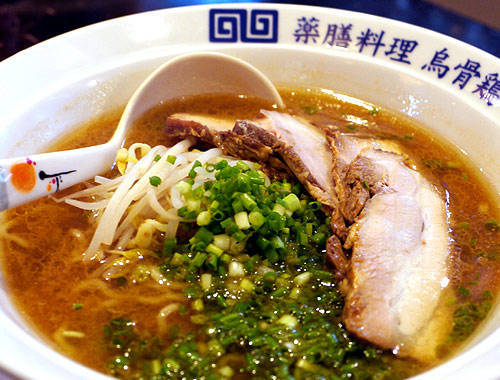 ADVERTISEMENT - CONTINUE READING BELOW
1. Ukokkei Ramen Ron
An unapologetic approach to ramen. The place doesn't even try to impress you, with random metal chairs and a handful of small tables strewn around the restaurant for the lucky diners who get a seat at the infamous Ramen Nazi's joint.
Ukokkei Ramen Ron prepares their broth 48 hours in advance. They use black chicken bones and boil them overnight, then when it thickens and the bones disintegrate, it keeps boiling with Japanese herbs and spices to capture the depth of flavor that is in every Ukokkei ramen bowl. So if they say they ran out of soup, there's no way they can whip up a new bowl for you in 20 minutes
The most famous is the Ukokkei Shoyu Chashu, soy-based broth with pork, mushrooms, and spring onion. The sauce might taste salty to sensitive palates, but it's an explosion of flavor from days of simmering that made the soup good to the last drop. The ramen noodles are soft and have the perfect texture of fresh ramen noodles. Another must try is the Sapporo-style butter and corn ramen with miso broth and, if you are lucky enough to score some, try their Tan Tan Men, or ramen with a spicy sesame paste topping offered in limited quantities every night.
ADVERTISEMENT - CONTINUE READING BELOW
G/F Tesoro Bldg., 822 A. Arnaiz Avenue, San Lorenzo Village, Makati City; tel. no. 856-4588
Share this story with your friends!
---
Help us make Spot.ph better!
Take the short survey
More Videos You Can Watch
Load More Stories