Top 10 Mojitos
For when (or if) the beer fatigue sets in.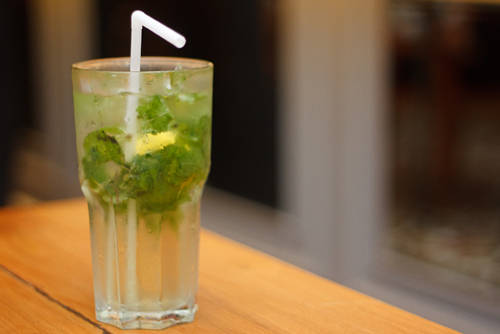 (SPOT.ph) Say what you will about this small Marxist-Leninist island country, but Cuba is still that place with great health care and is home to one of the best cocktails on the planet: mojitos.
That doesn't seem related but it's been said that the main ingredients of the mojito (rum, lime juice, sugarcane juice, and mint) were once mixed together to provide medicinal relief for various tropical diseases. That might be just a legend, but we can say with certainty that Ernest Hemingway adored this drink.
And why wouldn't he? Mojitos make something as crude as rum become refreshing, with the aid of citrus flavors and sweeteners like sugar or syrup plus a touch of mint for both garnish and additional zest. Club soda or sparkling water is then added to lift and bond the ingredients to produce a thirst-quencher that'll get you tipsy enough to dance the rumba.
It was daunting, but we managed to make a list of the Top 10 Best Mojitos in the Manila. We picked the most refreshing ones and those that are mixed well enough to mask the harshness of rum.
All SPOT.ph Top 10 lists are researched, paid for, tested, and selected by the writers and editors. They are discreetly conducted without any notice made to the restaurants or their owners.
10. Mamou (P175, plus service charge)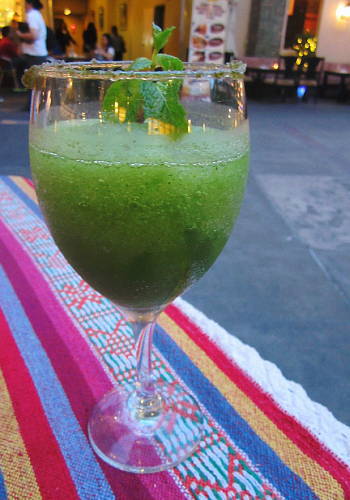 ADVERTISEMENT - CONTINUE READING BELOW
The mojito is known for being wonderfully refreshing as a cool drink and Mamou wants to push that by mixing this frozen version. The downside of blending the drink is the ice melting, which waters down the taste. But while this blended cocktail is still icy, it's one heck of a warm-weather cooler...with booze.
Mamou is located at Serendra Piazza, Bonifacio Global City
9. Village Tavern (P150, plus service charge)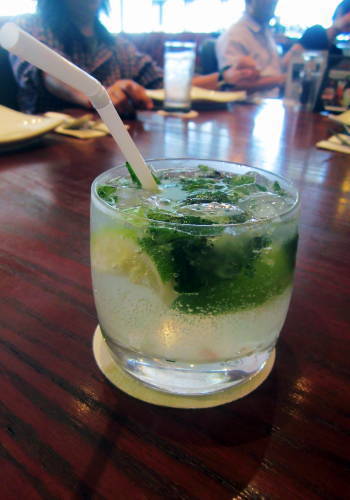 CONTINUE READING BELOW
Recommended Videos
Village Tavern's Mojito is light, lemony, and a little more fizzy than the rest. This little glass is perfect for those who want a more subtle version of the drink. The cooling taste of a mojito washes over you without overwhelming you with the punch of rum.
Village Tavern is located at Bonifacio High Street Central, Bonifacio Global City
8. TGI Friday's (P175, plus service charge)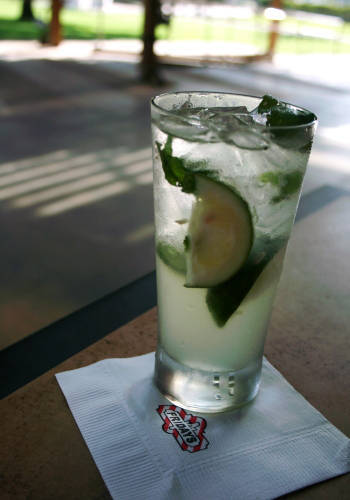 ADVERTISEMENT - CONTINUE READING BELOW
Friday's offers the sweeter Apple Mojito but the classic version in this collins glass is good enough for us. Stir the drink with your straw lightly to bring out the flavor from the bottom of the glass and enjoy the mild taste of lime and the faint hint of mint. The drink could do away with some of the ice to get more of the citrus in there, but we reckon that if you take the bottomless offer, the mildness of everything will work in your favor.
List of Friday's branches here.
7. Brotzeit (P174, plus service charge)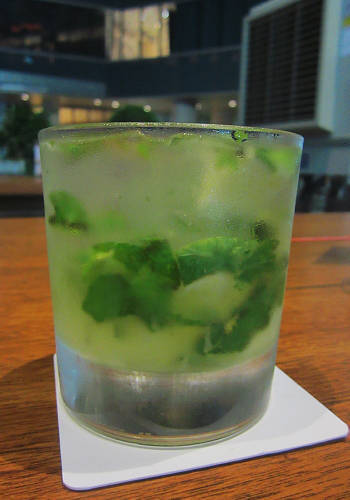 Brotzeit's mojito is muted, which we find quite comforting. The taste doesn't assault your tongue and by that we mean that the flavor of the lime juice doesn't explode in your mouth. It might be too tempered for some, but for us, the gradual burst of citrus in this stout glass makes for a nice drink to nurse. And as a fair warning: the glass is heavy.
ADVERTISEMENT - CONTINUE READING BELOW
Brotzeit is located at Shangri-la Plaza Mall, Unit 112, Street Level, Mandaluyong
6. Aria Cucina Italiana (P220, plus service charge)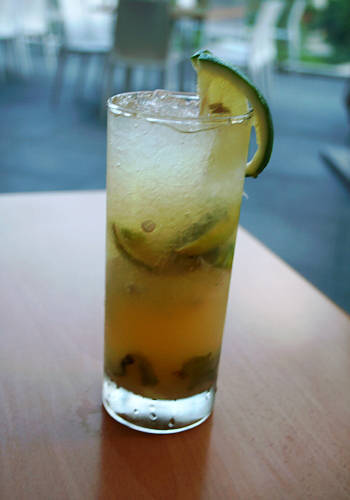 Want to feel peachy? Aria has just the thing. Their premium mojito is a fruity concoction that's less sour and more sweet. We do miss the taste of mint but the familiar flavor of Bacardi transports our senses to the beach. It's definitely a refreshing mix best paired with something from their food menu.
Aria is located at Bonifacio High Street Central, Bonifacio Global City
5. Museum Café (P235, plus service charge)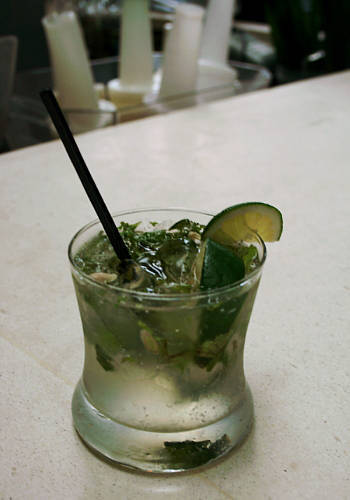 ADVERTISEMENT - CONTINUE READING BELOW
You can go with M Cafe's fruity Lychee or Watermelon Mojito, but you can't go wrong with the classic. Admittedly, the mint is a bit more shredded than we prefer but it still spills summer sunshine in your mouth. The other mojito flavors are more sweet and we definitely recommend that you try them as well, but we're content with the sour twist of lime and rum.
Museum Cafe is located at Greenbelt 4, Makati Ave
4. Rocket Room (P195, plus service charge)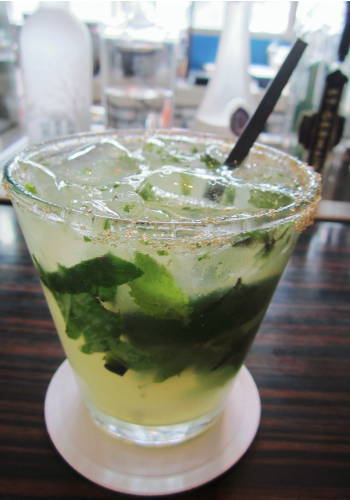 Museum Café's sister, Rocket Room, reminds us why mojitos are great for hot summer days. The sugar on the rim of the glass eases the taste of the rum and lime into your mouth, soothing your parched throat with citrusy sweetness. The unshredded mint leaves lend a cool feeling in your mouth while you work your way to the bottom of the glass for a light buzz.
ADVERTISEMENT - CONTINUE READING BELOW
Rocket Room is located at Bonifacio High Street Central, Bonifacio Global City
3. Silantro (P110)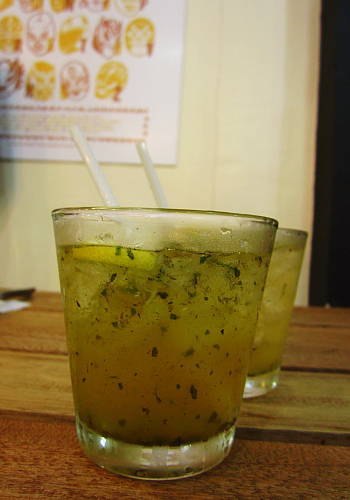 We're cheating a little here and we apologize if we offend purist sentiments but this Mexican mojito from Silantro begs to be drunk. The resilient taste of tequila is subdued effectively by the sweet and lemony taste within the glass, so fans of this potent liquor will rejoice. The mark of a good mojito is to get you gladly drinking something that usually tastes harsh, and Silantro's mix does exactly that.
Silantro is located at East Capitol Drive, Kapitolyo, Pasig City
2. Café Havana (P195, plus service charge)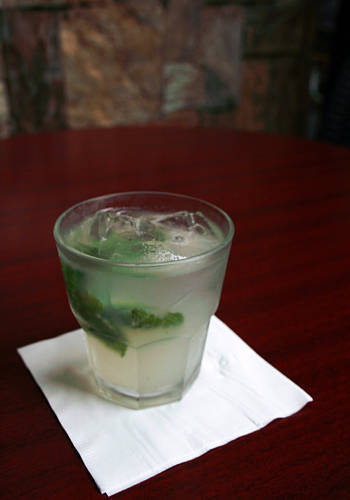 ADVERTISEMENT - CONTINUE READING BELOW
Their Mango Mojito has won competitions, but we are going with this little classic. It looks plain and assuming but this little cocktail hits the right spot. It's not too sweet, it's not too sour, it's not too fizzy from carbonated soda water, it's not too heavy on the rum-it strikes a great balance between all of that. And as you smack your lips after a sip, you'll feel the faint hint of the mint.
Café Havana is located at Greenbelt 3, Ayala Center
1. Balboa (P158, plus service charge)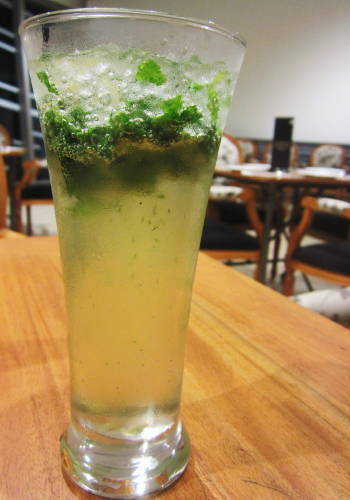 It looks pretty and it tastes like that spot of shade on a hot summer day. Balboa takes its time serving this tall glass of rum and lime, but it's worth the wait. This is the drink that will appeal to the Pinoy palate most. Gently swirl the leaves lightly (do not stir!) in the glass and enjoy the refreshing flavor of citrus with a gentle touch of rum that doesn't kill the sweetness of the drink. The taste is smooth, with no bitter aftertaste from either the alcohol or the mint leaves, and you can even take your time sipping it-the crushed ice doesn't water down the taste. Salud!
ADVERTISEMENT - CONTINUE READING BELOW
Balboa is located at Shangri-La Plaza Mall,  East Wing, Mandaluyong
Share this story with your friends!
---
Help us make Spot.ph better!
Take the short survey
Load More Stories