Top 10 Grilled Liempo in Manila (2013 Edition)
Warning: Photos may cause excessive drooling.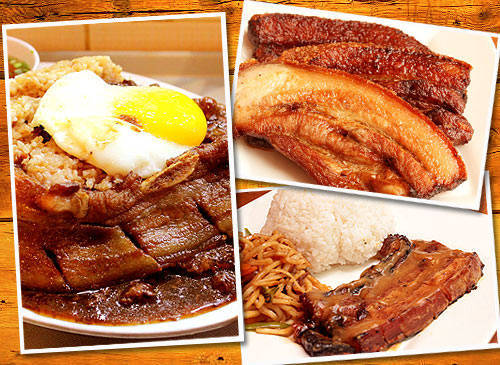 (SPOT.ph) In a country where majority of the population are pork fans, it's no surprise that you wouldn't have a hard time finding a restaurant that serves liempo. It is, after all, the Pinoy's favorite way of enjoying this particular protein (with crispy bacon quickly gaining ground). So we had our work cut out for us when we set out to find the best liempo in Manila, but that doesn't mean we didn't enjoy doing it! Read on for the delicious results of all that hard work.
Read our Top 10 Grilled Liempo 2011 Edition here.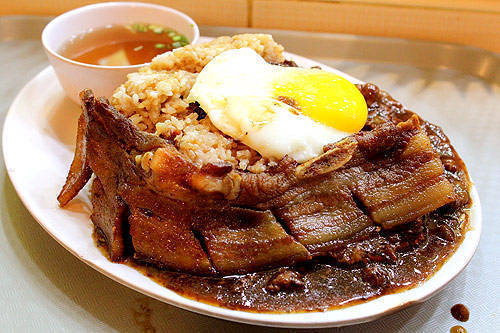 ADVERTISEMENT - CONTINUE READING BELOW
10. Pinoy Toppings (P140)
Often outshined by a myriad of other choices on the menu, Pinoy Toppings' liempo is something worth an instant mini-celebration. Its half-inch thickness boasts of smoky flavor hinting of soy sauce and vinegar. Bite into it and you will be greeted with a subtle hint of adobo, before the distinct flavor of grilled pork eventually engulfs your palate.
Branches around Manila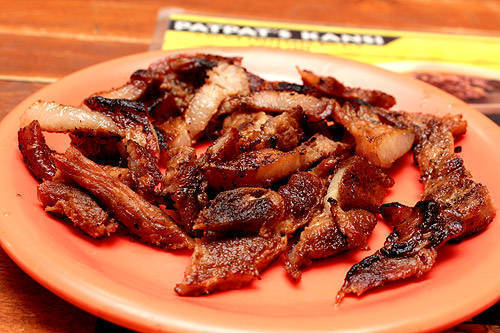 9. Pat Pat's Kansi (P85)
Pat Pat Kansi's liempo can be quite deceiving with its simple appearance and serving size. And yet, once you bite into its meaty goodness, a cacophony of flavors will come out to play. The use of soy sauce in its marinade is very apparent, yet a certain level of balance is still there, keeping it perfectly satisfying.
Kamagong corner Sampaloc Street, San Antonio Village, Makati City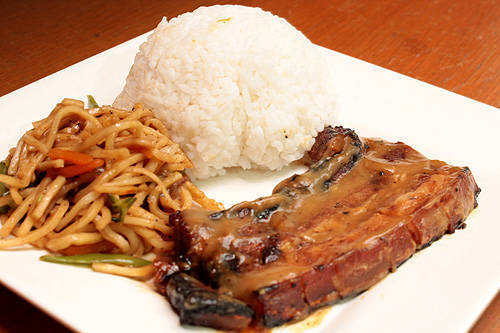 ADVERTISEMENT - CONTINUE READING BELOW
8. Billy Sizzling Food Express (P85)
Tucked into the food court area of Robinsons Galleria, Billy Sizzling Food Express is among those quick-serve nooks that dish out surprisingly impressive grilled liempo. Its inch-thick slab carries a distinct savory-sweet combination that further shines when you slather on Billy Sizzling's special gravy sauce.
GF Robinsons Galleria, Ugong Norte, Quezon City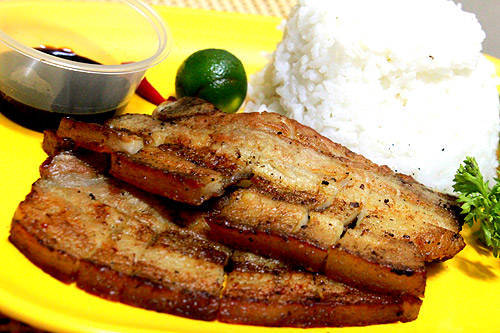 7. Chic-Boy (P115)
Chic-Boy's liempo, which bagged the number-eight spot in our previous ranking, is still winning the hearts of pork loving Pinoys with its distinct taste. Herby without being overbearingly so, this liempo is definitely fighting hard to stay.
Branches around Manila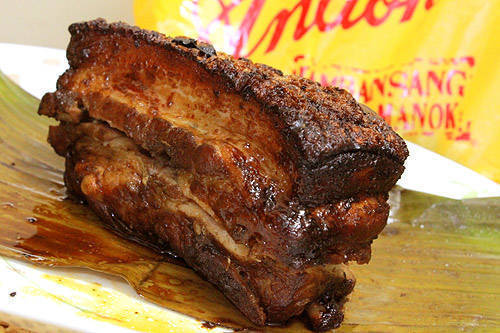 ADVERTISEMENT - CONTINUE READING BELOW
6. Andok's (P160)
Andok's has always been known to dish out great-tasting lechon manok from small stalls on street corners, but in recent years, they've expanded to full-blown restaurants. With this change came a decision to put part of the spotlight on their pork liempo, which might surprise you with its succulence and distinct flavor.
Branches around Manila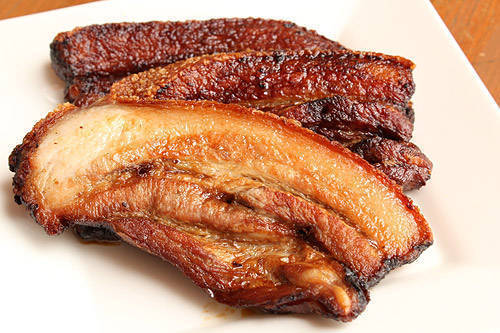 5. Baliwag (P164)
Having bagged our 2011 top spot for Best Liempo in Manila, Baliwag still serves grilled liempo that can make any heart swoon. The good balance between the tenderness of the meat and its palatable flavor still makes this succulent dish one of the leading stars in its league.  Their sweet liver sauce plays a substantial supporting role in making this stellar dish drool-worthy.
Branches around Manila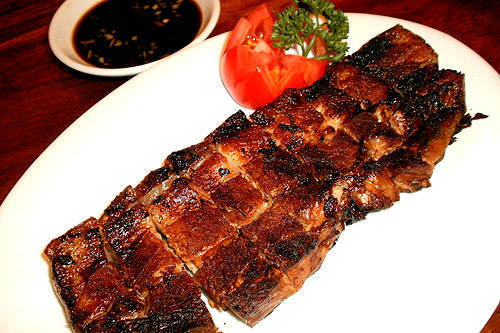 ADVERTISEMENT - CONTINUE READING BELOW
4. Bahay Ligaya Restaurant (P220)
Biting into the liempo that Bahay Ligaya Restaurant offers is like biting into the good old grilled pork belly we all enjoy at home. Its flavor exudes a certain comfort that calls for a bowl of steamed rice and soy sauce with calamansi for dipping. Perfectly charred and sliced into bite-sized pieces when served, it's the kind of fare that you would want to pop into your mouth one piece after another as you revel in its peppery-sweet goodness.
Katipunan, Blue Ridge, Quezon City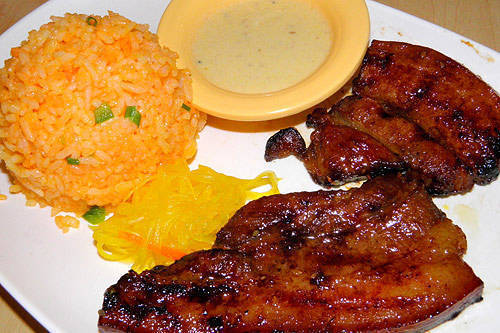 3. Dennis The Grill Boy (P98)
Dennis The Grill Boy can be easily passed off as your usual casual dining place serving Filipino grilled fare. Yet, little did most of us know, they serve one of the best grilled liempo in Manila.  Its charred appearance is proof of a well-executed grilling process while its sinfully succulent texture is an indication of a good balance in the ratio of meat to fat. While this liempo can be enjoyed on its own, its special garlic white sauce will take the experience a notch higher. You'll thank your lucky stars that it comes with unlimited rice.
ADVERTISEMENT - CONTINUE READING BELOW
SM Mall of Asia Complex (MOA), GF North Wing, Pasay City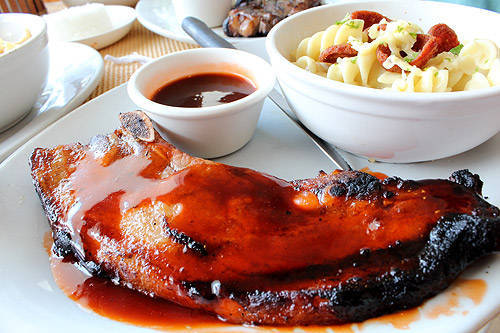 2. Everything At Steak (P185)
Known to dish out affordable and hefty servings of good steak, Everything At Steak also serves lip-smacking grilled liempo to boot. A slab of beautifully charred pork belly smothered with sweet savory barbecue sauce is always a delight to the bite. It speaks of carefully marinated meat bursting with flavor that will remind you of all things good in life. The generous fat lends a soft texture to the meat so that it melts in your mouth, leaving only traces of savory notes meant to flirt with your palate.
5 P. Guevarra St. cor V. Cruz Santa Lucia, San Juan City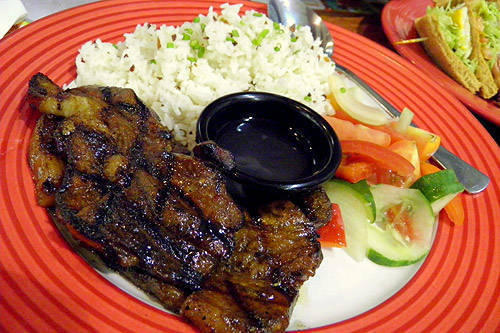 ADVERTISEMENT - CONTINUE READING BELOW
1. TGI Friday's (P415)
Friday's may be an American restaurant, but they do serve downright impressive grilled liempo, aptly called Filipino Pork Liempo. Boasting smoky and savory-sweet notes, its flavor will remind you of barbecue, only 10 times better.  A meal consists of three pieces of perfectly grilled pork belly, java rice, and native ensalada, and considering the quality of pork you are getting and a taste that can rock your world, we'd say it's well worth its price.
Branches around Manila
Load More Stories