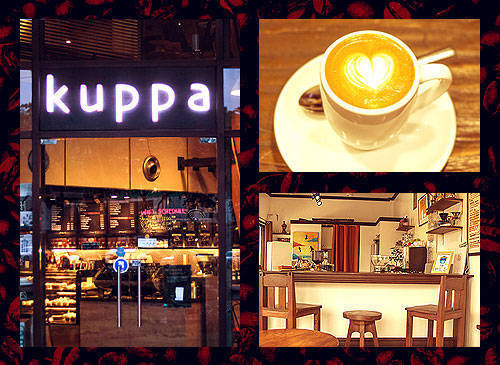 (SPOT.ph) In recent years, Pinoys' attitude to caffeine consumption has shifted from taking a teaspoonful of instant coffee in the morning to preferring freshly brewed cups from cafes. Further proof of our evolving taste when it comes to coffee? "Third wave cafes," places where the manual espresso machine allows well-trained baristas to have full control over every cup, are popping up in the metro and are out to court a different kind of coffee-drinking crowd.
The term "third wave" cafes was coined by Los Angeles food writer Jonathan Gold and refers to places that treat coffee not merely as a source of caffeine but as artisanal drinks-beans carefully roasted and hand-crafted, each cup meant to be enjoyed for its flavor. In cities such as Montreal, New York, and London, third wave coffee spots are not hard to come by.
According to Jonathan Choi of Magnum Opus Fine Coffee in Paranaque, another way of looking at them is as "Places which serve specialty grade coffee use Arabica beans which are graded from 80-100. It's an actual classification of coffee." Says Sly Samonte of Craft Coffee Workshop, "No coffee beans other than Arabica has a grading system which is universally accepted at the moment."
ADVERTISEMENT - CONTINUE READING BELOW
The good news for Manila's caffeine hounds looking to savor more than just an average cup? There are several places where the coffee bean is king and people behind the bar are on a relentless pursuit for that superior cup of coffee.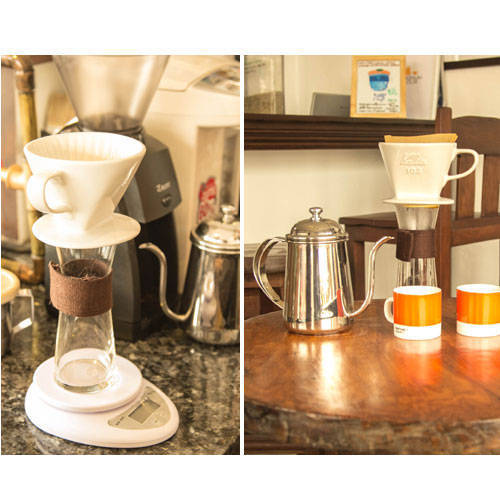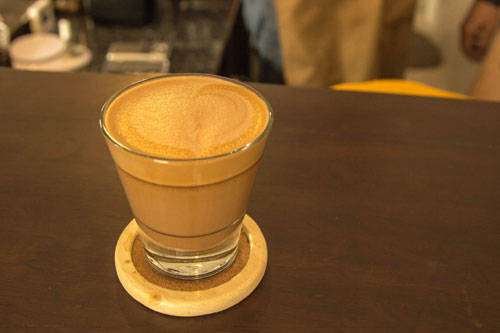 ADVERTISEMENT - CONTINUE READING BELOW
Recommended Videos
Magnum Opus Fine Coffee
Magnum Opus Fine Coffee in BF Homes, Paranaque is the newest among the specialty coffee hubs, having just opened in March 2013. Proprietor and head coffee hound Jonathan Choi says that Magnum (a Latin term for "great work") is a really a place to "showcase the coffee and the equipment  which helps create them." Wooden stools by the bar gives customers a full view of Magnum's drip and siphon station, the espresso machine, and the barista creating your cup.
Says Choi, "Coffee here is centerstage. We brew it in front of you and if we can do it tableside, we do. We show you every step of the way, everything is art. We want to give you a great cup each time; each cup is our magnum opus. Magnum Opus stems from my love of specialty-grade coffee."
Surprisingly, Choi's love affair with the bean began with a business trip to China where he met a Q-grader. Recounts Choi, "It was a place smaller than Magnum. He had all these manual brewing equipment, and before that, coffee was just coffee for me." A cup made with Panama Esmeralda Geisha beans, an auction-only bean because of the small yield, set the bar very high for Choi. "Since then, I was hooked and he was open to teaching me. When I got back to the Philippines, I wanted to bring that concept here because I was such a believer in the product."
ADVERTISEMENT - CONTINUE READING BELOW
Magnum Opus serves espresso-based drinks-lattes, cappuccinos, and espresso shots, served hot or ice-dripped-which can be made using any method you like: drip, siphon, or pour-over. But it's the Belgian Heartbreaker (P175), a current crowd favorite, which leads the Magnum Opus crowd to try other drinks. Says Choi, "The Belgian Heartbreaker is our rendition of the Mocha, but we use Belgian chocolate instead of syrups and powders." The Belgian Heartbreaker is a mildly sweet concoction of ristretto, cream, and Belgian chocolate in a shot glass, and easily wins over Magnum visitors.
He continues, "And then I say, 'If you want to try something different, we have our brewed coffee menu there, we hand-brew them.' And when people are feeling adventurous, they actually try them. It's been 50/50, some people stick to the lattes and the mochas."
Choi stocks three to four beans for drip coffee and one bean for espresso-based drinks. He adds, "It's never the same. You can come back after a month and you might see and taste something different. We believe that these kinds of specialty coffee shops increase awareness and rotating your bean line-up is one way of letting people immediately know how diverse coffee is."
ADVERTISEMENT - CONTINUE READING BELOW
Magnum also requests that suppliers roast beans only upon order. He reiterates, "Freshly roasted, freshly ground, and freshly brewed, that's how it should be. Coffee should be more than just a pick-me-up, it should be something you drink because you enjoy the taste, like wine or tea."
Magnum Opus is at 115 Aguirre Avenue, BF Homes, Paranaque. Tel. No. 0939-9200701. Open Tuesdays to Sundays, 10:30 a.m. to 11 p.m.; Mondays, 4:30 p.m. to 11 p.m.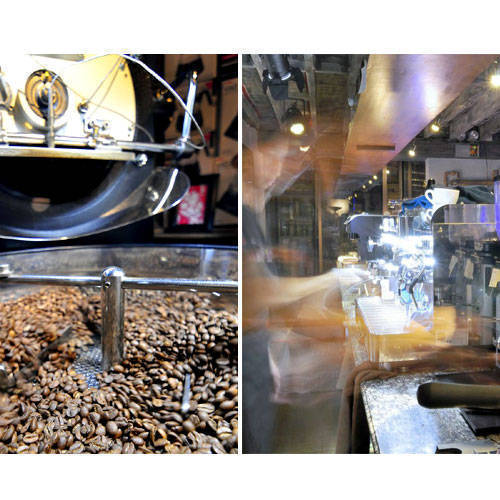 ADVERTISEMENT - CONTINUE READING BELOW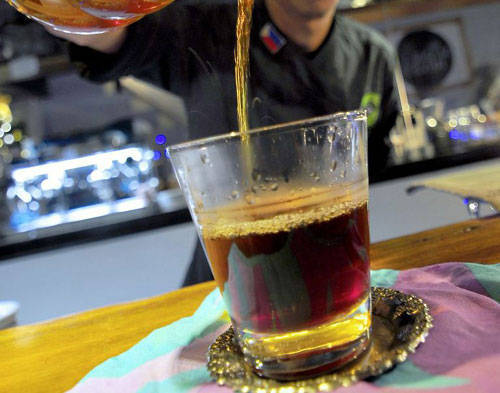 Craft Coffee Workshop
Siphons, filters, percolators, and the espresso machine hint at Craft Coffee Workshop's mission to perfect your next cup. A good cup of coffee, after all, is what Craft is all about.
A trip to Craft Coffee Workshop will always involve the barista asking you if you would like to try their brew for the day, if not offering other recommendations. If it's not packed, parking one's self by the bar is recommended-you can watch the baristas experiment with new brews or even get a chance to try a cup. Craft's baristas are also schooled and trained by the Barista Guild of the Philippines.
ADVERTISEMENT - CONTINUE READING BELOW
Craft Coffee roasts their beans onsite every week. "It's like having an in-house bakery for a bakeshop, it allows us to tailor the coffees to the experience we want people to enjoy. We also roast for ourselves as well as for other cafes and coffee shops. In-house roasting allows us to try different things with our roasts in relation to which brew method we use," shares Sly Samonte, co-owner and one of Craft's resident roasters and coffee connoisseurs.
If you're curious about taste-testing and getting to know different taste profiles of beans from all over the world, Craft will not leave you wanting. "We source our beans from all across the coffee growing belt-the equatorial belt between the Tropic of Cancer and the Tropic of Capricorn. We also have local coffees; we sourced Datu Pepe Miarayon beans from one farm in Bukidnon. I traveled personally to this growing location to source this coffee with a team and he sells this exclusively to us as we work on improving his coffee farming and processing," explains Samonte. Beans are also sold at Craft including limited quantities of the expensive Panama Geisha La Esmeralda beans from Boquete, Panama. They also sell coffee equipment for those who want to prepare their own cups at home.
ADVERTISEMENT - CONTINUE READING BELOW
The cozy Quezon City coffee enclave has been attracting both the coffee-curious crowd and the coffee literates. Shares Samonte, "If I were the person taking the order, I would discuss what they felt like having-something refreshing, interesting or classic, hot or cold, with or without milk. My favorite recommendation is a cold brew with soda."
Aside from roasting and developing coffee, which is their core business, workshops are also held to encourage coffee education such as Coffee Appreciation, Home Barista and Professional Barista classes.
Craft Coffee Workshop is at 66 Broadway Avenue, New Manila, Quezon City. Tel. No. 570-3436.Open on Sundays from 9 p.m. to 5 p.m.; Mondays to Thursdays from 8 a.m. to 10 p.m., Friday to Saturday from 8 a.m. to 11 p.m.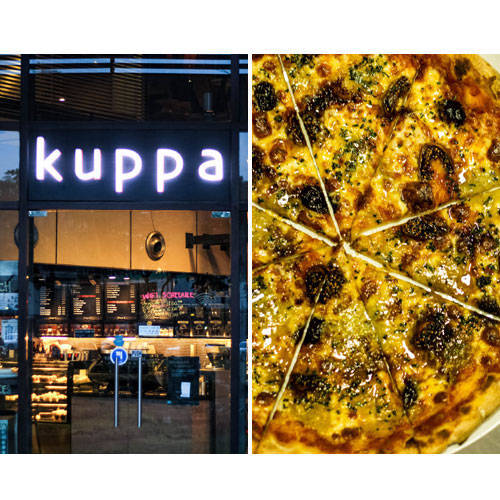 ADVERTISEMENT - CONTINUE READING BELOW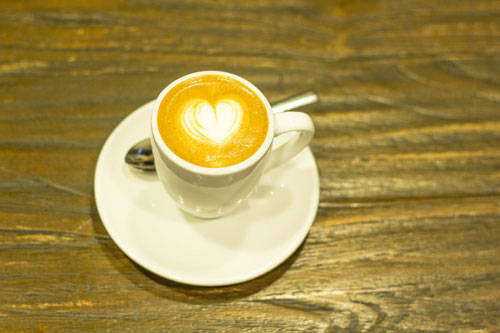 Kuppa Roastery & Cafe
Kuppa Roastery & Café, a place Bacolod dwellers and visitors would know well, opened its first Metro Manila outpost in Bonifacio Global City in January 2012. Why the move to brew in Manila? "We want good coffee in Manila and we believe that non-chain cafes have equally good coffee," shared Rommel  Hinlo, chef and co-owner of Kuppa Roastery & Café.
ADVERTISEMENT - CONTINUE READING BELOW
Kuppa boasts being one of the two places in Manila that does in-house roasting and they serve a variety of Arabica beans from all over the world, roasted onsite using a Probat roaster. "We only use Arabica beans. Our partner and resident coffee expert, Karen Lo-Tsai, is the country's only certified coffee Q-grader." Coffee Q-graders are what oenophiles are to wine and are known as the sommeliers of coffee.
"There are only around 1,000 Q-graders in the world," shares Hinlo. "She's in charge of sourcing and picking out the beans we use. We've sourced pretty good beans from Bukidnon and we use them alongside beans from Ethiopia, Kenya, Indonesia, and other places. We try our best to get the full potential of the coffee. The beans only last for three to 15 days after roasting, they're always fresh and we choose which beans to serve."
Kuppa's coffee menu lists espresso and house blends but single-origin beans are changed weekly. While more adventurous coffee drinkers may take time out to choose which brew and beans they want for the day, a good introduction to Kuppa's espresso list is Ben's Cappuccino (P80), a less-milky option which highlights medium-roasted coffee flavors.
ADVERTISEMENT - CONTINUE READING BELOW
Adds Hinlo, "Coffee is everywhere. We are the only Asian country who are not tea drinkers. But we are starting to move into the specialty coffee genre. It's always been there, it's just a matter of upgrading the taste, I think. And at Kuppa, we just don't want coffee to be a source of caffeine. We want you to taste all the nuances and flavors, that's why we have the espresso blend and the French press, too. Eventually, we will also have the pour-over." Kuppa partner Kerwin Lo sums it up best: "It's all about caring about your customers and trying to give the best cup you can."
Kuppa Roastery & Café is at the Commercenter Building, 31st Street corner 4th Avenue, Bonifacio Global City, Taguig. Tel. No. 623-5120.

Photos of Magnum Opus and Kuppa Roastery by Bernice Leyeza; Craft Coffee Workshop photos courtesy of Craft
Share this story with your friends!
---
Help us make Spot.ph better!
Take the short survey
Load More Stories