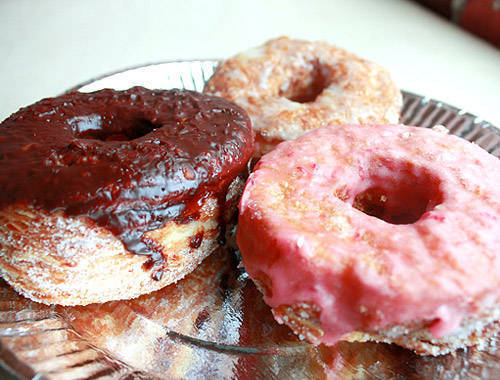 (SPOT.ph) Dominique Ansel. The man who singlehandedly turned usually sharp, fast-paced New Yorkers into a bunch of desperate, hungry, pastry-craving zombies willing to wait in line for hours hoping for a bite of a masterpiece that has put him at the zenith of the culinary "it" list. He calls them "Cronuts," a now-trademarked term for a pastry which couldn't seem to choose between being a croissant or a donut, and decided that there was nothing wrong with being both.

It was on May 10, 2013 when the Dominique Ansel Bakery began churning out these flaky confections and since then, they've headlined on Time Magazine, Eater.com, Huffington Post, The Guardian, and New York Magazine-media exposure any Kardashian would envy. But more than difficult technique and spot-on flavors, Cronuts are commendable for eliminating the social order and putting everyone on equal footing. According to NY Magazine's Grubstreet, award-winning television personality Anderson Cooper's attempt to reserve some for his birthday was rejected; Hugh Jackman was also spotted waiting in line like everyone else.

A natural progression from New York City's current donut craze, these washer-shaped treats were destined for success. Cronuts have more height, mismatched in size, with a sharper edge compared to the smooth curves of a donut. Ansel, who remains coy about the recipe, reveals in an interview with Lohud.com that he uses an exorbitant amount of butter to maintain that creamy texture. Cut through it and one can see paper-thin layers of pastry held together by cream that's painstakingly injected via a syringe! A glaze finishes off the top and the perimeter of the hole before it's deep-fried, nine at a time, in grapeseed oil for 30 minutes, a time frame just enough to leave it crunchy on the outside, but fluffy deep inside. Ansel coats the side of the warm pastry in sugar, and adds a twist in presentation for the month's current flavor (candied rose petals for this month's Rose Vanilla).
ADVERTISEMENT - CONTINUE READING BELOW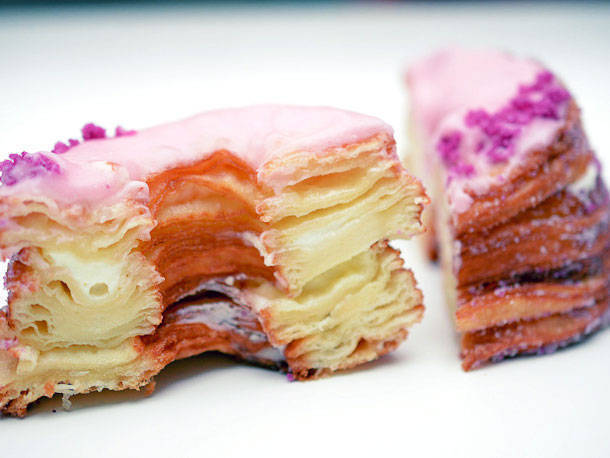 Dominique Ansel's Rose Vanilla Cronuts; screencap from Serious Eats
It's the combination of those complicated elements that has New Yorkers trekking over to arsty SoHo district in Lower Manhattan and waiting in line for hours. Ansel's daily supply of 200 is depleted minutes after their 8 a.m. opening, and opportunistic mongers have taken advantage of desperate customers. The Huffington Post has, in fact, interviewed a pair of construction workers who neither eat nor care for the treats. With the six-piece cap that Ansel has imposed to prevent hoarding, these Cronut Scalpers are set to sell their effort of being first in line for four times the original $5 price tag. While some scalpers have taken to Craigslist to sell excess Cronuts, others who wish to profit from the trend have shrugged off Ansel's exclusivity to make their own. Around the world, there have been a reported 20 bakeries and restaurants who have attempted to remake the Cronut and rechristened them doissants, croughnuts, and other possible portmanteaus.

Our very own Wildflour Cafe + Bakery has been the first and so far the only one in the Philippines to capitalize on Ansel's Cronut magic. Deeming it the very straightforward "croissant donut," Wildflour unveiled their rendition on June 3 with a photo on Facebook captioned "They call 'em cronuts." With three flavors available-the requisite chocolate, strawberry, and vanilla-Wildflour's hybrid pastry isn't quite as elusive as Ansel's in New York (try the BGC branch if they run out in The Podium), but after a bite of this flaky, downy revelation, we know it's only a matter of time.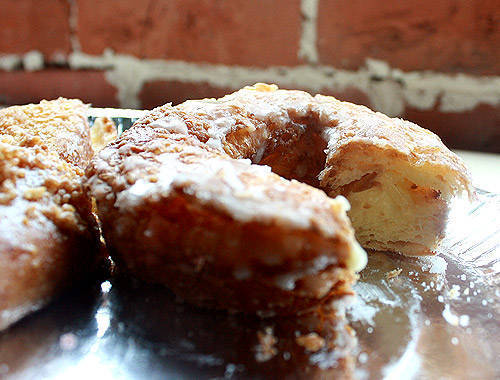 The Vanilla is a dream
The croissant donuts are arranged on cake trays in full display for Wildflour diners. Unlike donuts which feature an almost military uniformity, these are pretty mismatched in size and width--some are stunted while others appear to have been favored in the rationing. The paper-thin layers are evident from the outside, and if you're not careful, the delicate viennoiserie can easily split apart. A flavored glaze blankets the top, dripping over sides brushed carefully with white sugar. Slicing through it, there's that mouthwatering crisp that can only come from perfectly flaky, perfectly baked phyllo dough. Although unlike the careful, alternately layered magnum opus at Ansel's, it features precarious balance. The top half is filled with light cream while a bread base holds it together. The overlying dough produces a crackle that resounds inside your mouth with each bite, muffled only by the mildly flavored thickness of custard (for chocolate and vanilla). Thankfully, it takes after the mellow sweetness of the croissant, which spares it from being cloying--but there's enough texture to avoid that anyway.

Those who haven't heard of the current Cronut craze in New York would never give Wildflour's croissant donuts a second glance, especially amid the mouthwatering eclairs, flourless chocolate cakes, and cupcakes in their display. But in a few months, we wouldn't be surprised if we see scalpers on the sidewalk selling the P120 pastry for P200. Not too shabby for a restaurant that already has people patiently waiting in line even without the croissant donut.
ADVERTISEMENT - CONTINUE READING BELOW
Share this story with your friends!
---
Help us make Spot.ph better!
Take the short survey
More Videos You Can Watch
Load More Stories