Trending Report: Dunkin Donuts is third PH restaurant with their own version of the Cronut
Is the third Cronut imitation a charm?
Read about Wildflour's Croissant Donut and Chatime's Kronut.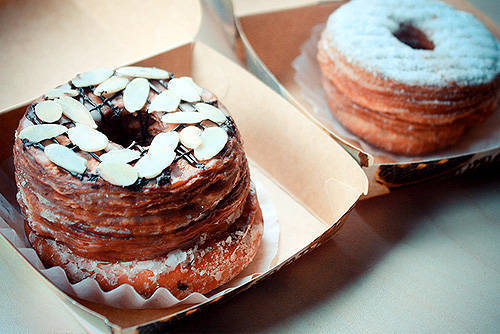 (SPOT.ph) One is Apple Cinnamon, the other is Choco Almond. They're priced P75 each, standing approximately two inches, with the layers sliding off around the middle. They're firm, very doughy; the chewy kind of pastry that's meant to be bitten (like a donut) and not sliced or torn (like a croissant). There's a thin blanket of jam in between where the layers seem to be coming to disarray, cinnamon for the Apple Cinnamon and chocolate for the Choco Almond. The filling, with that sweet spicy jam, and the liberal douse of confectioner's sugar gives the former an impression of an everyday jelly donut but with an actual hole at the center. The latter? Well, we've seen it before with Dunkin's bestselling Nutty Choco. Dunkin does call it the Donut Croissant-it's a donut first, before it's ever a croissant.
ADVERTISEMENT - CONTINUE READING BELOW
Dunkin Donuts is the first donut company in the country to give the iconic, more-that-hundred-year-old confection a facelift and rechristen it to be something different. Unfortunately, it was a young, ambitious New-York-based patissier who first thought of the idea that should have been an easy coup for donut companies. And unfortunately for Dunkin Donuts, a local boulangerie with its own cultish following beat them to it in the Philippines.
While the current Cronut craze has spawned an industry of copycatting bakers and and pastry chefs, it's only slowly but surely beginning to make its mark on the Filipino palate. With Wildflour covering the "artisanal," higher end, and Chatime and Dunkin Donuts introducing it to the bigger mass market, the question then becomes: what other permutations of the trademarked Cronuts can they come up with next? Doissant? Cro-Dough? Flaky Donut? Toroidal Croissant? We're putting our money on Croinut.
CONTINUE READING BELOW
Recommended Videos
Share this story with your friends!
---
Help us make Spot.ph better!
Take the short survey
Load More Stories