Splurge versus Steal: Cheaper Versions of Your Favorite Eats
Why pay more for pretty much the same thing?
(SPOT.ph) There are oceans between the good life and the hard life, but we say just because you're low on cash does not mean you deserve anything less than stellar. In terms of food, there are ways to merge quality with affordability. We're showing you how to get cheap thrills for your favorite eats.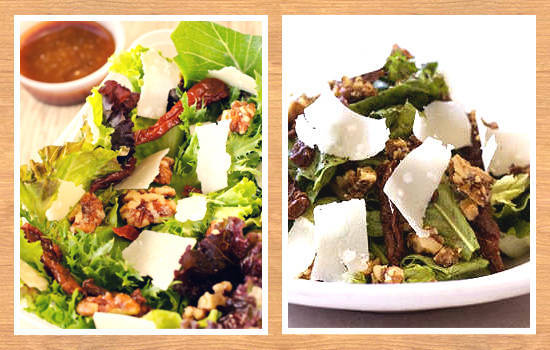 ADVERTISEMENT - CONTINUE READING BELOW
CONTINUE READING BELOW
Recommended Videos
Go! versus Cyma
SALADS:
Splurge: Cyma's Roka Salata (P330/solo, 495/sharing, P690/family)
Steal: Go! Salad's Sweet Caroline (P100)
Both salads feature fresh mixed greens, strips of sundried tomatoes, candied walnuts, and parmesan shavings (which is labeled in the Cyma menu by its Italian name, parmigiano reggiano). The difference is in the dressing. While Cyma uses a tangier, more aromatic Greek vinaigrette that evens out the bitterness of arugula, Go! drizzles theirs in a sweeter honey balsamic dressing which ties everything together.
The solo Roka Salata is served in huge portions, but double up Go!'s purely organic and pesticide-free version, which sells in 1000-mL containers, and it still comes up cheaper. Triple it, and that's bang for your buck.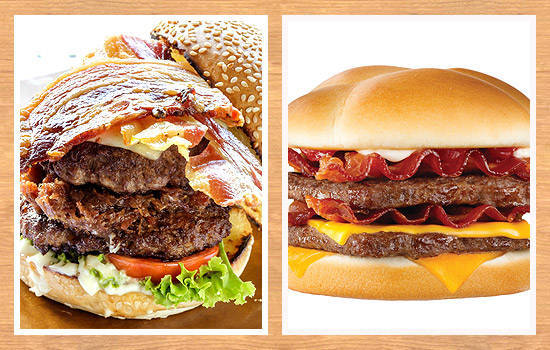 ADVERTISEMENT - CONTINUE READING BELOW
Burger Bar versus The Baconator
BURGERS:
Splurge: Wendy's Baconator (P242)
Steal: BurgerBar's The Piggy (P245/single patty to P345/double patty)
Allow us to explain why even the single-patty The Piggy, which is P3 more expensive, is a better steal than the indulgent, double-pattied Baconator. If size is your measure, the thick, beef bomb blend of chuck and short rib is about as fat as Wendy's two-layer, 1/2-pound patty. As for the components, it's Wendy's applewood smoked bacon, mayo, ketchup, and a sheet of American cheese versus BurgerBar's mozzarella, strips of bacon plus housemade bacon jam, lollo rossa greens, and garlic aoili sauce. Talking cost versus worth, the fact that the former is fastfood lowers its value down a few notches. If you can get a restaurant-quality version for almost the same amount, why bother getting it from a fastfood joint?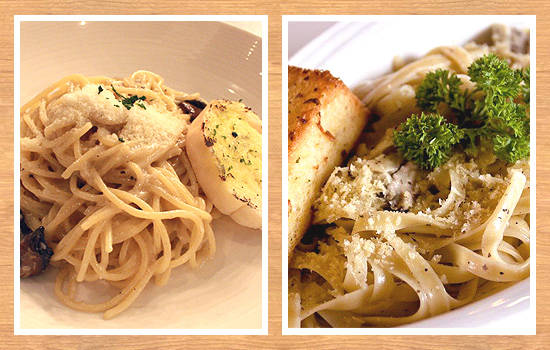 ADVERTISEMENT - CONTINUE READING BELOW
LoLa versus Torch
TRUFFLE PASTA:
Splurge: Torch's Tartufo Pasta (P545.95)
Steal: LoLa Cafe and Bar's Tartufo (P260)
Both are good, deliciously thick, with that heady smell of truffle wafting within a three-meter radius. Torch grates real truffle over their linguine, while LoLa settles for the more accessible truffle oil. The former is so creamy that those who aren't fond of saucy pasta might find it a bit too rich. Chunks of Portobello, on the other hand, embellish LoLa's version which uses spaghetti for pasta. It's not as dense as Torch's, but it doesn't lack in flavor; the sauce wrapping itself around the al dente noodles, coating it in that yummy truffle goodness.
It may not be the same in architecture, but the flavors are pretty much spot-on, if you're not too particular.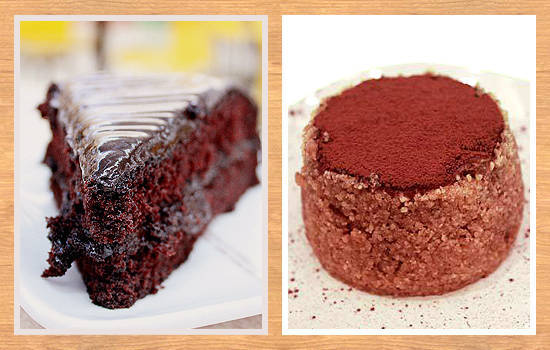 Ms. Polly versus Nono's
ADVERTISEMENT - CONTINUE READING BELOW
CHOCOLATE CAKE:
Splurge: Nono's Chocolate Oblivion (P225/personal)
Steal: Ms. Polly's Chocolate Cake (P95/slice)
There's more to the competition between SPOT.ph's current no. 1 and 2 chocolate cakes than chocolatey bliss. It's a battle between steal and splurge: Nono's P225 a pop personal serving versus Ms. Polly's P95-slice. One is stylish, painted with whipped chocolate cream and praline bits, then coated with caramelized walnuts. Nono's Chocolate Oblivion's luscious cake is then topped with a sprinkling of cocoa powder. Ms. Polly's, on the other hand, focuses on that feel-good iconic cake, moist, rich, homemade, and simply mindblowing. Both good in their own right, if you want something indulgent in every sense of the word, you can go for no. 2, but if you want a cheap but heavenly thrill, no. 1 is no. 1 for a reason.
Load More Stories