New Restaurant Alert: Ginza Bairin at Glorietta 2, Makati City
Taste the awesome legacy of one of Tokyo's pioneer katsu houses.
Ginza Bairin
G/F Glorietta 2, Palm Drive, Ayala Center, Makati City
Tel. No. 553-7350
Open from 10 a.m. to 12 m.n. Friday to Saturday, 10 a.m. to 11 p.m. Sunday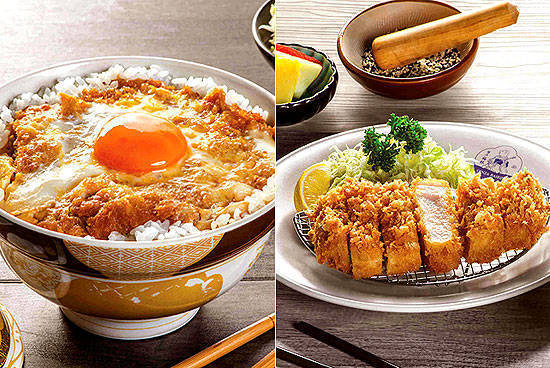 Ginza Bairin is about more than just the tonkatsu
(SPOT.ph) Underneath the glitzy, fashionable modernity, one of the things that strike you most on a visit to Japan is how old everything is. It's not uncommon to run into signs celebrating the 560th-ish anniversary of some temple or another, or step into a Roppongi pastry store selling fish-shaped cakes that's been run by a family for the past two hundred-odd years.
Then, of course, there's Ginza Bairin. Established in 1927 in Tokyo's Ginza district, it's one of the pioneers in the katsu business. Pre-Ginza Bairin, tonkatsu was usually dipped in ketchup or Worcestershire sauce; according to company lore, founder Nobukatsu Shibuya was the first to cook up a signature tonkatsu sauce, the sweet brown condiment that's become indispensable to self-respecting tonkatsu sets everywhere.
ADVERTISEMENT - CONTINUE READING BELOW
It's taken three generations and 86 years, but the Tokyo staple is ready to serve up its finest cutlets right here in Manila. "Years ago, [during] one of the family trips we [took to] Tokyo, we just stumbled upon Ginza Bairin," says Scott Tan, managing director of Ginza Bairin Philippines. "I fell in love with it. Ginza Bairin has a very proud heritage. This is something that's a passion project for me, not something where I want to just earn a lot of money."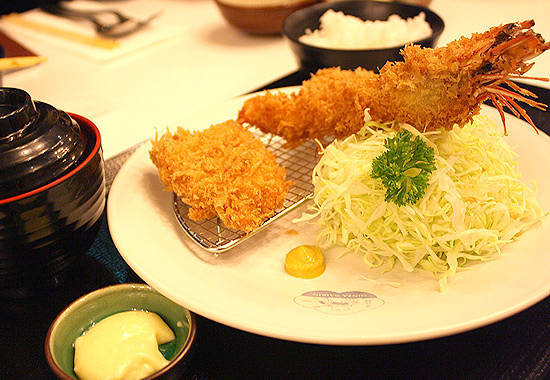 CONTINUE READING BELOW
Recommended Videos
Their sampler set, which included two cuts of pork and fried shrimp. Comes with unlimited cabbage, seasonal fruits, tsukemono, and rice
For the media launch, we were served a Mixed Set A (P425) with a cut of hire, rosu, and ebi furai-basically, all their fried goodies in one plate. Ginza Bairin's president Masaya Shibuya (grandson of founder Nobukatsu) was there as well, encouraging us to try them out in different ways. Usually, in tonkatsu restaurants, you grind up the sesame seeds in a mortar and pestle before pouring out the signature sauce. Shibuya-san, though, asked us to try it in two other ways: the sauce alone, with no sesame seeds (his recommendation); and a mix of ground sesame seeds and sea salt.  For the ebi furai, there was a special tartare sauce as well.
ADVERTISEMENT - CONTINUE READING BELOW
It worked. The panko breading was fine and flaky, and by dipping it into just salt and sesame, you could really taste the firmness of the pork. The sauce lives up to its reputation-mellow, subtle, unobtrusive, with just the lightest touch of sweetness.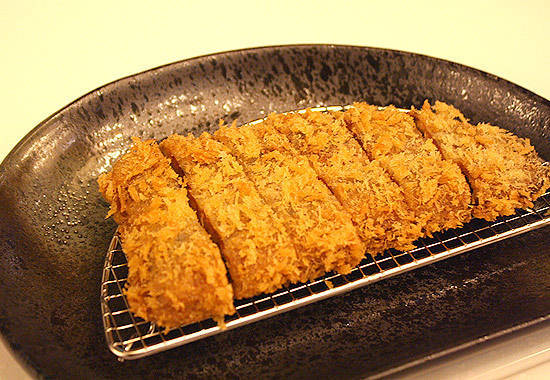 Unagi cutlet
A big surprise, though, was the Unagi Katsu (P795 for a set). Unagi, or Japanese freshwater eel, is known as summer food in Japan's humid months, so it goes perfectly with the sultry Manila heat. And truthfully, the strong seafood taste and melt-in-your-mouth texture is a welcome change from the whole Japanese pork cutlet craze. Dabbed with a little salt, it was quite a refreshing dish, and a definite favorite among the reporters in attendance.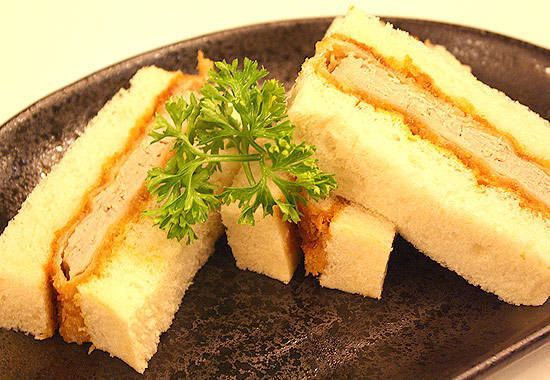 ADVERTISEMENT - CONTINUE READING BELOW
The tasty Katsu Sandwich
The fried treats didn't stop there. The Katsu Sando (P215), or Katsu Sandwich, seems like something you'd find on a caterer's cocktail tray, or maybe a cute little lunch box, but it packs in more goodness in between its two bread slices than its humble appearance will suggest. With just one bite, the breaded crunch is unmistakeable, as is the sharp taste of Japanese mustard. We'd make this mandatory baon, if we could.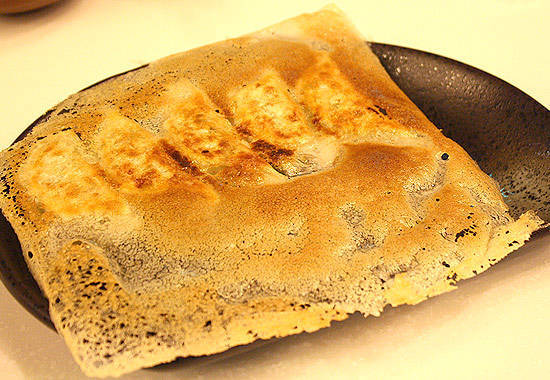 Gyoza with wings
Another side dish you shouldn't miss out on is their one-of-a-kind Gyoza (P150). Like certain, er, feminine products, it comes with wings (their term, not ours)-a crunchy, flaky sheet of wrapping that is a strange, yet somehow perfect accompaniment to the juicy dumpling.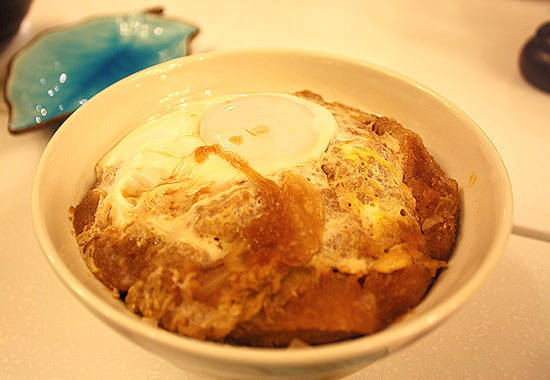 ADVERTISEMENT - CONTINUE READING BELOW
Their signature Katsudon
The true star of the show, though, is Ginza Bairin's signature Rosu Katsudon (P345). Heaps of acclaim have been showered on this rice bowl (including accolades from Iron Chef masters Rokusaburo Michiba and Yoshiharu Doi), and with good reason. The secret seems to lie in the eggs, a double serving of which is heaped on top of the donburi-both Shibuya-san and Mr. Tan made much ado about the special eggs they use in this dish. "Truth to tell, we would have opened two months earlier, if we didn't have such a hard time finding eggs that would meet the Japanese standard," Tan confessed. At one point, their Japanese principals even hand-carried eggs all the way from their home country to demonstrate the authentic level of egginess required.
We are by no means experts in tamago, but the fried eggs sat perfectly in the bowl, their yolks perky and velvet. Prodded with chopsticks, they burst, coating the thick slices of pork with a rich, tasty sheen. Shibuya-san himself demonstrated his personal way of eating the rice bowl: without breaking the eggs, he dug at the sides of the bowl with the chopsticks, bringing out a slice of meat, and then dipped it, sukiyaki-style, in the yolk centerpiece.
Famed for its tonkatsu, Ginza Bairin is more than just a one-note restaurant, and its versatile menu makes it a welcome addition to the fried-cutlet craze currently gripping the metro. Good news for those who don't want to hoof it all the way to Makati: They're opening another branch soon, in Katipunan's UP Town.
ADVERTISEMENT - CONTINUE READING BELOW
Share this story with your friends!
---
Help us make Spot.ph better!
Take the short survey
Load More Stories