10 Best Things That Happened to Chocolate
Because really, chocolate can do no wrong.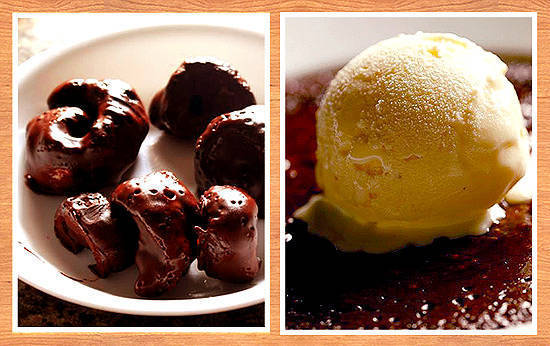 (SPOT.ph) Life is but a walk in the park. After all the sorrow and heartbreak, we've come to the conclusion that nothing works in this world anymore. Not professionally, not romantically-well, not at the same time, anyway. Because if Johnny Depp and Winona Ryder couldn't work it out, what could? The It couple of '90s grunge, a youthful picture of innocence and danger with their matching dusky good looks and an affair that's sweeter than chocolate. Chocolate. Perhaps the only exception to this troubled world. Throw anything in chocolate's way and it'll just be covered in rich, gooey, sweet decadence. Yes, chocolate is the kind of bittersweet we'll take any day. And of all the great things that happened to chocolate, we're picking out the best.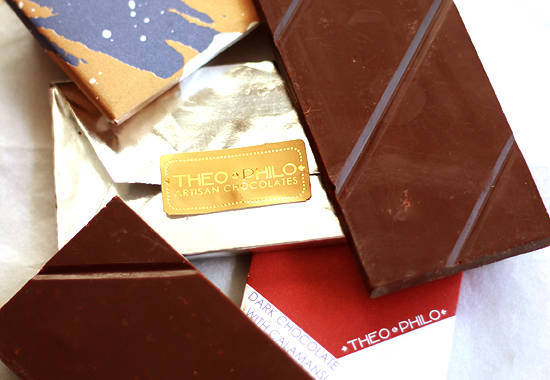 1. Theo and Philo (P95 to P120)
This local gourmet chocolate shop makes wacky combinations absolutely to-die-for. As the only bean-to-bar chocolate company in the country, owner Philo Chua sources his cacao from Davao, proving that local can be world class. His chocolates are as sleek as their packaging: deep, velvety, bold, and with flavors that go way beyond the extreme. Dark Chocolate Labuyo (luscious with a tickle of heat), Dark Chocolate and Calamansi (subtle bitterness with zesty undertones), Dark Chocolate Green Mango and Salt (a different taste of summer). One of his newer, controversial flavors is the Milk Chocolate Adobo with Soy Sauce and Black Pepper-which merges a local classic with the sweet decadence of milk chocolate.
ADVERTISEMENT - CONTINUE READING BELOW
With spirit and flavors that are so uniquely Pinoy, Theo and Philo changes the entire look of pasalubong-worthy presents.
Click here for a list of stores that sell Theo and Philo; photo by Kris Alcantara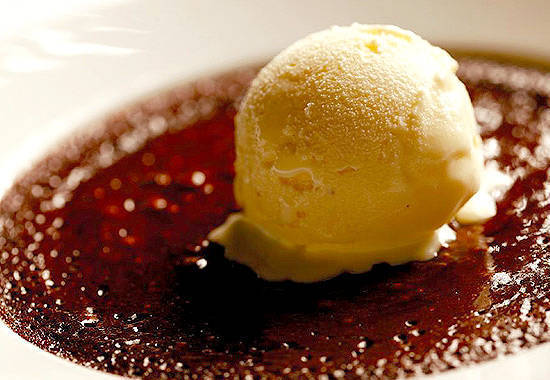 CONTINUE READING BELOW
Recommended Videos
2. Chocolate Soup (P550) at Fireplace
Nothing warms the heart more than soup-chocolate soup. A steaming bowl of gustatory decadence whose crumbly crust of over-cooked-cake-batter hides a sinful bonanza of everything that makes life worth it: chocolate, sugar, cream, and a healthy dollop of ice cream to cap everything off, it's like lava cake but with more of the lava and less of the cake.
The Fireplace is at the Hyatt Hotel and Casino, M.H. Del Pilar Street, Malate Manila; photo by Rain de Ocampo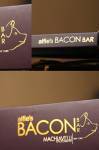 ADVERTISEMENT - CONTINUE READING BELOW
3. Alfie's Bacon (P150) by Machiavelli Chocolatier
Some would argue that you only need two things in life: bacon and chocolate. The geniuses over at Machiavelli believed in this so much that they decided they could give you all of life's necessities in the guise of one chocolate bar. Crunchy bacon bits are mixed in with the smooth dark chocolate, creating a wild burst of salty, smokey, and sweet.
Machiavelli Chocolatier is at Rustan's Makati, Glorietta 4; G/F Rustan's Tower, Cosmetics & Fragrances, Shangri-La Plaza Mall, Shaw Boulevard, Mandaluyong City.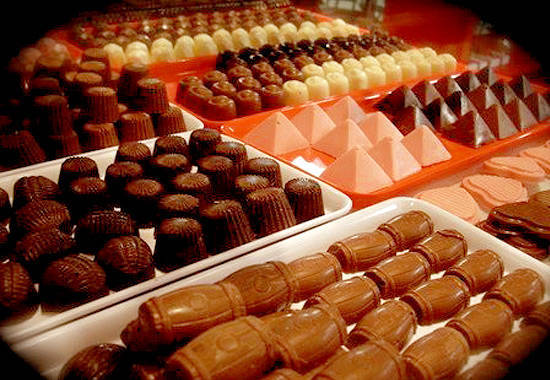 4. Chocolate Fire
Chocolate Fire is where you'll find chocolate-covered anything and everything. Hidden in the urban landscape of Makati, this mini chocolate factory dazzles with its marvelous display of chocolate frogs (yes, like Harry Potter), chocolate bark, chocolate cakes, chocolate marshmallows, and chocolate-dipped gummi bears, Pringles, berries, ginger, and more; the list is something that would make Willy Wonka raise his eyebrows. Owner Colby Parcell keeps everything warm and friendly-just how chocolate should be-by pairing good conversation with terrific desserts.  All we're waiting for is for her to coat  her entire store in chocolate.
ADVERTISEMENT - CONTINUE READING BELOW
Chocolate Fire is at PDCP Bank Center, Leviste corner Rufino Street, Salcedo Village, Makati City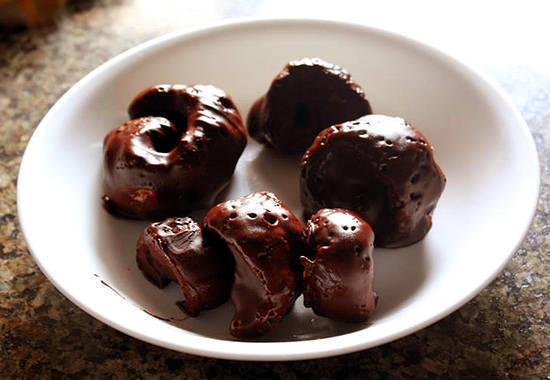 5. Chocolate Chicharon (P150) at Gino's Brick Oven Pizza
Jutes Templo, full-time owner of Gino's Brick Oven Pizza and Cello's Doughnuts and part-time chocolatier, proves that he can do more than fold dough into different shapes. From the inventor of the Speculoos salami comes another revolution: the chocolate chicharon. The process is simple, but the idea is revolutionary. Large pieces of fresh pork rind are folded into heavy melted chocolate, wrapping the Pinoy delicacy in a rich bittersweet coat without losing any of that salty crunch. The result is a sweet-versus-salty battle where creamy chocolate paves way to the crispy-sticky savor of chicharon, before coming together harmoniously in the end.
Gino's Brick Oven Pizza is at Katipunan Avenue, Quezon City.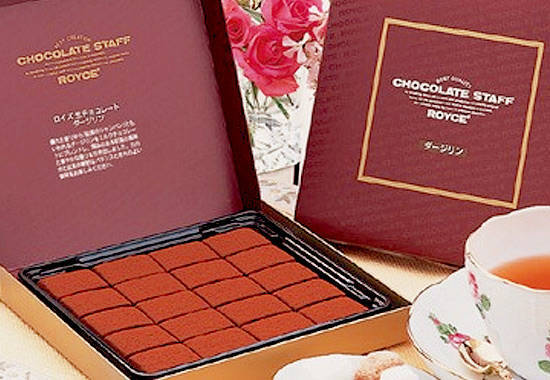 ADVERTISEMENT - CONTINUE READING BELOW
6. Royce's Nama Chocolates (P580)
Everyone waxes poetic over the potato chips, but Royce's other bestseller (among their long roster of fly-off-the-shelf goods) is their line of Nama Chocolates: fascinating chocolate bricks dusted with more chocolate powder that are so melt-in-your-mouth that after eating them, it almost feels like they weren't there. Only that deep, bittersweet aftertaste  and the overall fuzzy feelings hint that something magical happened.
The Nama comes in Au Lait, White, Champagne, Mild Cacao, and Bitter.
Royce has branches in Power Plant Mall, Makati City; The Podium, Mandaluyong City; Greenbelt 5, Makati City; Trinoma Mall, Quezon City; Eastwood Mall, Quezon City; and Bonifacio Global City, Taguig; photo from kimonobox.com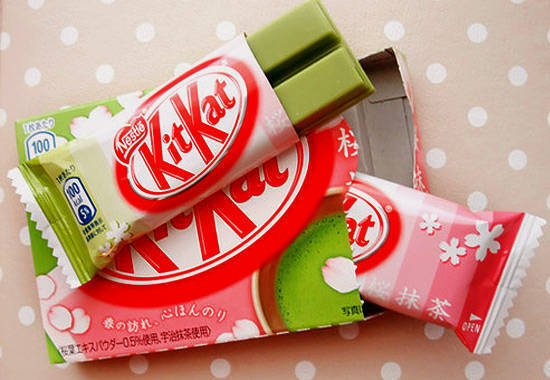 7. KitKats
Interestingly enough, it's not the classic milk chocolate wafers that's developed a whole cottage industry of KitKat "black markets" in the country. KitKat's repertoire of flavors includes Orange, Sakura, Blueberry Cheesecake, the much-coveted and hoarded Green Tea, among others.
ADVERTISEMENT - CONTINUE READING BELOW
Mini KitKats (68 calories) sell for P450 per 12-piece pack and P1,200 per box in a stall on the ground floor of Shoppesville, Greenhills. Other "sellers" sell the mini KitKats for P700; photo from Damn Good Food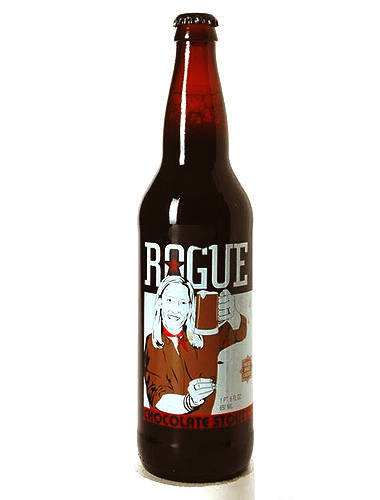 8. Rogue Chocolate Stout (P540)
Only one of the many comfort-on-comfort pairings on this list is the Rogue Chocolate Stout, a creamy dark ale with nutty tones from oats, roasted tinge from malt, and velvety shades from real chocolate. Since its release in Japan then later the United States in the early naughties, Chocolate Stout's bittersweet flavors have been subject to constant reinvention, earning a place in many recipes for dishes and desserts.
Available at Maitre Chocolatier, Jupiter Street, Makati City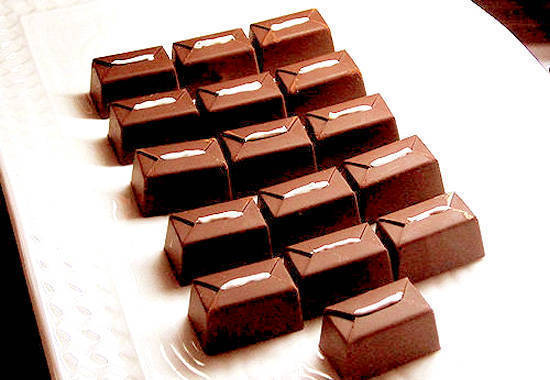 ADVERTISEMENT - CONTINUE READING BELOW
9. Choclery's Manchego Cheese Pralines (P50/each)
Of the many permutations you can make with chocolate, cheese isn't exactly top of mind. But Manchego's smooth, buttery profile plays well with svelte chocolate. The pralines are bite-sized: a chocolate shell holds together bursting ganache tinted with that sharp cheese-but only a tint. Choclery's innovative efforts shows a restraint that only the best artisans are capable of.
Choclery is at Promenade, Greenhills, San Juan.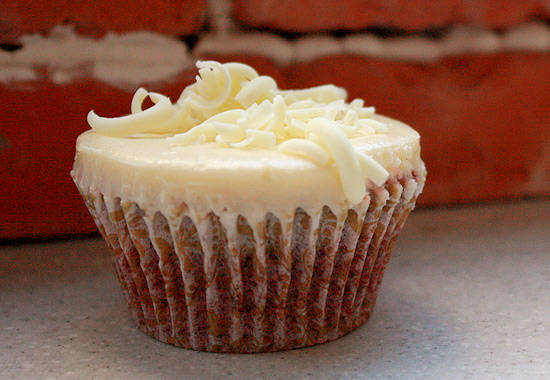 10. Red Velvet
You say red velvet is your favorite flavor, but do you even know what it's made of? This sweet treat is traditionally crafted using a mixture of buttermilk, butter, flour, beetroot, and cocoa. Yes, cocoa-the healthier part of chocolate. Some red velvet cakes taste like sweet nothings, but the best ones flaunt that deep undertone of bittersweet chocolate. One such example is No. 1 red velvet cupcake, Karen's Kitchen whose signature confection (P75/cupcake; P550/cake) has had many fans trekking to her little hideaway in Makati.
ADVERTISEMENT - CONTINUE READING BELOW
Karen's Kitchen is at 210 Zodiac Street, Palm Village, Makati City; Petron Dasma, EDSA corner Arnaiz Avenue, Dasmariñas Village, Makati City.
BONUS:
Johnny Depp and chocolate. A man other men respect and with a face that girls automatically swoon over, Johnny Depp knows how to look irrestible next to these equally desirable treats. His affair with chocolate was so nice, he had no choice but to do it twice! Whether he's a sexy gypsy in Chocolat or the wacky chocolatier in Charlie in the Chocolate Factory, Johnny Depp is one person who makes chocolate extra sinful.
Share this story with your friends!
---
Help us make Spot.ph better!
Take the short survey
Load More Stories