The SPOT.ph Food and Restaurant Glossary
What's the difference between a brasserie and a boulangerie?
(SPOT.ph) In the last two years, about 100 restaurants (or so it seems, anyway) opened in Manila alone. The rise in the number isn't really a problem for us, food is a continuing need after all. But choosing where to eat becomes a bit taxing, what with the number of options. What makes each one stand out from the other? Is the boulangerie over there better than that bakeshop? That pub versus that bar? It's easy to open a restaurant and call it something different. Ristorante sounds way more delicious than a plain old restaurant, but that doesn't mean the food's better. Today, we're teaching you how to analyze what all these nice-sounding labels mean-and what exactly an amuse bouche is-with a quick glossary of restaurant terminology.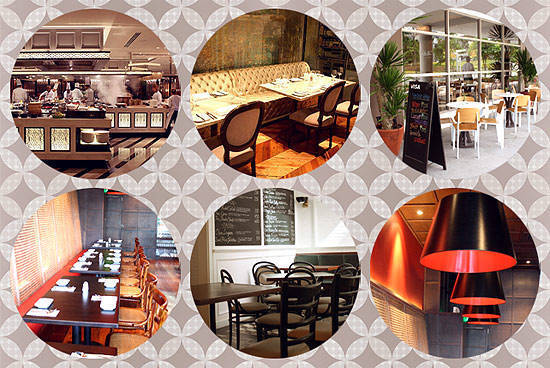 PUB:
Considered to be the counterpart of bars in the US, these late-night taverns are the staple hangout of the British. Unlike bars which may either cater to low- or high-brow clientele depending on the style, pubs are primarily neighborhood-type joints that put emphasis on casual and the feeling of "family." Pubs also provide hearty fare that are heftier in servings compared to bar chow. Beer is usually served in draughts and a barrel of ale is normally seen behind the long bar.
ADVERTISEMENT - CONTINUE READING BELOW
Derivations: Gastropub. Your everyday pub made a bit more upscale and though the food won't be considered totally high-end, finer culinary techniques are practiced.
E.g. Draft Gastropub
RESTOBAR:
A concept that is uniquely Filipino, this venue merges casual family-style dining with a comprehensive selection of alcoholic beverages. It's open until late as customers often extend their dinners to late-night drinking sessions. It may or may not have live entertainment, but there's always music blaring in the background.
E.g. Rocket Room
TRATTORIA:
A small restaurant that promotes informal but serviced dining. The efforts at decor are modest and the menu is conservative, but one defining factor is the low prices. The term is Italian, and locally, only restaurants that serve Italian food use it, however, trattoria could be used for any eatery that follows this model.
CONTINUE READING BELOW
Recommended Videos
E.g. Friuli Trattoria
BOULANGERIE:
A place that sells bread and other baked goods; a bakery
E.g. Bakers Fresh, one half of Wildflour Cafe + Boulangerie
BISTRO:
Bistros started as cafeteria-type restaurants where landlords would open modest eateries in their basements to make extra profit from their tenants. Styled like trattorias, bistros are more distinguishable by the type of food they serve: simple homestyle cuisine that can keep and are generally cheap. The decor is stark, nothing intimidating.
Today, especially in this time where interior design is a priority, you'd be hard-pressed to find a bistro that plays up to this tradition. Bistros are now laidback, intimate restaurants with good music, a good beverage list, a chef-handled menu, and dim lighting.
ADVERTISEMENT - CONTINUE READING BELOW
E.g. Mesclun Bistro
BRASSERIE:
This restaurant is casual but upscale. You probably won't find anyone (who has manners) in their house slippers here. There are table cloths, linen napkins, and waiters, but cutlery would be kept to a practical number and almost no one would be wearing a tie (unless they came from a meeting). Food is served as fair-sized, single-plated dishes.
E.g. Brasserie Cicou
GREASY SPOON:
A diner by another name, greasy spoons are small, cheap restaurants that cater primarily to the working class. Sanitation not required though some owners make the effort of disinfecting their restrooms every now and then. Greasy spoons serve mostly pan- or deep-fried (greasy) dishes like bacon, fries, scrambled eggs, chicken steaks. They're also notorious for offering daily or weekly specials like free coffee or complimentary dessert on top of their already low prices.
In the local setting, diners aren't so much about the type of clientele they attract than they are about the theme. Diners here are called such due to their '50s, '60s approach-cheeky checkered floors, poodle skirts, vintage memorabilia, and milkshakes.
E.g. Butter Diner
SPEAKEASY:
Otherwise known as a "blind pig," this type of establishment came about during the Prohibition in the '20s and early '30s where certain saloons would discreetly sell alcohol illegally. Nowadays, like diners, speakeasies refer to the Prohibition theme, selling classic cocktails that were big in the 19th Century.
E.g. The Blind Pig
DESTINATION RESTAURANT:
A restaurant that goes for over-all ambience instead of convenience, this type of eatery is one that shies away from the hustle and bustle of commercial centers, and strives to attract a clientele outside the neighborhood.
ADVERTISEMENT - CONTINUE READING BELOW
E.g. Chef Tatung's, Marcia Addams, Isabelo Garden Restaurant
DELICATESSEN:
In America, delicatessens feature made-to-order light meals, particularly sandwiches, salads, breakfast-brunch items, and antipasti. Delicatessens work like a grocery store, selling fresh cured meats and produce by weight. Options at a deli usually indicate top-quality, gourmet foodstuffs compared to those found in your neighborhood grocery store. Supermarkets often have a separate "deli" section.
E.g. Santi's Delicatessen
ROADHOUSE:
Contrary to urban legend, roadhouses don't always serve roadkill on their menu. As its name implies, this establishment is set along the road to offer relief to passing travelers or long-haul truckers. Roadhouses are usually situated alongside gas stations.
E.g. Texas Roadhouse takes on the roadhouse theme, but is obviously not a real one.
POP-UP:
Made famous by Ludo Lefebvre, pop-ups are restaurants that have been set up temporarily to introduce a new dish or concept. Pop-ups may be held in stalls or rented spaces (usually existing restaurants for the kitchen area). Food trucks are also considered pop-ups. In the Philippines, the Manila Pop Up group has been responsible for the recent series of temporary eateries.
E.G. Manila Pop Up's Seafood Sandwiches held at Burger Project
SERVING STYLES
TABLETOP COOKING:
Guests cook their own food at their table. Sometimes, as in the case of Bulgogi Brothers, servers may also aid customers in the preparation.
E.g. shabu-shabu, yakitori
FAMILY STYLE:
This method is normally used in group-friendly, casual restaurants. Components like meat, fish, carb are on separate sections of the menu, and food is served in hefty portions on the middle of the table.
ADVERTISEMENT - CONTINUE READING BELOW
E.g. Chinese restaurants are traditionally served family-style.
BUFFET:
Otherwise known as a "smorgasbord," an entire lineup of dishes is available for customers to indulge in and make their selections from. Usually pegged as "all-you-can-eat" or, as we say in the Philippines, "eat-all-you-can," buffets are usually purchased at a fixed price and cuisine may be thematic, general, or comprehensive.
E.g. Spiral, Dads, Kamayan, Saisaki
WAGON:
Servers roam around the restaurant pushing a cart with an array of choices for the diners to choose from.
E.g. Mongkok Dim Sum
AMERICAN PLATED*:
Orders, which are usually generous in size, are served in single plates and come complete with carb and protein (burger and fries, steak and mash). There's no particular emphasis on aesthetics, and components are served in a haphazard albeit comforting manner.
E.g. Burgoo, IHOP, TGI FRIDAY'S
CLASSIC FRENCH*:
Big plate, small serving is what defines this style. The serving size, however, may be attributed to the fact that fine-dining restaurants often serve several courses in one meal.
Special attention is paid to detail and presentation is treated as art, with garnishes used as both decorative and culinary elements. In this type of service, servers are trained to be knowledgeable of the menu, often giving advice on wine pairings, cook, and other courses. Last-minute garnishes and preparation may also occur tableside before the final plate is served to the guests.
E.g. Champetre, Prince Albert (tableside service)
BUTLER SERVICE:
This style is commonly used during cocktail parties. Servers walk around the area carrying trays loaded with hors d'oeuvres and other finger food as customers help themselves.
ADVERTISEMENT - CONTINUE READING BELOW
RUSSIAN STYLE*:
Like the French, but a few notches simpler. A staple for most upscale restaurants, the Russian approach plates their dishes intricately and individually before setting it down before the customer all ready to be eaten.
E.g. The most common style of service, restaurants like Balboa, Village Tavern, Myron's, as well as majority of Manila's mid- to high-priced eateries use the Russian style.
ENGLISH STYLE*:
This one's a bit trickier. Traditionally used at home, side dishes and other courses are served family-style on the table, but the server or host cuts and/or prepares the main course tableside before passing them out individually. Think Thanksgiving dinner.
E.g. Peking duck and lechon de leche are usually served this way.
COURSES AND MEALS
AMUSE-BOUCHE:
Deemed the "pre-appetizer," amuse-bouches are given out for free before ordering. In fine-dining restaurants, amuse-bouches tend to be a reflection of the chef's culinary style.
RELEVE:
Originally, the releve would be the second protein in a multiple-course meal. The term is, however, obsolete. Nowadays, it is usually the dish served after the soup or the fish (if there's a fish dish). Though usually a protein, it's considered lighter than the main course.
ENTREE:
In Northern American, the entree signifies the main course, usually a heavy type of protein or roast.
Variation: In French tradition, entree, which means "entry," is considered to be the appetizer or starter. It also precedes the releve, which is oftentimes a protein. 


*Style does not reflect cuisine
Share this story with your friends!
---
Help us make Spot.ph better!
Take the short survey
Load More Stories