Trend Alert: Vietnamese Coffee Gives Manila's Coffee Drinkers a Buzz
Wake up and sip on strong coffee.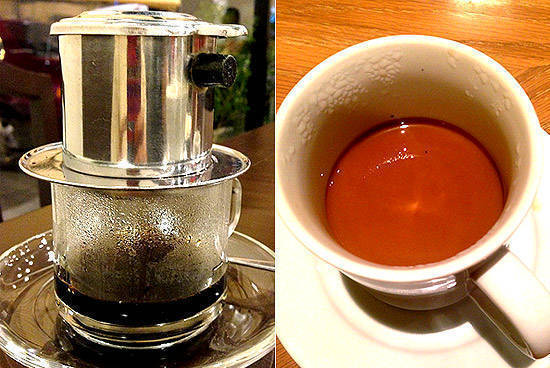 (SPOT.ph) Coffee served with condensed milk may just seem like a sweet alternative to the blended-coffee-topped-with-whipped-cream variety, but we think there's more to the Vietnamese drink than its saccharine appeal. Slowly working its way into the Pinoy consciousness, Vietnamese coffee is earning its space in the spotlight. Case in point: Highlands Coffee, Vietnam's largest coffee chain, has set up shop in various places in Metro Manila and is set to open a total of eleven stores by December 2013.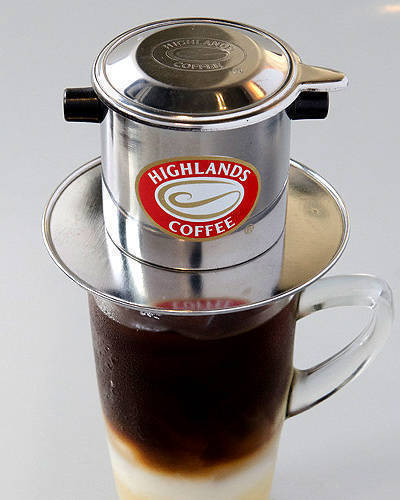 The Highlands invasion
What makes this Asian cup different from the now-familiar espresso based drinks? The Ca phe da (black coffee) or Ca phe sua da (sweetened with condensed milk) which means iced coffee, is prepared using a Phin brewer, a single-serve metal drip filter. Hot water is added to the ground beans in the coffee chamber and the filter produces a rich, black brew which drips slowly from the filter into the cup. It is stirred and poured over ice. Its hot counterpart, the Ca phe nong (black coffee) or Ca phe sua nong (sweetened with condensed milk), is served tableside. Vietnamese coffee is not for the grab-and-go caffeine fiend: the slow dripping of the beans forces one to be patient until the cup is half full, with little choice but to enjoy your drink at a leisurely pace.
ADVERTISEMENT - CONTINUE READING BELOW
"It's an experience, you're engaging with your coffee and interacting with your drink," shares Ida Guzman, Marketing Director of Highlands Coffee in the Philippines. "It's a slow process but it produces a strong kick." That is what makes Vietnamese coffee different. That, and of course, its strong caffeine content and subtle bitter flavor.
According to Highlands Coffee baristas, using the Phin brewer allows for the ground coffee to steep longer, resulting in a cup with more flavor and more antioxidants than coffee cups produced by espresso machines. Highlands Coffee uses 100% single-origin Arabica beans from Vietnam and offers both the hot (Café Nong is priced at P99; Café Sua Nong is priced at P109) and the cold variety (Café Da is priced at P109 and the Café Sua Da is priced at P119).
CONTINUE READING BELOW
Recommended Videos
Those looking for strong coffee aromas and nuances of flavor, however, might be disappointed-these cups are devoid of strong coffee smells but the striking bold flavors make up for the lack of comforting coffee scent.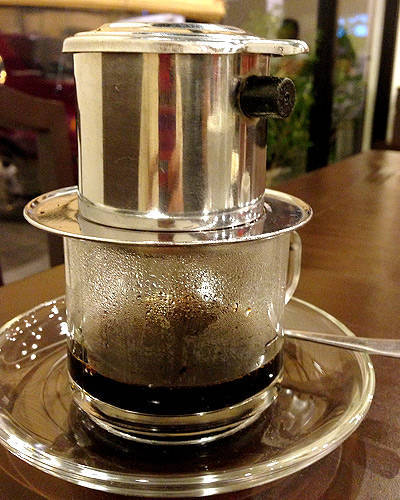 ADVERTISEMENT - CONTINUE READING BELOW
Ba Noi's
Where else to go for Vietnamese coffee in Metro Manila? Ba Noi's in Kapitolyo, Pasig, like most Vietnamese restaurants in the city, serves both hot (P110) and iced Vietnamese coffee (P110). The condensed milk is served on the side, allowing you to decide if you want your coffee strong and bold or tempered with sweet flavors. Their version is nicely devoid of bitter notes, even if you forego the condensed milk and decide to take it black. They also have blended versions for coffee drinkers who might not be ready for bolder flavors: Iced Vietnamese Blended Mocha, Iced Vietnamese Blended Caramel, and Iced Vietnamese Blended White Mocha (priced at P150 each) share space with the traditional drinks on the Ba Noi's menu.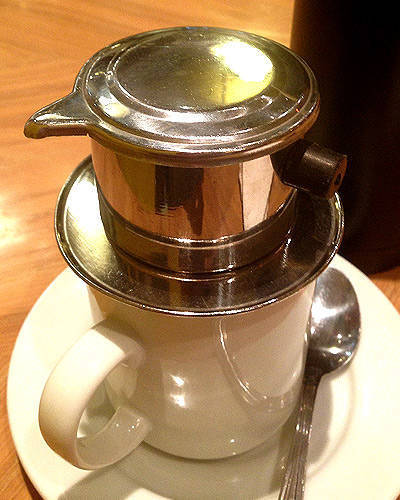 La Petit Camille
La Petit Camille in Greenbelt 5 offers the hot and cold variety (P99 for the hot drink and P120 for the iced version). Their hot coffee has condensed milk sitting on the bottom of the cup and extra hot water is served in a tall, black flask if you want to water down the intense flavors. When stirred, the condensed milk sweetens the cup and rounds off the jolt of caffeine nicely. We only wish their hot coffee was served in translucent cups so you get the full experience of watching the black liquid drip slowly into the cup.
ADVERTISEMENT - CONTINUE READING BELOW
Other restaurants that serve Vietnamese coffee in Metro Manila include Pho Hoa and Pho 24.
Share this story with your friends!
---
Help us make Spot.ph better!
Take the short survey
Load More Stories