New Restaurant Alert: Tonkatsu by Terazawa at Greenbelt 2, Makati City
There's another player in town.
Tonkatsu by Terazawa
Greenbelt 2, Makati City
Open daily from 11 a.m. to 12 a.m. (Sunday to Thursday) and 11 a.m. to 1 a.m. (Friday and Saturday)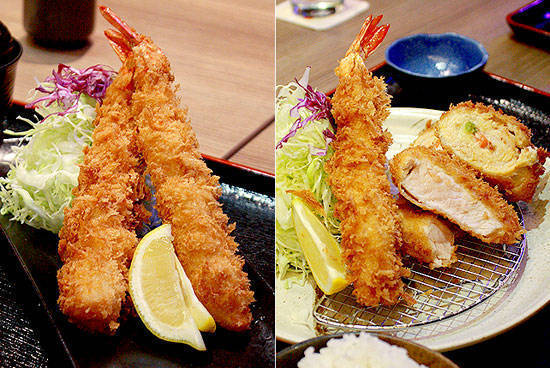 Tonkatsu, shrimp, and the in between
(SPOT.ph) There are only so many ways you can present breaded, deep-fried kurobuta. With the country's katsu frenzy on the brink of dying down, one would think they've seen every incarnation of this Japanese classic. And with two big-name katsu brands frying for pork cutlet supremacy, the newly opened, aptly named Tonkatsu by Terazawa is a deep-fried, breaded curve ball that hits katsu fans between the eyes (and straight to the stomach).
The little joint that replaces Ma Maison (which, by the way, also dabbled in katsu) is an intriguing little nook at the tip of Greenbelt 2's long row of eateries. The most curious aspect of which may be the way they handle sesame seeds. Instead of black and white dots on a textured mortar and pestle that one has to manually grind for that perfect savory-nutty complement-a small reminder that hard work precedes rewards-Tonkatsu's white sesame seeds come in a unique cannister that requires a degree to operate. There's a little crank to make crushing the seeds with a little less effort, and easier for what Chef Akinori Terazawa says is the best way to eat katsu: sprinkle the seeds directly on the canvas of kurobuta before dipping into the sauce. That very specific process allows the individual layers of flavor to stand out more.
ADVERTISEMENT - CONTINUE READING BELOW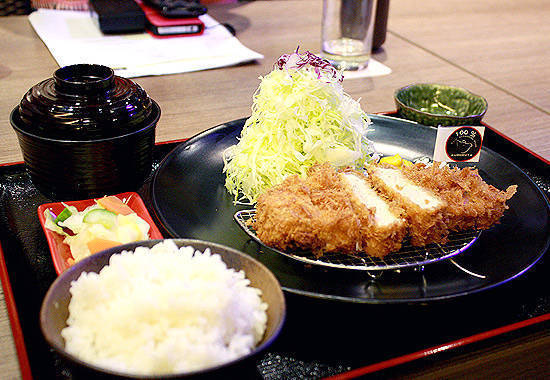 CONTINUE READING BELOW
Recommended Videos
Tokusen Kurobuta Ippon Hire Katsu
Chef Terazawa created his namesake brand with the intention of making the best tonkatsu in town. The town was Nagoya, Japan, and the promise was made 20 years ago. To be considered best is arguable, but Tonkatsu comes very close. There's more to it than a cool way to grind sesame seeds. Chef Terazawa maintains the intricate preparations that make Japanese tradition special. He carefully ages the marbled Berkshire pork under a towel for three days, giving it time to absorb flavor while keeping its natural juices intact. Nama panko, which is softer than the average coating, creates a softer crumb for a light, unobstructive crisp. Bite into a piece of Chef Terazawa's tonkatsu (P575) and the softness will catch you off guard, the crunch muffled and the salty juices quickly making their way to your palate. That's how tender his tenderloin is.
ADVERTISEMENT - CONTINUE READING BELOW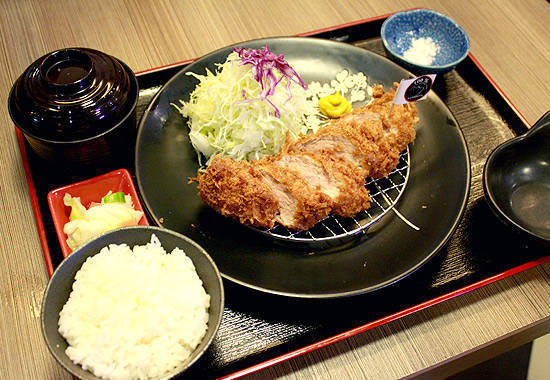 Tokusen Kurobuta Rosu Katsu Set
It's easy to stick to the kurobuta-its melt-in-your-mouth magic becoming more and more awe-inspiring with each bite-or to be swayed by the other meaty options like the chicken (P360) or the loin (kurobuta, P575), but the Deep-fried Oysters (P395) shouldn't be disregarded. Underneath that same panko crust, the oysters are large, fresh, and not at all chewy which they can easily become if not handled properly.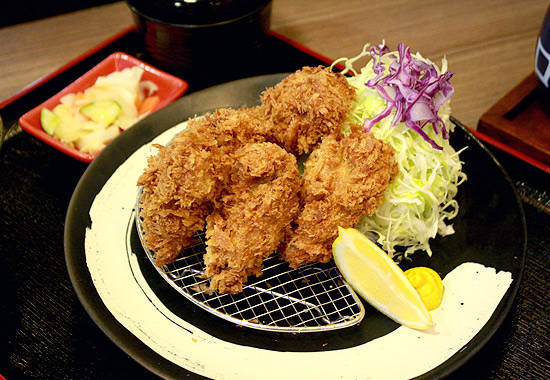 ADVERTISEMENT - CONTINUE READING BELOW
Deep-fried Oyster Set
"Wait till you try my tonkatsu" is the catchphrase of Chef Terazawa, who says it with a twinkle in his eye, confident that his version is bound to be the best, or at least make you think about everything you knew about breaded pork. But while tonkatsu (pork cutlet) may be contestable, he definitely wins the battle for deep-fried oysters.
Share this story with your friends!
---
Help us make Spot.ph better!
Take the short survey
Load More Stories