Earth Kitchen
White Plains, Katipunan Avenue, Quezon City
Tel. Nos. 0917-584-3278, 961-0572, 577-9138
Open from 6 p.m. to 11 p.m. (Tuesday to Sunday)*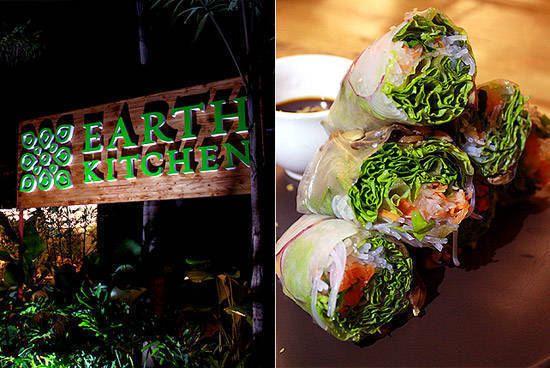 (SPOT.ph) In many ways, the newly opened Earth Kitchen along White Plains, Katipunan Avenue, is a showcase. Twenty-eight-year-old social entrepreneur Melissa Yeung transformed what was once an untamed, rundown trellis into a modest but spacious eatery with dishes that proudly feature organic produce grown by indigenous communities. Earth Kitchen was designed for that purpose: a delicious display of the potential of local farming with young chefs JR Trani and David Hizon interpreting the available ingredients into a stellar menu.
ADVERTISEMENT - CONTINUE READING BELOW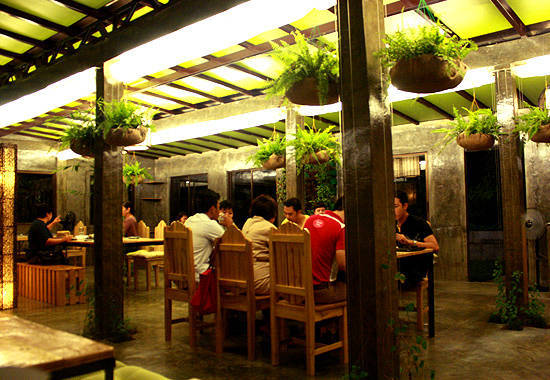 The foundations are from the original trellis. Removing them would be too costly so Yeung kept them in to highlight the "greenhouse effect."
The restaurant is situated beside another one of Yeung's innovations, Got Heart, the retail arm of her eponymous foundation, a self-sustaining container-van-turned-boutique that sells the same locally farmed products that make up Earth Kitchen's cuisine. Though not as conservative as Got Heart, Yeung does her best to make it environmentally sound by trimming the interiors to what she describes as a "natural" look. She kept the original foundations of the trellis to create an effect akin to a greenhouse. The walls are glazed concrete and the furnishings are either upcycled or recycled wood; a handful of hanging plants and paintings make up the décor. LED bulbs illuminate the kitchen and skylights are installed to cut energy consumption during daytime.
ADVERTISEMENT - CONTINUE READING BELOW
Recommended Videos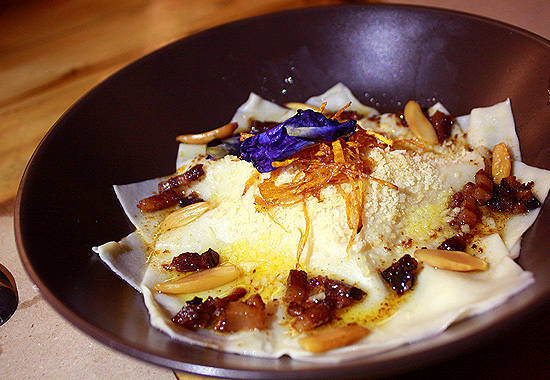 With flowers on top: the Pumpkin and Goat Cheese Paccheri
"This is our first restaurant," says Yeung, who works on Got Heart when she's not helping with the family business. Trani and Hizon are both catering chefs who are admittedly adjusting to the different demands of heading a restaurant. "I really had to get involved [in creating] the dishes," she says. Being faithful to their limited list of produce is decidedly ambitious and the group had to find a way to make it work. She motions toward the bestselling Pumpkin and Goat Cheese Paccheri (P310). The original recipe required walnuts, but Yeung pushed for local pili instead. Roasted pumpkin is infused in freshly made pasta sheets to give it a sweetish, mealy variation while chunks of pili paint a layer of nuttiness to contrast with the rich blanket of cheese. The winner is the (optional) homemade bacon bits that really lift the entire dish with its smoky and salty notes.
ADVERTISEMENT - CONTINUE READING BELOW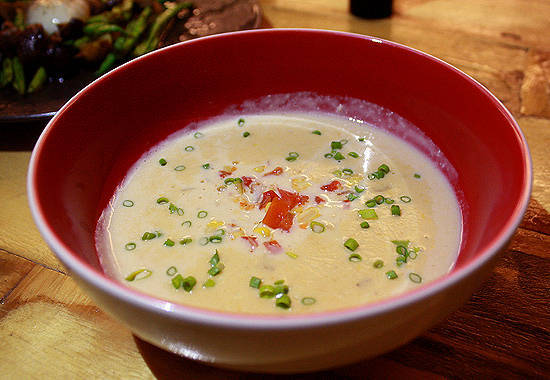 Corn Chowder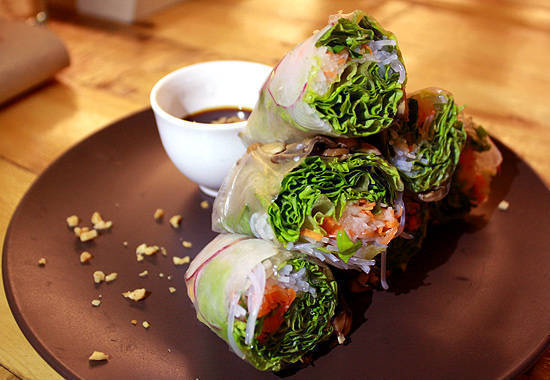 ADVERTISEMENT - CONTINUE READING BELOW
Mushroom Spring Roll
Vegetables are the definite must-tries: here, you get to appreciate vegetables for their freshness and not because their flavors were manipulated to taste like something else. The Farm's Harvest (P320) is an unusual ensemble of beans, asparagus, and baby potatoes-all cooked-then topped with a soft-boiled egg and sprayed with sherry vinegar. The spring rolls, either Prawn (P290) or Mushroom (P280), highlight the freshness of mint, basil, and coriander. And the Grilled Vegetable Salad (P270)? A mouthwatering smorgasbord of pumpkin, eggplant, bell peppers, zucchini, with a sprinkle of feta cheese evening things out.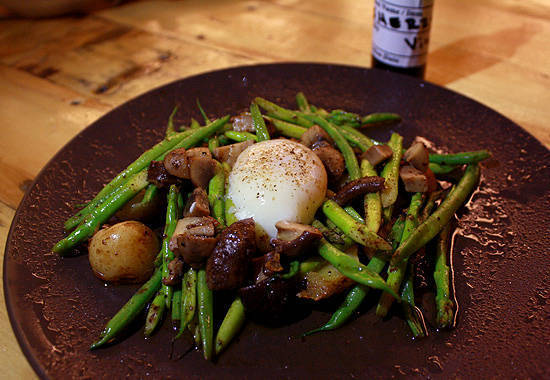 ADVERTISEMENT - CONTINUE READING BELOW
Farm's Harvest and the Sherry Vinegar spray
Earth Kitchen uses a heavy hand when it comes to cheese (no one's complaining, though). Feta, goat, kesong puti, parmesan recurrently appear on the menu so the cheese-free Beef Kebab (P355) comes as a pleasant surprise. Even more unexpected is the melting tenderness of each chunk of smoky beef rib. The kebab comes with a skewer of grilled vegetables, tzatziki, and a pilaf made from organic Ifugao rice.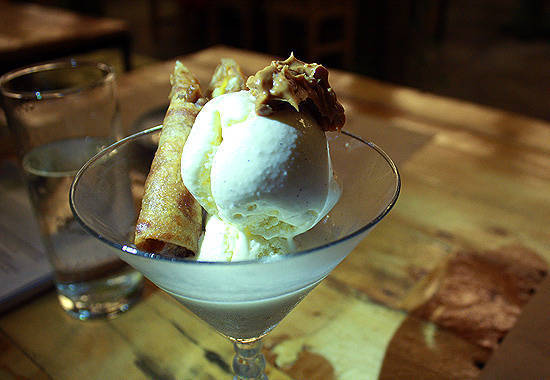 ADVERTISEMENT - CONTINUE READING BELOW
We can see the dots of vanilla bean from here.
Dessert runs out quickly, a tough quandary because it's difficult to rush to the end when you're busy enjoying what precedes it. The Tablea Ice Cream(P165) displays the creaminess of carabao milk to full effect with homemade ice cream that brings to fore the soft grainy texture that makes tablea so irresistible. The Vanilla Peanut Butter Crunch (P165) flaunts a speckled surface that confirms a fresh vanilla bean base. A dollop of chunky peanut butter gives it a thicker, stickier edge, making it extra lip-smacking. It's dishes like these that can make anyone convert to healthy eating.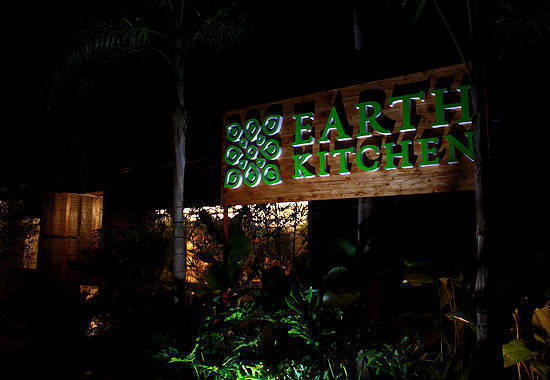 ADVERTISEMENT - CONTINUE READING BELOW
As of now, Earth Kitchen is only open in the evening; shifting schedules are underway.
Looking around, it's easy to see that Earth Kitchen is still a work in progress. There are empty shelves where Yeung plans to install knickknacks from other partner communities and the airconditioning remains a debatable issue as they contemplate their power supply. She also has plans to make the place more sustainable (like Got Heart), adjust the opening hours, and expand the menu. "There's still a long way to go," says Yeung who's been involved in charitable activities since she was 13. But when does social responsibility stop anyway?
*Schedule is bound to change after soft opening
Photos by Jason Mariposa
Share this story with your friends!
---
Help us make Spot.ph better!
Take the short survey
Load More Stories