Project Pie
515 Shaw, Shaw Boulevard, Mandaluyong City
Tel. No. 650-0925
Open daily from 10 a.m. to 10 p.m.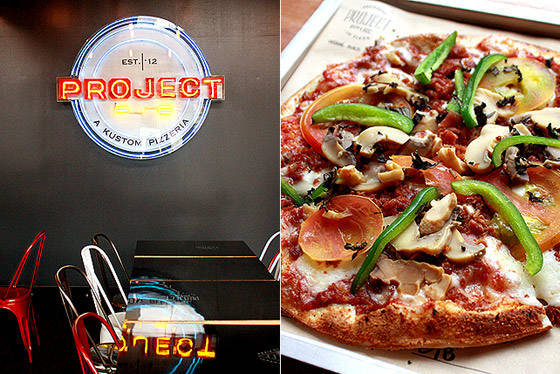 It's kustom!
(SPOT.ph) Amid the snowballing artisanal scene where craftsmanship is synonymous with delicious comes a new type of artisan: you. It's the same meticulous approach to food, but with the added perk of empowering the customer and injecting his/her originality into his meal. Hot on the heels of DIY burgers, pancakes, and sundaes is Project Pie, a US-based franchise that allows diners to customize their pizzas from the sauce to the toppings.
ADVERTISEMENT - CONTINUE READING BELOW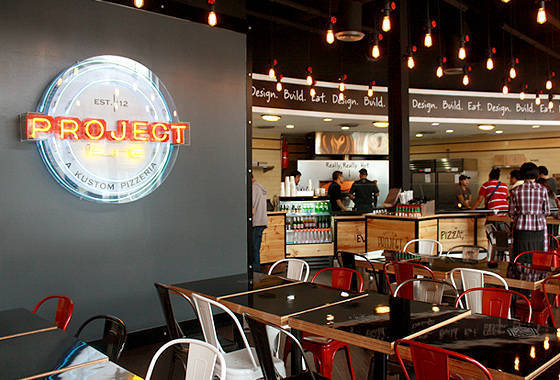 Quirky hip interiors
"It's actually a new restaurant in the States," says Philippine Project Pie General Manager Cito Martelino. The concept was created by James Markham who got bored eating cheap but bad pizza as opposed to good but pricey ones. That was only last year. The Shaw store in Mandaluyong, which opened in late July, is the third branch worldwide.
ADVERTISEMENT - CONTINUE READING BELOW
Recommended Videos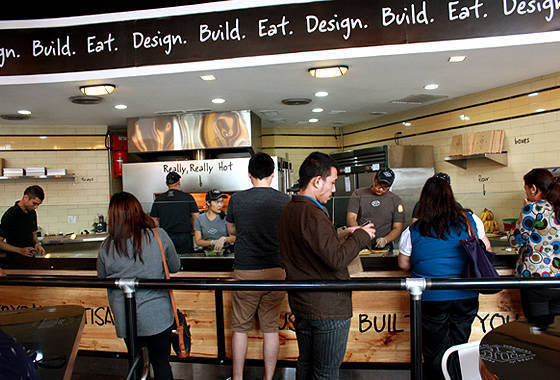 Only a month since it opened and the lines at Project Pie have been long.
The process is simple enough to understand: self-service with a factory line for customers to choose whether they want the signature pizzas (all seven of which may be adjusted to taste), a one-of-a-kind-(insert name of customer here)-original, or a half half; they move on to preferred sauce (white or tomato) and toppings (solitary cheese or all 29 available options); and then they have the option of add-ons like salads or desserts-though in the case of Project Pie, those usually mean pizza with fruit or leaves. The whole process, excluding the possible existential crisis that sometimes comes with the freedom of too many choices, lasts less than 10 minutes.
ADVERTISEMENT - CONTINUE READING BELOW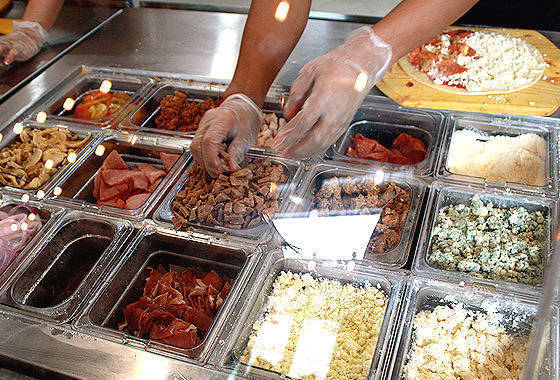 You can pile on all 29 ingredients (if you dare) and it would still cost P285.
Project Pie's pizzas are standard nine-inch crusts, thin and toasted just enough for that mouthwatering crisp. The dough is made fresh every two to four hours. You don't see the fancy pizza tossing that's become a spectacle in pizzerias, however, you do get to marvel at an automation that flattens the dough in a minute before being baked in a custom oven that cooks the entire ensemble in two. Project Pie's seven signature showpieces cover every craving imaginable-from basic cheese and tomato to prosciutto and anchovies-but there are those who come for the creative exercise. Martelino recalls one customer who experimented with mozzarella and banana.
ADVERTISEMENT - CONTINUE READING BELOW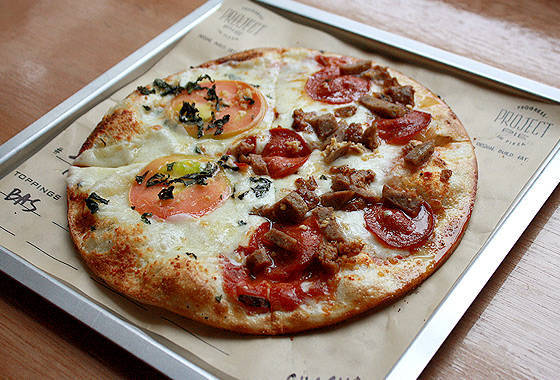 Half-Half of the vegetarian No. 2 and the meaty No. 6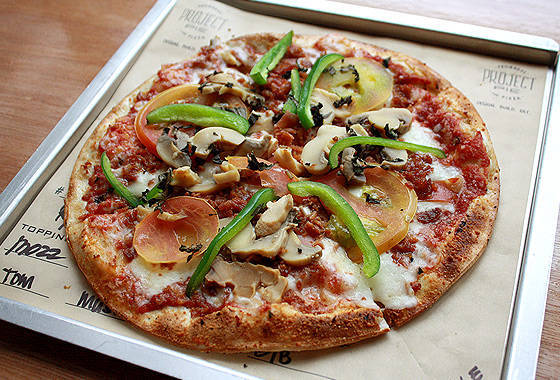 ADVERTISEMENT - CONTINUE READING BELOW
A one-of-a-kind creation
He admits, however, that while the DIY setup has a steady following, their primary hook is the price. The Classic mozzarella is only P245 while other signature as well as make-your-own pies regardless of the number of toppings cost only P285. Dessert pies like Banana Nutella, Peanut Butter Nutella, or Cinnamon Sugar are all priced P145. The Salad Pizza is also P245. Nine inches doesn't seem daunting compared to the gargantuan pizza slices that we so often see nowadays, but trust us when we say they are very filling.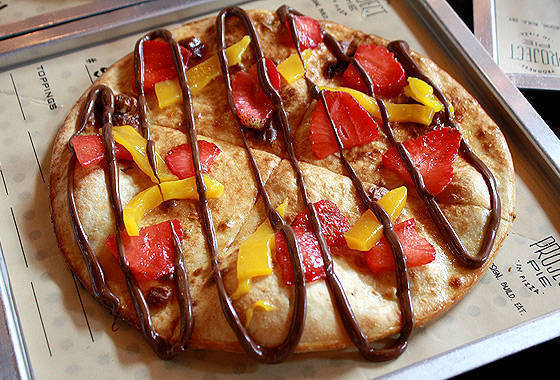 ADVERTISEMENT - CONTINUE READING BELOW
Dessert pizzas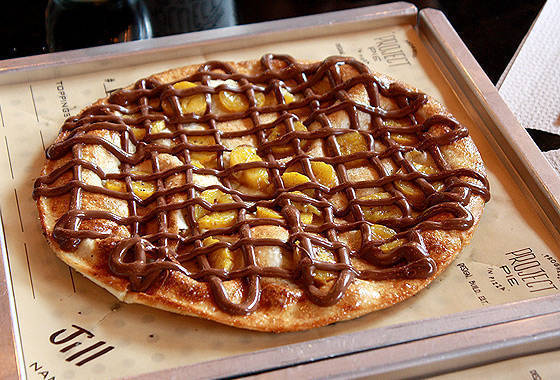 Banana Nutella
The concept is built around fun and invention. The restrooms are labeled "The Oval Office" while the trash area is marked "Dump Site." Walls are painted with chalk-like quotes that range from Julius Caesar to several Anonymouses, and the light bulbs, which feature faucet handles on the sides, are aptly dubbed "Edison lights." Martelino pushes for creativity when ordering; even the odd combination of pineapple and garlic is encouraged though not without warning from the restaurant's concerned servers. One thing Martelino is firm about, though? No delivery. "It compromises the freshness and quality."
ADVERTISEMENT - CONTINUE READING BELOW
Photos by Warren Espejo
Share this story with your friends!
---
Help us make Spot.ph better!
Take the short survey
Load More Stories