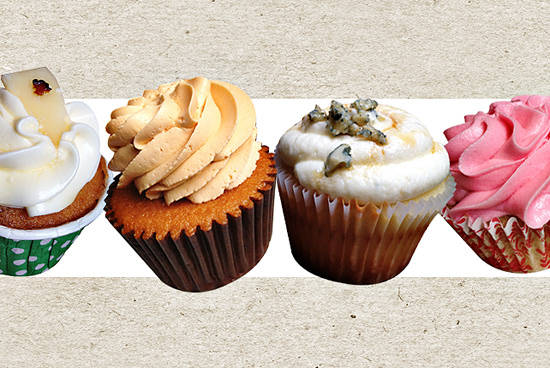 (SPOT.ph) As creatures of habit, when we like something, we never let go. We stick to the ones we know we love and will never fail us. In the case of cupcakes, red velvet has undoubtedly become everyone's security blanket. It has such a bestseller that bakers have ingeniously created other incarnations like ice cream, cakes and cookies, hoping to strike more gold. But even if it has painted the town red (pun intended), it won't hurt to spice things up a little and sample what our creative pastry geniuses have concocted. Give in and try these seemingly odd cupcake flavor combos. Hey, you' never know, you might discover a new favorite.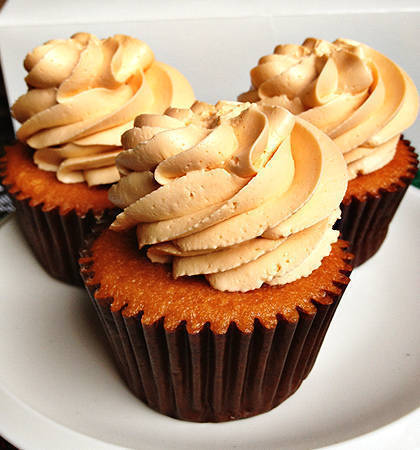 ADVERTISEMENT - CONTINUE READING BELOW
10. Thai Milk Tea Cupcake (P70) by Cupcake Boutique
Indeed, the proof is in the pudding. The orange blush both on the cake and the frosting might be reminiscent of Thai milk tea but the simplicity of the cupcake can also fool you into thinking that it's orange-flavored, as many have believed it to be. But have a mouthful of that humble, no frou-frou cupcake and you won't have any doubts regarding its flavor. The black tea taste is quite subtle but definitely unquestionable. It has no filling, nor sprinkles on its frosting, letting just the flavor stand out.
Contact Cupcake Boutique at 633-9954 or 0917-533-5527.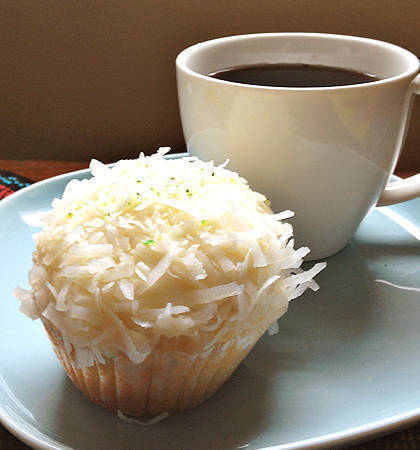 ADVERTISEMENT - CONTINUE READING BELOW
Recommended Videos
9. Coconut Lime Cupcake (P65) by J.Cuppacakes
Here's a cupcake that will give you a taste of the tropics. From the outside, it looks as if it's the mini-me version of the coconut cake-a light cake strewn with desiccated coconut then topped with more shreds for that glorious crown. Once you get to the middle though, you'll be surprised to be greeted with a ball of thick lime curd nestled in the cupcake. It's tart and citrusy, which balances off the sweetness from the cream cheese frosting. And while the pastry may be loaded with desiccated coconut, its mild flavor doesn't stick out like a square guy in a mosh pit. In fact, it blends perfectly well as it adds bite and texture to what otherwise would have been a plain cake.
J.Cuppacakes is located at the Eastwood Citywalk 2 and at 2/F SM Megamall B.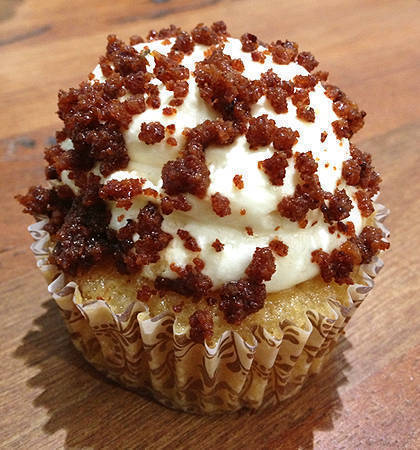 ADVERTISEMENT - CONTINUE READING BELOW
8. Sir Francis M. Bacon Cupcake (P90) by Slice
Everything tastes better with bacon-cupcakes included. Take, for example, Slice's super moist Tahitian vanilla cupcake topped with a cream cheese frosting flavored with maple syrup. It's sprinkled with candied bacon bits for crunch and for a sweet and salty fix. It's the type that will most probably have you savoring seconds, even thirds.
Slice is located at the Bonifacio High Street Central and at The Podium.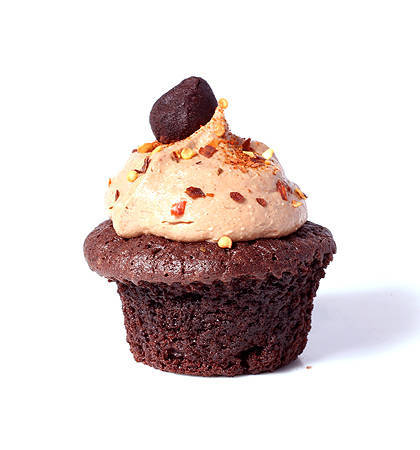 ADVERTISEMENT - CONTINUE READING BELOW
7. Hot Mr. Black Jack Cupcake (P90) by Cupcake Lab
What you see on top is not your usual candy sprinkles. Cayenne pepper and dried pepper flakes adorn the smooth chocolate frosting, a dead giveaway of what's to come. It hikes up the adult ante by spiking the dark chocolate cupcake with Jack Daniels whiskey. Let that be a warning-this cupcake will bite back and sting your throat with exciting heat. It gives your mouth a slight numbing sensation, the kind that you get when you indulge in a Sichuan pepper dish, making the sweet treat a definite silent killer. It may not be for everyone (kids most especially) but the adventurous will surely be rewarded.
Cupcake Lab is located at The Podium and the Greenhills Promenade.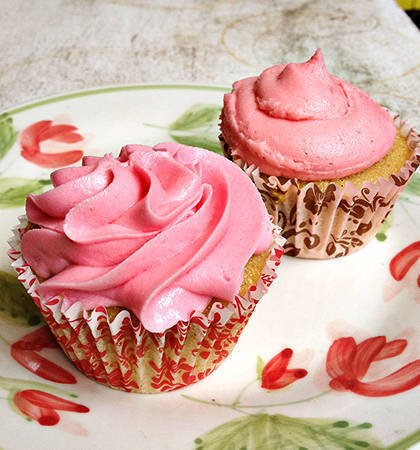 ADVERTISEMENT - CONTINUE READING BELOW
6. Orange Cardamom Cupcake with Pomegranate or Rose Frosting (P55) by The Regali Kitchen
At first glance, this cupcake looks pretty plain, reminiscent of the good ol' vanilla cake with a buttercream frosting. But your perception soon diminishes as you take that first bite and realize that it's more complex than it looks like. The soft cake marries two flavors, which we commonly don't see together in many desserts-orange and cardamom. You will find traces of both in the batter, with the orange in the form of rind and the smoky sweet cardamom as powder. Making the company a crowd is the addition of pomegranate or rose flavor found in the frosting. Collectively, they work well together, none overpowering the flavor of the other, making for a cupcake that will intrigue, entice and eventually excite your palate.
Contact The Regali Kitchen at 0927-992-3096 or email at cakes@regalikitchen.com.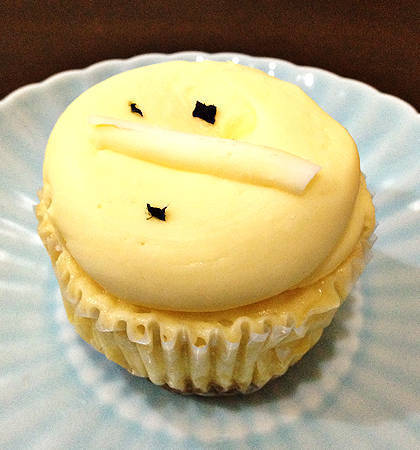 ADVERTISEMENT - CONTINUE READING BELOW
5. White Chocolate Basil Cupcake (P65) by J.Cuppacakes
Who knew these two ingredients would complement each other? Apparently J.Cuppacakes did. Basil is a very fragrant herb we often see in pasta sauces and stews, or muddled in cocktails, but rarely infused in desserts. Well, this might make you see things differently. The fresh basil might not be seen in the cupcake itself, except for the few specks on top, but it definitely makes its presence felt once you bite into the light vanilla cupcake that sits on a Graham cracker base. Its earthy and minty flavor piques your palate and leaves a refreshing flavor in your mouth. You can barely taste the white chocolate on the no-melt butter frosting, but it doesn't matter as we are more than satisfied for the basil to take the lead.
J.Cuppacakes is located at the Eastwood Citywalk 2 and at 2/F SM Megamall B.
ADVERTISEMENT - CONTINUE READING BELOW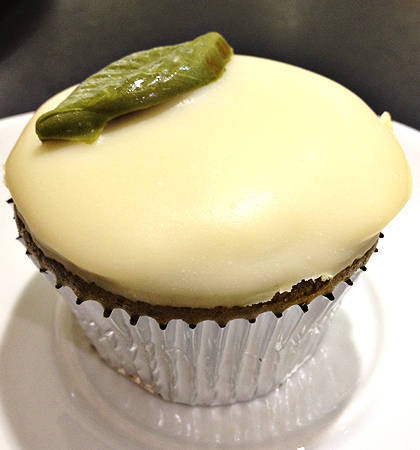 4. Green Tea with Red Bean Paste Cupcake (P90) by Cupcake Lab
A number of cupcake bakeries actually have their own version of a matcha cupcake but none quite compare to what Cupcake Lab has. For one, it's got the flavor right-not too faint and not too strong that it punches your taste buds into a TKO. Plus, it matches the green tea flavor with another oriental ingredient, the red bean paste. A pod of it lies within the cake and each time you take a bite, it lends a creamy mouthfeel and a sweet potato-like taste, making for a delightful play of flavor and texture. Instead of swirled frosting, a soft disc of white chocolate tinted in light green tops the cupcake and rounds out the flavor by adding sweetness into the mix.
ADVERTISEMENT - CONTINUE READING BELOW
Cupcake Lab is located at The Podium and the Greenhills Promenade.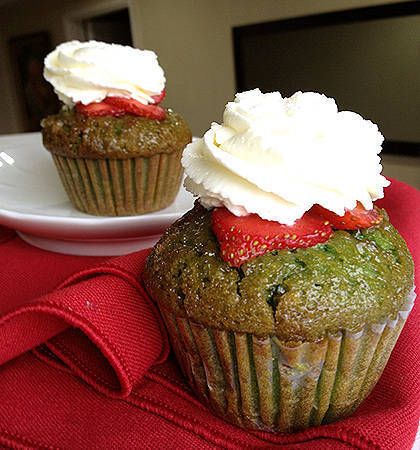 3. Pistachio Berries and Cream Cupcake (P60) by Cupcakes by Sonja
Pistachio and berries is a classic combination that has seen many dessert interpretations, including cakes, ice creams, and pavlovas. As a foolproof pairing, it is natural for it to eventually be transformed into a cupcake-and cupcake queen Sonja Ocampo is more than happy to make that happen. The fluffy cake glistens like an emerald topped with another crown jewel in the form of fresh strawberries. In a rack full of cupcakes, it's among those that commands attention and teases you to sink your teeth into it. And you'll thank yourself for giving in.
ADVERTISEMENT - CONTINUE READING BELOW
Cupcakes by Sonja is located at Serendra Piazza, Glorietta 2, and soon at the East Wing of Shangri-la Plaza.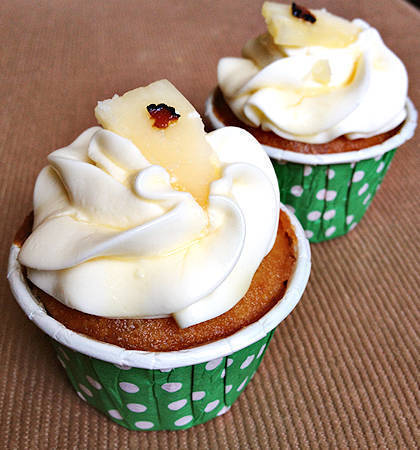 2. Truffled Honey Parmigiano Cupcakes (P45) by Baked by Anita
One thing you'll immediately notice with Baked by Anita's cupcakes is their comparatively small size (they're proportionate to its price though). But what the bakery lacks in that department, it more than makes up for in bold flavor. For instance, there's no question that this cupcake is anything other than the truffle kind because you can smell the truffle aroma when you draw the cupcake close. The first bite might throw you off-in a good way; the type that will have you taking more bites to appease your curiosity. Truffle, honey and cheese have always been a foolproof combo of ingredients for an elegant appetizer. Now, it takes on a different form-as a delectable dessert.
ADVERTISEMENT - CONTINUE READING BELOW
Contact Baked by Anita at 0917-525-9740, (02) 736-2877, or email at bakedbyanita@yahoo.com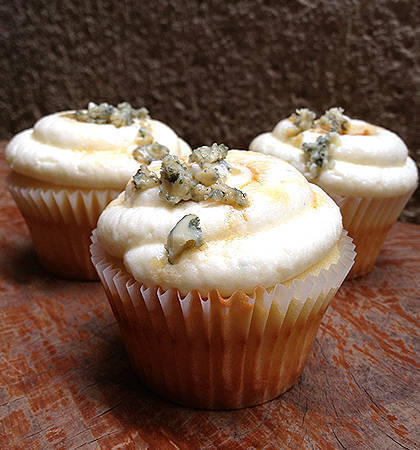 1. Blue Cheese and Honey Cupcake (P85) by Bella Cupcakes Manila
The sight and smell of blue cheese might initially turn you off but if you forego the apprehension and open your palates to an adventure, you will be duly rewarded. The pungent and strong-tasting cheese is incorporated in the cake batter, frosting and sprinkled as a topping, and Bella Cupcakes has found the right proportion to make it still a sweet cupcake and not a dominating cheese muffin. The drizzled honey sits in between the ridges caused by the swirled frosting, consequently making for a beautiful, glossy masterpiece. If you prefer a more prominent blue cheese flavor, you can request it, too.
ADVERTISEMENT - CONTINUE READING BELOW
Contact Bella Cupcakes Manila at 0917-801-9792 or (02) 215-1800.
Share this story with your friends!
---
Help us make Spot.ph better!
Take the short survey
Load More Stories