CHECK IT OUT: Resorts World Manila's Chocolate Festival
Sweet tooth? Head over to RW.
Resorts World Manila
Newport Boulevard, Pasay City
Tel. No. 836-6333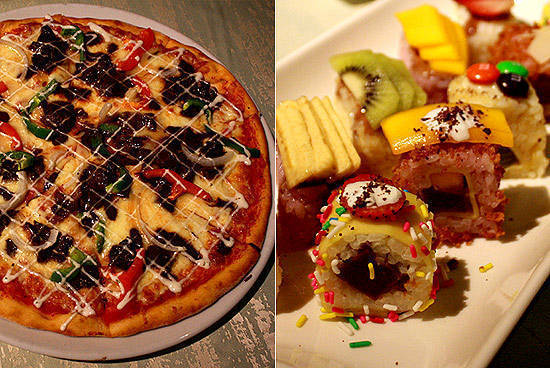 Chocolate like you've never seen it before
(SPOT.ph) If chocolate does, in fact, contribute to happiness, then Resorts World Manila is a place of incorrigible bliss this September. As part of their Thrillathon anniversary celebration, RW-owned restaurants are paying homage to the mother-of-all guiltless pleasures, chocolate (!), whose international feast day was on September 13.
Indulgence is the theme and innovation is the name of the game. For this occasion, the kind chefs at Bar 180, R Bar, Prosperity Court, The Terrace, Noodleworks, Ginzadon, Passion, Mercado, and Cafe Maxims have redefined the limits of chocolate with interpretations that go well beyond the usual cakes and ice cream. Our advice? Make it a huge chocolate trip with family and friends-cut the cost and share the calories. Start with chocolate appetizers at The Terrace and make your way down to chocolate vodka cocktails at Bar 360.
ADVERTISEMENT - CONTINUE READING BELOW
If you don't think the calories are worth it, here are 10 reasons that might help you change your mind. 


1. Chocolate is good and it's good for you.
When taken in moderation, chocolate is good for your health. You don't have to believe us, but according to the New York Times, seven separate studies have proven that high levels of chocolate greatly reduce the risk of cardiovascular disorders. Diabetes, on the other hand, is a different issue all together. So the next time you hesitate to bite into that chocolate bar, worried about its effects on your waistline, remember this: think of your heart.
CONTINUE READING BELOW
Recommended Videos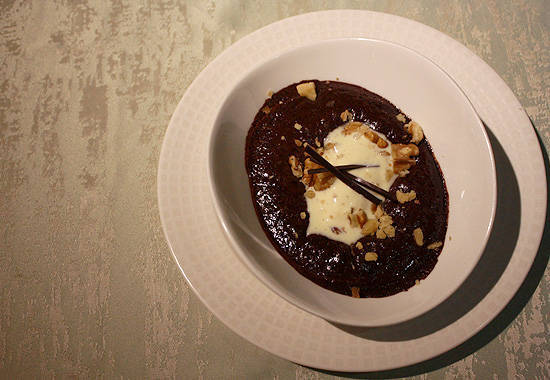 Chocolate Soup
Cafe Maxims is where you can find a delectable chocolate soup served judiciously in a small banana boat bowl and garnished with whipped cream and macadamia nuts; a fitting crown of dark chocolate tuille finishes it off. The soup looks like congealed cake batter that breaks into a thick but light, velvety bittersweet chocolate cream; interspersed with the crackling nuts, this dish is pure-albeit moderately sized-sin.
ADVERTISEMENT - CONTINUE READING BELOW
Some crazy genius decided to mix beets with chocolate and we got red velvet. Some other wacko put chocolate and chilis together and we got pure magic. Still, there was another culinary iconoclast who mixed it with bacon and, well, the rest is history.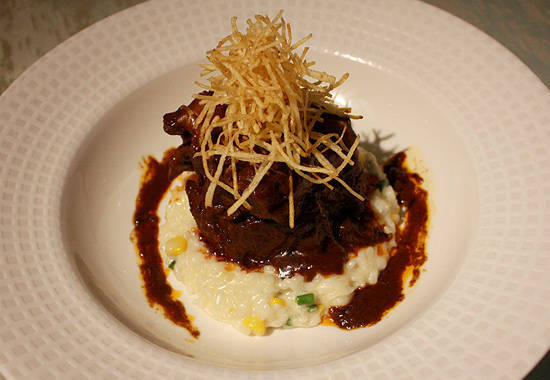 Savory and sweet Braised Beef with Chocomole Sauce
Like a friend you can put in any situation who would still come out smiling, chocolate is one of those lucky jack-of-all-trades ingredients. At The Terrace, they mixed chocolate with braised shorts ribs to make what could have just been a good dish great. The fork-tender ribs sit on a bed of creamy corn risotto; chocomole (a portmanteau of chocolate and guacamole) sauce lending it that rich touch of sweetness that goes so well with the robust flavors of beef.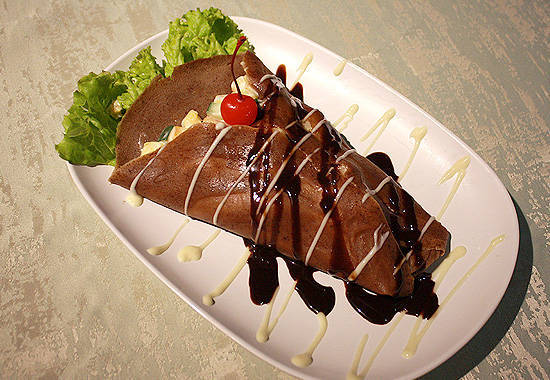 ADVERTISEMENT - CONTINUE READING BELOW
Noodleworks, on the other hand, plays around with the different dimensions of chocolate-the bitter, the sweet, and the in-between. They wrapped their bestselling prawn salad in a blanket of cocoa crepe before drizzling it with Hershey-based chocolate syrup. The multidimensional tones of chocolate jibing beautifully with the medley of components.
3. Chocolate makes you happy.
To quote Elle Woods, chocolate gives you endorphins, endorphins make you happy, happy people just don't kill their husbands. We paraphrase, of course, but we know from high school biology class that the part about chocolate releasing happy hormones is true.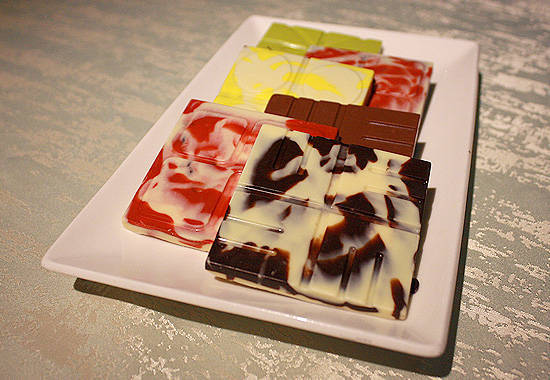 Fun chocolate bars
Cafe Maxims' chocolate bars are the stuff of delight. The brightly hued, swirly chocolate go well past our current understanding of the fruit-and-nut variety. The flat bricks of chocolate are soft but defined: the green tea is refreshing, the milk chocolate wonderfully sweet, the dark chocolate and cherry bittersweet with sweet surprises. If you gravitate more toward commercial options, popular chocolate labels like Nestle, Machiavelli, and Villa del Conte are also providing their own brand of sweet chocolatey offerings in stalls at the mall.
ADVERTISEMENT - CONTINUE READING BELOW
4. Euphoria is a mix of of chocolate and alcohol.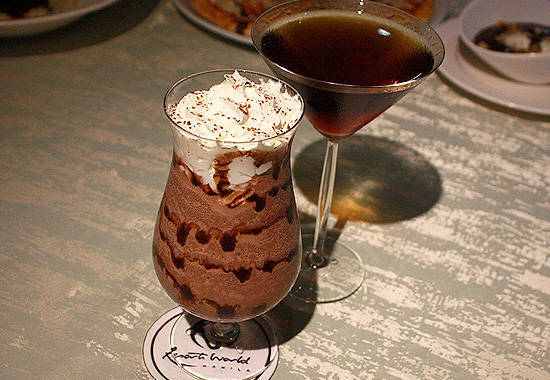 A subtle Bailey's blend and the more potent vodka with cacao de creme.
That's a proven mathematical formula even Einstein would appreciate. Correlate the happy-inducing effects of chocolate (see No. 3) and the results of alcohol and you're guaranteed a good time. Bar 360 took their time behind the bar to craft some of the more tempting concoctions we've seen: from the classic Bailey's and chocolate mix (with coffee liquer, chocolate syrup, and whipped cream), they're showing us more exciting bar-tends that display the rousing wonders of vodka. One luscious example is a martini comprised of orange vodka, melted Valrhona chocolate, and a finishing kiss of Ferrero Rocher. The vodka with cacao de creme, cherry syrup and cherries is one heady blend that would send your head spinning with just a sniff. We have to go back to Reason No. 1: moderation.
ADVERTISEMENT - CONTINUE READING BELOW
5. Kids love chocolate unconditionally.
We've always wondered:0 why can't moms, for the life of them, just add a moderate bit of chocolate to the broccoli? When you're a kid, your life revolves around recess and candy and chocolate is smack at the center of that world.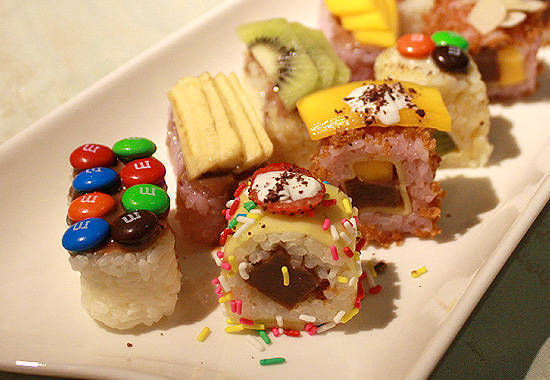 Kid-friendly sushi
The candy-adorned sushi at Ginzadon would inspire young ones to try something different. Instead of the usual roe or nori, the chef added M&Ms, fruit, and nuts. The usual fish core is replaced with a creamy-chewy combination of white, light, and dark chocolate and topped with a drizzle of milk.
6. Chocolate inspires creativity.
One chef confessed the slight difficulty of trying to integrate chocolate into main courses, especially since Filipinos are not particularly keen on using confectionary ingredients in savory dishes. But then again that's part of the challenge.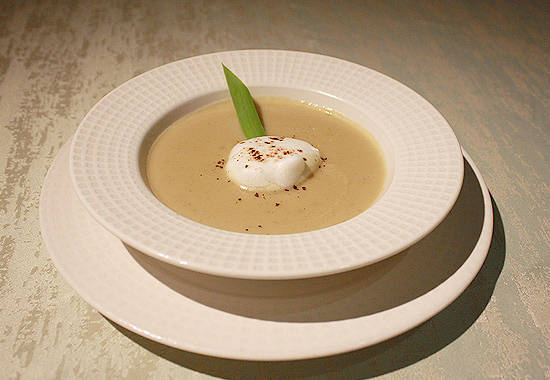 ADVERTISEMENT - CONTINUE READING BELOW
Creamy Chocoleeks soup
And they seem to have triumphed over such adversity in the light green Chocoleeks Soup from The Terrace. It is a creamy number with chocolate giving the salty starter greater depth in terms of flavor.
7. Chocolate fits well with the Filipino palate.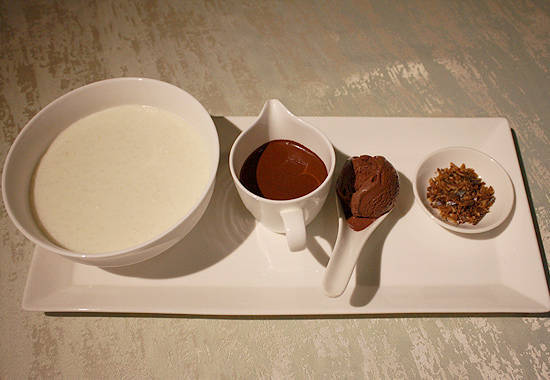 Reverse Champorado from The Terrace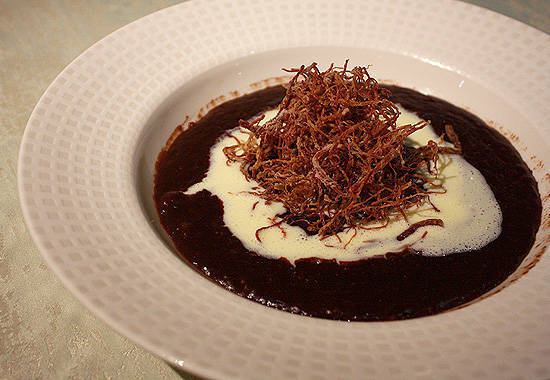 ADVERTISEMENT - CONTINUE READING BELOW
Champorado Royale from Prosperity Court
Conversely, no dish quite defines the local ardor for chocolate than the champorado. For the Chocolate Festival, Resorts World has indulged us with two versions. The Terrace's Reverse Champorado is an exciting tray of arroz con leche, Belgian chocolate sauce, a scoop of chocolate ice cream, and chopped salty tuyo. It's a classic deconstructed and the deep chocolatey flavors are truly topnotch. The Champorado Royale from Prosperity Court takes a much simpler presentation. The chocolate porridge is generously crowned with a mysterious crispy floss that turned out to be corned beef: it's a less salty alternative to the traditional dried fish, giving it a subtle but pronounced beefy undertone that unsurprisingly married well with the chocolate.
8. Chocolate can make anything appealing.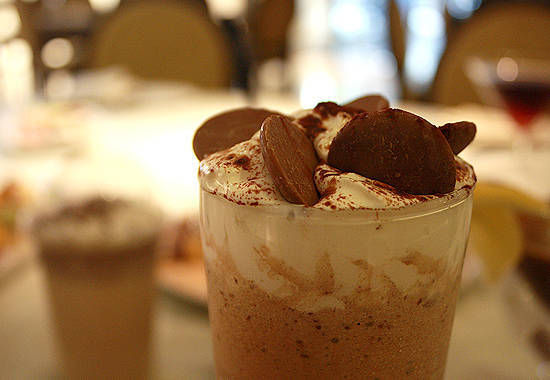 Strong Civet and chocolate blend
Chocolate and coffee is as exciting a pair as Brad and Angelina. To take things up a notch, Cafe Maxims used the exquisite Civet coffee. Civet coffee, for those who aren't familiar, refers to a type of coffee bean eaten then excreted by the endangered viverrid Asian palm civet. Despite its unsavory process, Civet coffee is the most expensive in the world. Cafe Maxims merges its mellow approach with rich Valrhona chocolates. The seasonal iced drinks come in mild and strong variations.
ADVERTISEMENT - CONTINUE READING BELOW
9. Chocolate drinks are the best kind.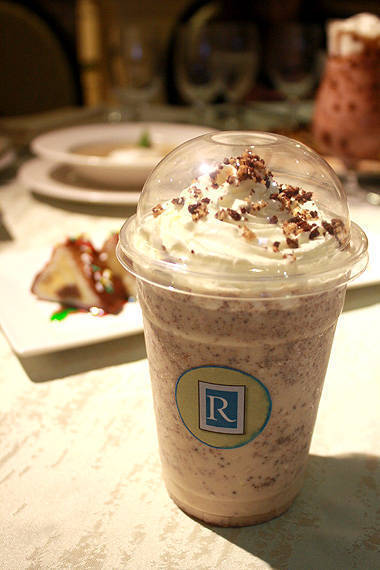 Nutty chocolate drink from R Bar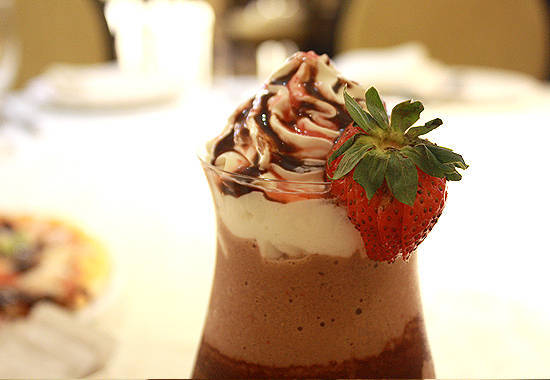 Faultless combination of chocolate and strawberries from Passion
Chocolate drinks have the benefit of being both beverage and dessert. The folks at R Bar indulges those craving a sweet ending with their frothy concoctions that can, for this month, replace the usual Starbucks and give you something much more delectable. At Passion, they go for a true classic with a Chocoberrt Milkshake.
ADVERTISEMENT - CONTINUE READING BELOW
10. Chocolate transcends social class.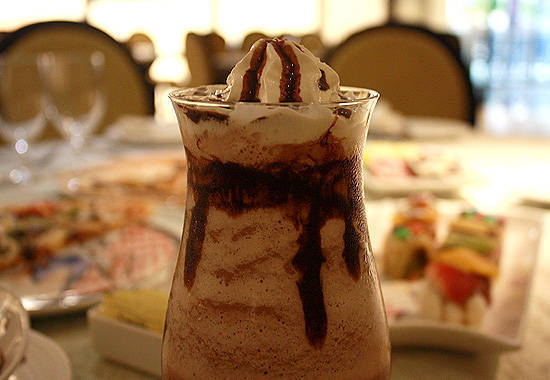 Mine for the gold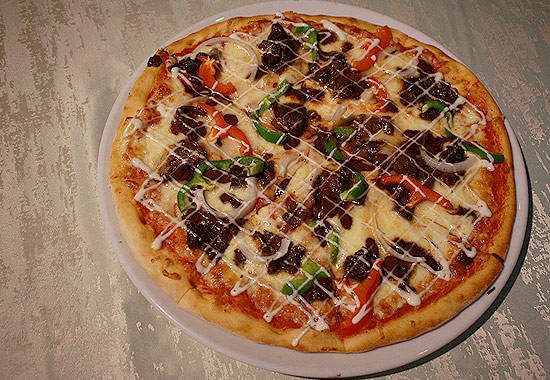 The "bitterness" of the chocolate is actually reminiscent to that of the bell peppers.
That's the beauty of this dessert, whether you prefer the simple chocolate pizzas at Prosperity Court or you want to go for gold with Bar 360's gold-tinted (with a Gold Schlager base) Oreo cocktail, you'll always end up satisfied.
ADVERTISEMENT - CONTINUE READING BELOW
The Chocolate Festival will only be until the end of September.
Share this story with your friends!
---
Help us make Spot.ph better!
Take the short survey
Load More Stories