L.E.S. Bagels
Upper McKinley Road, Tuscany, McKinley Hill
Tel. No. 804-0423
Open from 7 a.m. to 10 p.m. (Sunday to Tuesday), 7 a.m. to 11 p.m. (Wednesday to Saturday)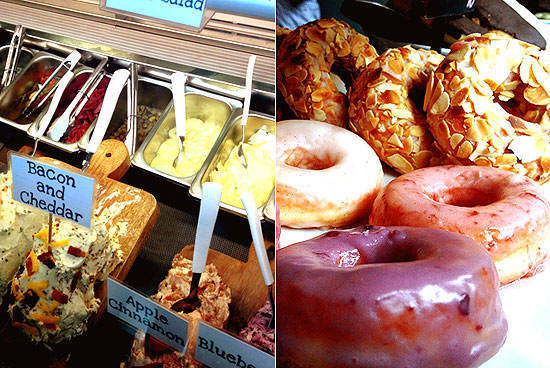 (SPOT.ph) The recently opened L.E.S. Bagels leaves a lot to the imagination. It's pay-as-you-order deli-style, the permutations of bread + cheese spread + siding written in detail on a chalkboard above the counter. There are distracting trays of pastry beside a display case of cream cheese (some plain, some with garlic, some with fruit, some with bacon). You build up the descriptions in your head like how, for example, the L.E.S. Addiction at P400 a pop, with an impressive filling of scallion cream cheese, lox, sliced fresh tomato, red onion, and capers between two halves of a pumpernickel bagel, would resemble something of a massive burger, prettily arranged on a saucer and maybe with a side of freshly cooked potato chips. Instead, chef and part-owner Cuit Kaufman hands you something palm-sized, wrapped in no-nonsense white paper, and ready to go-as if you're in New York, rushing off to the subway, breakfast in hand.
ADVERTISEMENT - CONTINUE READING BELOW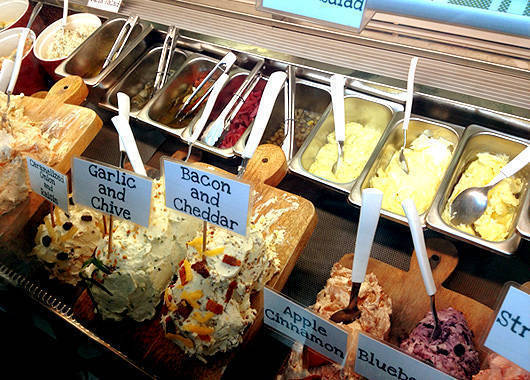 What's your cheese?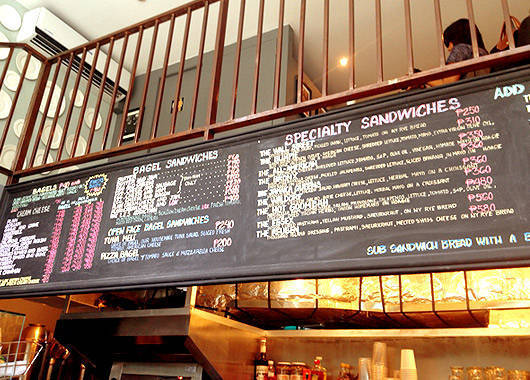 ADVERTISEMENT - CONTINUE READING BELOW
Recommended Videos
Picking is difficult, but the Addiction can do no wrong.
Helmed by the same folks behind Nolita, L.E.S. Bagels-that's Lower East Side Bagels-depicts that same casual New York feel. Effortless, cool, black and gray. The deli and bakery is tiny, but cozy, ideal for chatting the afternoon away with a friend or for nearby employees running late for a meeting. Chef Kaufman makes all the ingredients in-house and in batches assuring fresh and original dishes. The options, like the neatly packaged bagel in our hand, look unintimidatingly slight at first, but generous helpings and power-packed flavors make everything-even the wee rugelach-perfect for sharing.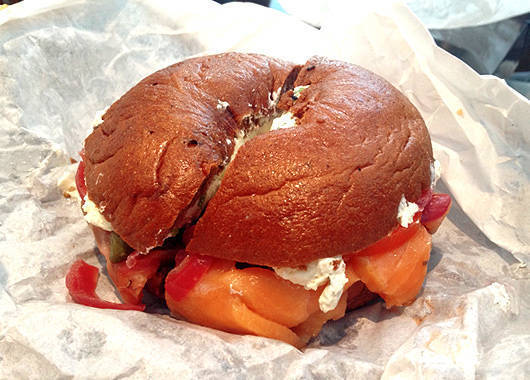 ADVERTISEMENT - CONTINUE READING BELOW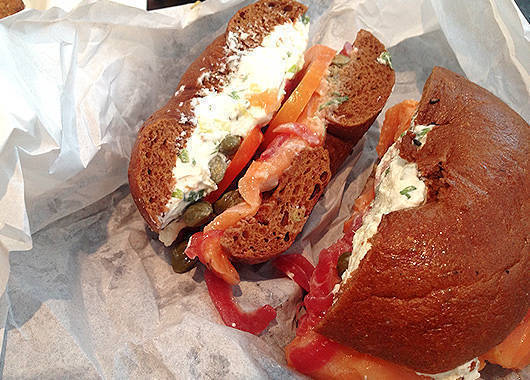 The size is average, but believe us when we say that this is one hefty meal.
Unwrapping the parcel, the bagel split in half almost immediately, the brimming ingredients no longer able to contain themselves; every component promised by the menu is within sight, colorful and hitting all the right notes. The liberal amount of cream cheese has enough bite without overwhelming the palate, tying together the freshness of tomato, the tang of capers, the layers of soft salmon. One of the owners, Patrick Santos, remarked: it has everything you love. And like anything you love, this is something you have to share and make other people try just so you can talk about how astonishingly good it is.
ADVERTISEMENT - CONTINUE READING BELOW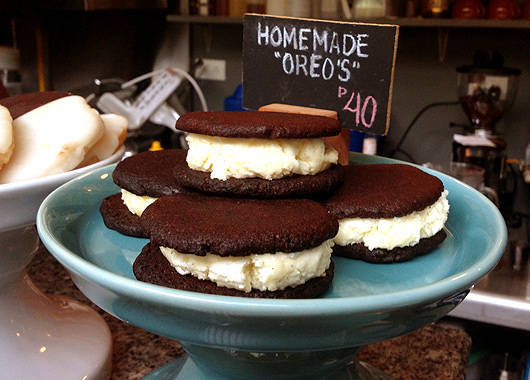 The offspring of an Oreo and a whoopie pie
When they say everything is handcrafted in-house, they mean it. Chef Kaufman can't even be bothered to buy Oreos from a store. Instead, he bakes his own, a whoopie pie version (P40) with a half-an-inch-thick layer of not-so-sweet buttercream in between a pair of crisp chocolate cookies. Biting into it is a messy affair, the cream intent on spilling out, but scoop it up with pieces of biscuit. A similar version is the equally chunky maple oatmeal (P160): similarly constructed, the hefty cookie sandwich's nuttiness blends smoothly with the rich cream. The rugelach (P30), one of the more manageable treats, is a Jewish confection that resembles a tiny croissant. It's a chewy rolled dough with a kiss of cinnamon to give it a sweet and spicy flavor. Other mouthwatering must-tries are homemade donuts, brownies, blondies, and muffins.
ADVERTISEMENT - CONTINUE READING BELOW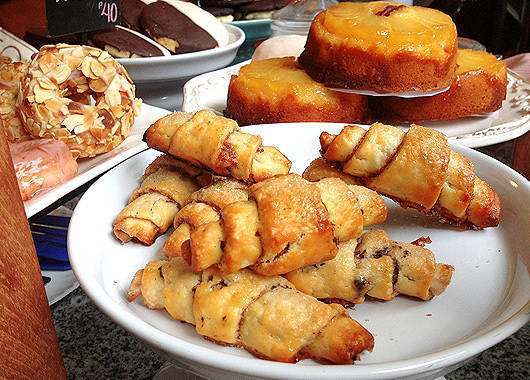 P30 rugelach
The space is tiny, a pair of tables on the second floor terrace and just another one outside. With the grab-and-go format, L.E.S. Bagels is rarely full-for now. They discreetly opened their doors only a month ago, and the way these bagels are packing, they're not going to keep quiet for long.
ADVERTISEMENT - CONTINUE READING BELOW
Share this story with your friends!
---
Help us make Spot.ph better!
Take the short survey
Load More Stories