New Restaurant Alert: Pablo's Pub and Restaurant at Forum South Global, Bonifacio Global City
Don't forget that it's a restaurant <em>and</em> a pub.
Pablo's Pub & Restaurant
2/F Forum South Global, 7th Avenue corner Federacion Drive, Bonifacio Global City, Makati City
Tel. No. 0916-618-7045
Open from 5:30 p.m. to 12 a.m. (Monday to Thursday), 5:30 p.m. to 3 a.m. (Friday to Saturday)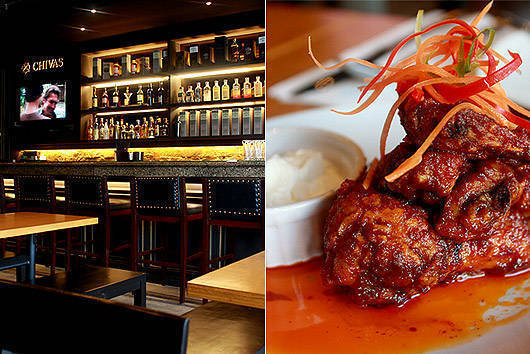 Good old comfort food for a gentleman-and a lady with a hefty appetite
ADVERTISEMENT - CONTINUE READING BELOW
(SPOT.ph) Some people would go to great lengths for comfort: an extra thousand bucks for the posture-friendly memory foam mattress; another extra thousand for that five-star room. But when it comes to food, Miguel Escueta, co-owner of Pablo's Pub & Restaurant, took the words right out of our mouths: "People shouldn't have to pay big money for comfort food." He says this in passing as he discusses the concept behind his newly opened bar, as if the idea of heavy flavors that are light on the wallet is automatic.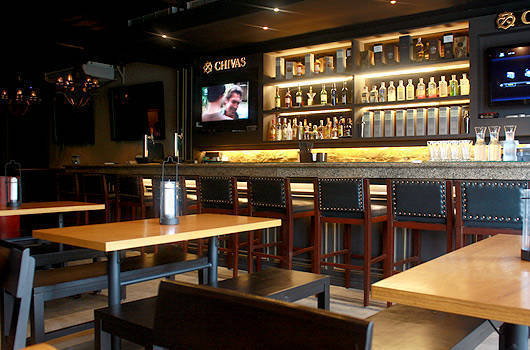 CONTINUE READING BELOW
Recommended Videos
ADVERTISEMENT - CONTINUE READING BELOW
Warm color palette for that intimate effect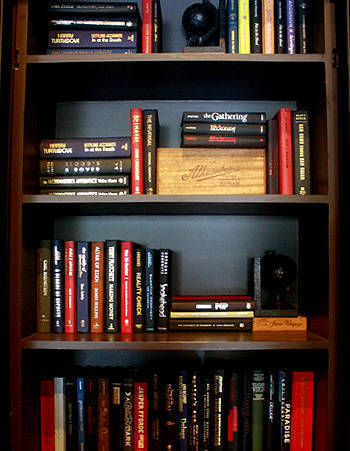 And behind the secret doorway is...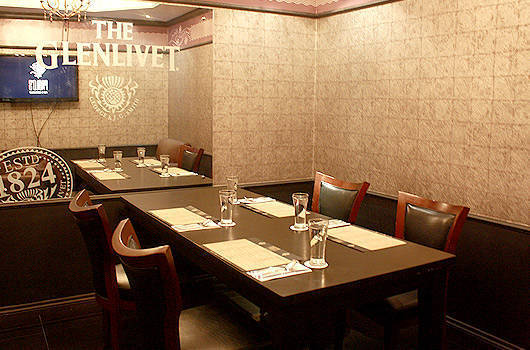 ADVERTISEMENT - CONTINUE READING BELOW
...a secret room for a private party.
From the view from the street, Pablo's looks a little stark; only the ornate "P" on the sign hints at the effort within. Pablo's is styled like a gentleman's pub, the kind that looks like it comes with the smell of whisky and cigars. It's noon though, five hours before they officially open, and the air is relatively clear, sunlight through the glass illuminating every detail that makes this bar stand out from the competition. Deep greens and reds create an intimately dim setting, while sepia wallpaper that calls to mind faded love letters lends an old-fashioned charm. They've also installed whisky lockers against one wall on loan for customers who can't finish their bottles in a single visit. Behind the booths, the bar, and the round tables is a heavy bookshelf that slides open to reveal a private room, reminiscent of clandestine wall hideaways in historical mansions.
ADVERTISEMENT - CONTINUE READING BELOW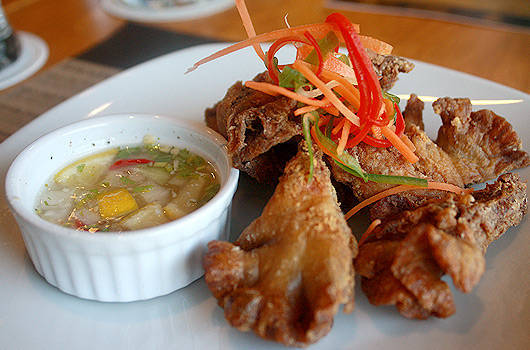 Pablo's Chicharon Bulaklak (P250)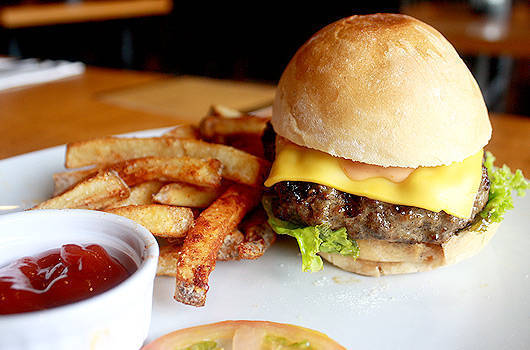 ADVERTISEMENT - CONTINUE READING BELOW
The Half Pounder
The look is utter sophistication, so the price point that Escueta insists on comes as a surprise-especially in Bonifacio Global City, and especially once you have a bite of their special Half Pounder burger (P285). For half a pound of pure beef, Pablo's manages to squeeze their patty into a convenient size and neatly tucks it inside a freshly baked potato bun. Add-ons like bacon (P80), blue cheese (P80), and foie gras (P350) are available, but as it is, melted American Cheddar, lettuce, and tomato layer in enough texture to keep things simply delicious.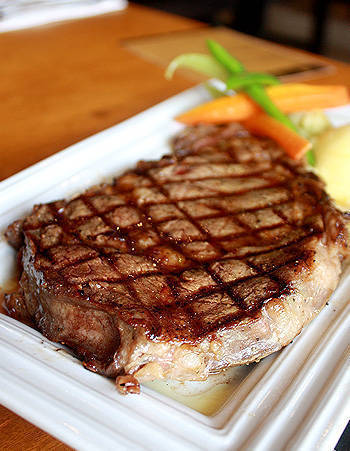 ADVERTISEMENT - CONTINUE READING BELOW
The rib-eye is playfully labeled the "Escobar." We'll leave it up to you to make the connection.
The one-inch thick, 10-inch long, 400-gram US Angus rib-eye (P998) is the kind of dish that knocks people off their feet: every bite hits the palate with big blasts of flavor and succulence. Best eaten medium rare, a perfect pinch of salt and pepper coaxes out the natural savor of beef, while sides of mashed potatoes and buttered vegetables keep things interesting for the palate.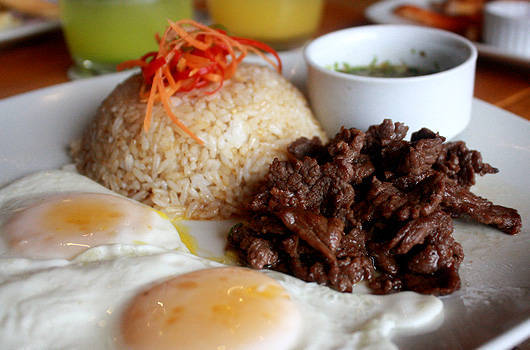 ADVERTISEMENT - CONTINUE READING BELOW
Sirloin Beef Tapa
You'll understand that Pablo's doesn't compromise quality for affordability with their Sirloin Beef Tapa (P198). It leans on the sweeter side of this breakfast favorite, complementing the deep flavors of the accompanying fried rice. Putting two eggs on the plate may seem like a minor point, but it's tiny details like this that prove how much they think about their customers.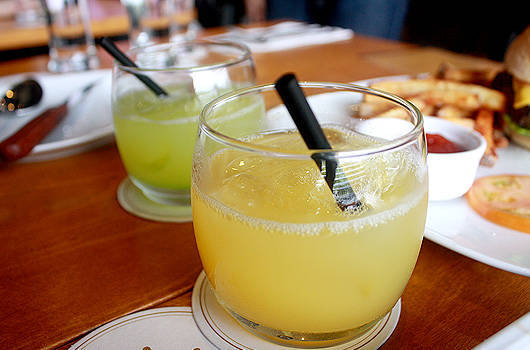 ADVERTISEMENT - CONTINUE READING BELOW
Midori Sour
With their collection of cocktails and a bevy of hard liquor supported by renowned Scottish distillery, Glenlivet, Pablo's has built a name for itself in Bonifacio Global City's nightlife scene in the same month that it opened, but it's a reputation that's not completely justified. The food's great, too.
Share this story with your friends!
---
Help us make Spot.ph better!
Take the short survey
Load More Stories