10 Grown-up Versions of Childhood Desserts
A little splash of alcohol goes a long way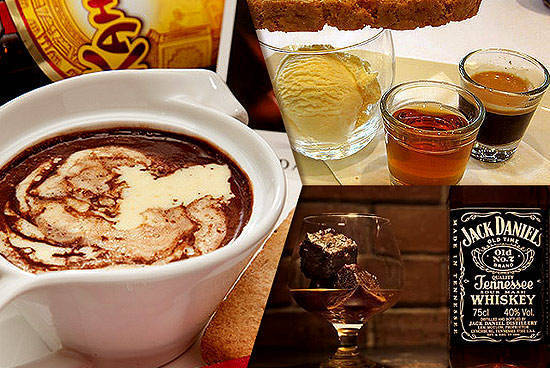 (SPOT.ph) The best desserts are those that take you back to a childhood memory: the popsicle that capped off that hot summer day so perfectly; the cupcake that wiped away the pain of a scraped knee; the delicious chocolate cake with seven blazing candles on them. But as you sit there living contently in the memory of 20-year-old (or more) comforts, you're missing out on the fact that that your cherished childhood treats have grown up without you. Sure, classically baked confections will always have a special place in your heart-and palate-but in case you're up for appreciating more mature flavors, here are 10 grown-up versions of favorite childhood desserts that your, er, no-longer-seven-year-old self would surely love.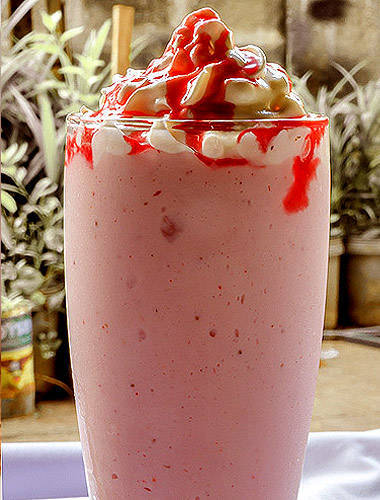 BurgerBar's Go Tipsy Milkshakes (P250)
The beauty of this burger joint is that they offer classic milkshakes for those who are young-at-heart and those who want something stronger than sugar and nostalgia. A little splash of vodka adds oomph to the usual strawberry, chocolate, vanilla, or salted caramel. Just be careful how many rounds to consume. These drinks are treacherous.
ADVERTISEMENT - CONTINUE READING BELOW
BurgerBar is at Greenbelt 2, Makati City.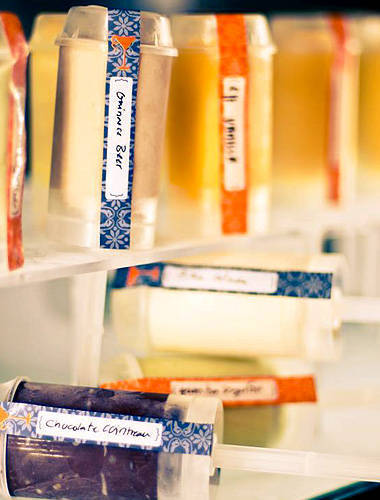 CONTINUE READING BELOW
Recommended Videos
Bar Dolci's Cocktail Popsicles (P130)
If you're the type of person who likes to nurse cocktails, you might find Bar Dolci's spiked gelato popsicles a bit of a challenge: you'd have to finish the stick fast before it melts into a puddle of sugary alcoholic liquid-though we don't really mind the form it comes in. With flavors like Tequila Rose, Guinness Beer, Mojito, and Chocolate Cointreau, these popsicles are lickable refreshments that do more than cool you down on a hot day.
Bar Dolci is at Burgos Circle, Bonifacio Global City, Makati City.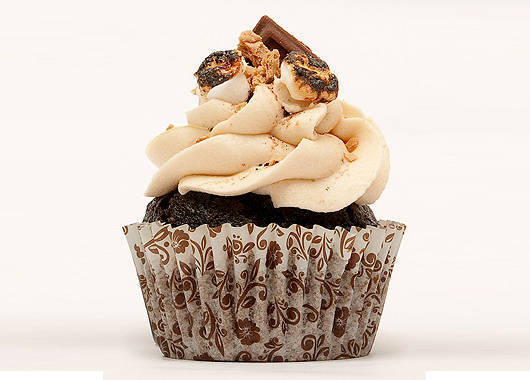 ADVERTISEMENT - CONTINUE READING BELOW
Happiness in Cupcakes' Spiked Cupcakes (P650/dozen, P350/six pieces)
When home bakers Meg and Mike Arcilla undertook a mission to spread a little more happiness in this troubled world, no one expected that it meant adding some swag into cups of batter. Available only in bulk orders, these delectable treats inject life to any party with their colorful flavors: Mojito (Bacardi Limon), Margarita (Jose Cuervo), Boy Bait (Kahlua and Bailey's), Dirty Girl Scout (Absolut Vodka), Car Bomb (Cerveza Negra), Chubby Hubby (Bailey's and Johnnie Walker), Red Hot Choco Pepper (Kahlua), Smoretini (Jack Daniels), and Piňa Colada (rum)-the latter may be phased out soon.
These cupcakes should come with "Adults Only" labels; we wouldn't want any toddlers reaching out for them.
E-mail happinessincupcakes@gmail.com or call 0917-536-2770; visit their Facebook page for updates.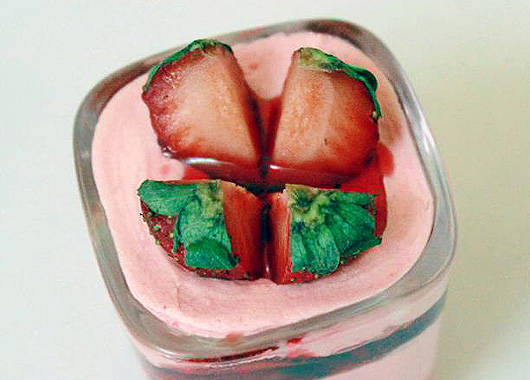 Frisch's Liquor Ice Cream (price upon request)
This relatively novel concept combines the cool warmth of ice cream with the punchy heat of alcohol. A bestseller in weekend markets and bazaars, Frisch's selection of flavors (Wine Berries, Choco Rumboozle, Lemony Snickety Punch, Zhivago Coffee, Chili Manjaro, and Russian Winter, to name a few) and constant innovation never fail to impress or, at the very least, intrigue potential customers.
ADVERTISEMENT - CONTINUE READING BELOW
E-mail frischeicecream@gmail.com for inquiries and orders; visit their Facebook page for bazaar updates.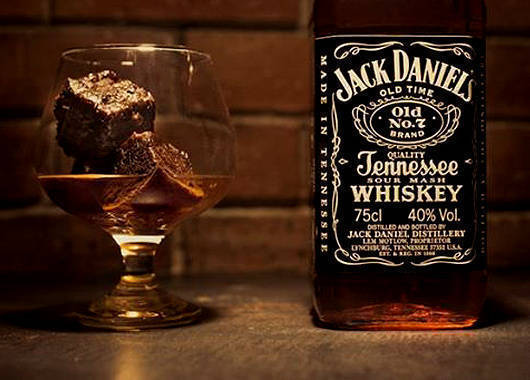 Blackinese Brownies (P200/4x4 box, P650/8x8)
Marc Abaya describes these brownies as "sexual chocolate." It's a valid description because these chocolatey cakes will definitely drive you wild. And no, they're not those kinds of brownies. A dose of Jack Daniels gives the decadent bars a rough edge that highlights the depth of chocolate.
E-mail info.blackinesebrownies@gmail.com; visit their Facebook page for updates.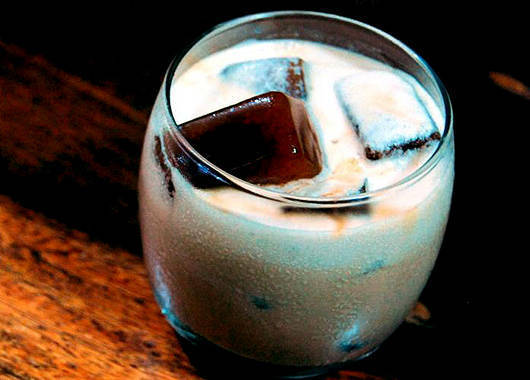 ADVERTISEMENT - CONTINUE READING BELOW
Tipsy Beans
We're used to restaurants upping their menus with twists and turns, but this modest eatery pushes the limits with an alcohol-tinged menu that will make any teetotaller question their beliefs. The family-style coffee shop has sober options for kids, but their signature treats are the alcohol-infused gummy bears (P35), cocktail-inspired banana split, and tipsy lineup of coffees and shakes. Savory dishes are also flavored with spirits. With its friendly vibe and kiddie-looking offerings, the place should come with a PG rating.
Tipsy Beans is at Domingo Guevara Street, Highway Hills, Mandaluyong City.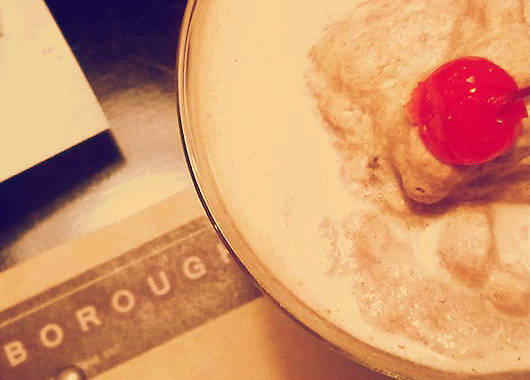 Borough's Serendipity (P200)
We would've been happy with just a Chocnut-flavored milkshake, but we know to expect more from the Brooklyn-styled joint that made milk and cookies fashionable again. A drop (or two) of Vodka goes a long way to elevate this childhood treat into something truly unforgettable.
Borough is at The Podium, Mandaluyong City; photo from www.angkaladkarin.com
ADVERTISEMENT - CONTINUE READING BELOW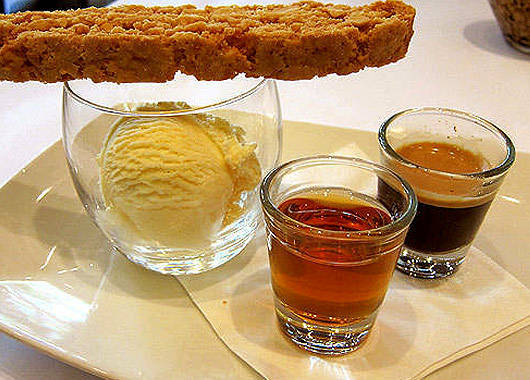 Sala Bistro's Affogato al Caffe (P380)
The shot of espresso over rich and creamy ice cream is usually enough to appeal to jaded adults who've grown weary of the daily grind but Sala Bistro keeps this Italian dessert interesting with a few pieces of biscotti and an extra shot of amaretto liqueur. The sugary bitterness of the almond-flavored spirit blends together the sweetness of vanilla ice cream and the unabashed sharpness of espresso into one harmonious note.
Sala Bistro is at Greenbelt 3, Makati City.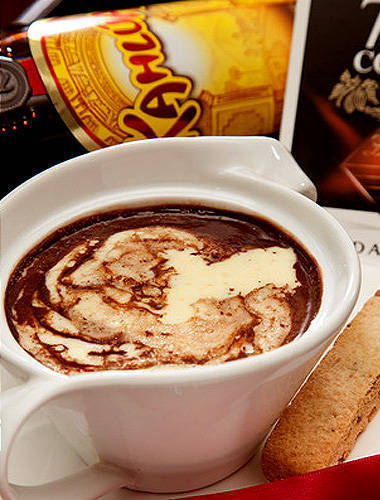 ADVERTISEMENT - CONTINUE READING BELOW
Maitre Chocolatier's Kahlua Hot Chocolate (P165)
There are days when it takes something stronger than a warm cup of hot chocolate to comfort sorrows. For grown-up troubles, we have grown-up hot chocolate. This chocolate boutique serves a collection of chocolate-infused cocktails, but nothing beats the good intentions of their warm cup of Lindt-based, Kahlua-spiked Hot Chocolate-Lindt to envelop you in warmth, Kahlua to take the edge off.
Maitre Chocolatier is at Jupiter Street, Makati City.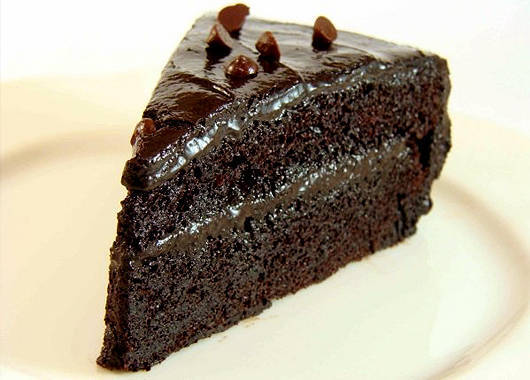 Chocolat's Kahlua and Bailey's Chocolate Cakes (P65/slice)
It almost seems too easy to integrate a coffee-flavored rum or a cream-based whisky into desserts, but there are those who have tried and failed and those like Chocolat who managed to stretch something popular into legendary proportions. Choose your poison between the dangerously decadent Chocolate Kahlua and the lusciously rich Bailey's: the shade of alcohol is almost like an afterthought, but that's only because Chocolat doesn't scrimp on the chocolate.
ADVERTISEMENT - CONTINUE READING BELOW
Chocolat has branches at the SM Mall of Asia, Pasay City; Xavierville Avenue, Quezon City; Sergeant Esguerra Street, Quezon City; Burgos corner Mabini Street, San Juan; and Emilia corner Bautista Street, Makati City.
Share this story with your friends!
---
Help us make Spot.ph better!
Take the short survey
Load More Stories