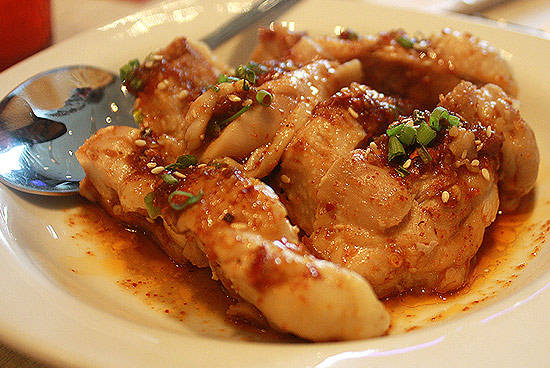 (SPOT.ph) It's hard to believe that the recently opened, restaurant-packed UP Town Center is only 7% of Ayala Land's new 7.4-hectare neighborhood project. The other 93%? An office building, shopping centers complete with local and foreign retail establishments, and a cinema. But it's hard to get excited about things that are two years from completion. For now, the 20 out of 26 eateries currently in operation are enough to keep us occupied.
Situated between the fastfood-lined street of student-centered Katipunan Avenue and the family-oriented gastro-hub of Teachers Village, UP Town Center knows how to find the happy medium: concepts that are commercial but unique, price points that focus on value-for-money over affordability-though they're sometimes one and the same, and themes that cover a comprehensive range of cuisine.
UP Town Center features popular establishments like the essential J.Co (it's not open yet and there's already a line!), Highlands Coffee, and Family Mart, but it also carries the much-anticipated second branches of some of the city's most popular eats as well as new flavors, both homegrown and foreign. We visited the restaurants one by one and picked out the must-tries.
ADVERTISEMENT - CONTINUE READING BELOW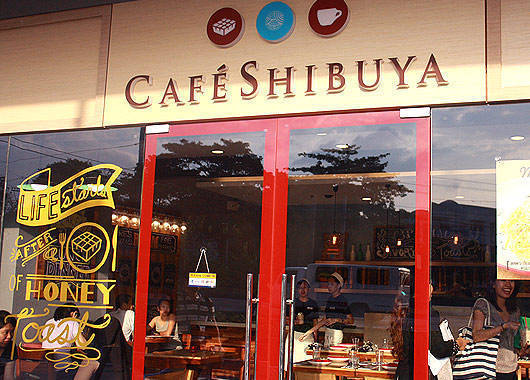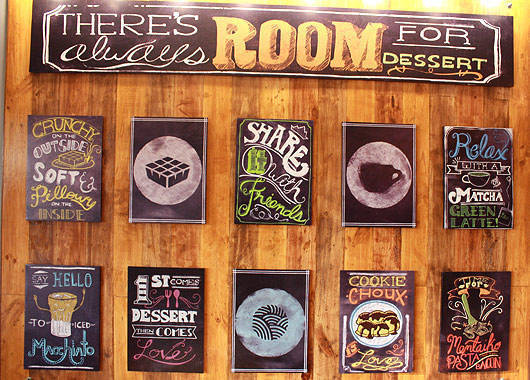 CAFE SHIBUYA
Tel. No. 722-2237
There's just something credible about a restaurant that lives by the philosophy, "dessert is always a good idea." Café Shibuya serves full meals, but what makes them stand out is their amazing bread-based desserts and confections. Made fresh daily, their special bread is stretchier than your average dough, and with a pillowy melt-in-your-mouth texture brought about by a patented "side-panning" technique. The baking process is a secret, but the result can be enjoyed in the bestselling Strawberry Matcha Toast (P195 to P245), a stack of velvety sweet toast embellished with fresh strawberries and refreshing green tea ice cream. The bread works well with savory flavors, too. The Shibuya Benedict (P255) is a unique take on a venerated breakfast favorite: a fat slice of toast is lavished with farmer's ham, shitake mushrooms, and homemade Japanese mayo cream sauce; instead of a plainly poached egg, Café Shibuya finishes off the entire ensemble with one that's poached, breaded, then deep-fried, adding a salty crunchiness to the usual profile.
ADVERTISEMENT - CONTINUE READING BELOW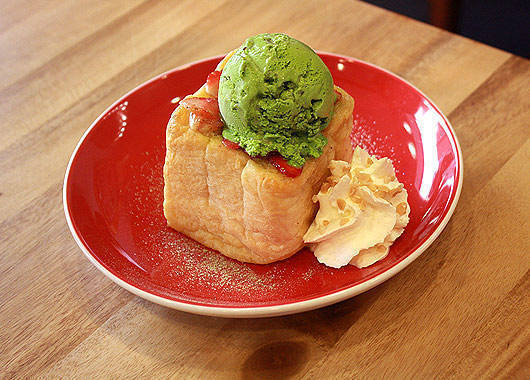 Strawberry Matcha Toast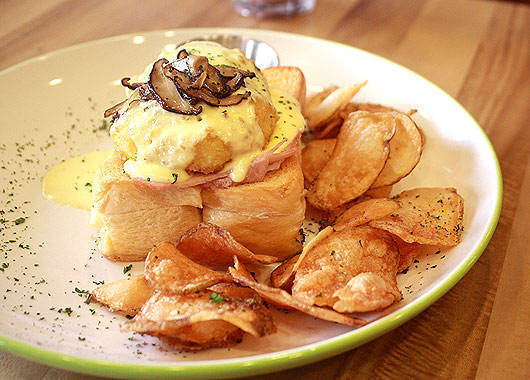 ADVERTISEMENT - CONTINUE READING BELOW
Shibuya Benedict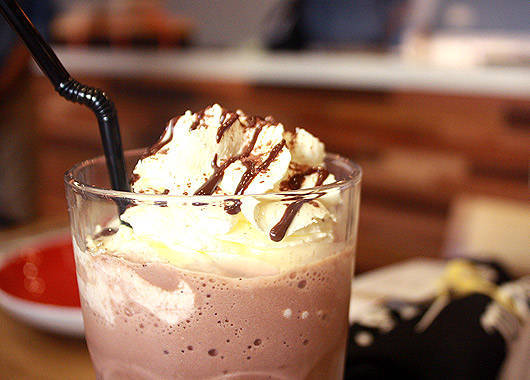 Below Zero Chocolate Frappe
This all-day café also has a lineup of Ghirardelli-based drinks like the decadent Below Zero Chocolate Frappe (P155).
Other must-tries: Nutella Dessert Toast (P195 to P245), American PB & J (P195 to P245),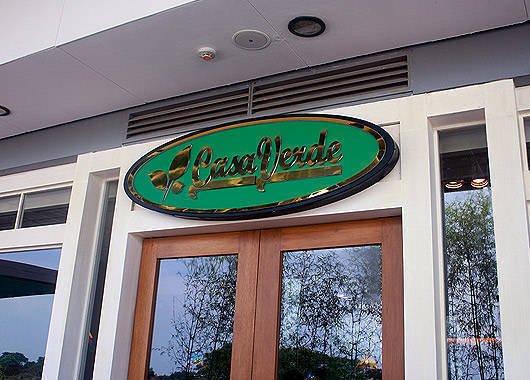 ADVERTISEMENT - CONTINUE READING BELOW
CASA VERDE
Tel. No. 253-6472
This Cebu original is making it big in Manila. And by big, we mean HUGE. Named after the greenhouse that anchors their flagship branch, Casa Verde strays far from the initial salad-bar impression and serves American comfort food in out-of-this-world proportions: they have a burger that's a foot in diameter (the Mighty Ton, P850) with a side of fries that can feed a small community, as well as a 24-inch tall Milkyway milkshake (P345). The bestselling Brian's Ribs (P223) doesn't come in "gargantuan," but its smoky sweet glaze makes us wish that it did.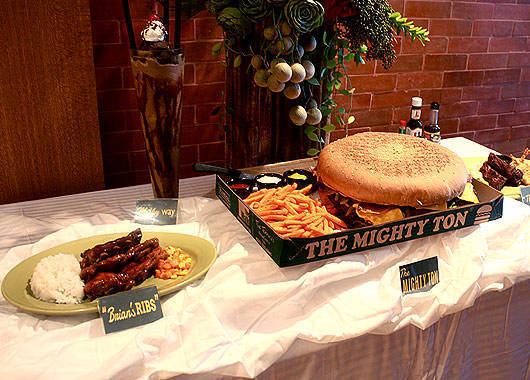 ADVERTISEMENT - CONTINUE READING BELOW
They also have burgers in six- and nine-inch variations.
With its relaxed atmosphere and value for money, Casa Verde will undoubtedly appeal to the barkada set who loves to share their food and budget.
Other must-tries: Jon Jay's Steak and Pasta (P268), David Dean's Tenderloin (P268)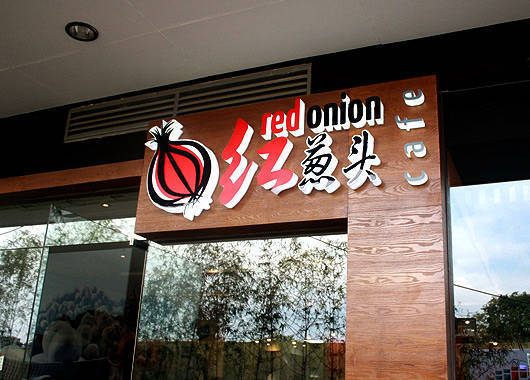 RED ONION CAFE
This Taiwanese café boasts of recipes developed in Taiwan and China then perfected in the Philippines. The secret behind the powerful flavors? Loads of red onions, of course! Noodles are the star of the menu and Red Onion makes its preparation a performance. Customers can peer through a glass window to watch the chefs shave strips of noodles off a block of unleavened dough then onto a pot of boiling water. Unlike other restaurants that simmer bones for days until they disintegrate into the broth, Red Onion uses actual cuts of beef to flavor their soup, creating the same level of flavor but for a fraction of the time. Their best offering is the 39 Spices Beef Noodle that come in either All Meat (P228) or Half Beef Half Tendon (P258). No matter what you choose, however, you can be sure that every sip will be a flavor explosion.
ADVERTISEMENT - CONTINUE READING BELOW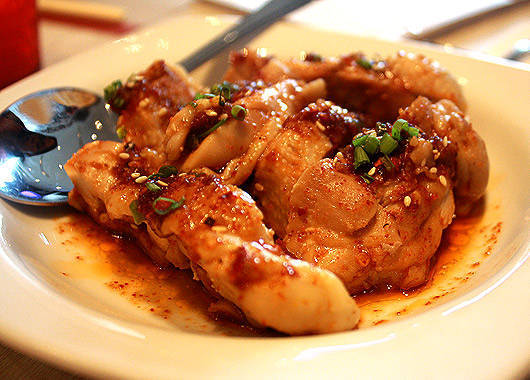 Sichuan Mala Chicken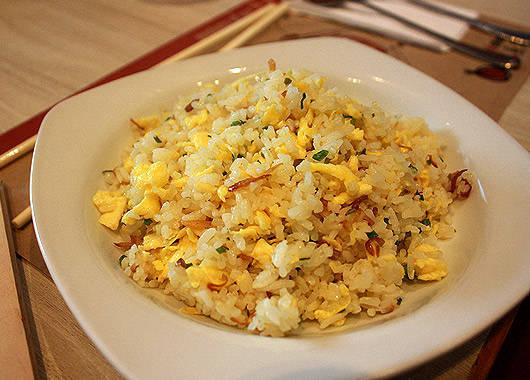 ADVERTISEMENT - CONTINUE READING BELOW
Signature Fried Rice
The recipes are a collaborative effort from chefs in Taiwan and China, so if you experience déjà vu from the Red Onion House Fried Rice (P188), that's because it's by the same person responsible for the rice at popular Taiwanese restaurant, Din Tai Fung.
Other must-tries: Sichuan Mala Chicken (single, P198; family, P378), Taiwanese Crisp Dumplings which are half-steamed and half pan-fried (P168)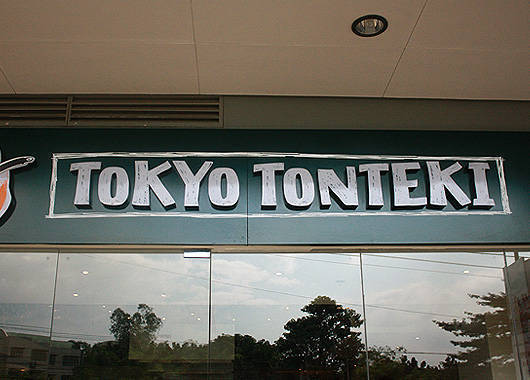 ADVERTISEMENT - CONTINUE READING BELOW
TOKYO TONTEKI
Like most franchises from Japan, Tokyo Tonteki demonstrates the same meticulous preparation and attention to detail that defines Japanese culture. It takes on a more relaxed, almost fastfood-type of atmosphere where servers are as friendly as they are fast and plates continuously come out of the kitchen. This practiced efficiency extends to the way they carefully but quickly prepare their meals. The specialty is the tonteki plates (P350 to P450), which is the Mie Prefecture's answer to the popular tonkatsu: thick, premium cuts of tender pork are deliciously fried in pork fat then served with unlimited cabbage, rice, and pork miso soup (which has actual bits of pork in it).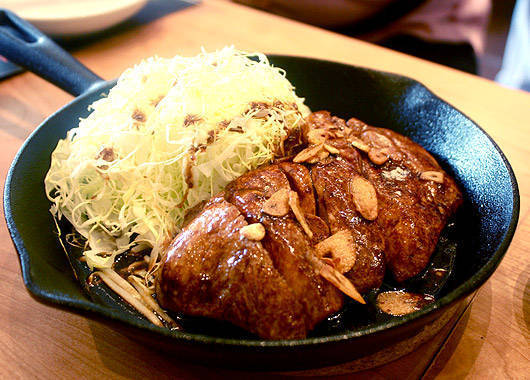 ADVERTISEMENT - CONTINUE READING BELOW
Tonteki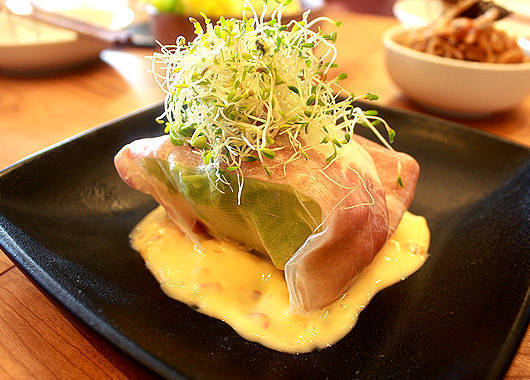 That is a giant spring roll.
If you're craving something lighter, try the Spring Roll of Prosciutto, Avocado, and Onsen Egg (P175). It's classified under Appetizer, but this mouthwatering spectacle is a medley of rich on rich flavors-a slab of avocado cups a gooey poached egg-the salty blanket of Parma ham cuts the decadence to create a perfect harmony.
ADVERTISEMENT - CONTINUE READING BELOW
Other must-tries: Potato Salad (P150), Cheese Tonburg Steak Set (P400)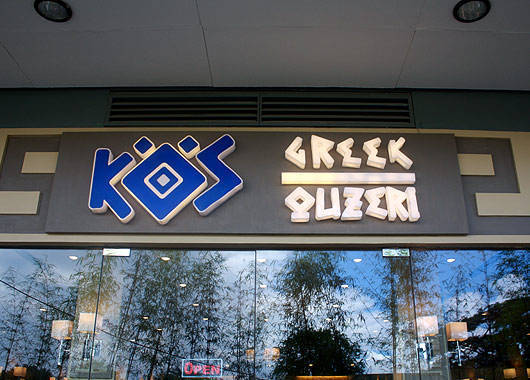 KOS OUZERI
Operated by the same folks behind the First Gourmet Academy in Quezon City, Kos Ouzeri aims to make an extensive selection of Greek food accessible to this side of Quezon City. How extensive? They have a whole buffet of dips, sauces, and breads that customers can sample: tzatziki, hummus, lachanosalata (Greek coleslaw), melitzanosalata (eggplant puree) to name a few. It costs P295 to avail of their unlimited mezedes.
ADVERTISEMENT - CONTINUE READING BELOW
But Kos isn't all about variety; they have the classics down pat too. Their version of a moussaka (P280) is a creamy display of potatoes, eggplant, and meat sauce doused in béchamel sauce and made even richer with shredded cheese.
Other must-tries: Greek Pasta with Tomatoes, Feta, and Dill (P300), Moshari Kokkinisto (P400), Greek Roast Lamb (P1,950)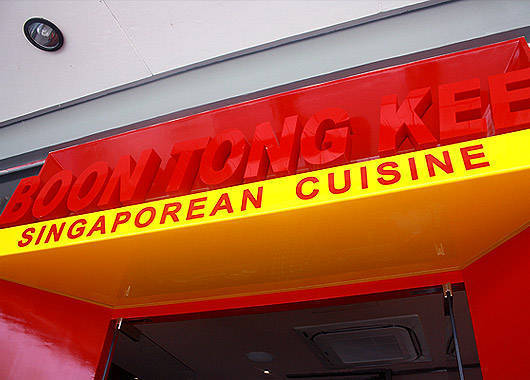 ADVERTISEMENT - CONTINUE READING BELOW
BOON TONG KEE
Boon Tong Kee traces its humble origins in Singapore when, in 1979, Thian Boon Hua started serving Cantonese chicken rice in a small stall. His hawker-style joint and delicious formula attracted so many customers that by 1983, he opened his first restaurant along Balestier Road. When it comes to chicken, Boon Tong Kee doesn't kid around. Adhering to the standards set by the brand's base in Singapore, Boon Tong Kee Philippines marketing manager Miguel Aranaz reveals that they have a strict no-freeze policy. The poultry is slaughtered daily before being delivered to the respective branches and one can taste the freshness  from each tender bite of their signature Hainanese chicken (P245/quarter, P455/half, P845/whole).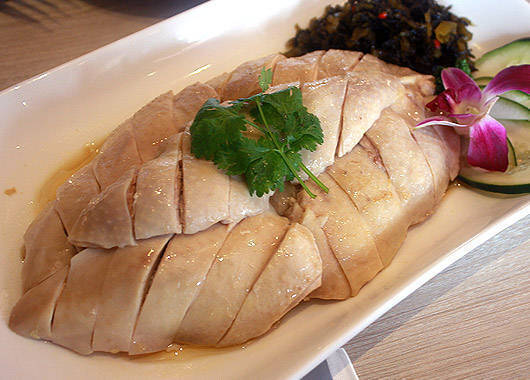 ADVERTISEMENT - CONTINUE READING BELOW
Signature Boiled Chicken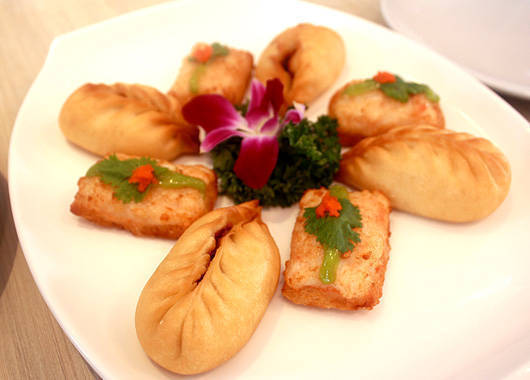 Fried pork buns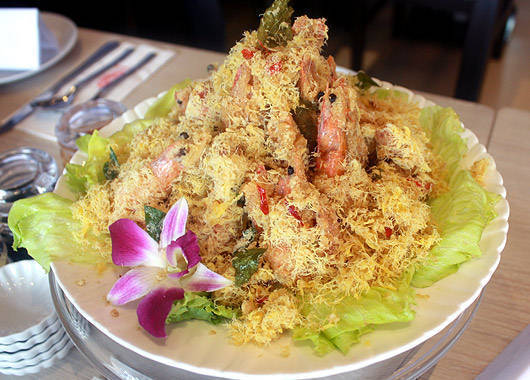 ADVERTISEMENT - CONTINUE READING BELOW
Crispy Cereal Prawns
While Mr. Thian Boon Hua's chicken recipes are time-honored, his brand has branched out to develop equally popular dishes that doesn't always require boiled and ginger-infused fowl. Their Crispy Cereal Prawns (P375 to P655) pack a lot of flavor and crunch while the new deep-fried pork buns (P35/each) are reminiscent of miniature toasted asado siopao.
Other must-tries: Roast Chicken (P235/quarter, P425/half, P755/whole); Imperial Pork Ribs (P245)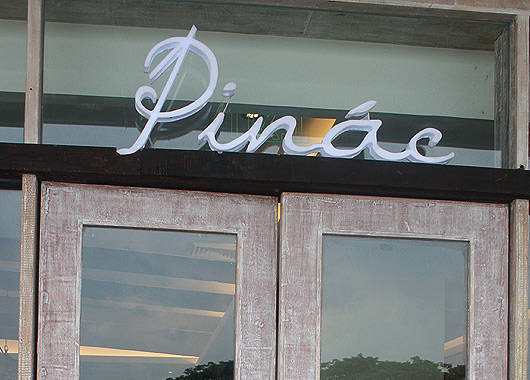 ADVERTISEMENT - CONTINUE READING BELOW
PINAC
Tel. No. 775-9450, 0917-803-2150
Pinac means "swamp" in Kapampangan so this restaurant's airy and modern interiors come as a surprise to the customer expecting something a bit more marshy. Only the beautiful lotus flowers picked fresh from the owner's yard and carefully arranged in vases hint at anything "swampy."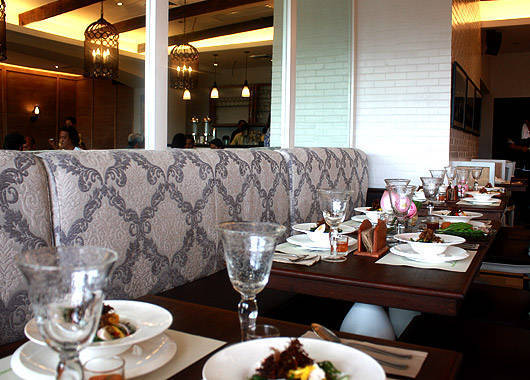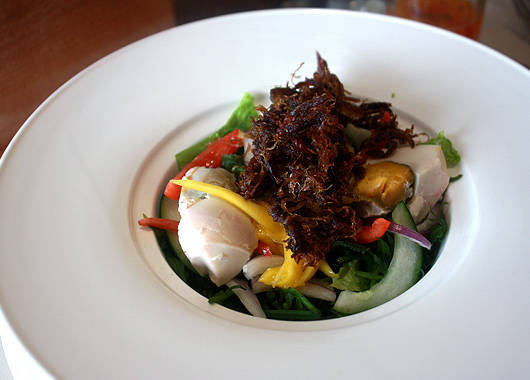 ADVERTISEMENT - CONTINUE READING BELOW
Ensaladang Pako with Fried Itik Floss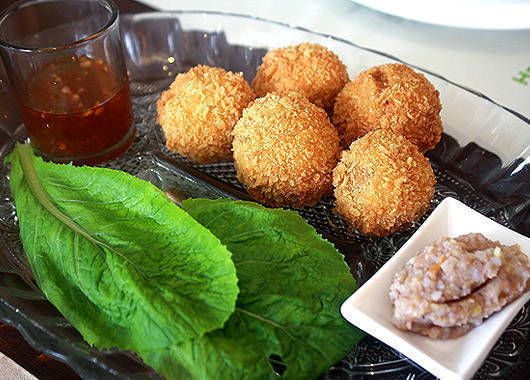 Crispy Hito Balls
This family restaurant uses heirloom recipes to introduce traditional Candaba fare in Manila. Candaba, one of Pampanga's most historic towns, is made up of several freshwater ponds that contribute to keeping the province's farmlands fertile during the dry season. This natural cycle is reflected on Pinac's menu, which is filled with freshwater seafood as well as seasonal fruits and produce. With ingredients sourced straight from Candaba, Pinac adopts a farm-to-table approach to cuisine that ensures quality and freshness in every plate they serve. You can try the Ensaladang Pako with Fried Itik Floss (P125) if you don't believe us.
ADVERTISEMENT - CONTINUE READING BELOW
Other must-tries: Crispy Hito Balls, Mustasa, at Buro (P235), Coconut Battered Shrimps (P395)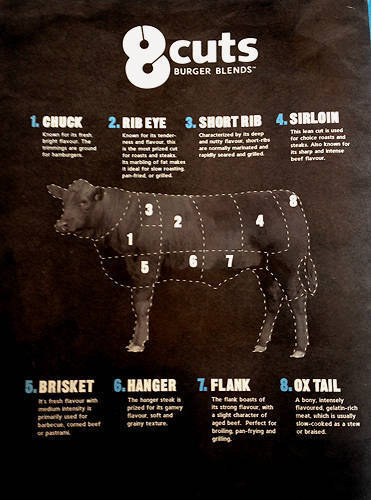 8 CUTS
Tel. No. 0917-818-2139
If you're a fan of 'Cue Modern Barbecue, Namnam, and Burger Bar, then you know that The Moment Group's latest endeavor will be something special. Just like the latter, 8 Cuts specializes in big, good, juicy burgers. It follows Burger Bar's meticulous approach to making the best beef patties using a combination of top choice cuts, but takes it a step further by adding a new option to the mix: ox tail to give the burger an extra touch of umami flavor.
ADVERTISEMENT - CONTINUE READING BELOW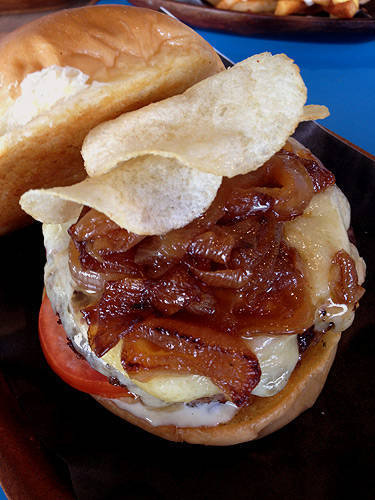 The Franch Ox Blend
8 Cuts carries over the signature sammies and sides that made Burger Bar close to legendary, but sample the Ox Blend (P295) burgers to get that unique experience.
Other must-tries: Dan Dan Joe Chili Noodles (P245), Franch (P295)
MORE FOOD GEMS AT THE UP TOWN CENTER:
ADVERTISEMENT - CONTINUE READING BELOW
J.Co Donuts, Dulcelin Gourmet, Ryu Ramen and Curry, Highlands Coffee, Ginza Bairin, Torch Restaurant, Liberty Steakhouse, and IHOP
Your guide to thriving in
this
strange new world.
Share this story with your friends!
---
Help us make Spot.ph better!
Take the short survey
More Videos You Can Watch
Load More Stories